Halloween is one of the most enjoyable times of year, for the most part. The little ones love dressing up and trick-or-treating, teens and young adults take advantage of the night's wild parties and older adults enjoy the chance to deck their houses in more or less spooky themes.
There is a large spectrum of Halloween decorating styles. Some people embrace the spooky season fully, while others opt for more benign, cartoonish pieces. Some do an elegant, somewhat Fall themed take on the holiday, others choose to decorate the house in the style of their favorite Halloween movies.
However you choose to decorate your house, you can easily do it tastefully while keeping to a small budget, if you opt for homemade pieces. Crafting these pieces will not only allow you to save money, but it can also be a relaxing project for yourself or to share with the family.
Here are some Easy to Make Halloween Decorations that are far more original than your typical carved pumpkin.
Cloaked Ghosts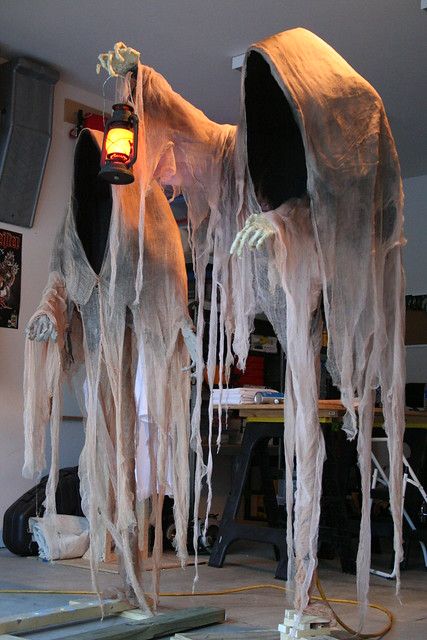 Day of The Dead Scarecrow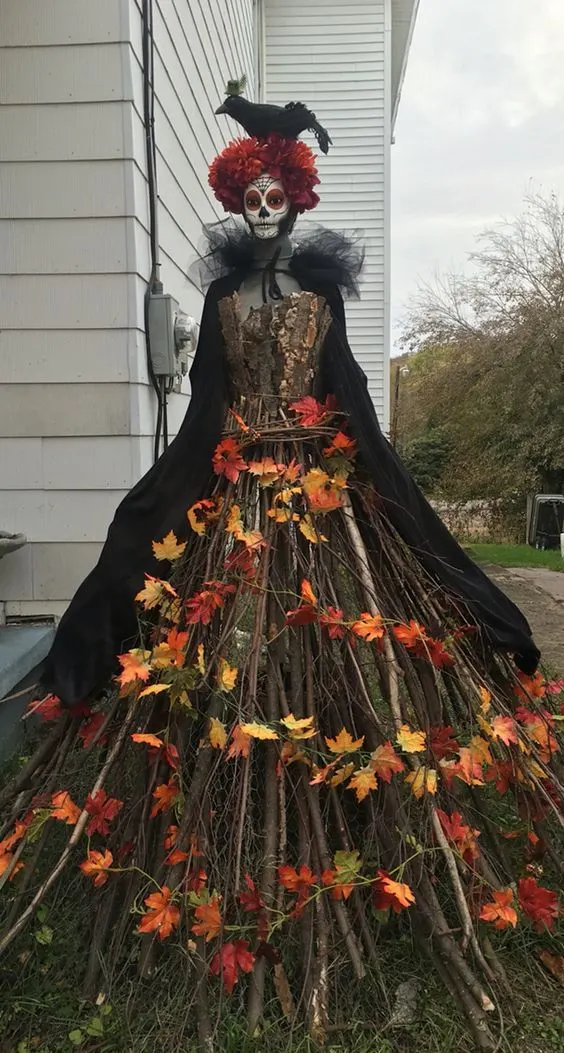 Spooky Floating Cheesecloth Ghost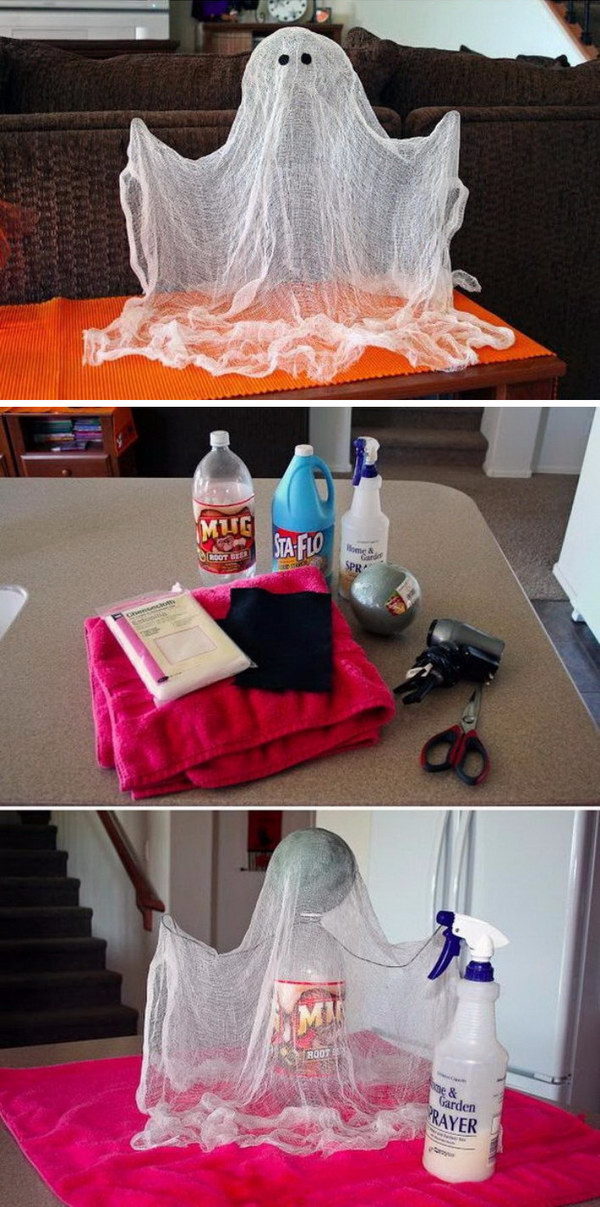 Ghosts are always fun to decorate your home with. Buy a piece of cheesecloth, drape it over a ball being held by a plastic bottle, spray the cloth with a mixture of white glue and water, and wait to dry. Once the cloth has stiffened, add some eyes and decorate as you please. But always remember where you placed them, as you might even scare yourself when you see it at night. via source
Creepy Crawly Dolly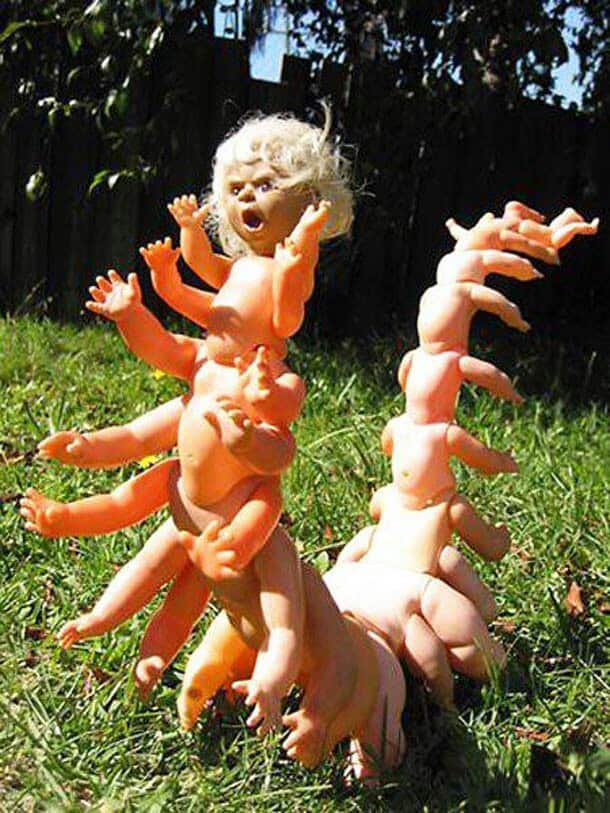 DIY Bloody Handprint Window Clings

Bloody handprints are truly awesome when you want to get the freak on. Mix white glue with red poster paint and cover your palm with the mixture. Wait until dry and pull it off to create your bloody handprint. Using the mixture, make some dripping blood, thread them with nylon, and hang them wherever you please. via source
DIY Masking Tape Hand Prop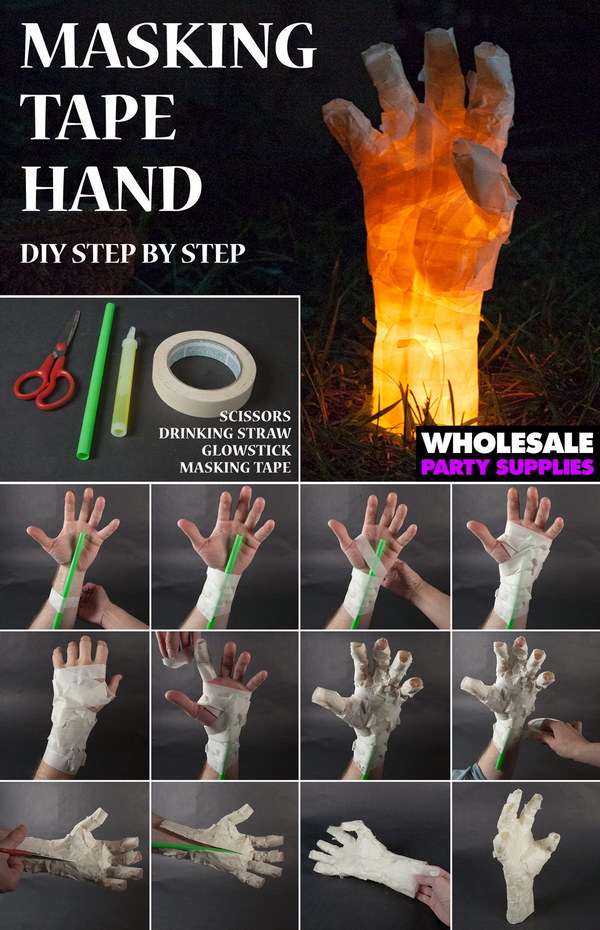 Use your very own hands as the mold for this decoration. Cover your hand with masking tape, then cut it out in the middle, cover the cut part with masking tape, and shape properly to mimic a set of hands. Stick them on the ground and make a yard filled with creepy hands trying to make their way out of a grave.
Creepy DIY Dripping Bloody Candles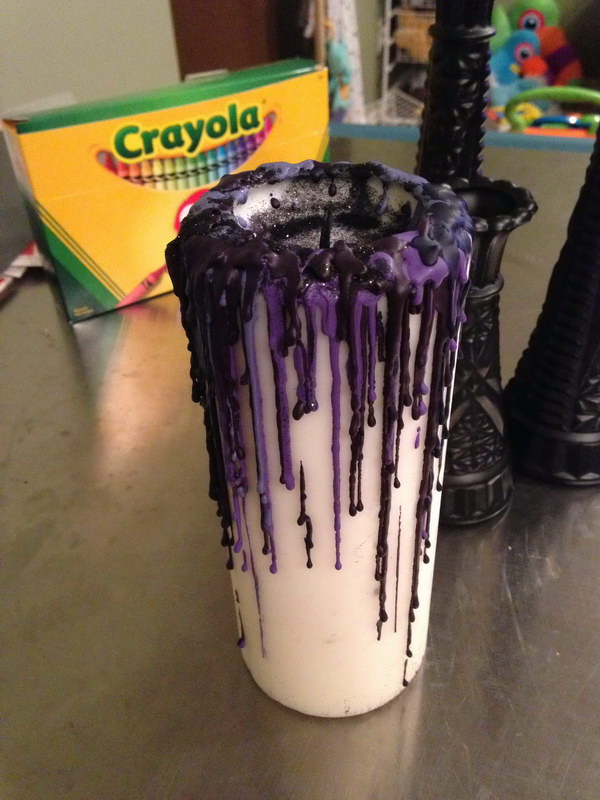 Get some crayons and one big candle. Get the creep on by melting different dark colors of crayons that drip from the candle. via source
Phantom Shadow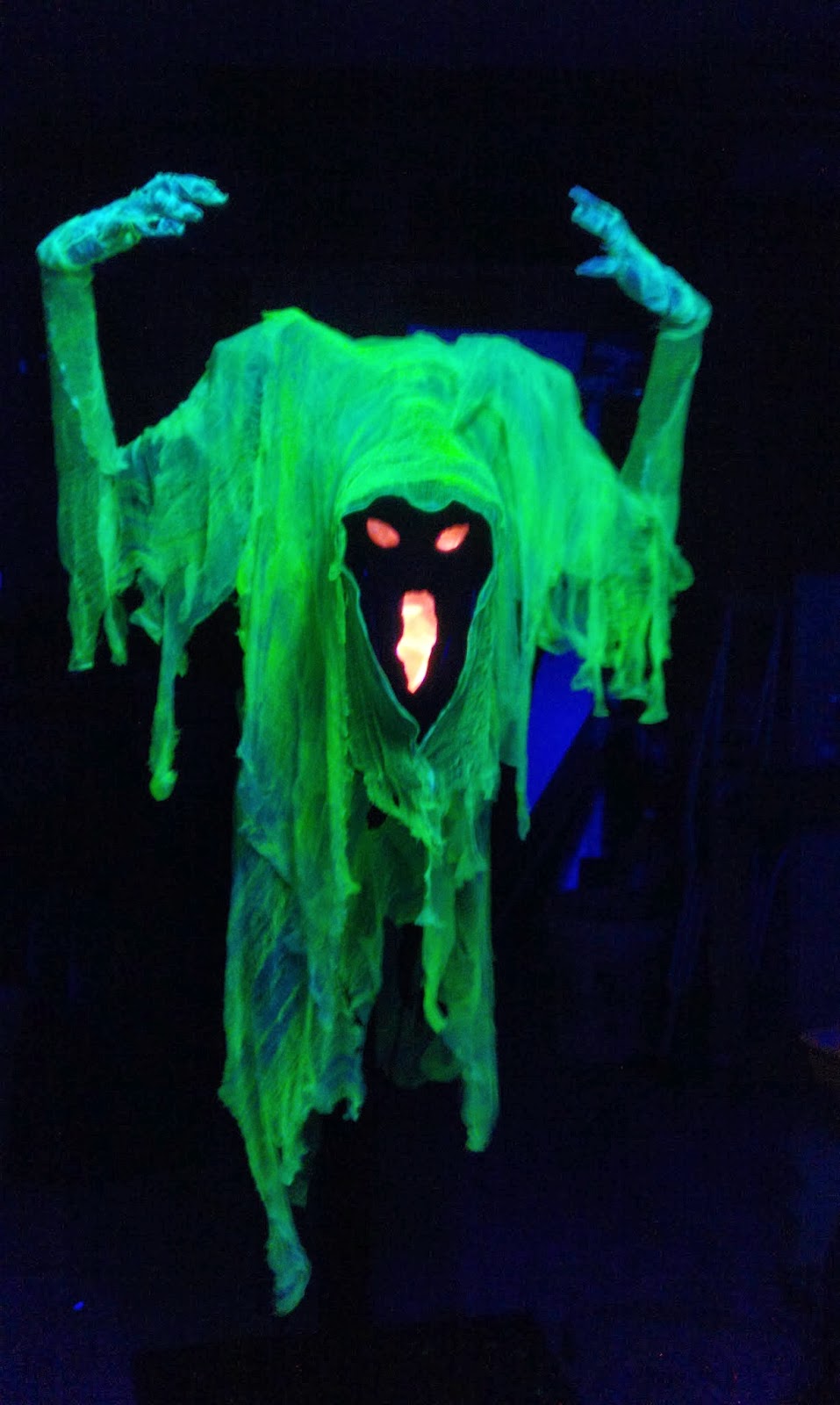 via source
Halloween Bats Made From Trash Bag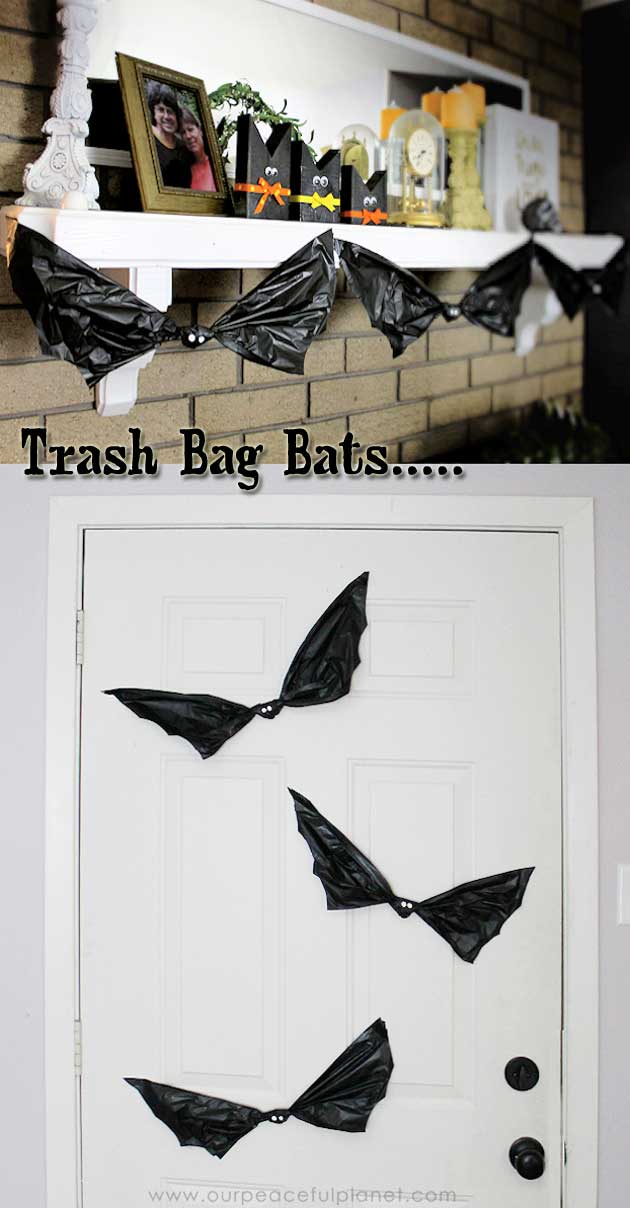 via source
DIY Glowing Skeleton Hands

These easy glowing skeleton hands make a spooky addition to your outside yard when the lights are dimmed. via source
Monster Lockup Pumpkin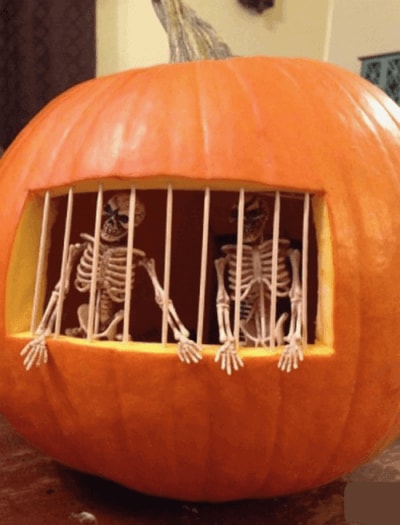 Carnivorous Plant Candy Holder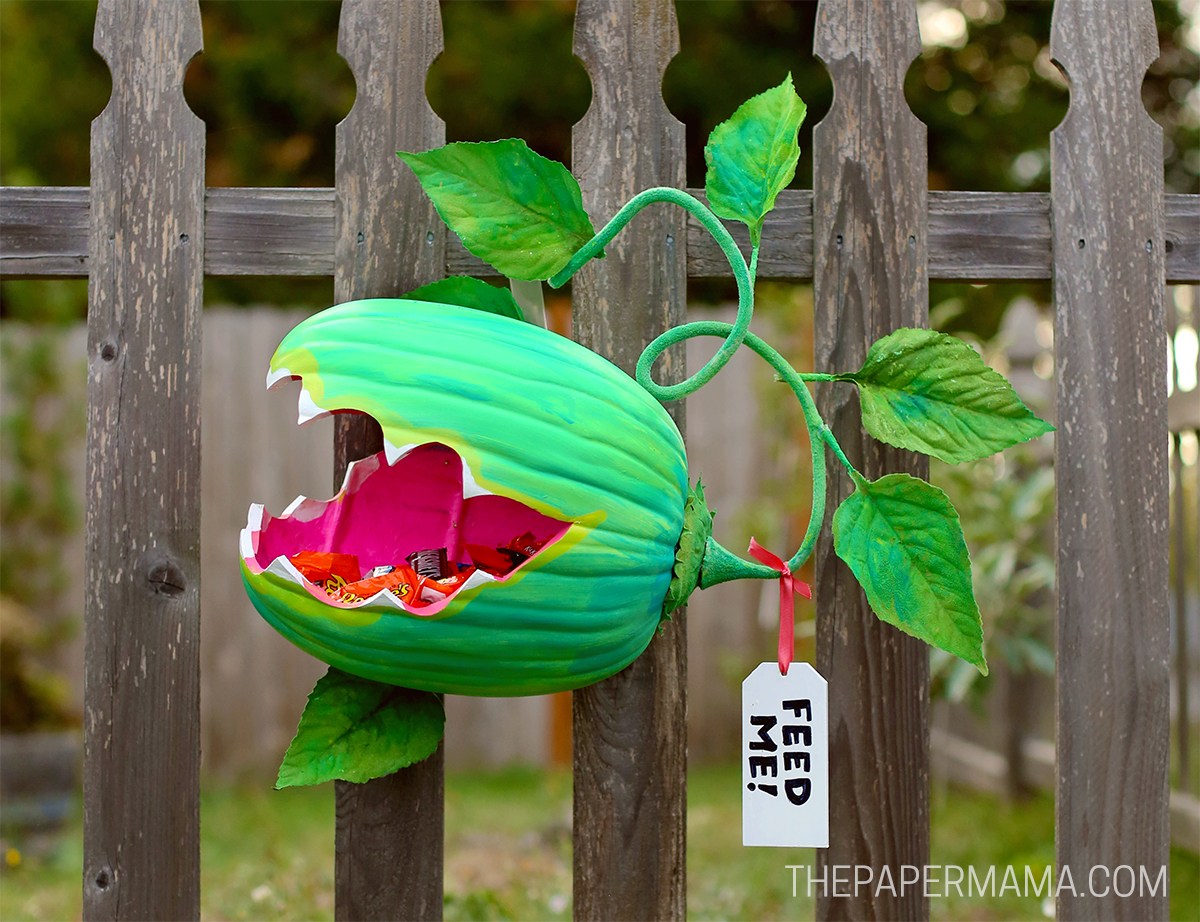 via source
Use A Dollar Store Plastic Pumpkin As A Mold For A Concrete Halloween Ornament

Tell your guests that Medusa is creeping around by showing them this concrete pumpkin. Want to make one for yourself? Use a plastic pumpkin as mold, fill it up with concrete, and once it's dried, cut out the plastic and your concrete pumpkin is ready to get the scare going. via source
Three Sister Witches Out Of Milk Jugs And Black Trash Bag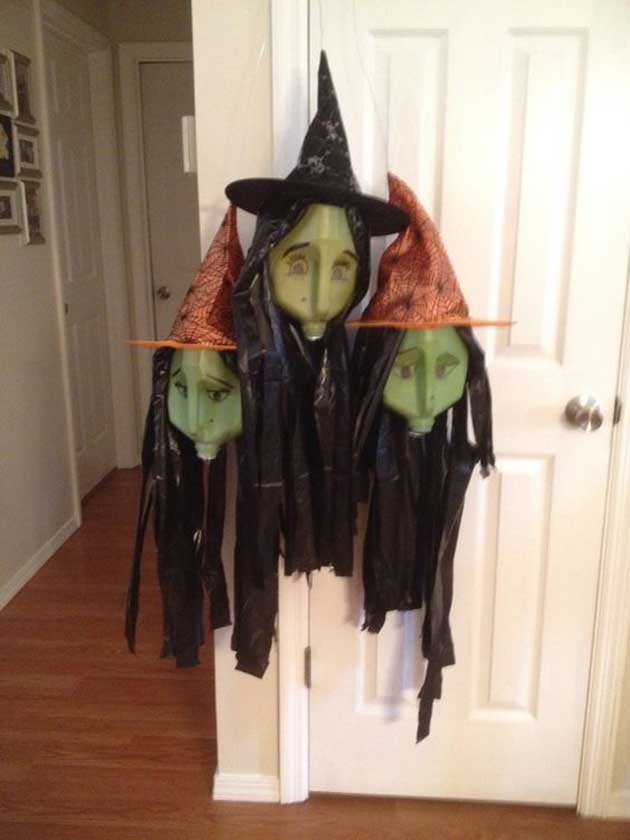 DIY Creepy Halloween Hand Picture Frame

This project is really more on the morbid side of spooky, but it's easy to make. You need a large, completely black frame to serve as the background and several fake hand casts. Remove the frame's glass, paint the detail on the hands and then glue the two together so that the hands look like they are crossing the wall from Beyond. via source
DIY Spooky Door Greeter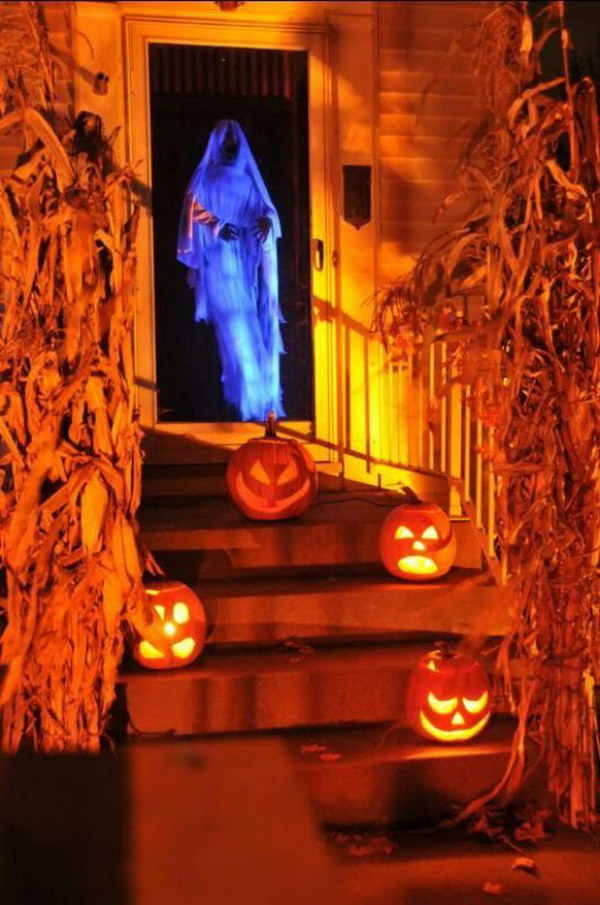 What a fun Halloween chicken wire ghost dressed in cheesecloth! Use cheesecloth and chicken wire to make a spooky floating ghost. Add some glow sticks to the back and your guests will get a fright when they reach your porch.
Hocus Pocus Witches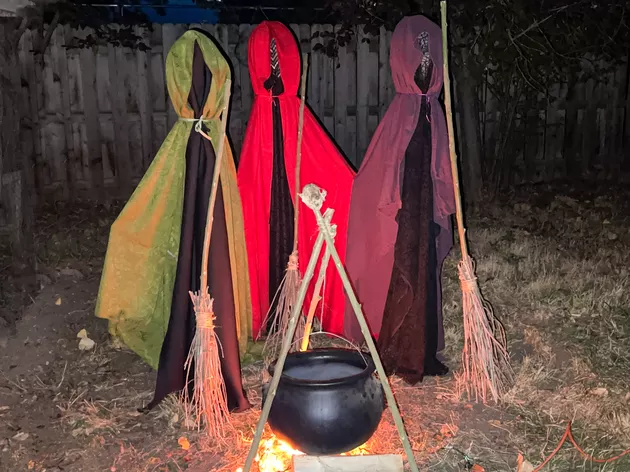 via source
DIY Witch Mason Jars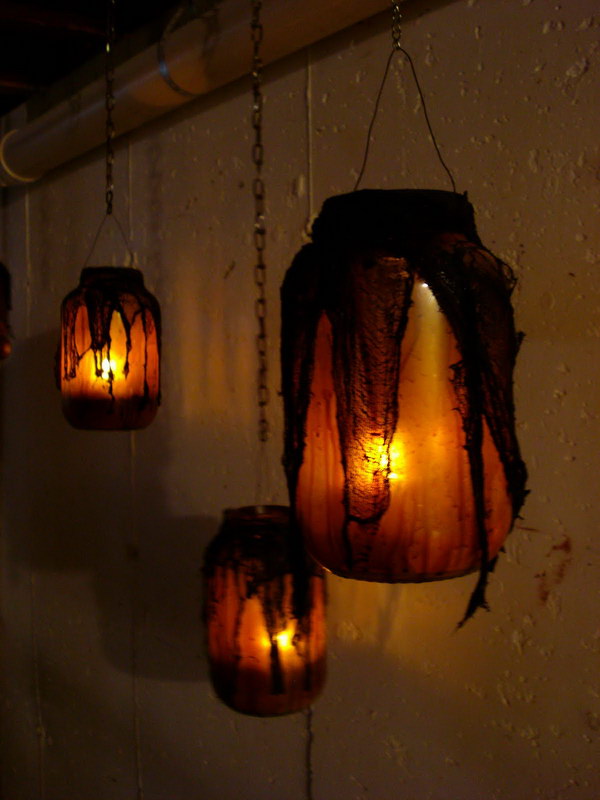 Add a touch of DIY magic to your Halloween decor. Check out these easy witch mason jars. via source
Trash Bag Spiders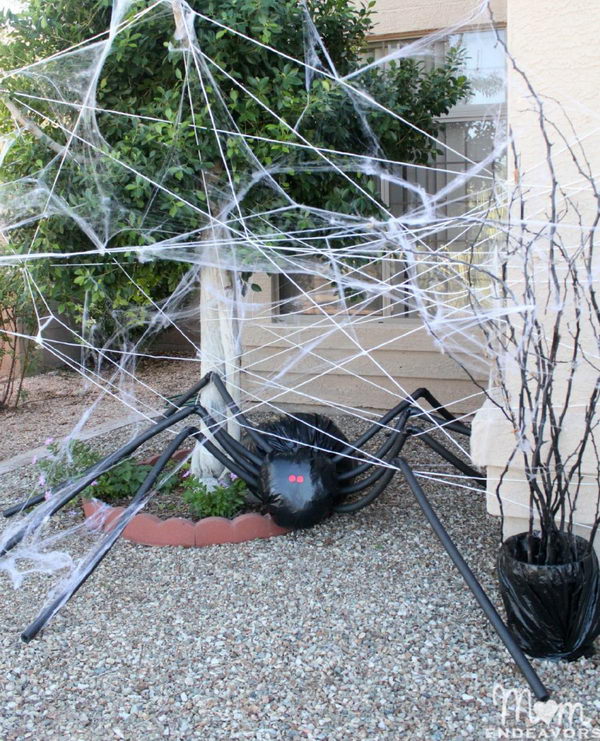 These spiders are really easy and affordable to make, but they are very realistic and effective, especially if placed among a web of sorts like it shows in the picture. via source
Hilarious Skeleton Decorations For Yard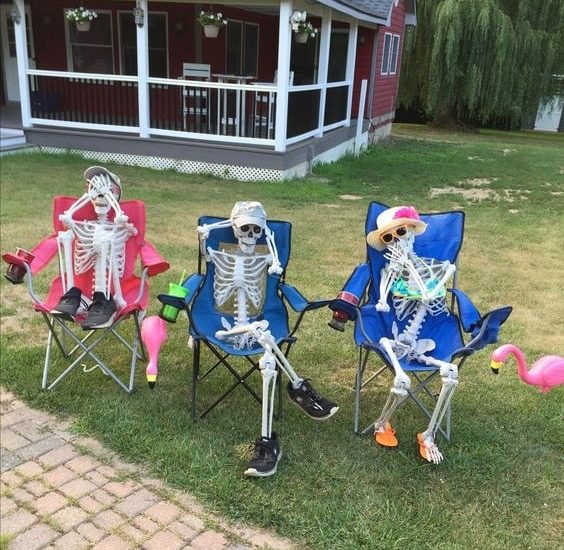 Deathly Wheelbarrow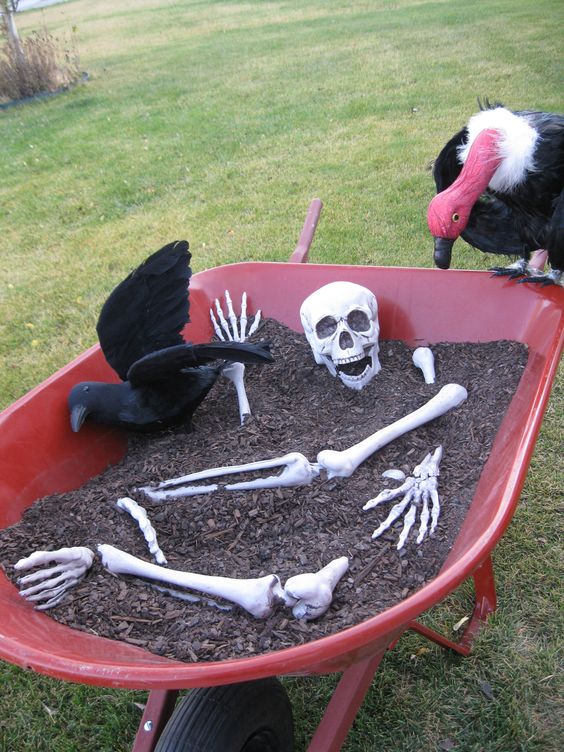 Scary Halloween Yard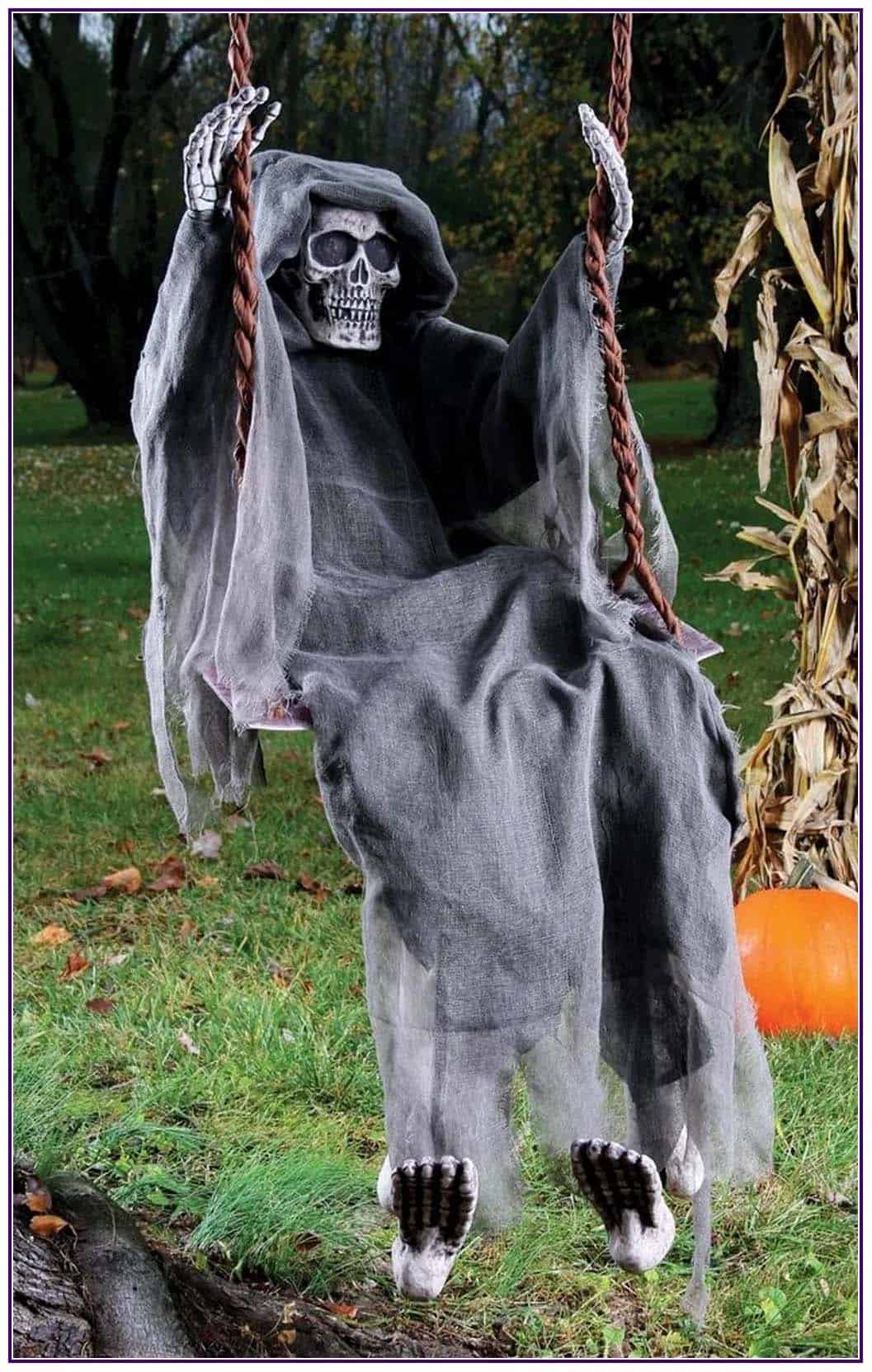 Man Eater Plant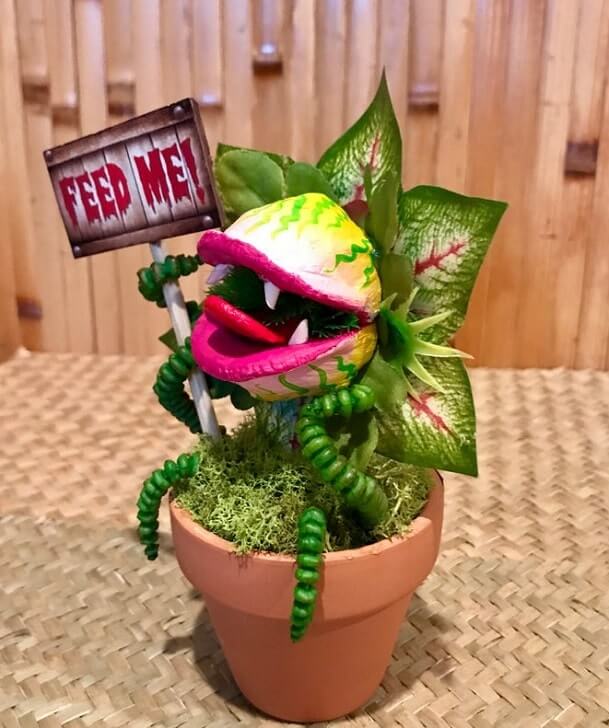 DIY Black Roses & Eyeball Lollipop Bouquet and Topiary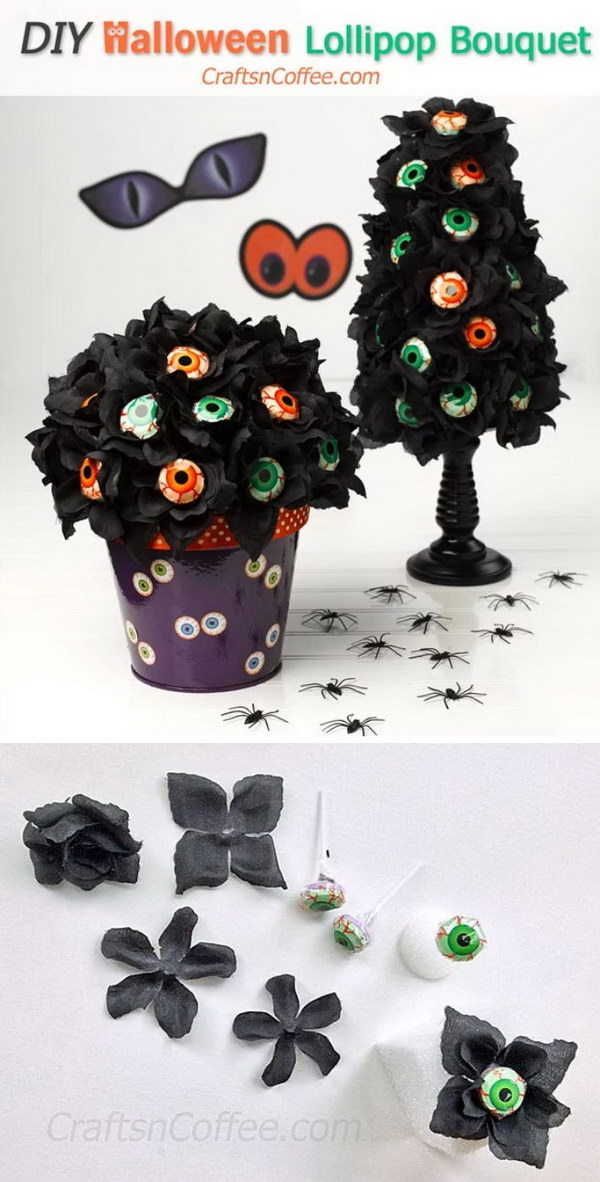 via craftsncoffee
DIY Cardboard Zombie Barricade

Create a barricade on your windows and even staircase with card board cut outs of pieces of wood, and some black arms that creep out of the space between the barricade. via source
DIY Black Cat O'Lanterns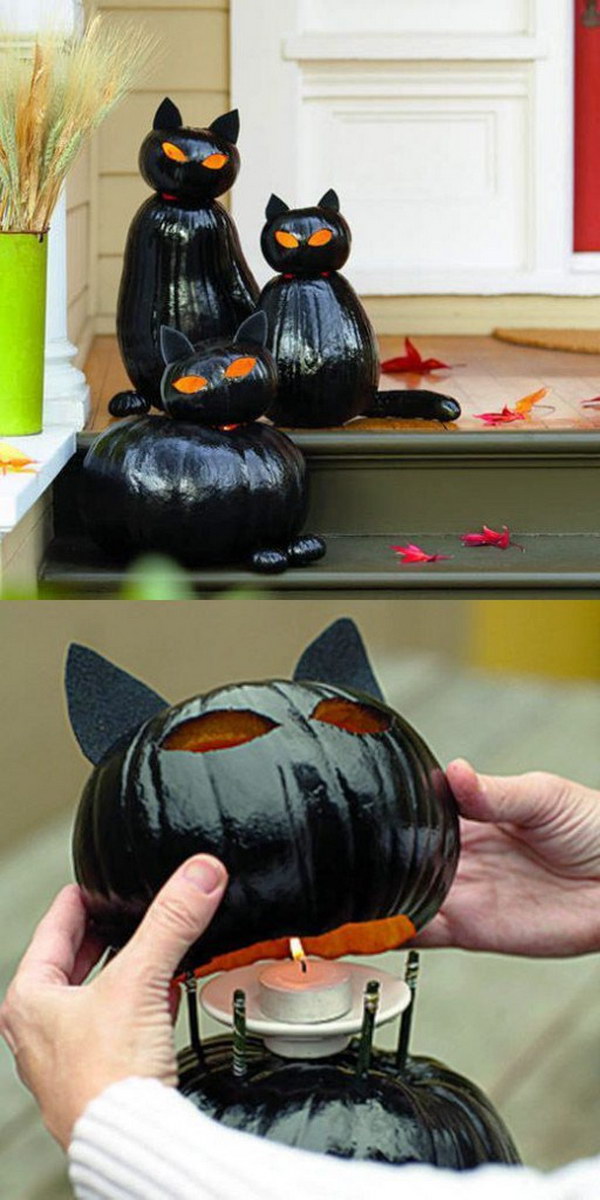 Paint your pumpkins black and turn them into one of Halloween's most famous symbol – the curse of the black cat. via source
Ping Pong Ball Ghost Lights

Using the same technique as the Floating Ghost, cut out some small pieces of cheesecloth, and when stiffened, place them over Christmas lights to create your little army of ghosts. via source
Harry potter Soaring Candles Made From Paper Towel Rolls

This decor is especially great at night. Cut out some paper towel rolls, paint them to mimic a candle, place a candle inside and make sure it won't fall out, and hang the rolls with nylon from the ceiling. The nylon thread is transparent so your candles will definitely look like they're floating on air. via source
Skeleton Made Of Plastic Bags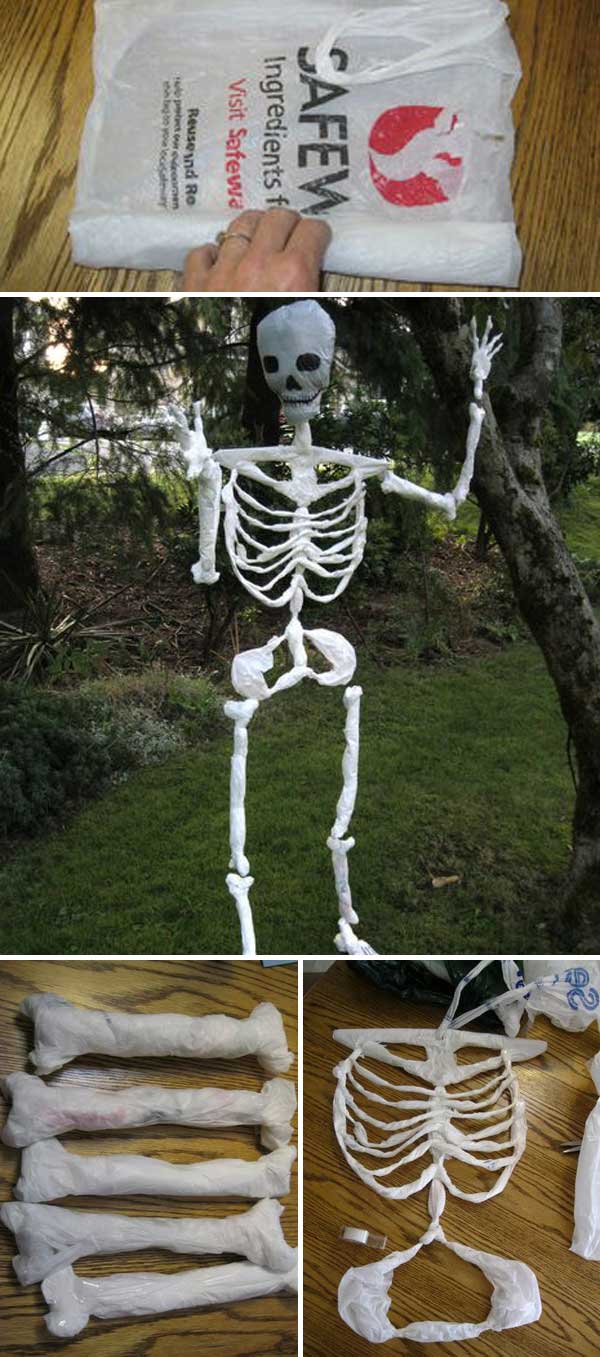 via source
Silhouettes Halloween Witch
This silhouetted Halloween witch is very cleverly built with its layered skirt and the broom handle placed at an angle that makes it look like it was hold by the witch's hand.
Pumpkin Monster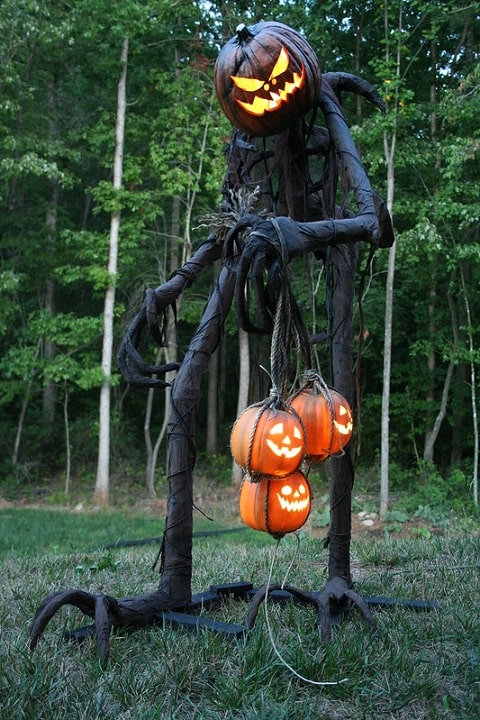 Halloween Yard Decoration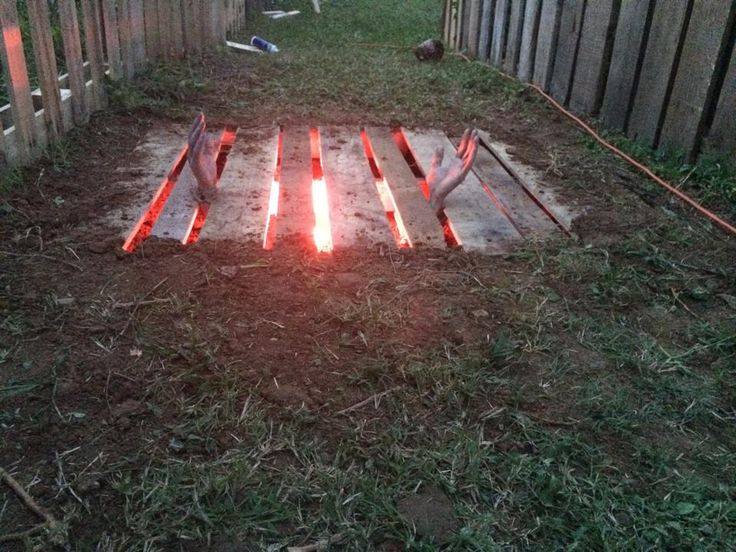 Another front yard idea, dig a hole in your yard big enough to place a lamp. Place a lamp in the hole, a few pieces of wood to cover it up, and place a pair of arms reaching out to mimic a secret dungeon or basement. Your neighbors will surely look twice if someone is indeed trying to get out from the ground.
DIY Witches Hat Luminaries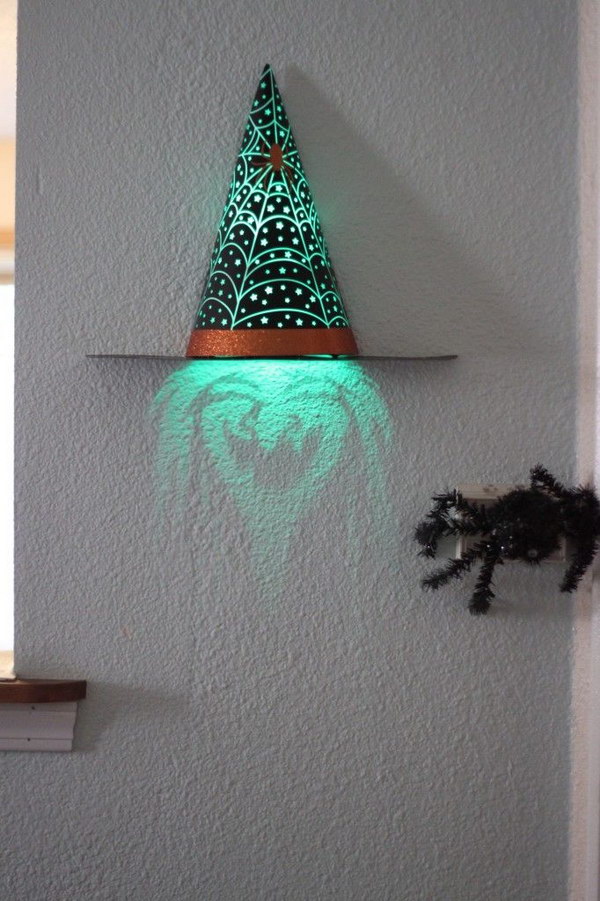 via source
Eyeball Flowers

Buy some plastic or fabric flowers, paint them black or deep purple, and glue a piece of large eyeball in the middle for some creepy flowers. Don't forget to place them in pots or jars for an unexpected fright. via source
Use Thick Black Trash Bags To Really Keep Out The Light