Laundry rooms are the workhorses of household space, holding clothes, ironing, cleaning supplies, crafts, muddy boots and litter boxes well out of sight of most household guests. Laundry rooms are also frequently one of the most overlooked rooms in a home.
Whether you have a big or small laundry room, you always have to make sure that everything is organized. A well-organized laundry room can make the task of doing laundry less monotonous and more comfortable and functional.

If you want some laundry room ideas on how to get organized and become clutter-free, you've come to the right place, these organization and storage ideas for the laundry room will help you out!
Organize Laundry Room Using Slatwall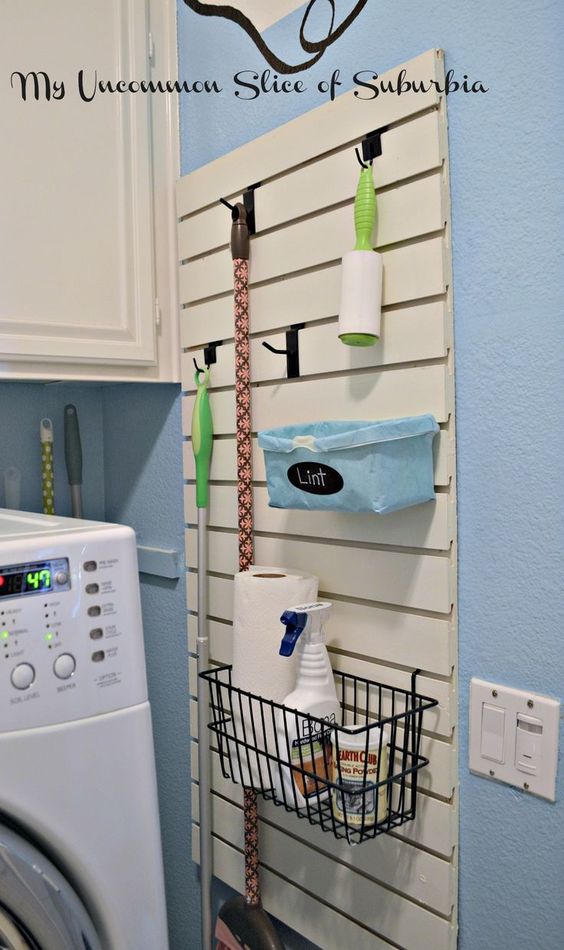 DIY Ironing Board Station Using a Wood Crate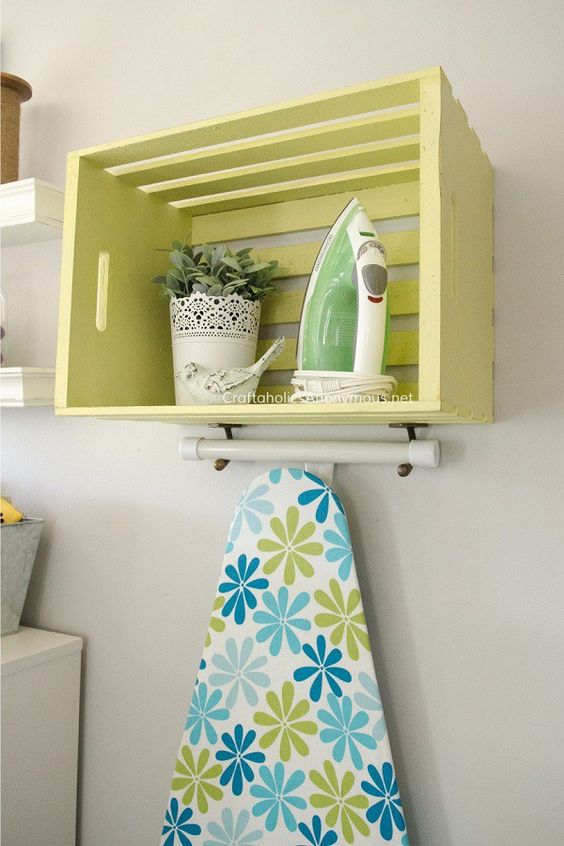 DIY Laundry Basket Organizer

via makeit-loveit
Two Robe Hooks Make Easy Way to Hang an Ironing Board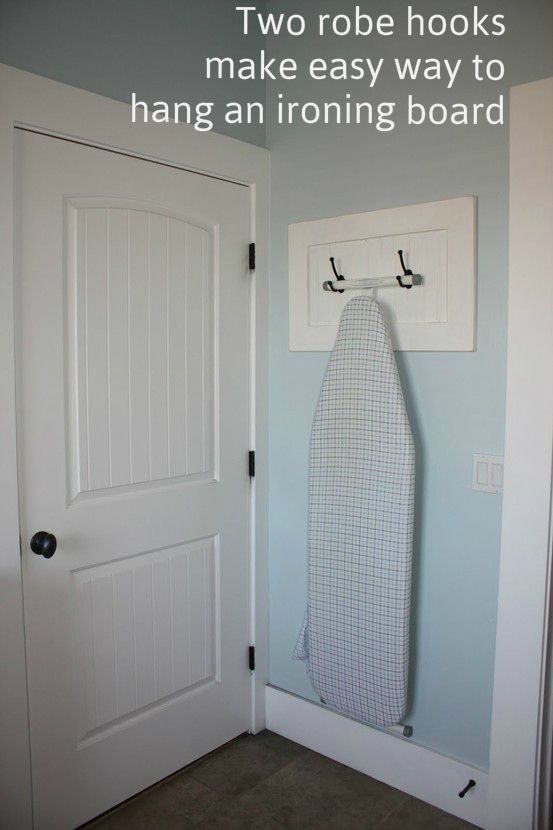 From Laminate Closetmaid Storage Cubes To Laundry Wall Storage Units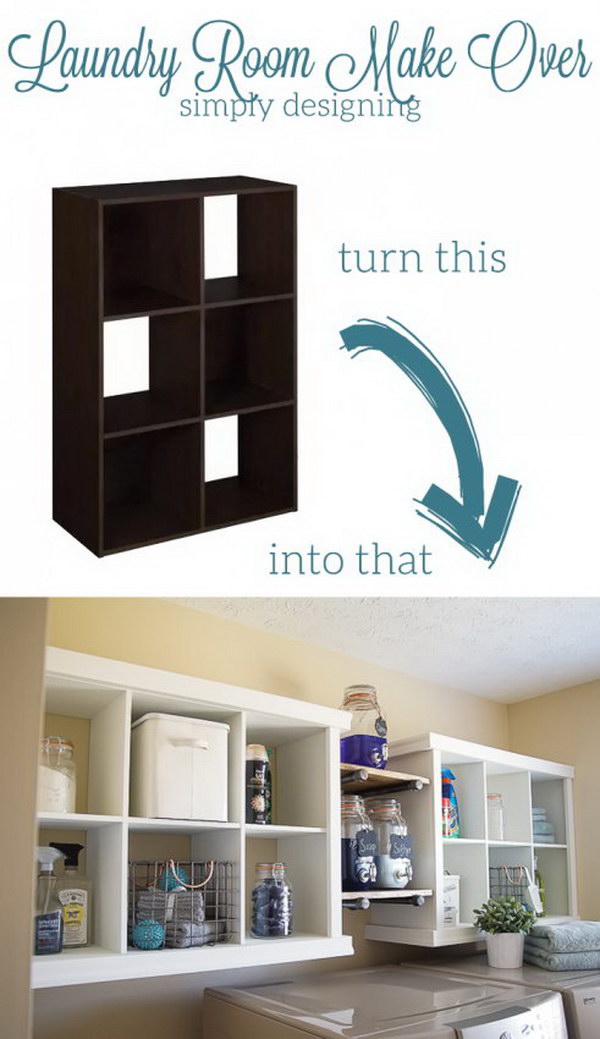 Add Tilted Shelving Above The Washer And Dryer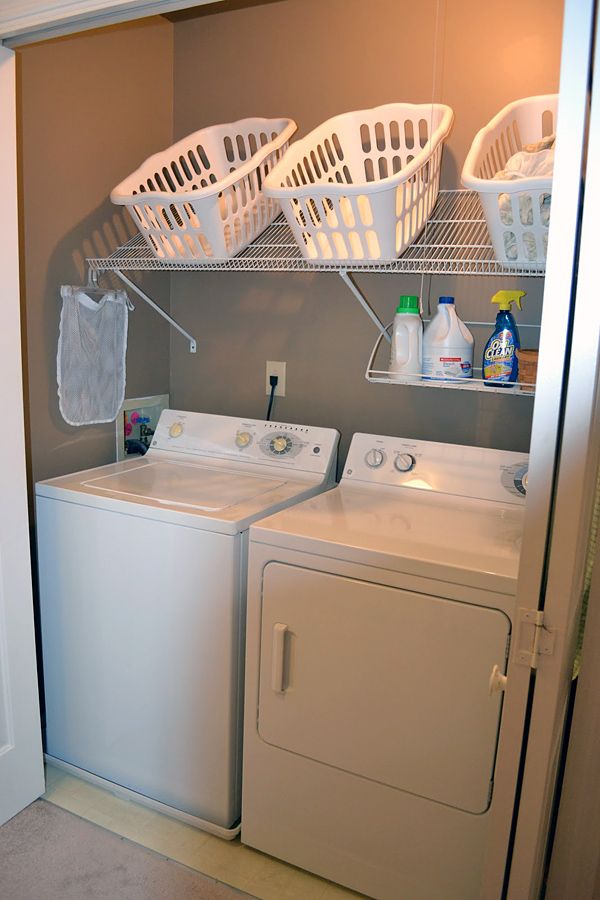 This tilted shelf over laundry machines helps you to keep laundry accessories hidden away, and you'll also have space for clothes that need to be hung to dry. via source
DIY Space Saving Slim Rolling Cart In Between The Washer And Dryer

Install Hooks To Hang Laundry Bags for Sorting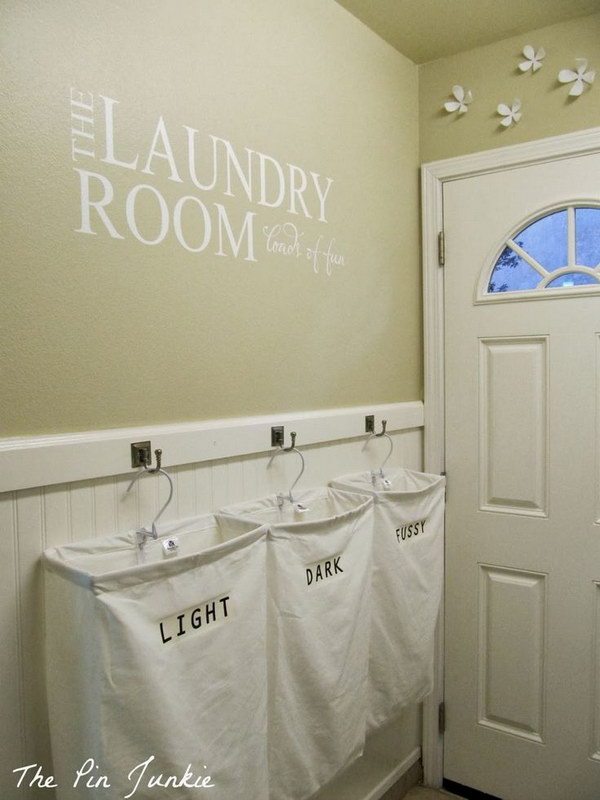 This is perfect for a very small laundry room to save floor space and sort laundry on the wall. via thepinjunkie
DIY A Space Saving Fold Flat Dry Rack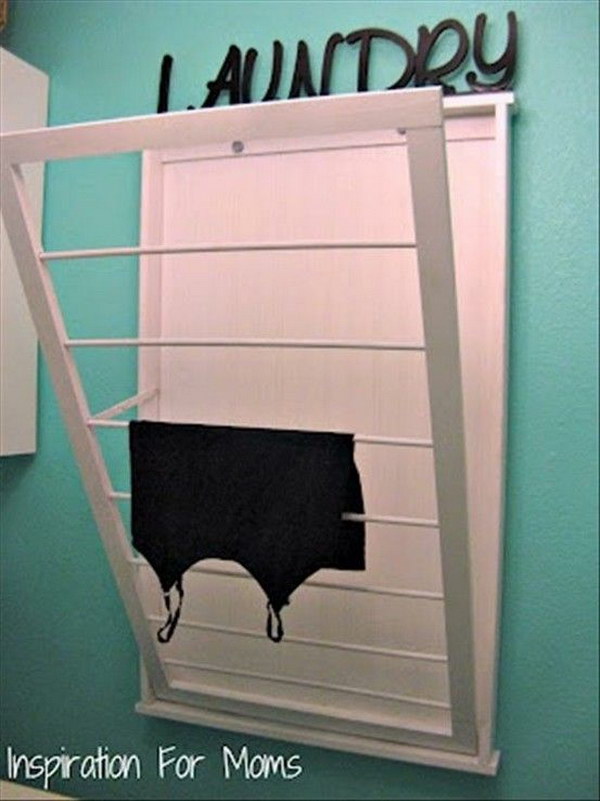 Make a clever fold-away drying rack for your small laundry room. And you will never need to squeeze past your drying rack every time you'd like to add a load. via inspirationformoms
Tuck A Retractable Clothesline Into Your Laundry Room Cabinets To Maximize Your Line Drying Space
via source
Laundry Room Hanger Valet Folds In To The Wall When Not In Use
Don't have space for a full hanging rod? QuickCloset $38.99 For the Laundry room, could hang above the fold away laundry table.not one person notices it when it's folded up and not in use! Perfect! via organizeit
Store An Ironing Board In A DIY Built-In Wall Cabinet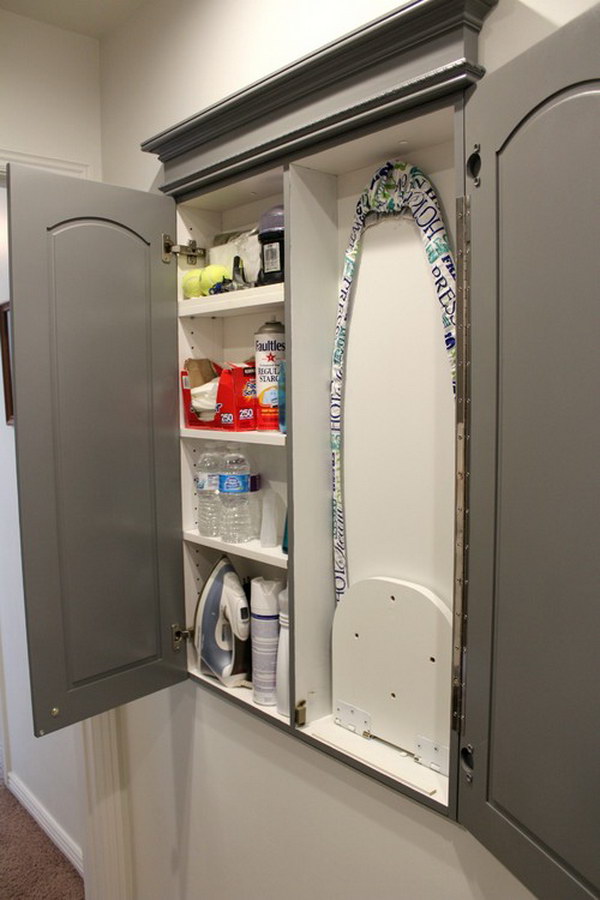 Add a cabinet to any dead space in your kitchen or laundry room for your iron board and other stuff. Plus, you can make the outside of the door a mirror. via huffingtonpost
Use A Spice Rack Type Storage Shelf On A Door for Cleaning Products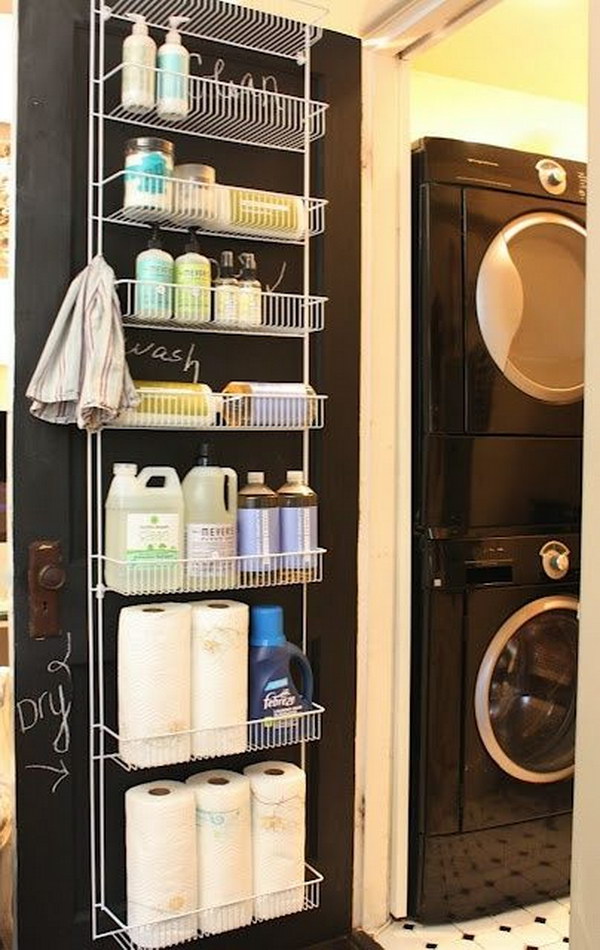 Functional Small Laundry Room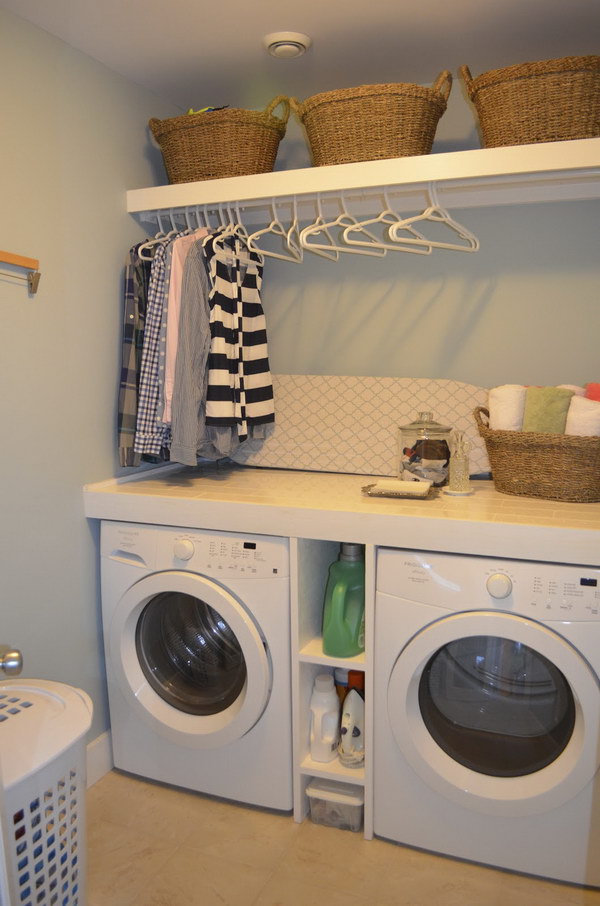 The shelves in between the washer and dryer are a perfect spot for detergents and fabric softeners. The counters add hanging space above your dryer to hang clothes. via homedecoratingdiy
Repurpose A Crib Spring As A Drying Rack

Use An Old Ladder In The Laundry Room As A Drying Rack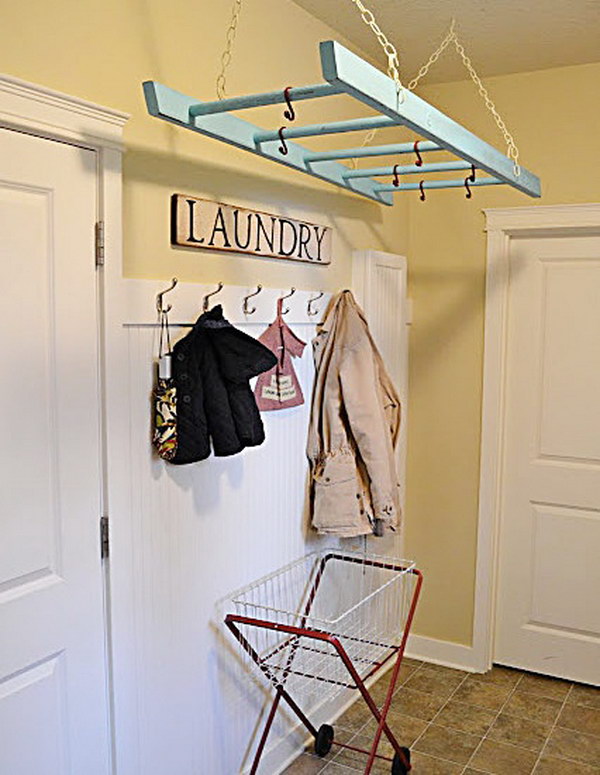 Give an old ladder a coat of paint in your favorite color and hang it from your ceiling to act as a drying rack. Great idea! via littlelucylu
Mount Brackets On The Wall of the Corner To Hold Baskets

via source
Create Space For Storage Baskets With This Diy Washer And Dryer Pedestal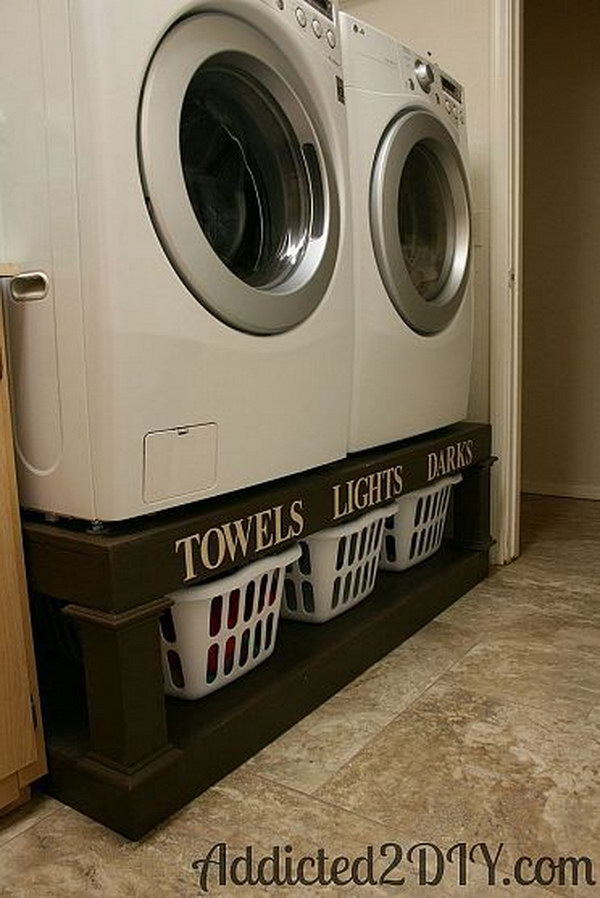 The platforms you can buy for washers/dryers are so expensive! You can make one with your own hands! via addicted2diy
Under the Sink Storage in Laundry Room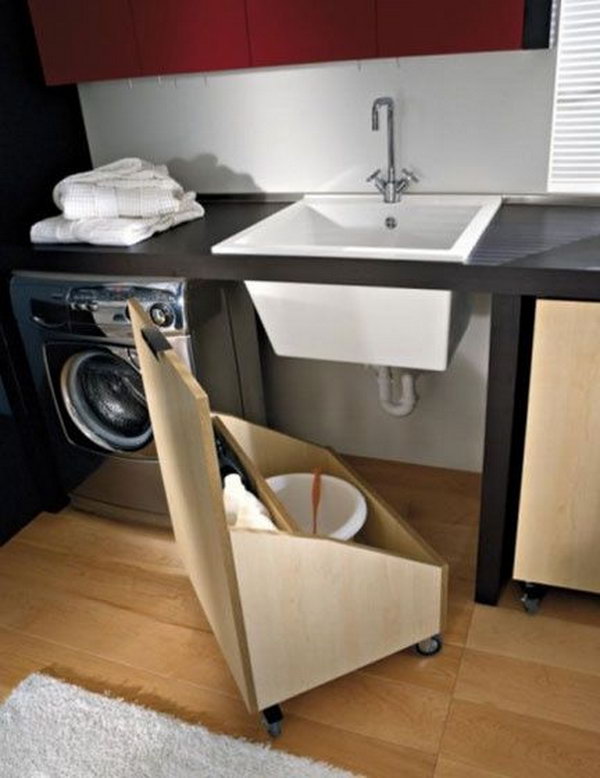 via mymodernroom
DIY Floating Shelves for Using Space Above The Washer
IKEA Towel Bars For Drying Clothes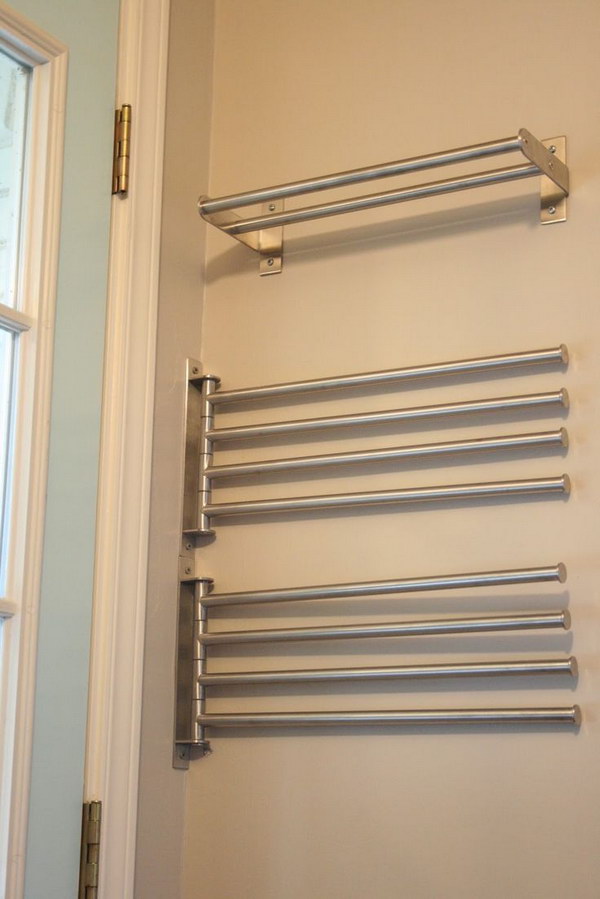 via ikea
Solve The Common Household Problem With This DIY Lost Socks Sign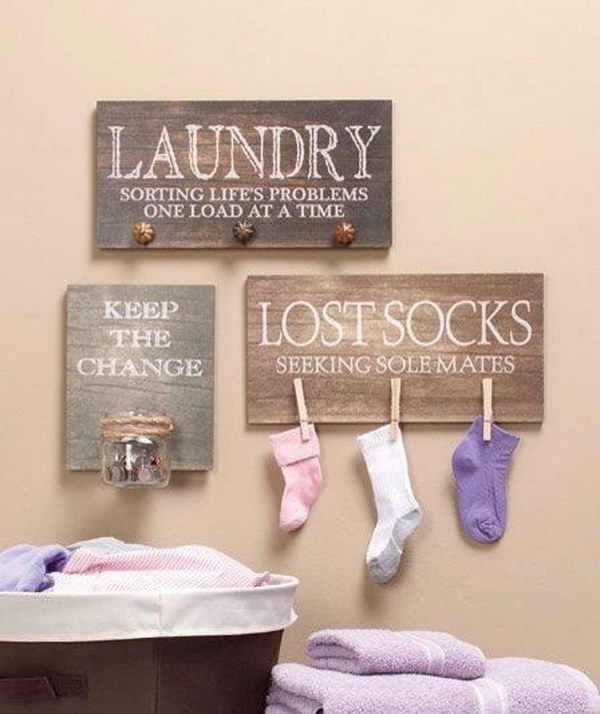 via etsy