As summer comes to an end, it's time for parents to get prepared for various school supplies. Instead of spending too much on commercial products, these DIY back to school projects are great alternatives to add personal touches as well as creativity to break out from ordinary things.

Here are some crafty and cost-effective ways to stock up on adorable back to school supplies to bring your kids a lot of fun and surprises.
Confetti Pencils

via makeandtell
DIY Glitter Pencils

via source
DIY Back to School Homework Station

via polkadotchair
DIY Notebook Cover That Looks Like a Clutch Purse

via jenniferppriest
Back To School Homework Caddy

Place cardboard cartons side by side to tape bottoms together. Wrap washi tapes all around the surface of the boxes to create stunning outfit. It's perfect to keep all your stationery organized. Get the steps here
Decorate Your Pencils with Washi Tape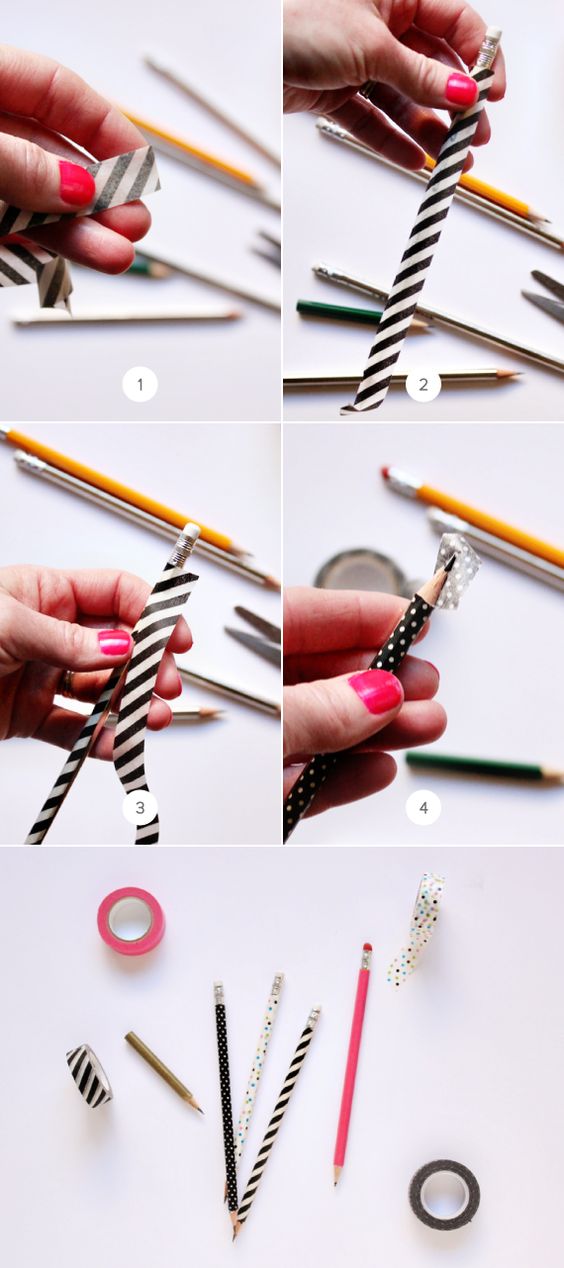 It's super easy to decorate your pencil by wrapping up washi tape on pencils to transform your pencils into beautiful crafts. Get the tutorial here
Colorful DIY Planner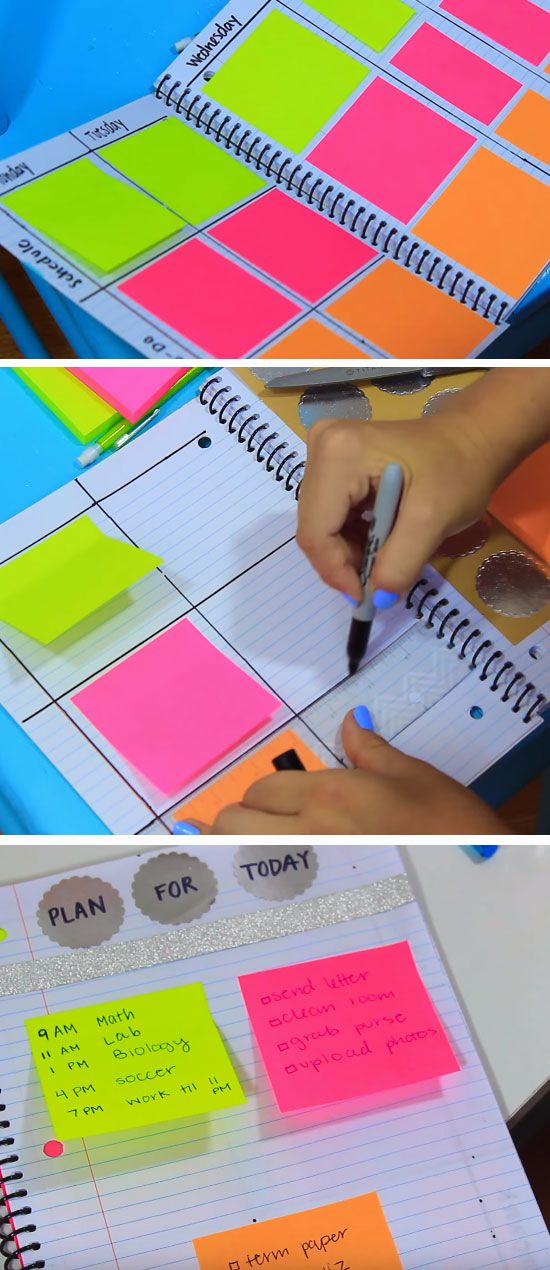 via Youtube
Washi Tape DIY Page Dividers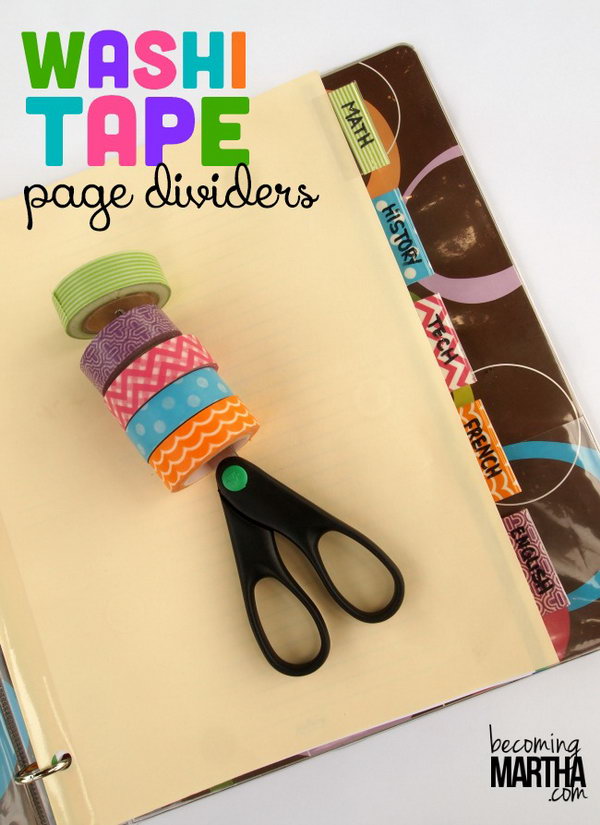 Add washi tape to the divider, it would be perfect if the pattern of the tape matches with the colors of the divider. It's super easy yet useful. Get the instructions here
DIY Lunchbox Container from a Milk Jug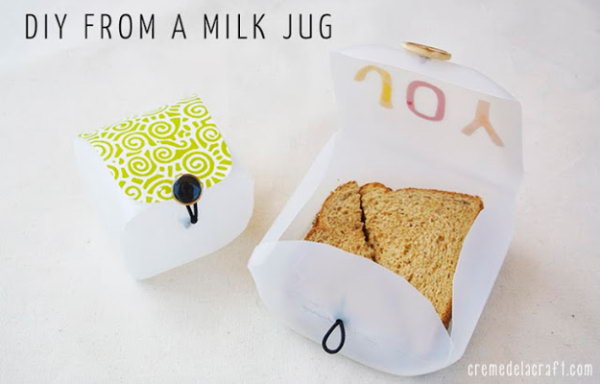 Cut and assemble the customized lunchbox container from the milk jug. Punch holes and use thread to pin it up. It's a good way to contain your food from recycled items. Get the tutorial here
Pipe Cleaner Pencil Toppers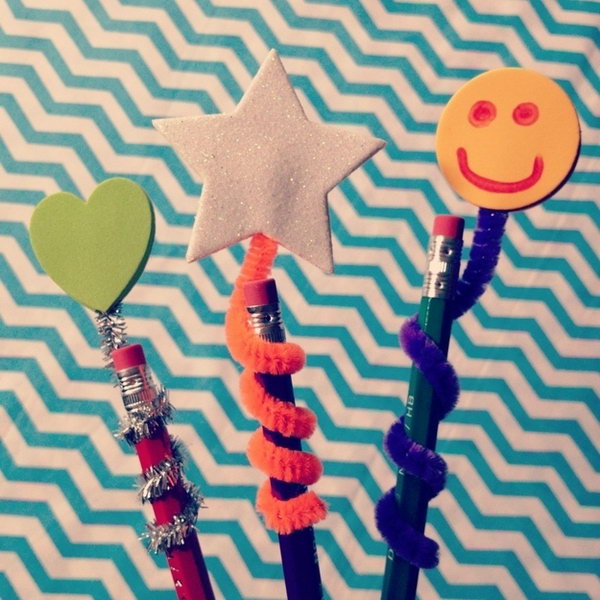 Attach foam stickers to the end of the halved pipe cleaner. Line it up with a pencil to make it a crafty one to create something fun for your kids to enjoy. Get the instructions here
Back-To-School Lacing Bookmarks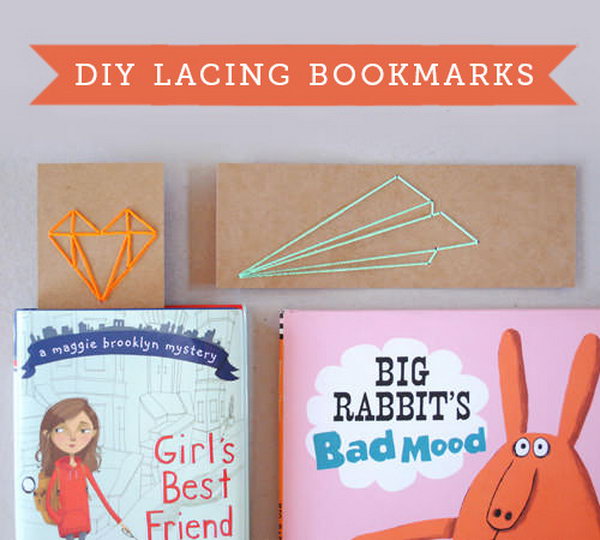 If you kids are book lovers, punch holes on the fiber board and create beautiful patterns with embroidery thread to personalize your bookmark for your kids. See how here
DIY Back to School Shutter Door Organizer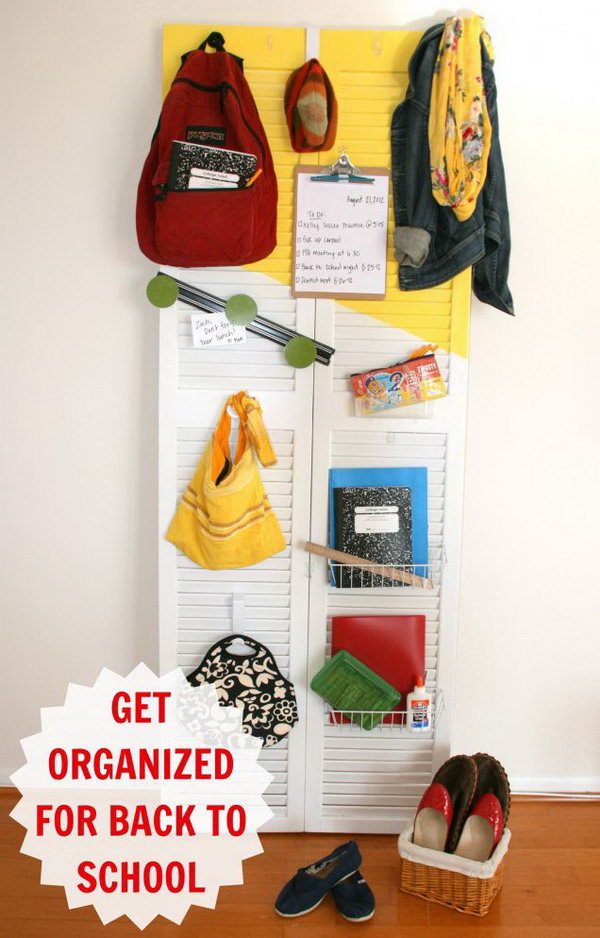 Secure hooks, magnetic knife strips, baskets and caddies on the white pained door to turn it a good place to get your school projects organized without taking too much space. See the details here
DIY Travel Art Roll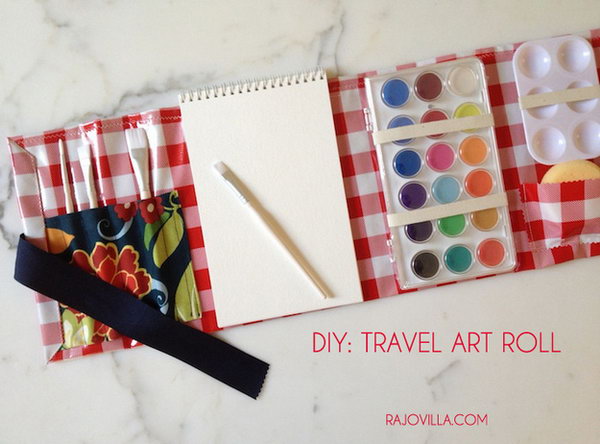 Assemble and attach each holder to the art roll made from oil cloth. Sew them in the measured place. It's a good way to pack your school essentials in this stylistic manner. See how here
Belted Map-Covered Notebook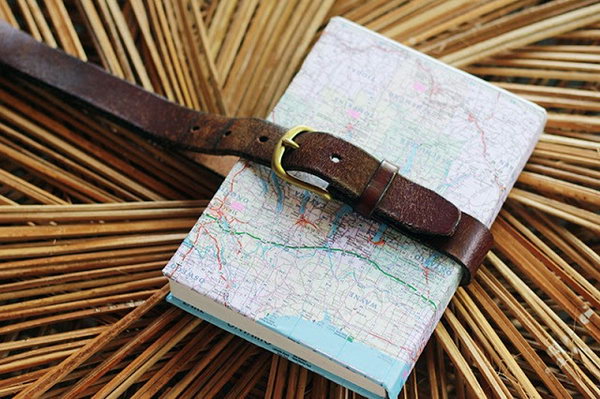 Wrap up the book with map patterned cover. Wrap belt around the book and secure the belt with super glue. This back to school project is portable as well as fashionable. See how here
DIY Pens Made With Neon Printed Paper
Insert neon printed paper into the plastic pipe to add fashionable style to pens. It's simple yet super chic. Get the steps here
DIY Desk Organizer Made With Cereal Boxes And Toilet Paper Roll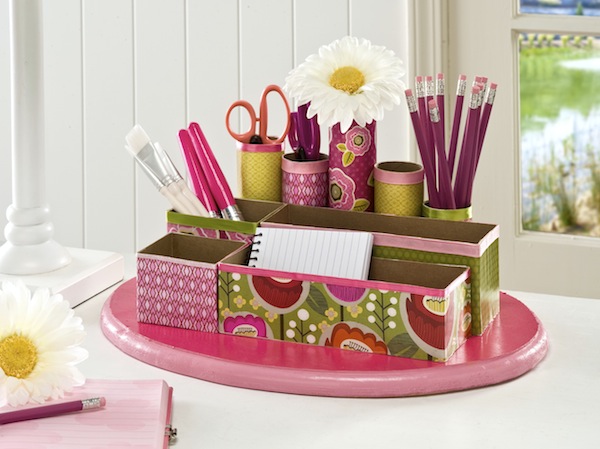 Assemble and decorate each compartment then glue them on the wood plaque. It's great to avoid your desk from mess. Get the tutorial here
Zippered Pencil & School Supplies Case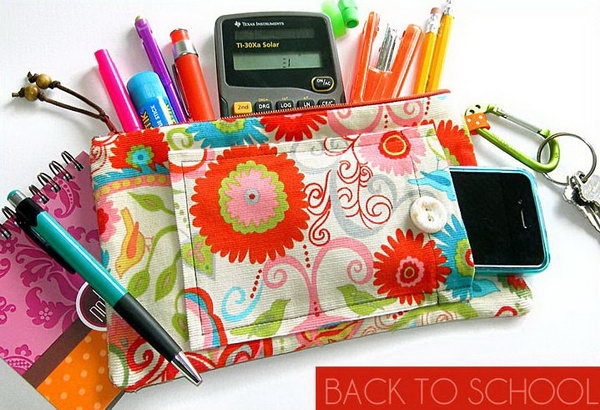 Sew the pocket with beautiful patterned fabric, insert the zipper and clip the case onto the ribbon loop. Tie both ends in a knot against the zipper pull to secure. It's perfect for kids to place all the stationery into it. Get the tutorial here
Rainbow Crayon Holder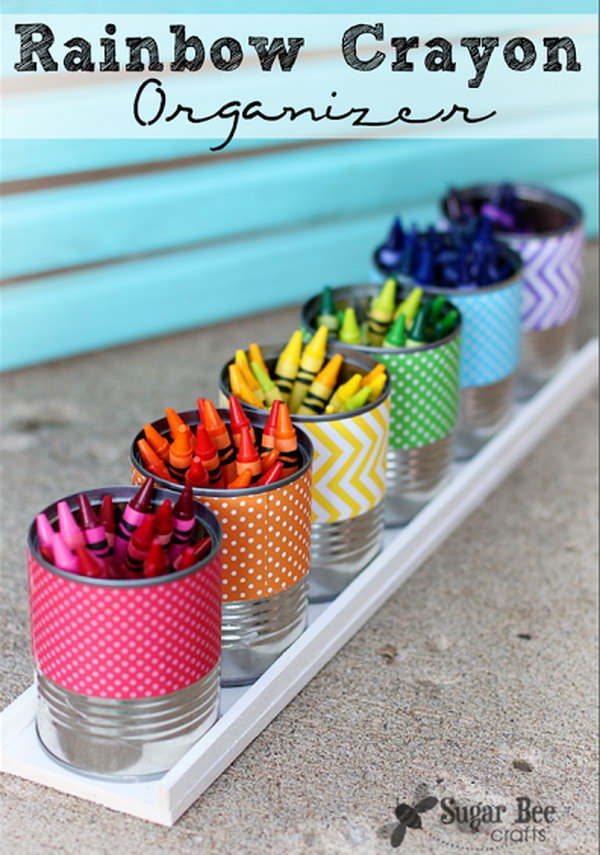 If you bothered by messy crayons everywhere, this DIY back to school project may save you. Simply wrap scrapbook paper on your empty cans. It's perfect to organize the color in the rainbow style. See the details here
Back To School Dry Erase Clip Board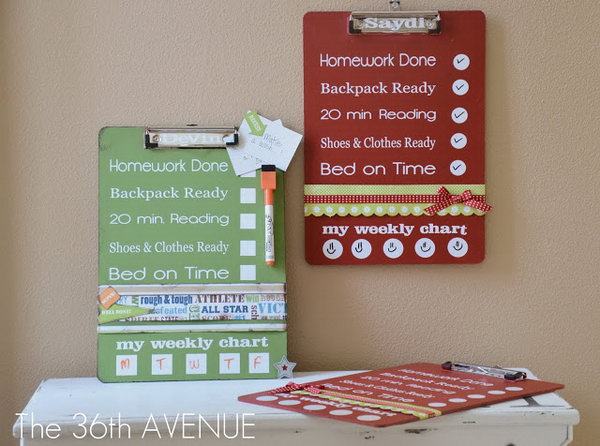 Use vinyl to add polka dots and embellish clipboards to finish this clip board off with a stunning decor. Kids must love its adorable outlook as well as useful application. See the details here
DIY Notebook Sewn Canvas Tote Bag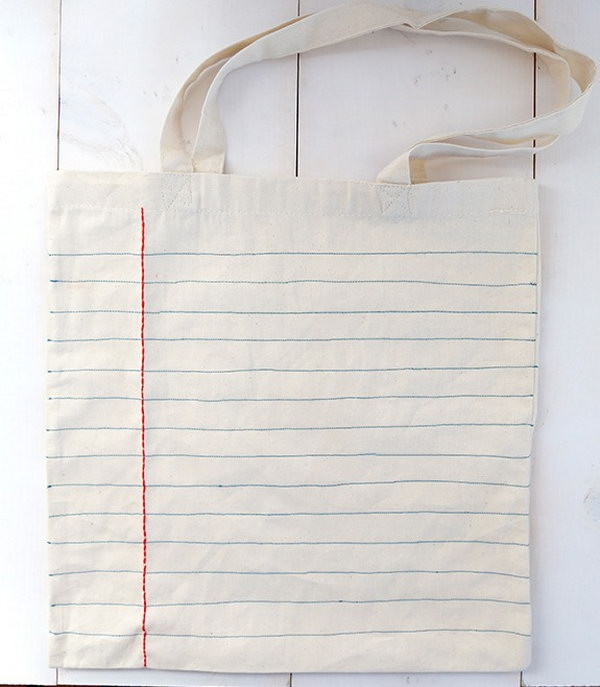 Use the sewing machine to mark the horizontal lines and make the embroidered red stripes. You can DIY this canvas tote bag with little effort. Get the steps here
DIY Monster Pencil Cases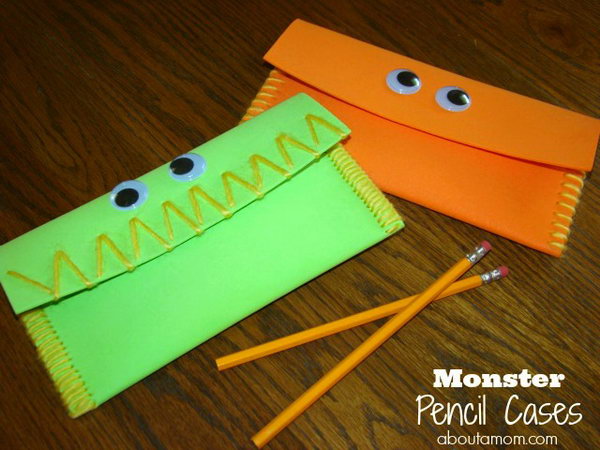 Do a large zig zag stitch to create some teeth for the monster pencil case to add up the taste and creativity for your kids to enjoy when they are back to school. Get the tutorial here
On the Go Organizer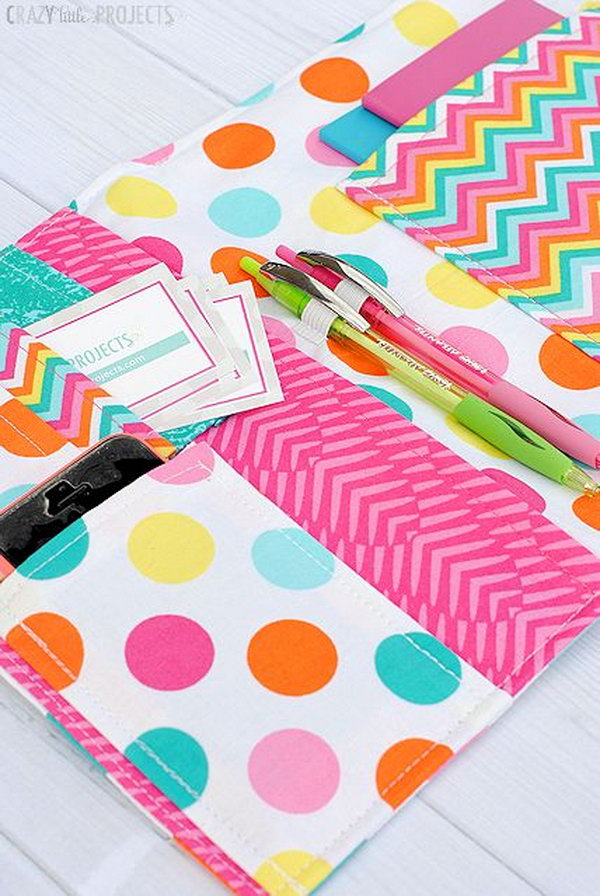 This On the Go Organizer holds notebooks, pens, phone, to do lists, cards and anything else you need! Just Sew pockets to keep your school essentials in place with fabric in bright color and beautiful pattern. Get the instructions here
Ribbon Bookmarks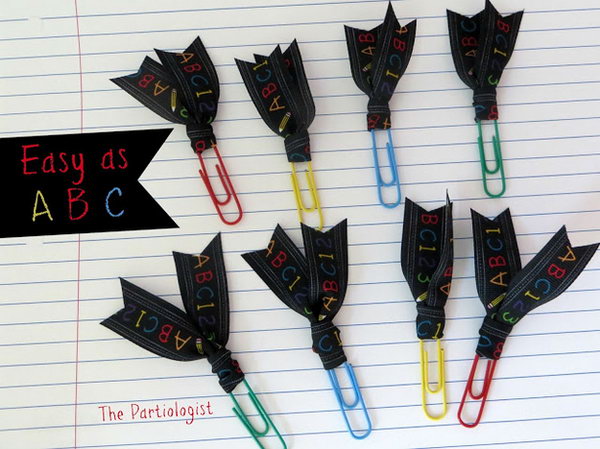 Mark whatever you like on the ribbon with colorful sharpie, tie black ribbons on the paper clip. Your kids must like this creative bookmarking craft. Get the steps here
Homework Station Turntable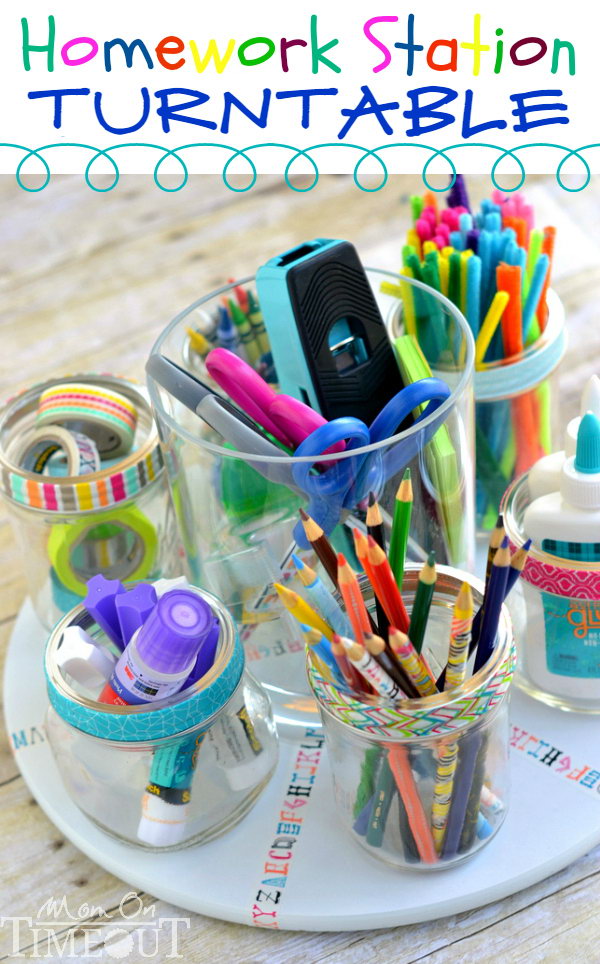 This Homework Station Turntable keeps all homework supplies at your fingertips. Just design the layout of the turntable, put washi tape decorated mason jars on it. It's fabulous to get all your school essentials organized. Get the tutorial here
Notebook Lunchbag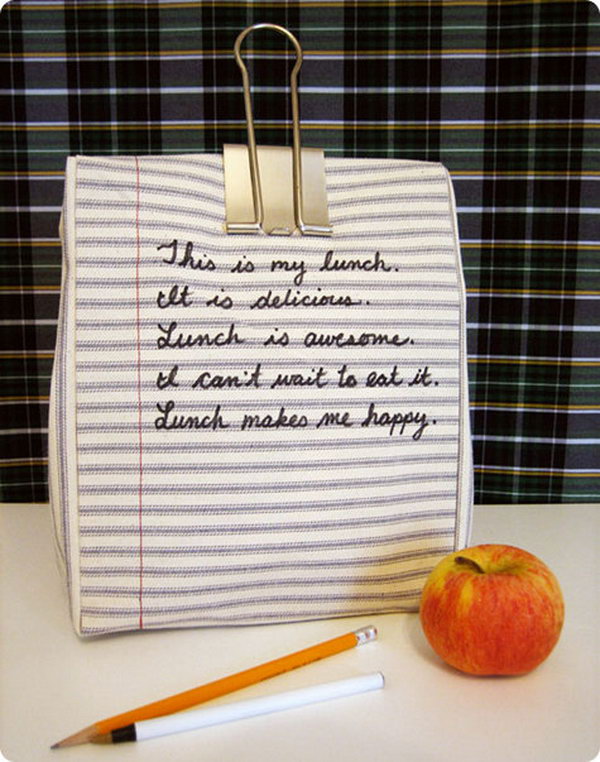 Sew up each flap of your bag from the canvas fabric. Mark whatever you like with black fabric pen to personalize your own lunch bag for your kid. Get the instructions here
Back to School Homework Station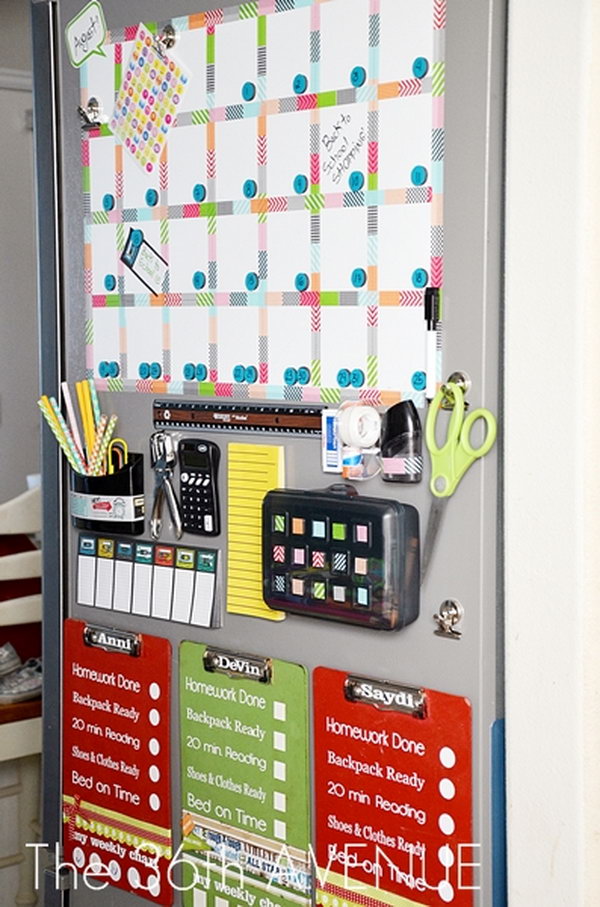 Use washi tape to finish off the colorful blankets for the calendar. Cut and stick vinyl to the magnets to mark the date. It's a good way to remind your kids for important things. See the details here
Back to School Mason Jar Caddies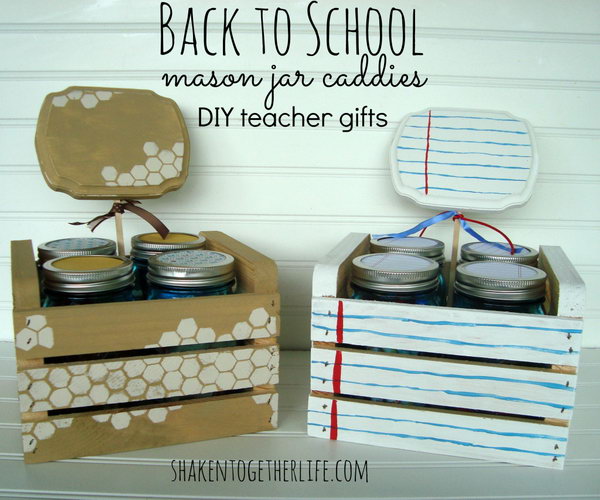 Add white acrylic paint for the caddy and notebook themed scrapbook to the mason jar lids. It's so great to get the school essentials tidy and clean in this notebook themed mason jar caddy. Get the instructions here
Felt Cutout Pencil Pouch
Cut a piece of felt in straight lines and leave some edges. When cutting is done, put pencils in pockets, sew and tie the ribbon to keep your pencils organized in this fantastic way. Get the tutorial here
Washi Tape Phone Chargers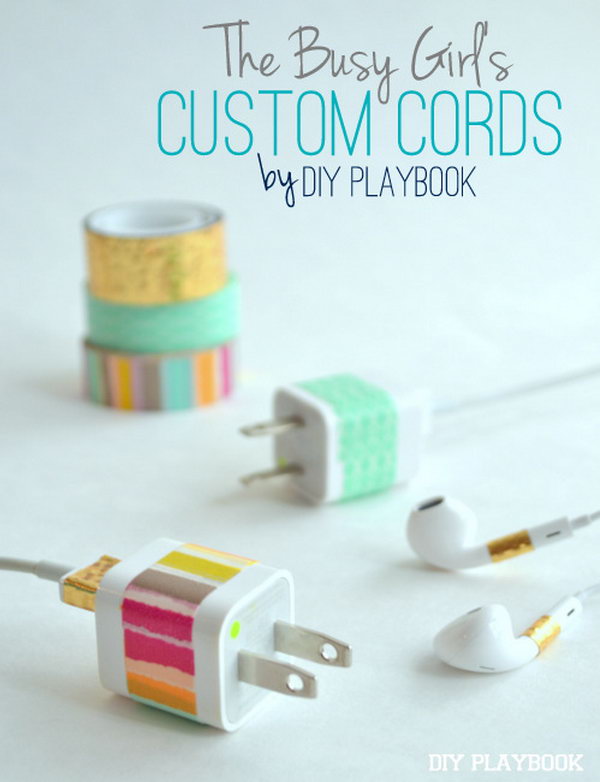 Jazz up your phone chargers or cords wit washi tape to make your custom cords or chargers elegant and fashionable ones. See the details here
Sharpie School Supply Bags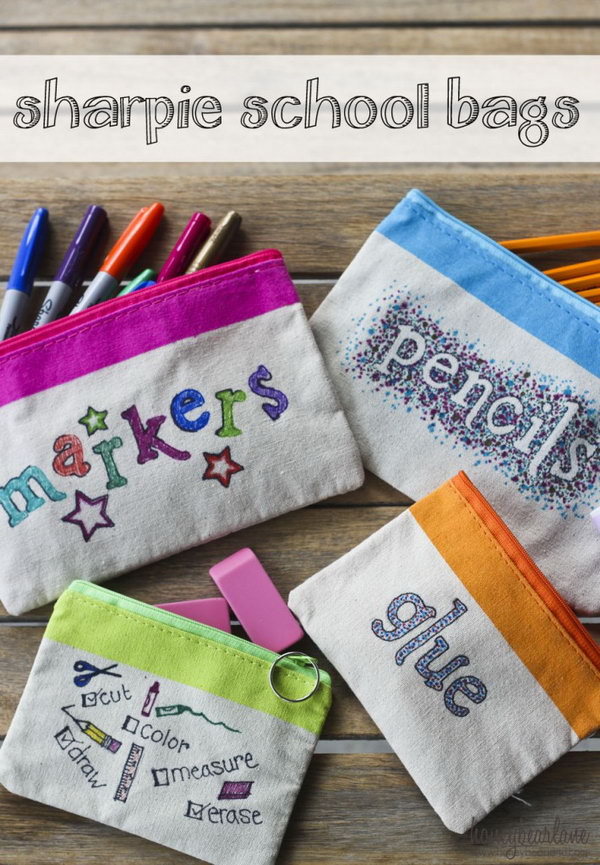 Place stickers on the bag and start dotting all around the stickers to create characteristic patterns for your school supply bags with sharpie. Get the instructions here
Zipper Pencil Pouch With Cute Bow Knot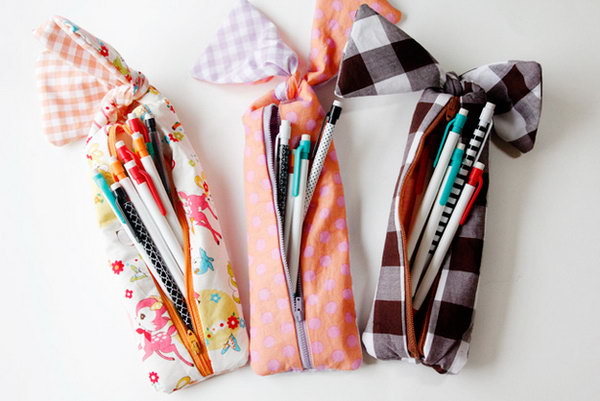 Sew up a basic zipper pouch with fabric of adorable patterns. Tie the corners left beforehand to make bows to finish off its elegant style. Get the instructions here
Piano Hinge Book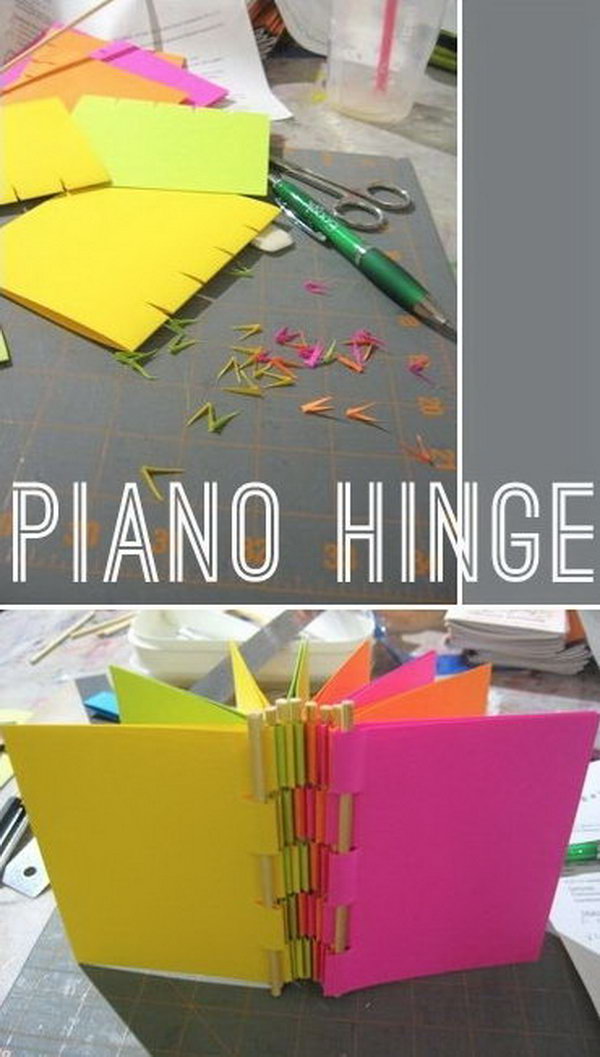 Fold the scrapbook and run the skewer in every other notch on each piece of paper to get them connected and finish off its elegant and unique outlook for this school project. source, Get the tutorial here
Back To School A+ T-Shirt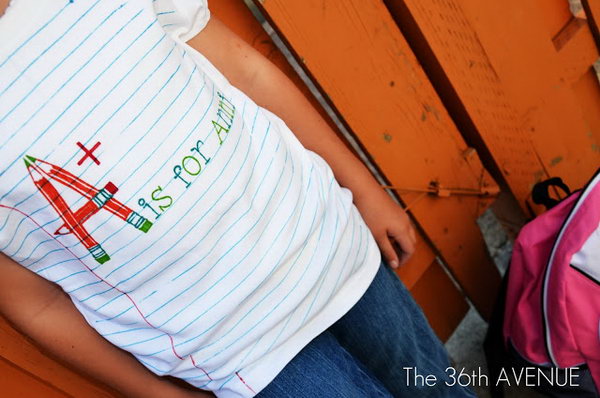 Personalize the kid's T-shirt with sharpies of different colors. It's also a good way to recognize your kid for the new school day it your pattern contains the name of your kid. See the details here
Notebook and Clipboard Makeovers with Washi and Duct Tape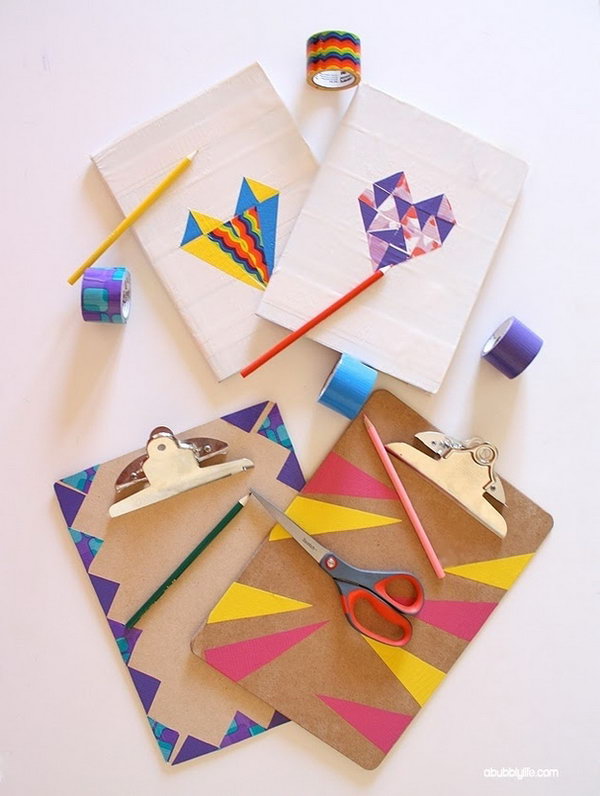 Cut out triangles from Washi and Duct tape and fill the heart with them on the mat in puzzle pieces. It's perfect to make the note book cover with this geometrical heart design. Get the steps here
Supply Holder Notebook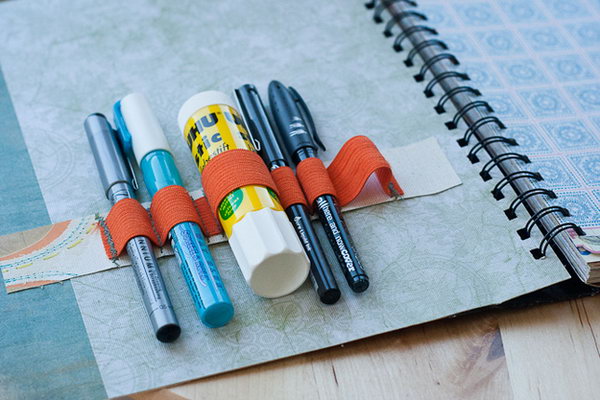 This DIY note book features a stuck pocket inside back cover filled with journaling bits to keep your important files well organized. See the details here
DIY Chalkboard Placemats That Make Learning Fun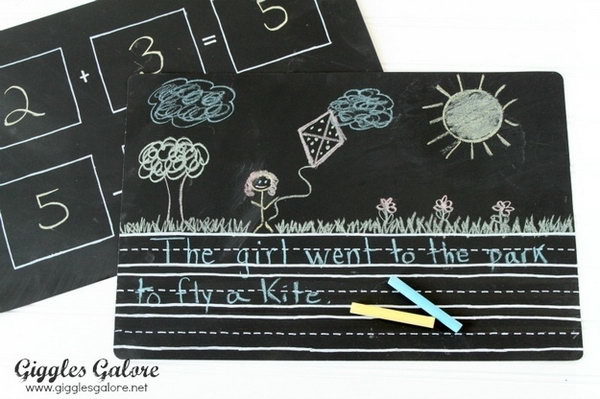 Kids will have fun playing at the dinner table with their new chalkboard placemats.Spray chalkboard paint on the smooth placemat. Create patterns to practice writing or math problems. The kids can learn a lot from this funny craft. See the details here
Portable First-Aid Kit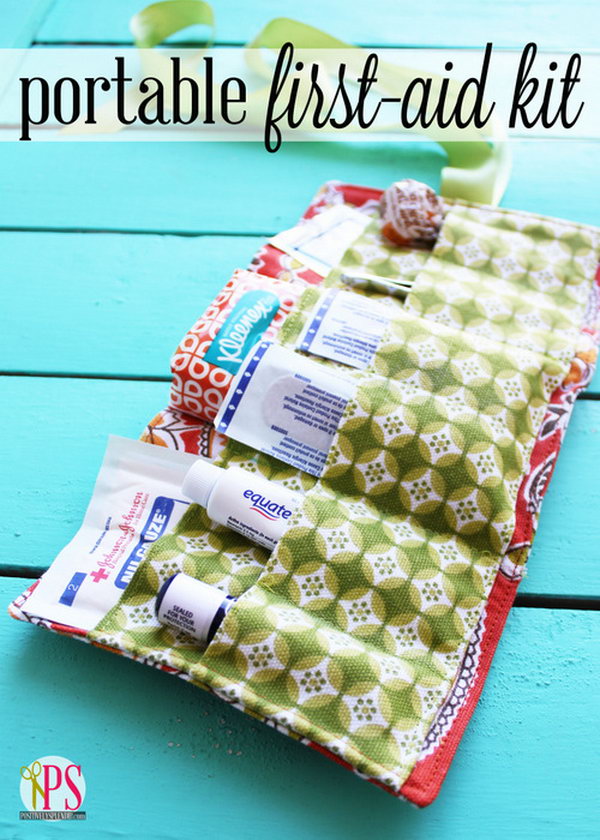 Sew pockets all together to make this fabric roll. Place your first-aid kits into it and tie ribbons to finish off its beautiful style to get your kits organized. Get the Sewing tutorial here
A Simple Homework Caddy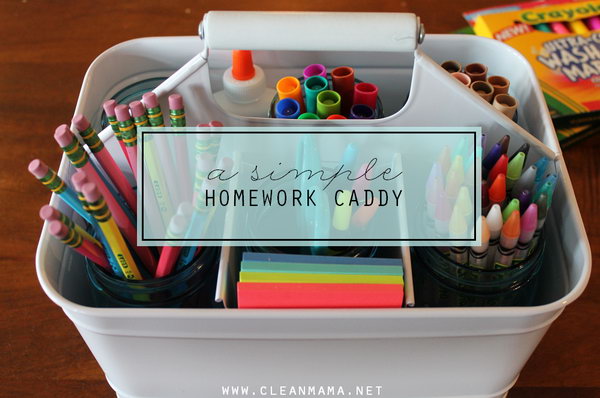 Put canning jars into the caddy, and load the jars up with essential school supplies necessary for daily homework and crafting.
DIY Burlap Bulletin Board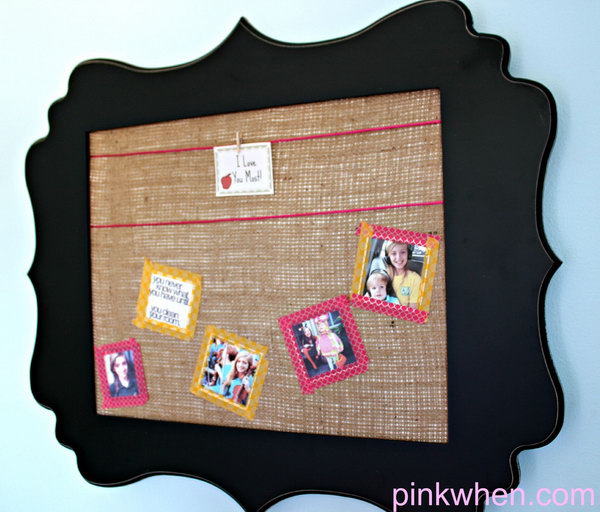 Cut your burlap larger than your canvas, stretch it to fit the canvas. It's easy to DIY this great bulletin board to serve as important reminder.
Get the tutorial here
Heart Shaped Paperclips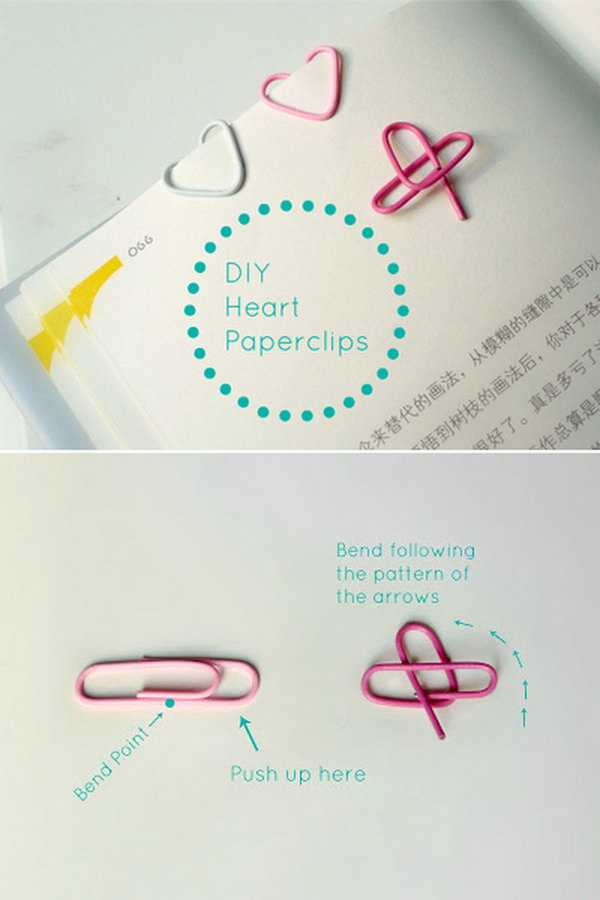 Paperclips are always ordinary school craft, just bend it at the bending point to turn it into a unique heart shaped one to create a crafty outlook. See the details here
Chalkboard Paint Lunchbox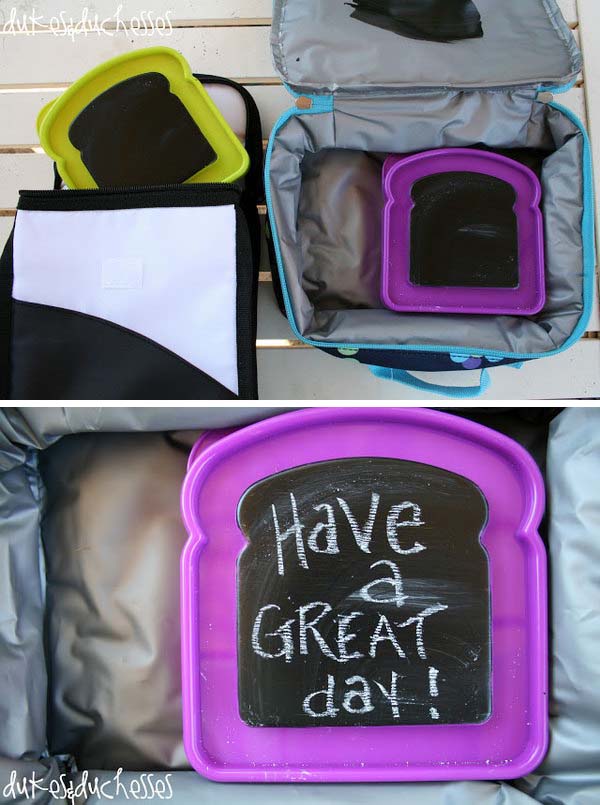 Paint the lids of small plastic container to mark whatever you want to say for your kids. The kids must feel very warm when they see the notes. See the details here
Easy Faux Chalkboard Labels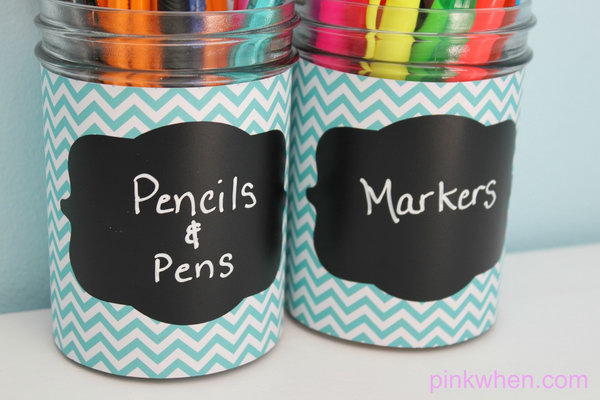 Cover the jar with chevron designed paper and chalk marker. It's perfect to keep your school projects organized with the labels. See how here
Back to School Ruler Gift Tags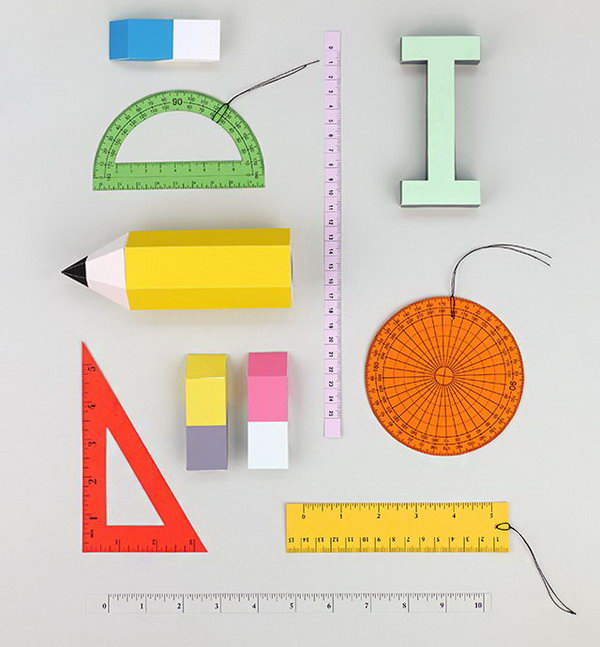 Print the templates of the ruler series on papers of different colors to make impressive tags for your kids. It would be perfect to be used for bookmarking. Get the printabls here
Dry Erase Chore Charts
via the36thavenue
DIY Washi Tape Notebook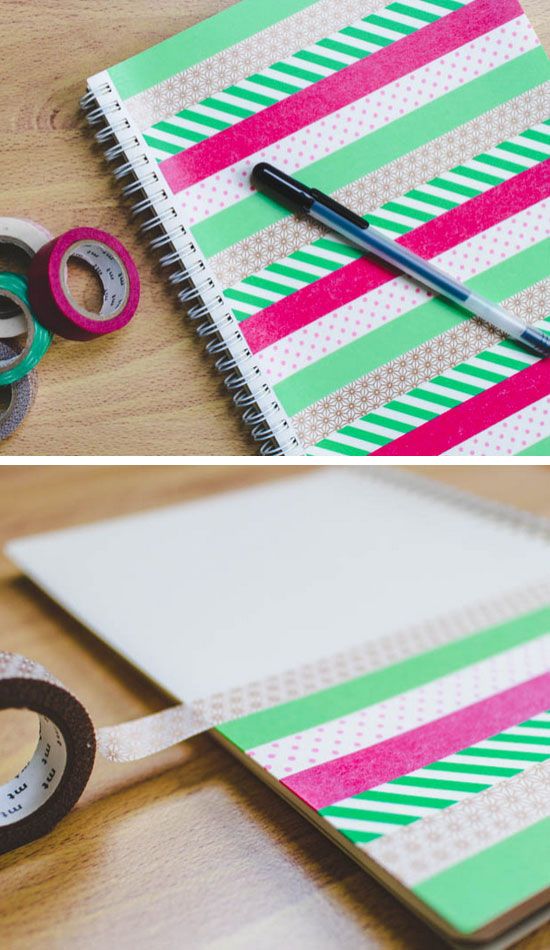 via source