Wood stains are designed to bring out the natural and potential beauty of real wood. Staining wood can dramatically change the appearance of boards or furniture. It can bring out the lines in the wood and highlight knots to emphasize the beauty of the piece you are staining with the right color of the stains.
In order to help natural hardwood to reach its potential beauty, the right stain has to be applied. Sometimes if you just can't find the wood stain color you need to match your current decor, you can try to make your own with some common items, like vinegar, black tea, coffee and more.
Wood staining requires time and patience to complete. The transformation may happen over the course of a couple hours…, but it is worth doing it and turns out beautiful.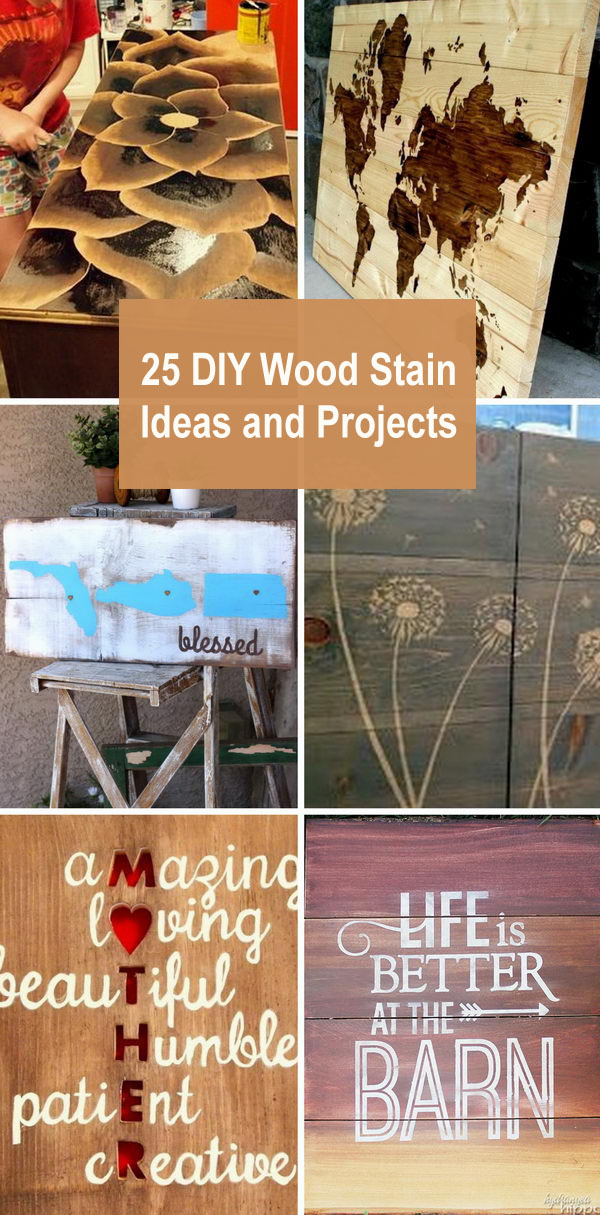 In today's list, we have collected a lot of creative DIY wood staining art project ideas and tutorials for your inspiration. Go find some pieces of bare wood and get your favorite stains. Let's get crafty now.
DIY Vintage Wood Stained Picture Frame

via homeheartcraft
DIY Barn Wood Picture Frame

Here is a great tutorial on making your own barn wood with wood stains for really cheap! Get the steps from princess pinky girl.
The Best Formula For Warm Gray Stain

Build a Rustic Sofa Table and Make New Wood Look Like Old Barn Wood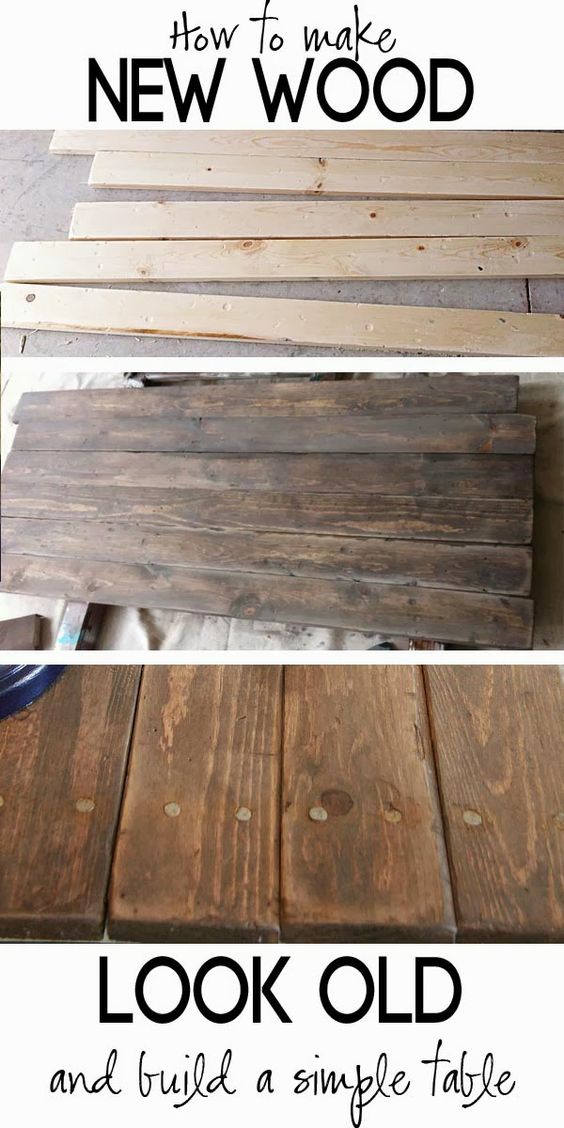 via paperdaisydesign
Make Your Own Barn Wood Using Wood Stain
via hawthorneandmain
Using Stain To Make Artwork on Furniture

New ways to make old furniture unique and beautiful using flower stains on wood. The video tutorial with even more step-by-step instruction via reality daydream.
Meaningful DIY Plaque Wall Art for Mom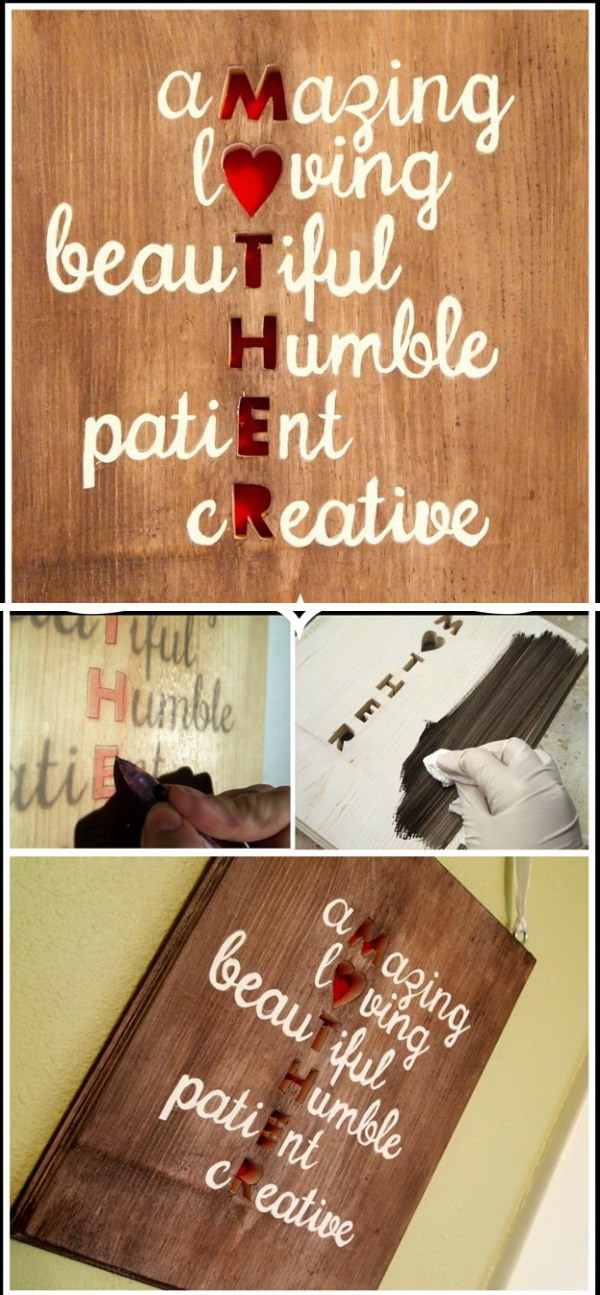 Show how truly awesome your mother is with this creative DIY plaque wall art. Get the tutorial via saw dust and embryos.
DIY Wooden World Map Art

Make your own wooden world map art with stains like this one. It would be a gorgeous addition to your home decor. Full tutorial via the happier vhomemaker.
Rustic Stained Wooden Clock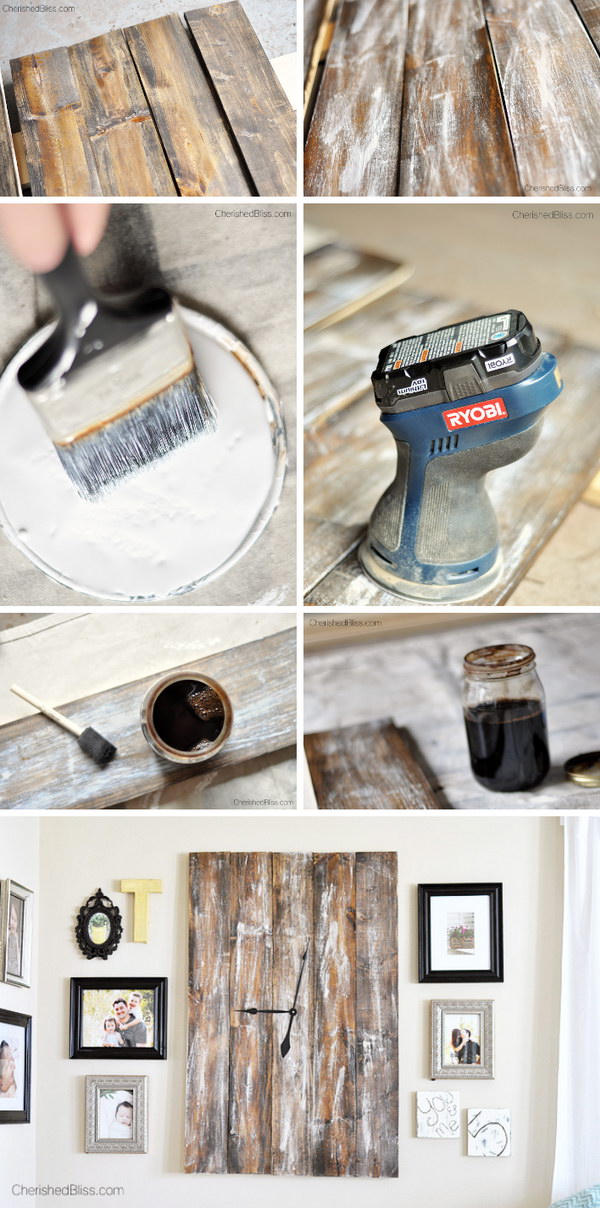 Love the look of dark walnut stain and a bit of white paint combinationin this stained wooden clock. Check out the DIY tutorial via cherished bliss.
DIY Ombre Stained Wood Wall Art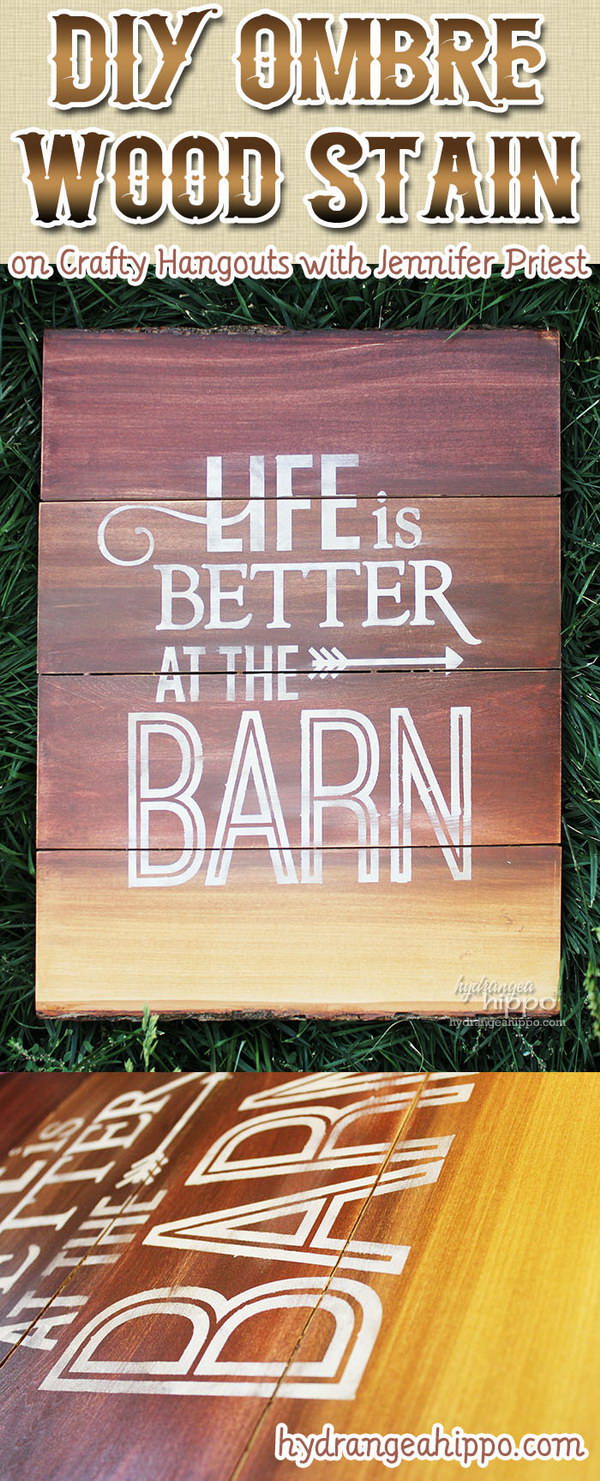 Add an unexpected twist to pallet-inspired wall art by staining your project in a dark-to-light ombre. This project takes less than hour to make and will WOW your friends and family. Check out how to make this sign with this handy dandy video.
Ombre Stained Dresser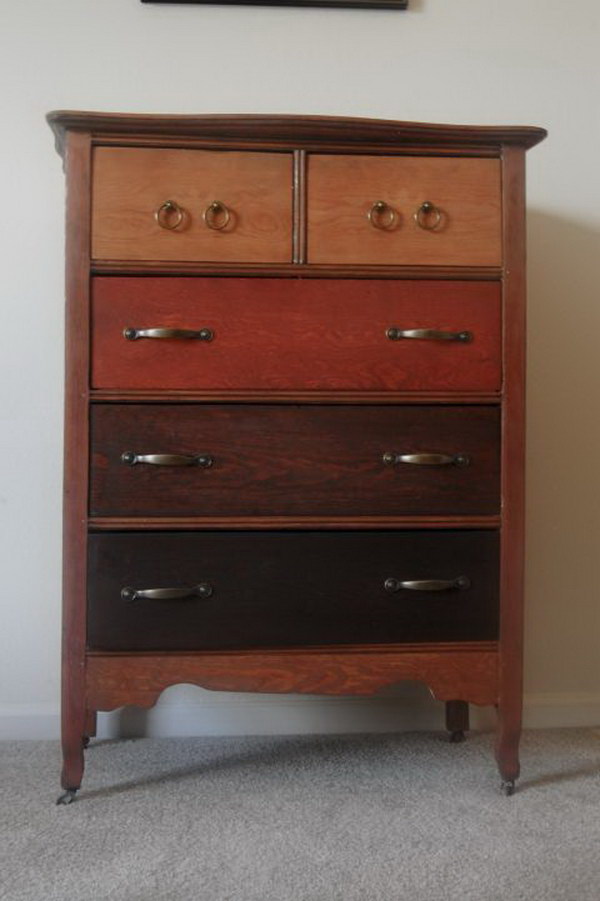 Create a more subdued look on a dresser using various hues of stains. Check out details via 551 east design.
Dahlia Stained Artwork On Dining Table

Use wood stain to create floral artwork on your dinning table. Details and video tutorial via reality daydream.
Homemade Natural & Effective Wood Stains

These quick and easy wood stains are made from all natural household materials and they are super effective, long lasting, and low cost – less than 10% of those in the store and non-toxic as well! Get the recipes and full tutorial via a piece of rainbow.
How To Achieve A Weathered Wood Stain On Furniture

Learn how to create a beautiful driftwood color on most unfinished wood and achieve a weathered wood stain on furniture with the instructions from home stories atoz.
Stained Crate Book Shelves

Get some vintage crates stained with your homemade coffee non toxic wood stain and stack them sideways to be used as a book shelf. Get the full tutorial via unveiled wife.
DIY Gold Christmas Mantel Decor

Add the super on trend color of gold into your mantel this holiday season! Get more instructions via landee see landee do.
Shading With Stain
Learn how to make beautiful artwork on your furniture using wood stain.source.
DIY Stained Rustic Blessed Sign

Get the step-by-step tutorial via ribbons and glue.
The Most Natural, Inexpensive Way to "Stain" Wood with Black Tea, Coffee and Apple Cider Vinegar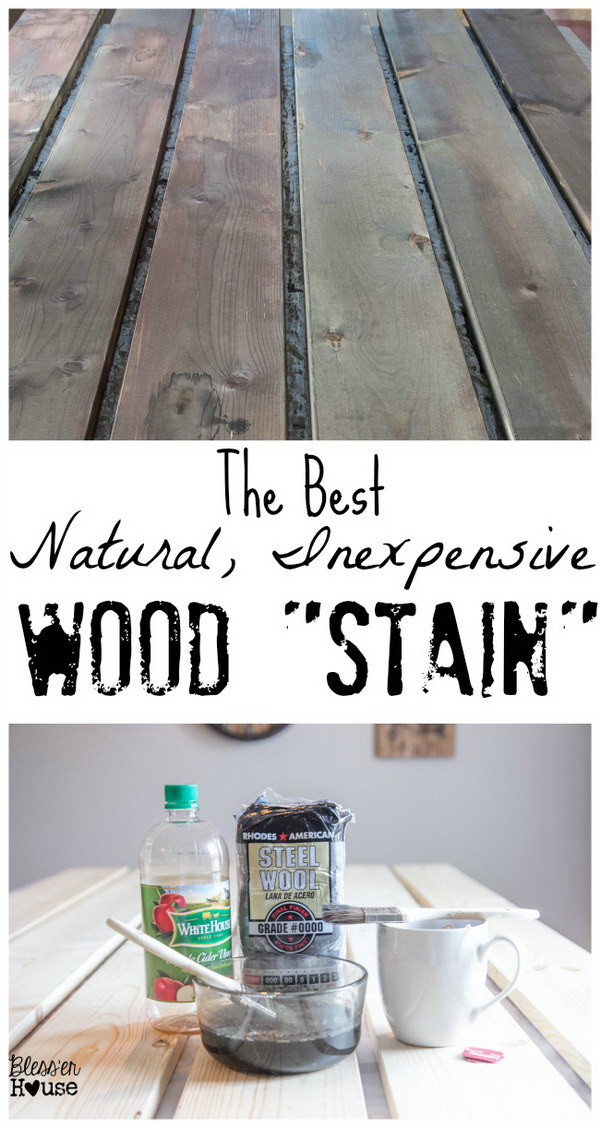 Try this natural and inexpensive way to stain the barewood and give its own rustic and beautiful look. Learn about the step-by-step tutorial via blesser house.
DIY Wooden Native Wall Art
DIY Native American Artwork using scraps of wood and different stains. It will contribute to the 'welcoming' factor of your porchy area. Learn about the step-by-step tutorial via reality daydream.
DIY Dark Walnut Stained Wood Tray

The dark walnut stains add more rustic warm to your home. Get Started to make your own one with the tutorial via how to nest for less.
Wood Stained Decorative Tray Makeover

Stain small rectangles of wood in a variety of shades. Then, put them together a puzzle in a common tray to achieve a final look you love. Get the tutorial via love grows wild.
DIY Stained Wooden Trough Boxes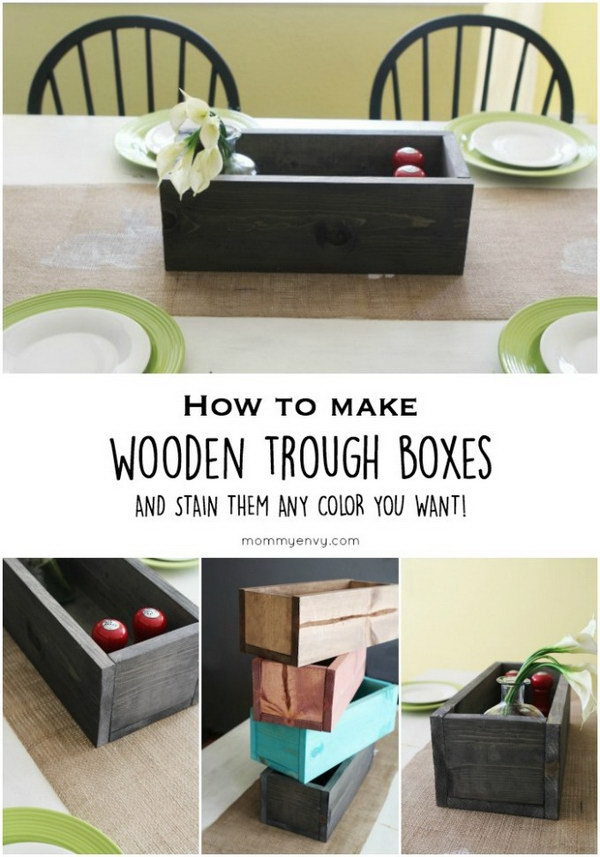 These wooden trough boxes are really easy to make and turn out so beautiful. You can get yourself several with different shades of stain colors. Learn how to make them from mommy envy.
Stained Wood Artwork Using Raspberry Juice
A natural and easy way to create this amazing artwork on wood using raspberry juice in place of wood stains. Get the instructions from reality daydream.
Stenciling with Wood Stains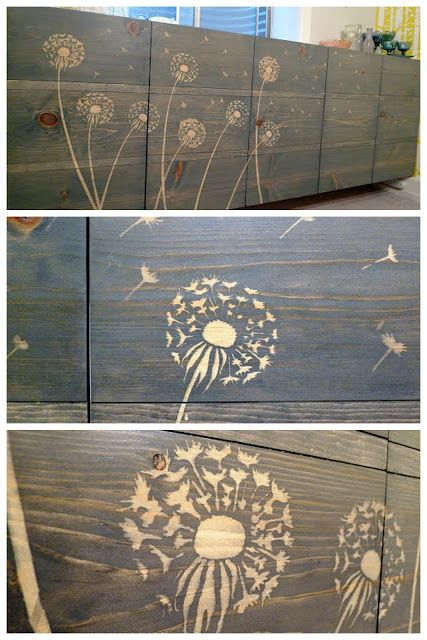 via here