A comfortable and organized home office can be helpful to focus on the work and allow you to work efficiently. An unorganized office saps motivation and slows you down. Organization is so important for a comfortable home office design, especially for a small home office space.

In this post, we have rounded up some clever, easy and space saving home office organization ideas and DIY projects to help you expand and save your home office space and have an organized and neat home office for your inspiration. These creative ideas include some DIY office supplies holders, like the pop-up pencil holders and decorated magazine holders, DIY triangular wall storage system, framed table organizer and so on. Take time to browse through these collections and give some a try and create a well-organized office for yourself.
Use Wall Mounted Calendar, Board And Mail Organizer For The Wall Area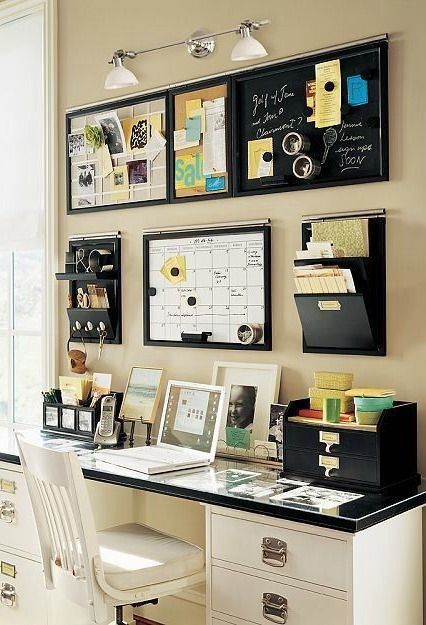 via momfabulous
Keep Organized In a Small Corner Area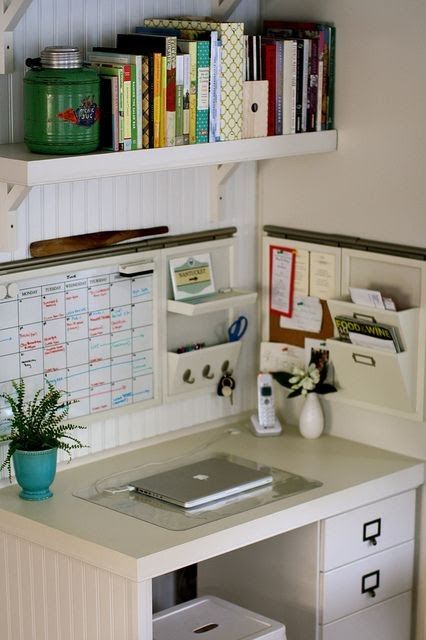 Gorgeous Shelves Storage
Use Mason Jars to Organize The Receipts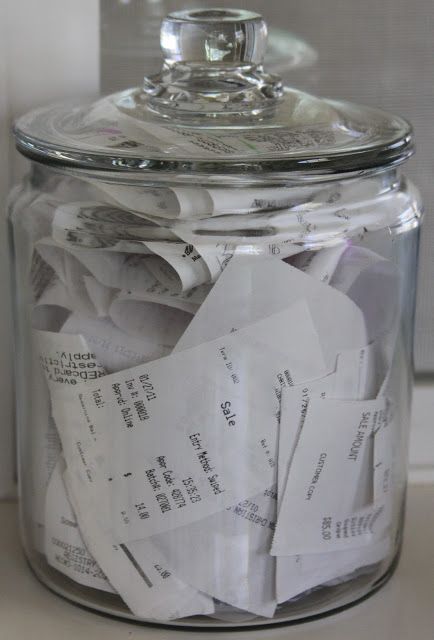 via source
Keep Cords Easily Accessible with Binder Clips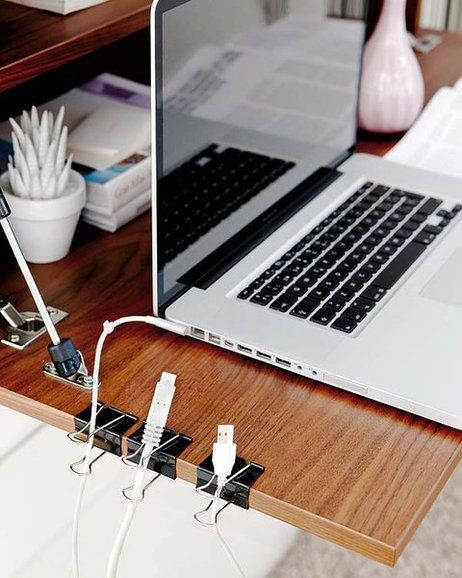 Take advantage of the under desk space by hanging a basket under the desk to keep cords off the floor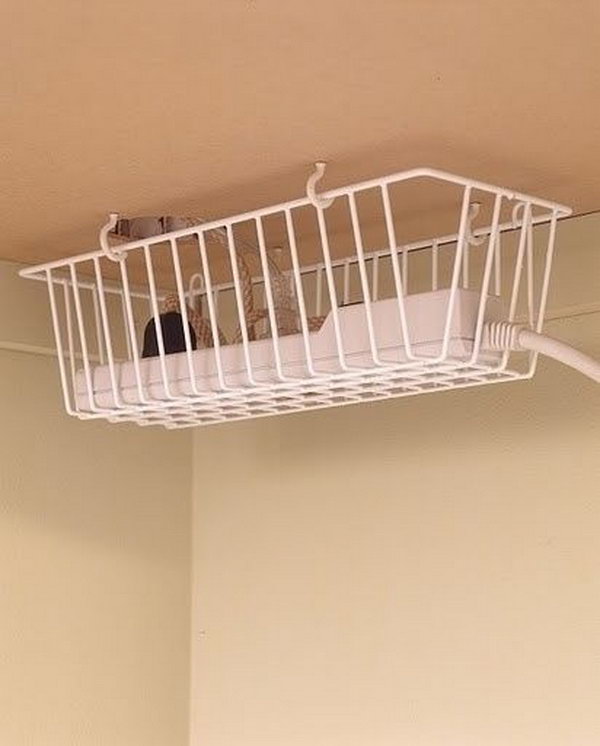 It saves lots of your desk space and also looks great. source
Organize Your Wires With Labeled Tags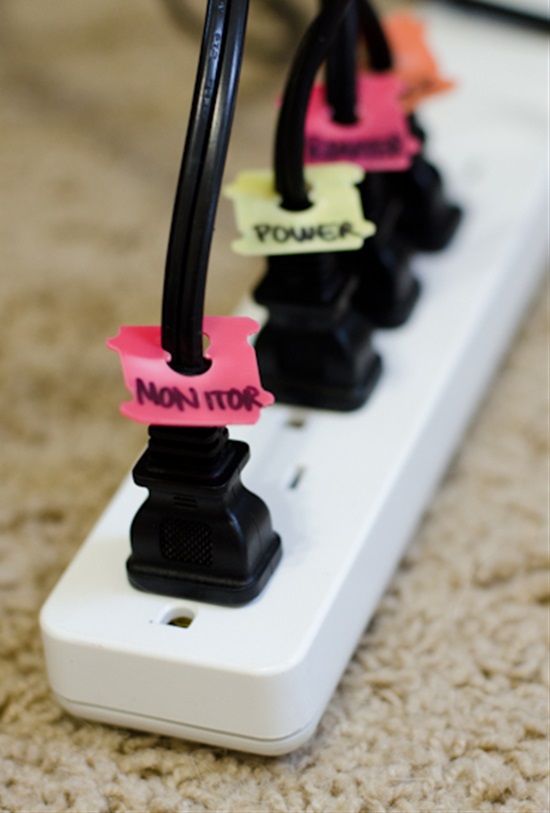 Home Office Drawer Organizers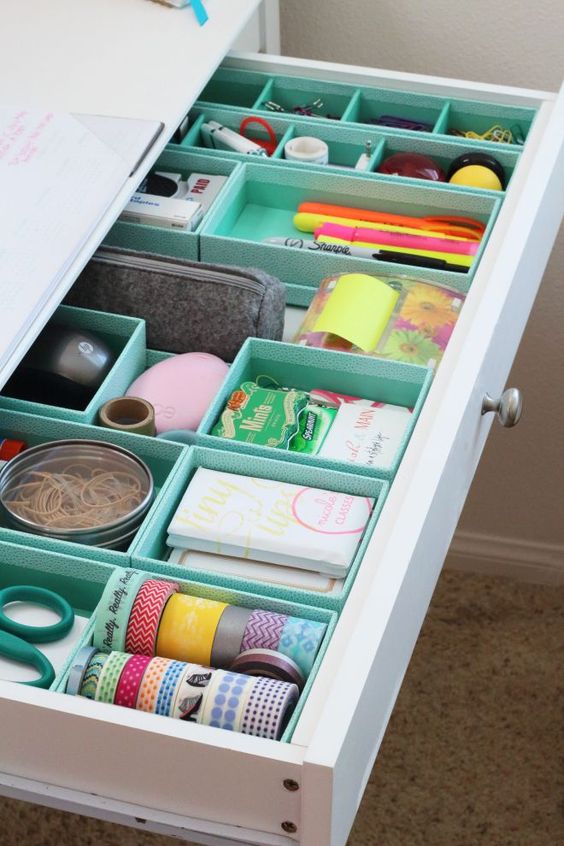 Keep all of your office supplies, like markers, pins, clips organized in this drawers. source
Organize Bills and Paperwork with DIY Cabinet Pockets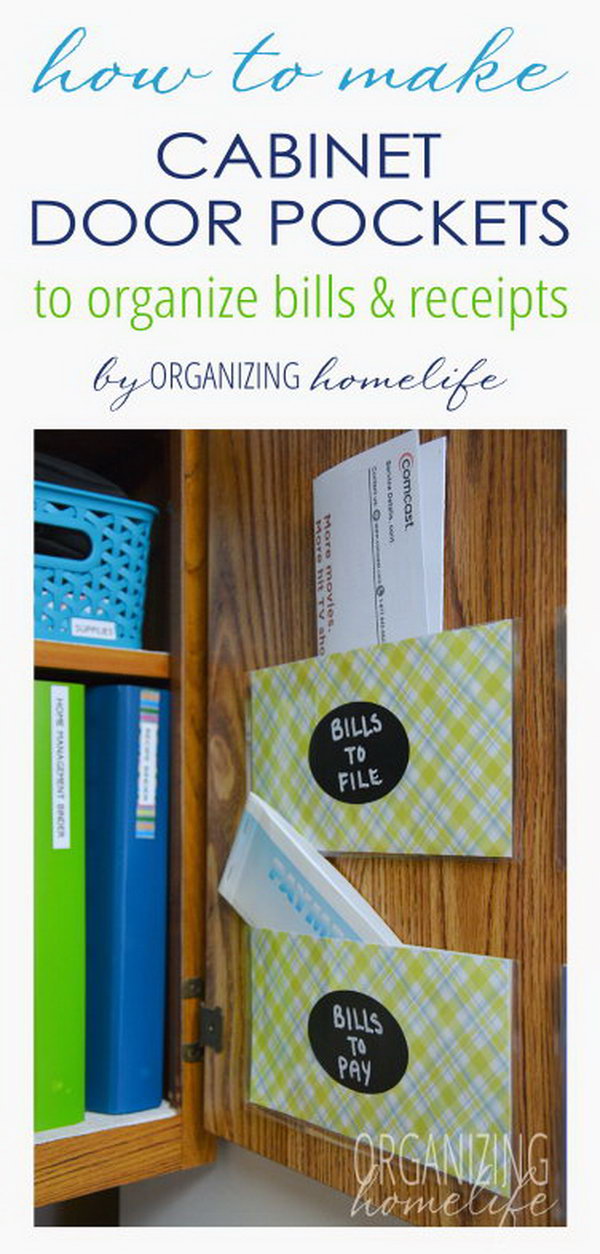 See how to make it here.
Creative Pens Organization Ideas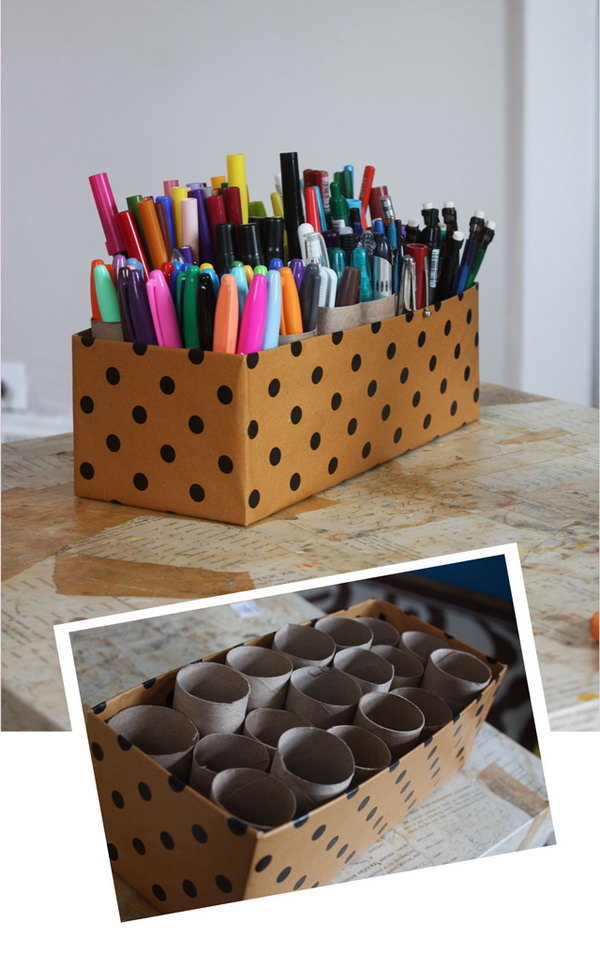 Just take old toilet paper tubs, line them in a pretty little box. An easy way to organize all those loose pens in the home office. source
DIY Drawer Divider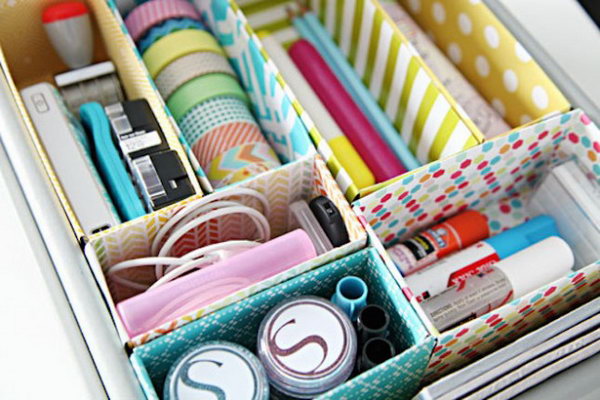 Craft these cereal box dividers and keep all your home office supplies in its place. Your home office will look pretty neat and tidy. Learn how to make it here.
Old Book-Based Mail Organizer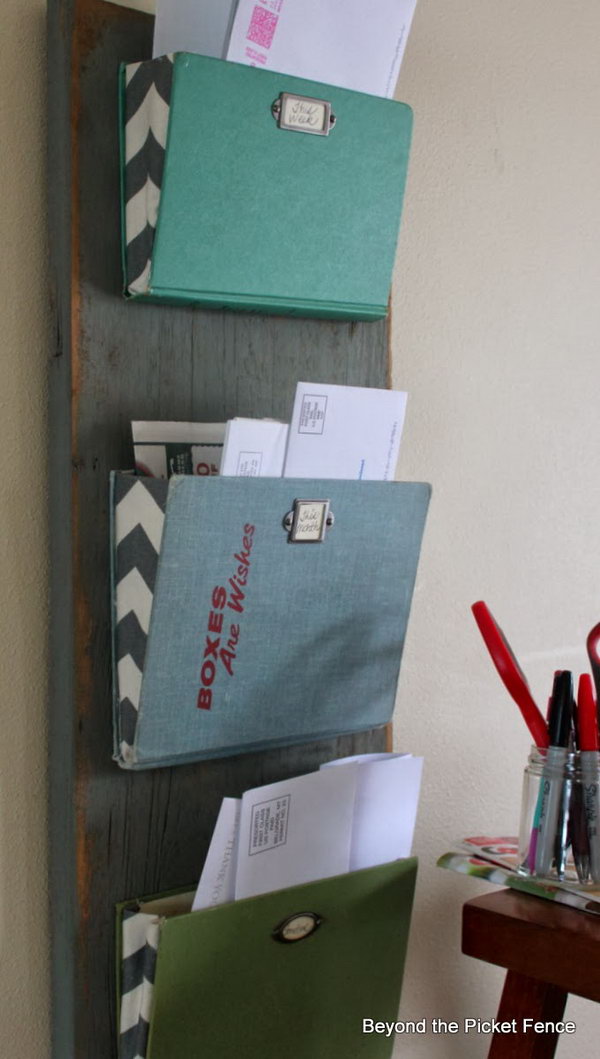 Instead of letting your mail pile up on your desk, you can repurpose this mere old book cover as the mail organizer. source
Simple Wall-Based Filing System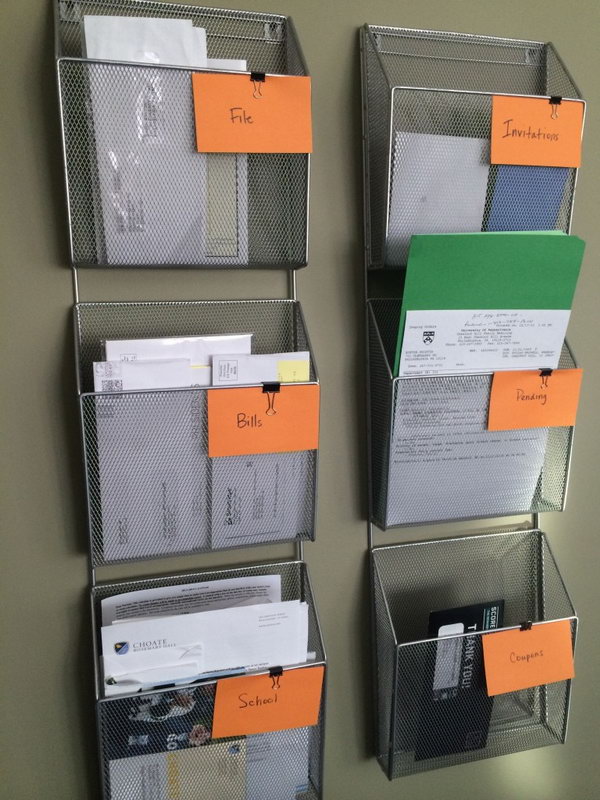 This simple wall-mounted filing system will help you make sure all your bills, school papers, work papers, receipts and all the other dreaded papers are in the right place. See more details here.
Triangular Wall Storage System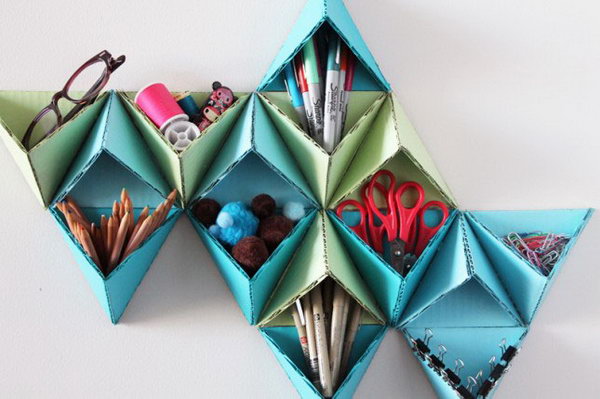 This geometric pattern not only serves as an organizer of office supplies but also super cool wall art. See how to make it here.
Shopping Bag Organization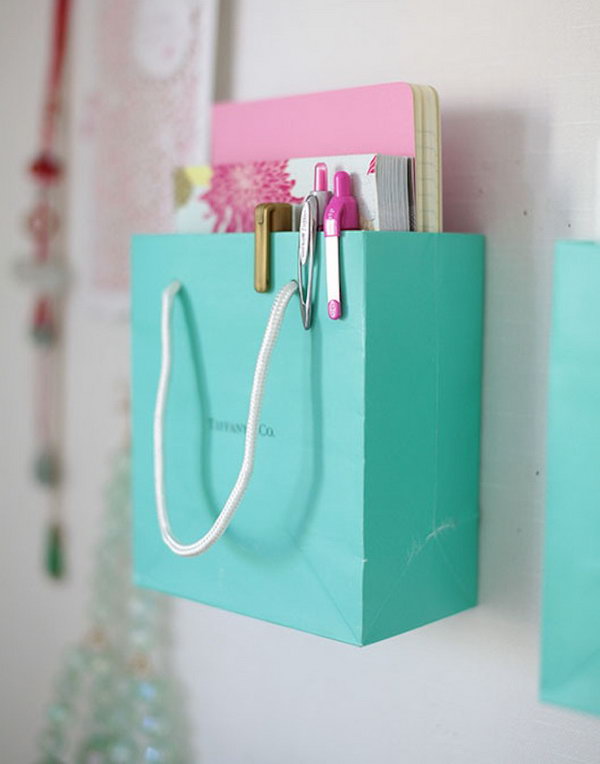 Next time, don't throw away those really cute and really strong shopping bags. You can actually repurpose them by mounting them on your wall and using them to store notebooks, magazines or other little office supplies. source
Kitchen wire racks are used in the home office as wall-mounted notebook holders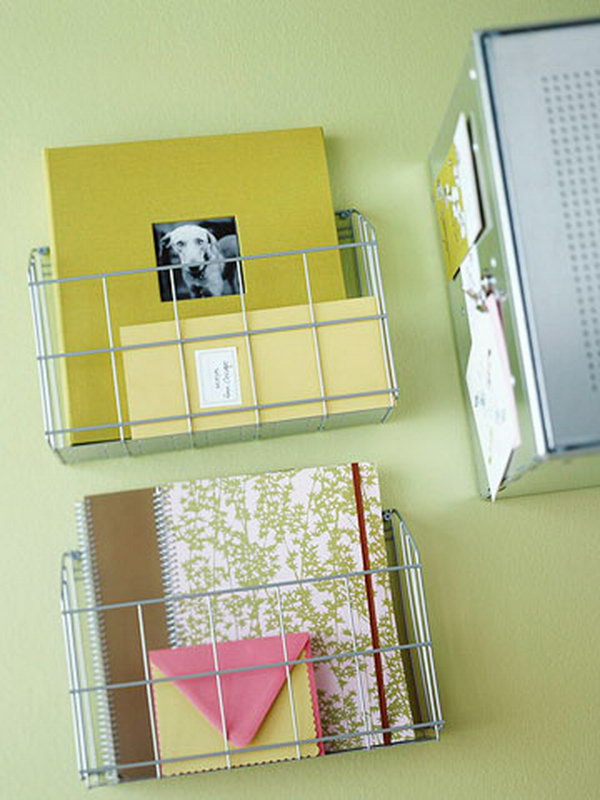 Re-Purpose An Old Window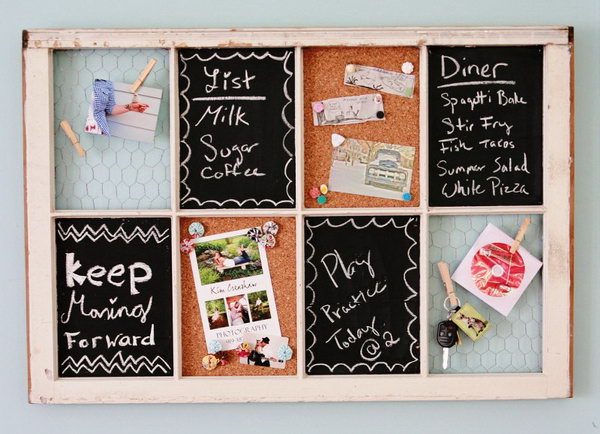 Give the old window a new life as a storage space for the home office. Use the chalkboard as the work remainders. source
Framed Table Organizer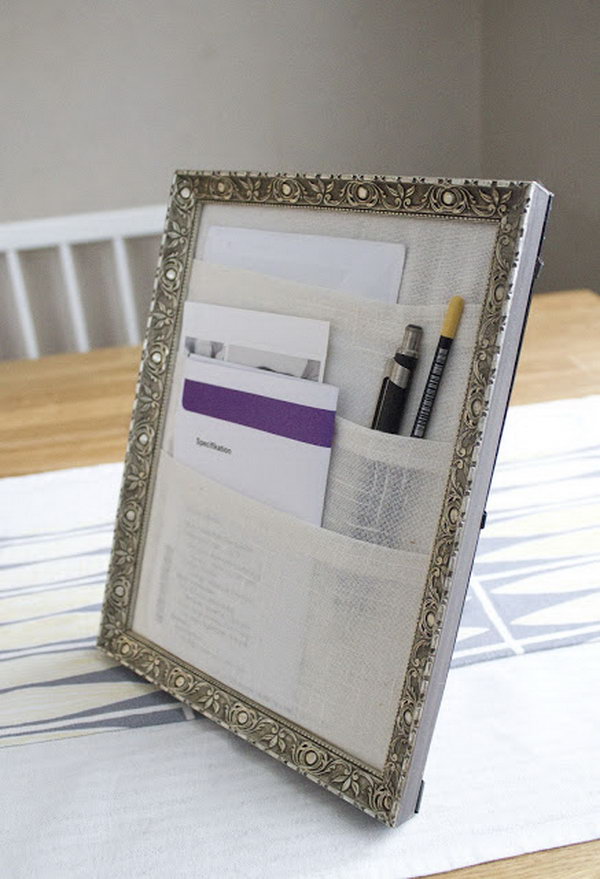 An ideal way to store your reminding notes. It can be hung on the wall to save the desk space. Learn how to make it here.
Organize Tasks with Post-it Notes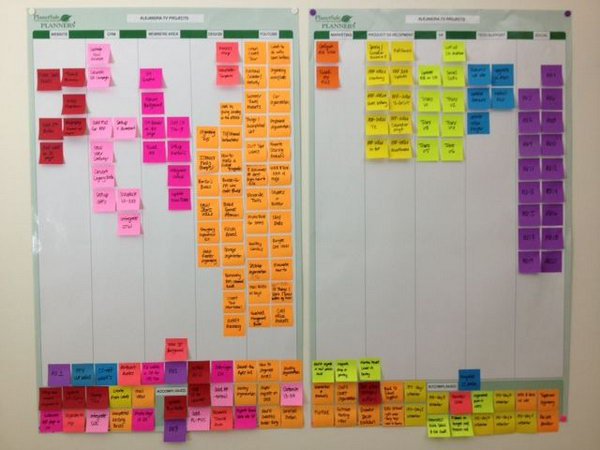 Mason Jar Organization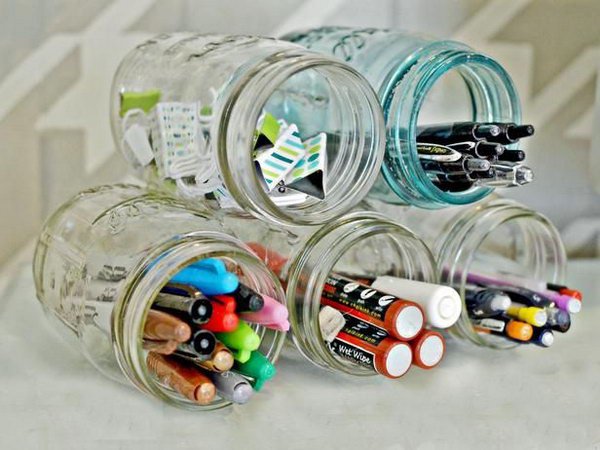 DIY Electronic Charging Station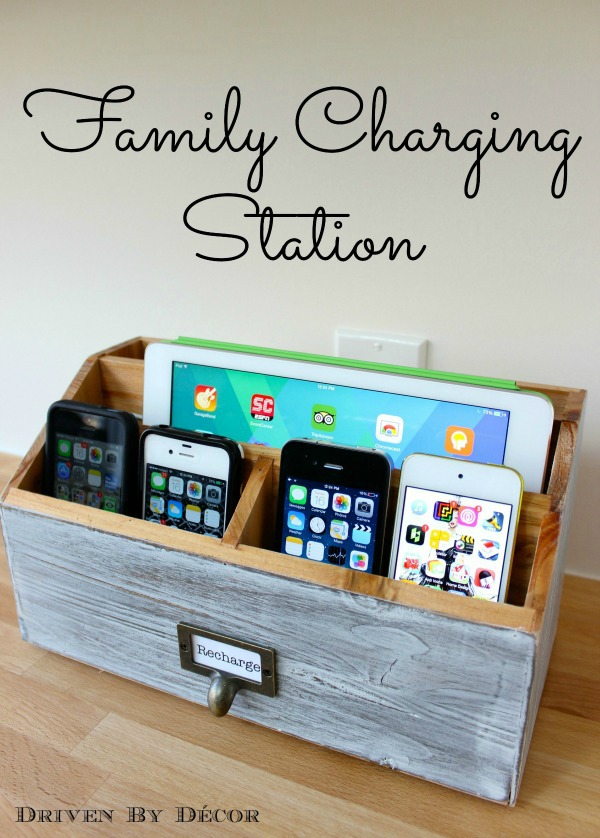 Get the tutorial here.
Vertical Magnetic Calendar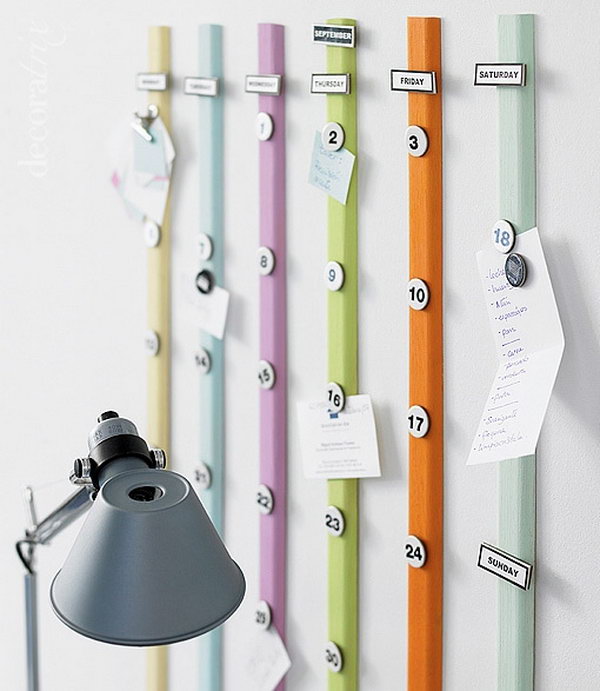 Love these calendar made with bright magnetic bars with little number dots on. You can put thing lists just beside just dates. Get more detaild and tutorials here.
DIY Decorated Magazine Holders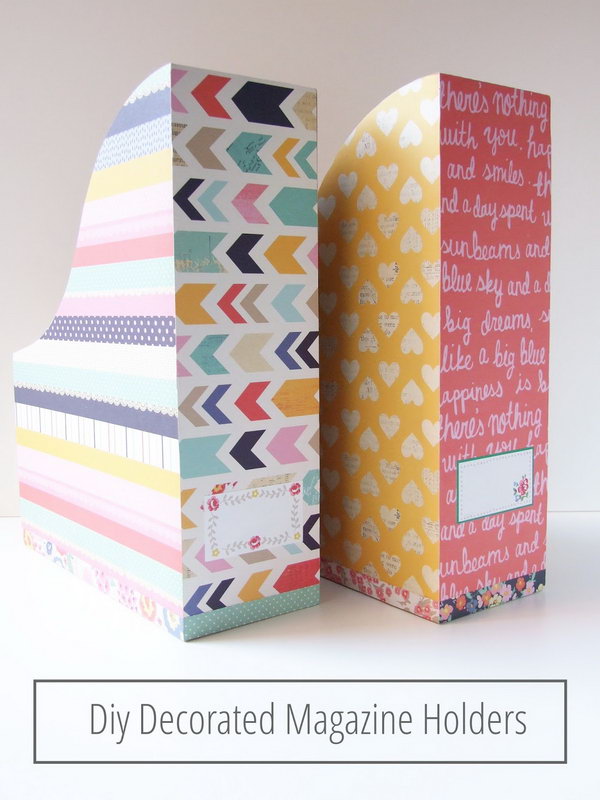 Keep these colorful decorated magazine holder on your desk and have a good mood all day long. Learn how to make them here.
Cork-Covered Cans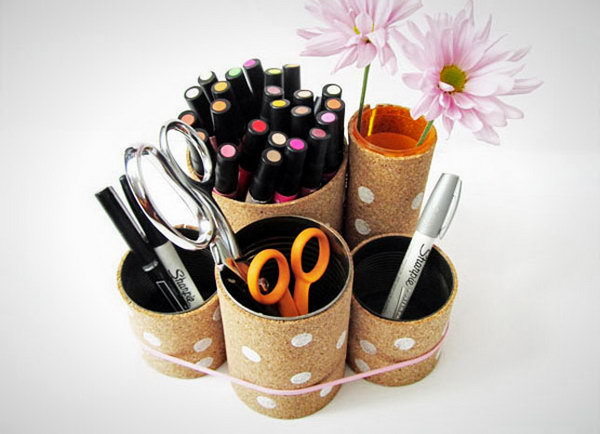 Wrapping tin cans in something cool, like cork board and adding some colorful accents like a stripe or polka dots. This cork-covered cans will double as a decor on your desk. Learn how to make them here.
Wall Mounted Mail Sorter For Organizing Documents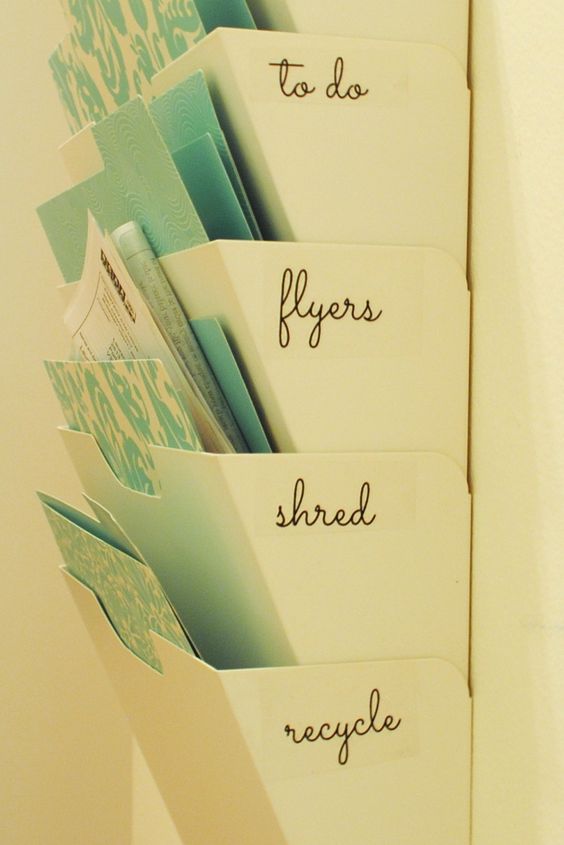 This wall mounted mail sorter is ideal for those without a lot of desktop space. via here.