Carpets require regular care and careful cleaning to maintain their warm and beautiful appearance. While carpets are always really very hard to clean and maintain. Especially when you have pets, kids or just have some really messy people at home, then you definitely have experienced one or two mystery carpet stains.
Instead of investing in a steam cleaner, you can make your own cleaners at home. Homemade carpet cleaners are easy, economical and safe with just several common household ingredients, like white vinegar, baking soda and liquid soap and more.
Today, we are here to provide you some Homemade Carpet Cleaning Solutions and Some Clever Carpet Cleaning Tips and Tricks, which are sure to make your carpet looks new and leave your carpets clean, soft, and refreshed again!
Step by Step Carpet Stain Removal

via cleanmama
Miracle Carpet Cleaner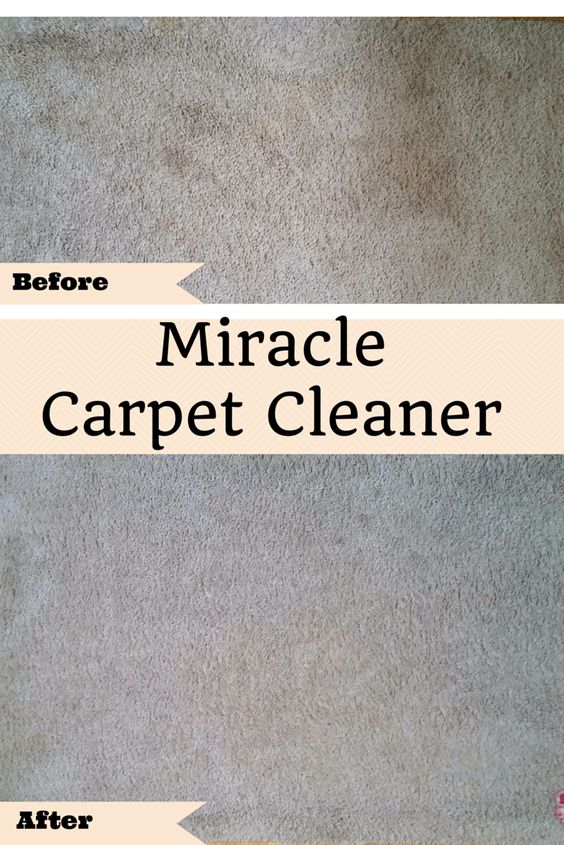 via frugalginger
A Simple, Effective Remedy For Pet Stains On Carpets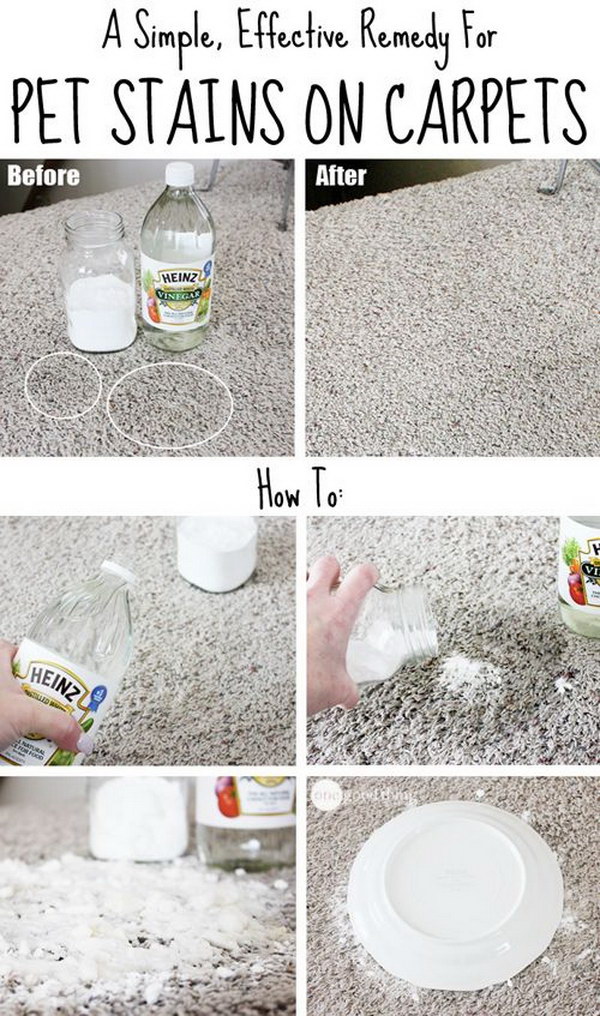 A tried-and-true method for dealing with yellow pet stains with vinegar and baking soda. Work so well and so easy! No rubbing, scrubbing or blotting necessary. Get the details via One Good Thing by Jillee.
DIY Carpet Cleaning Method and Recipe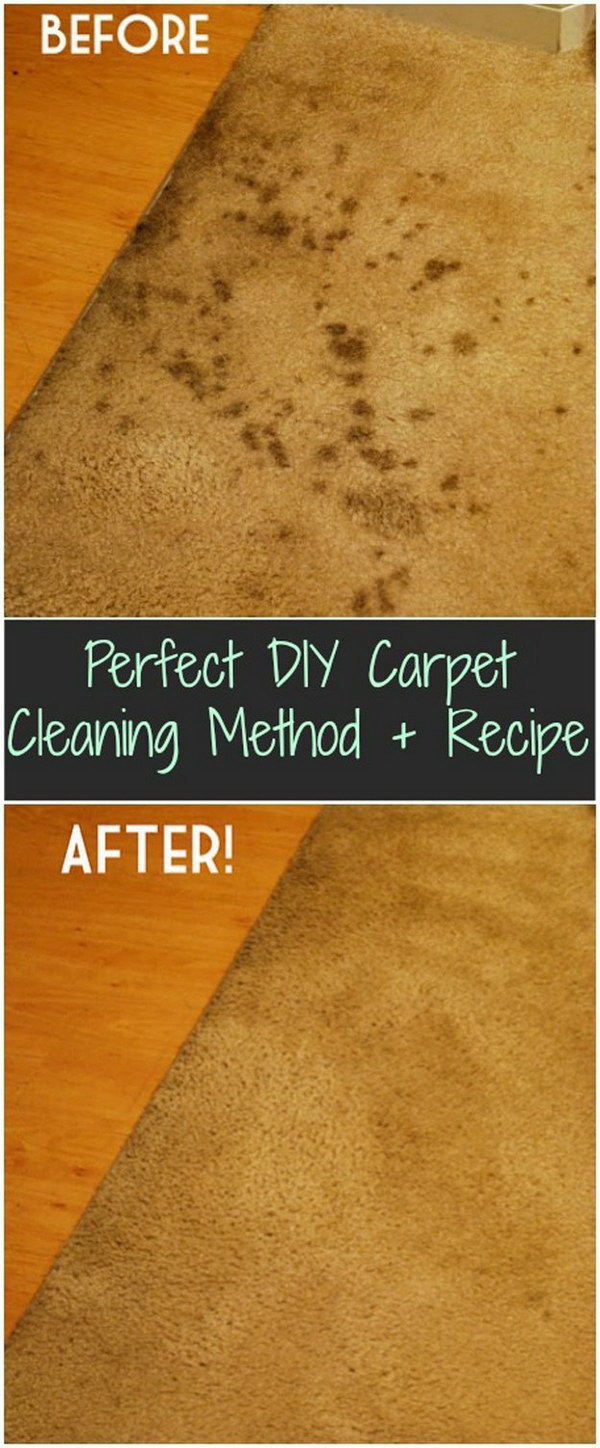 A super easy carpet cleaning recipe with only two ingredients: vinegar and water. This great homemade cleaning recipe is perfect for removing organic stains out of your carpet. But it is not a good choice for ink or dye stains because vinegar could potentially make the stains worse. Details via diyncrafts.
Iron Out Carpet Stains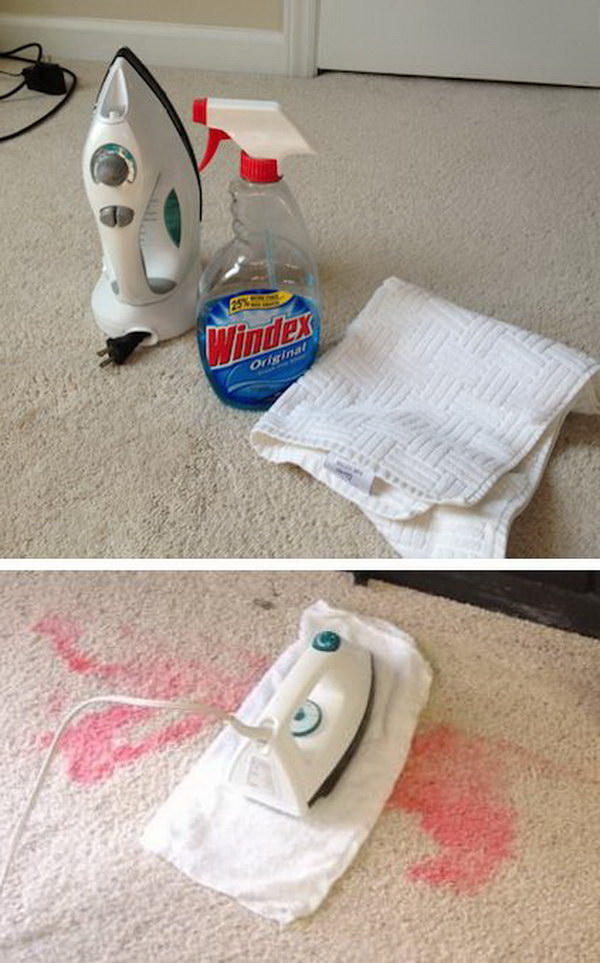 Get stains out of your carpet with an iron. The heat from the iron should activate the cleaner and hopefully pick up nasty stains. This trick works so well and so easy! Go and try it out with the directions from Pintester.
Quickly Fluff Up Furniture Marks in Carpet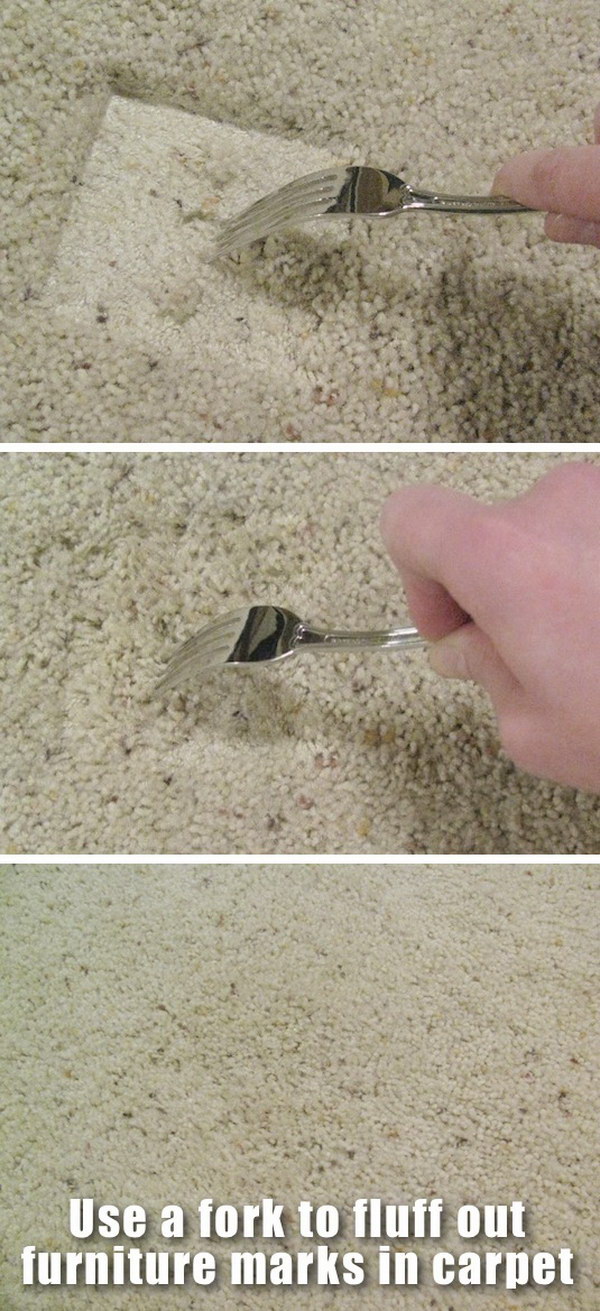 An effective way to pluff up carpet marks left behind from rearranging your sofa and chair legs with a fork. See more details from Scrappin Becky B.
Homemade DIY Cleaner for Stubborn Carpet Stains

Mix up 1/4 cup of vinegar, 3/4 cup of water and a few drops of dishwashing liquid for this simple carpet cleaning solution. Other supplies are a clean light-colored cloth and an iron. See details from creek line house.
Powerful Homemade Carpet Cleaner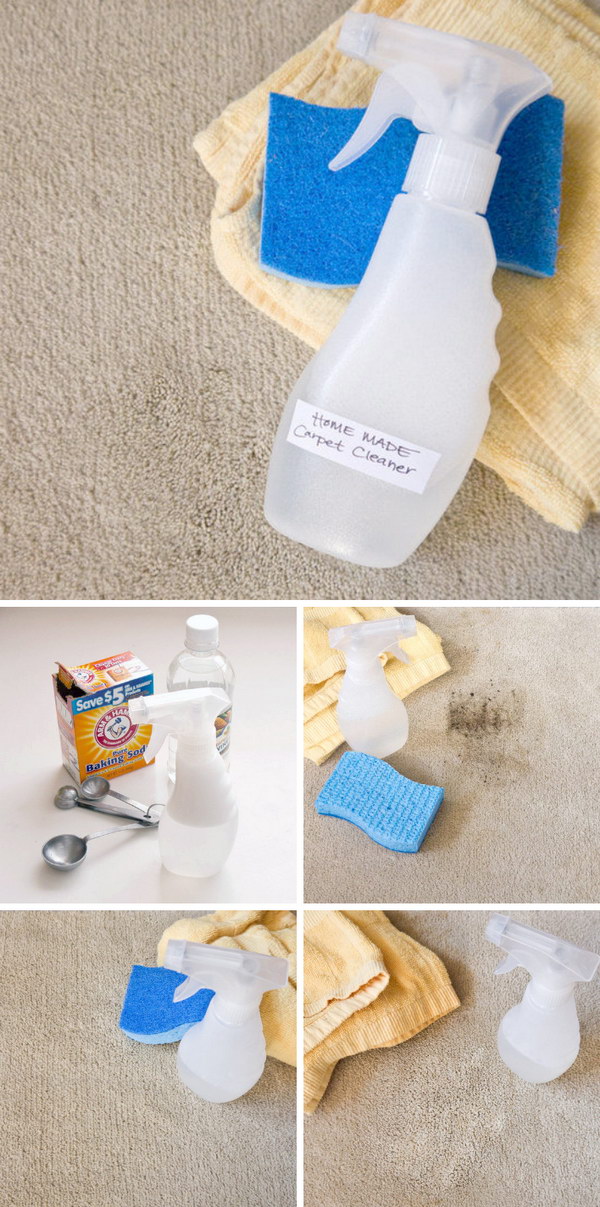 This homemade carpet cleaner cost pennies to make and are great for spoted furniture cleaning, erasing stains from rugs, carpets. Recipes and tutorial via popsugar.
2 Ingredient Carpet Stain Cure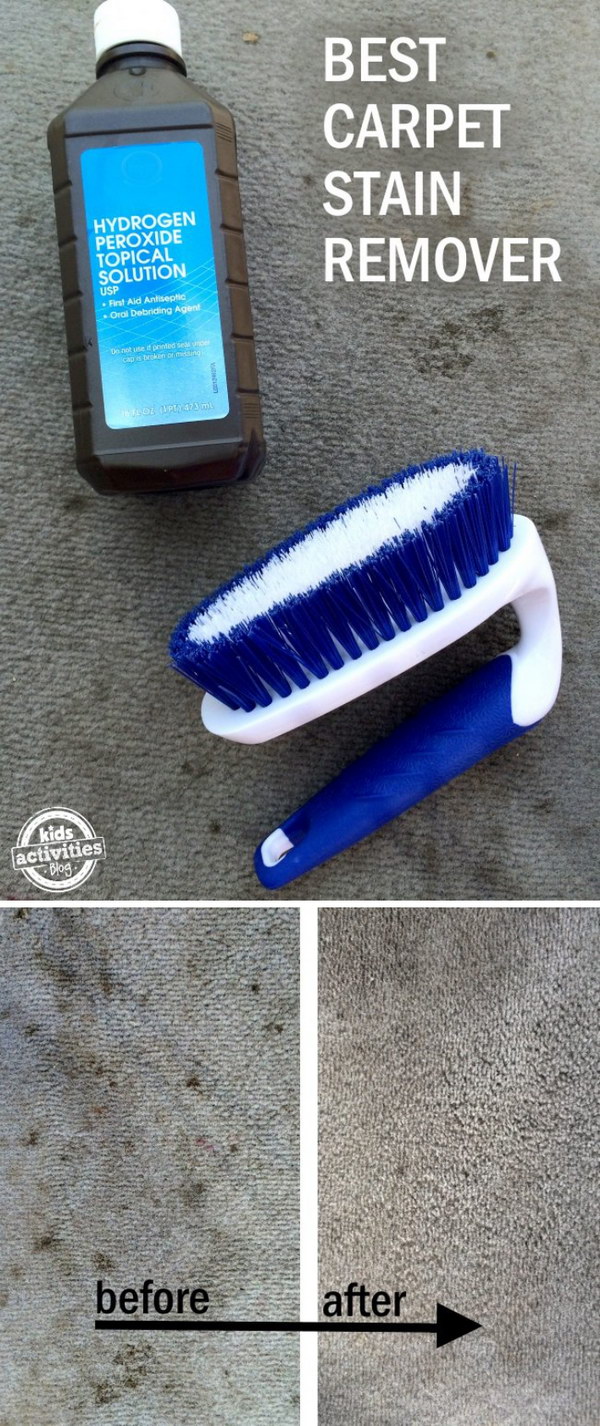 This magic, two-ingredient solution works well for a pesky carpet stain. All you need are two ingredients, hydrogen peroxide and essential oils, and plus water and a tiny bit of elbow grease. You should be careful on some darker carpets. Learn tutorial via Kids Activities Blog.
How To Get Play-doh Out of Carpet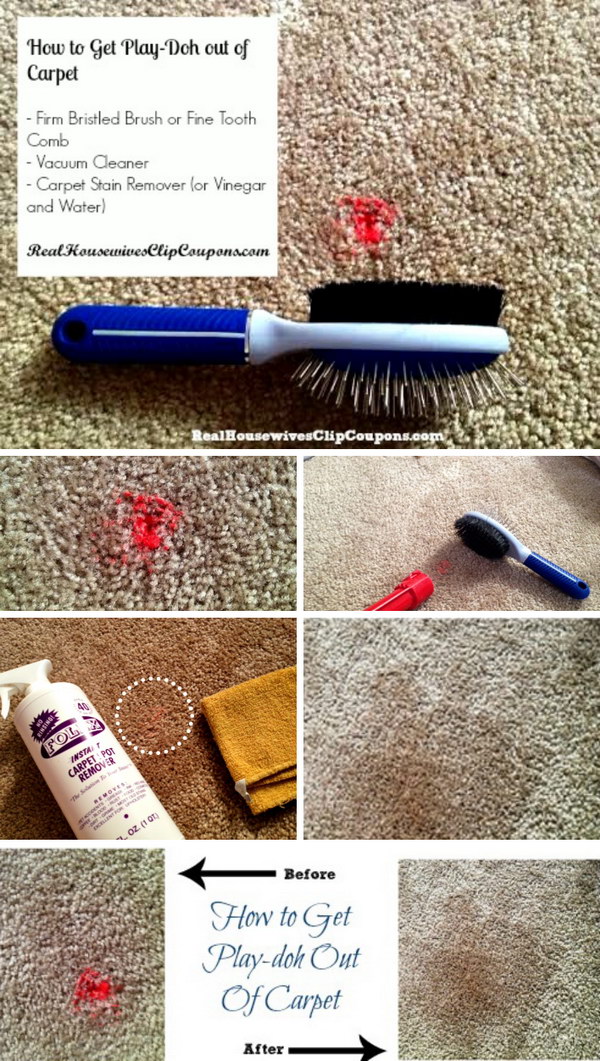 If you have kids at home, more than likely they will drop down play-doh on the floor now and then. Here is a clever tip to get play-doh out of carpet all in 20 minutes and with no special cleaning supplies. Details and tutorial via real house wives clip coupons.
How to Get Grease out of Carpet

Grease is bad on any color carpet. Here is a tried-and-true method for getting grease out of carpet and keep carpets fresh. Check out the details and directions via Lizon Call.
Use Beer to Remove Tea and Coffee Rug or Carpet Stains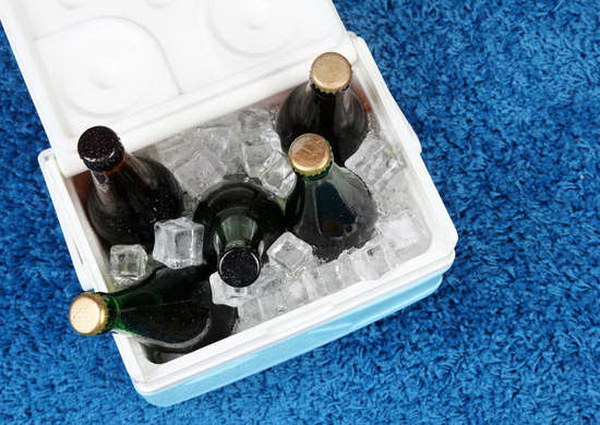 You can literally get tea or coffee, or those yellow oily stains out of your carpets by pouring a bit of beer right on top. Rub the beer lightly into the material, and the stain should disappear. Repeat the process a couple of times to remove all traces of the stain.
Homemade Deodorizing Carpet Powder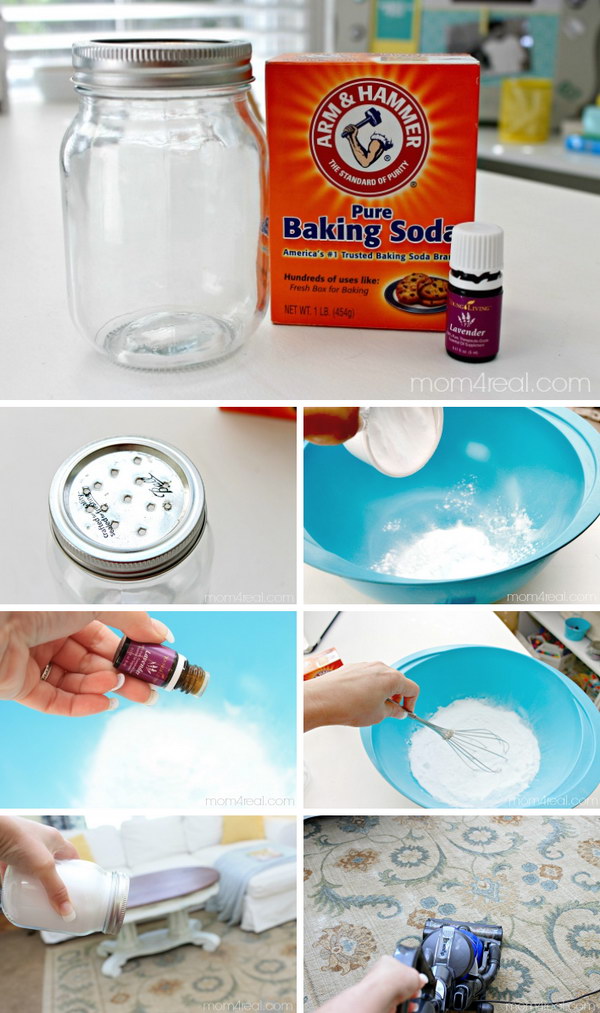 See how to make your own deodorizing carpet powder sprinkle with just 2 ingredients! It will have your carpet and rugs smelling fresh in no time! Check it out here.
Tips for Steam Cleaning Carpets and DIY Carpet Cleaner Recipe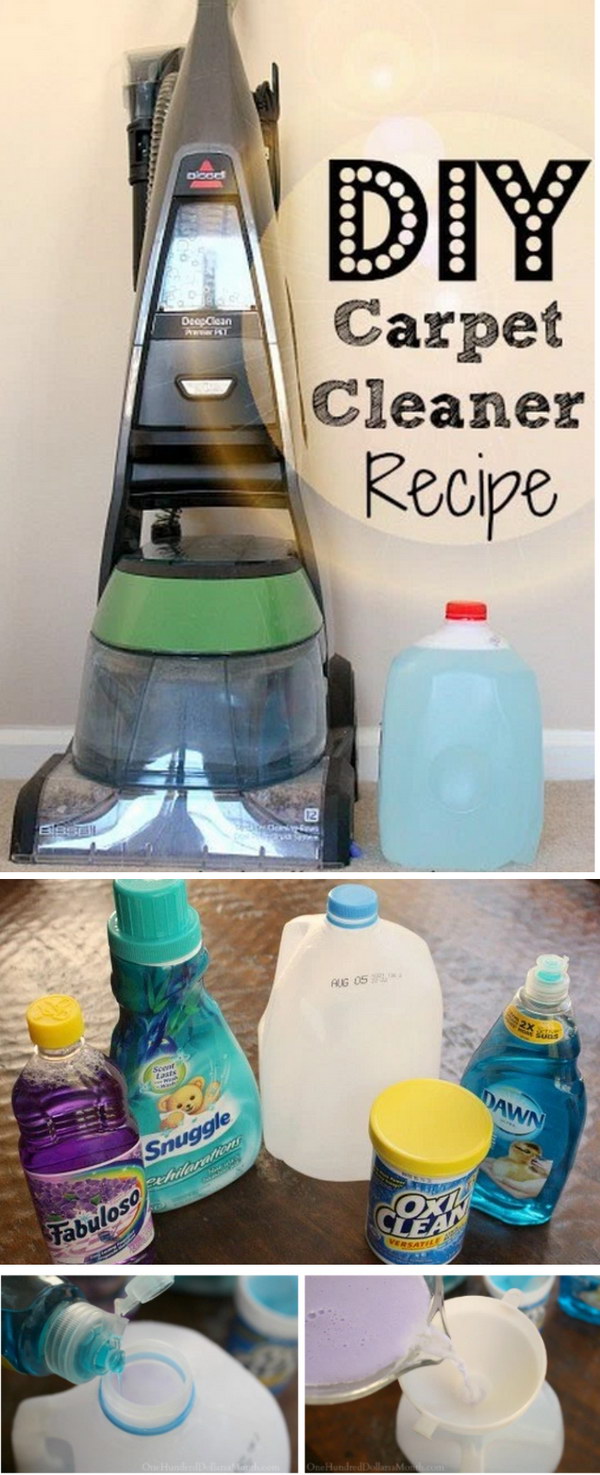 Here are several quick tips for getting the most gunk out of the carpet easilyn together with a tried-and-true homemade carpet cleaner recipe. Check out details and recipes from one hundred dollars a month.
Best, Cheapest Carpet Spot Remover: Shaving Cream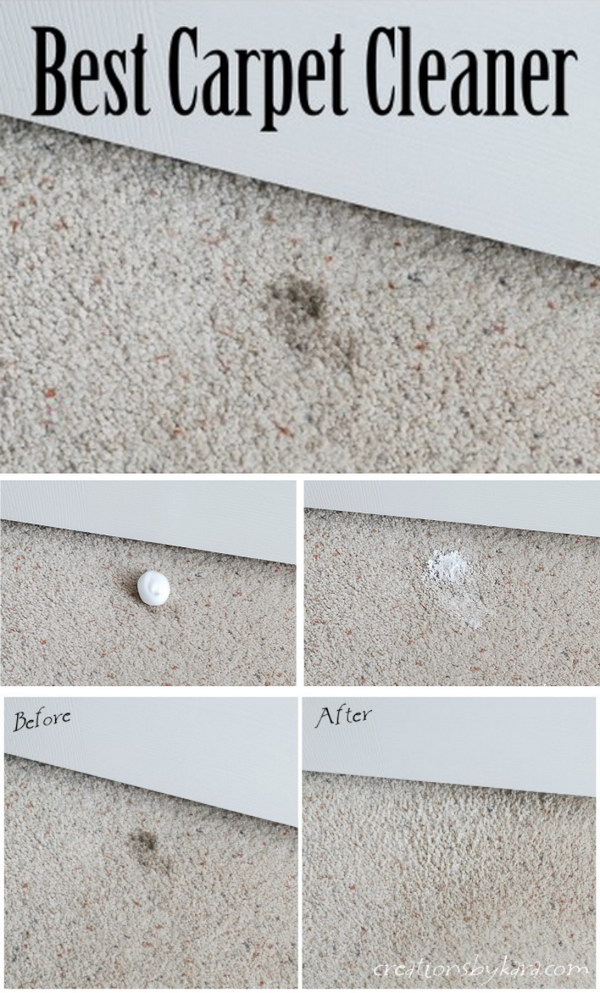 The cheapest and easiest way to get rid of spots on your carpet. You just need a bit of shaving cream and dab some on your carpet. It works so well. Check out details from Creations by Kara.
Quickly Fix Furniture Dents from Carpet with Ice Cubes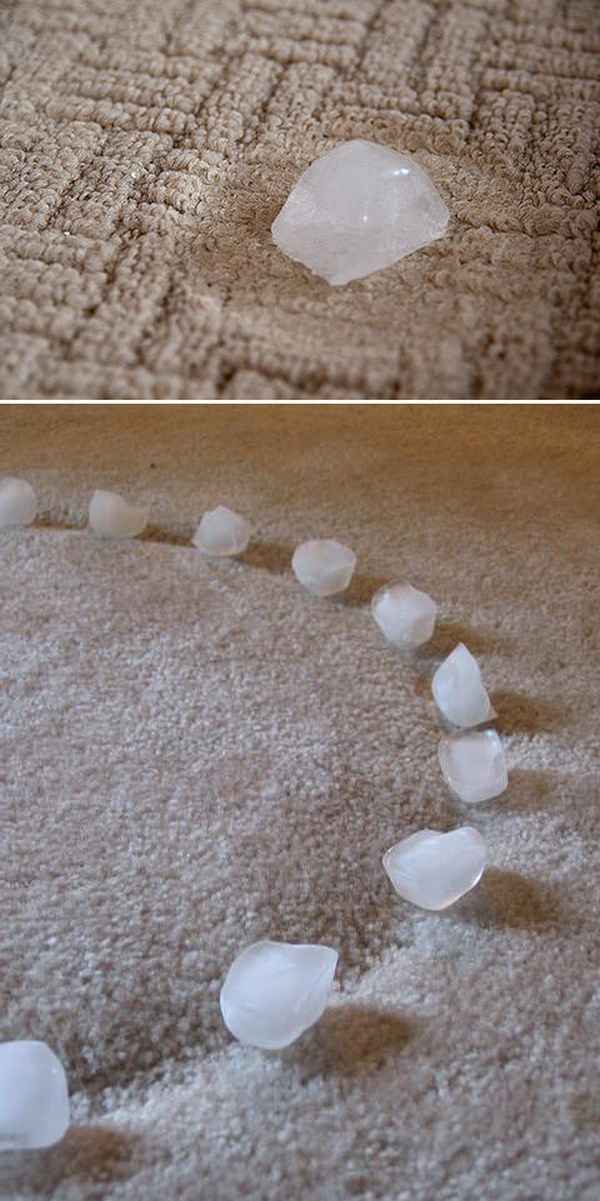 Use ice cubes to erase those annoying furniture dents from carpet… Place ice cubes on the dents, wait for them to melt, then vacuum or gently lift the fibers with a spoon. via
Recycled Swift Dust Socks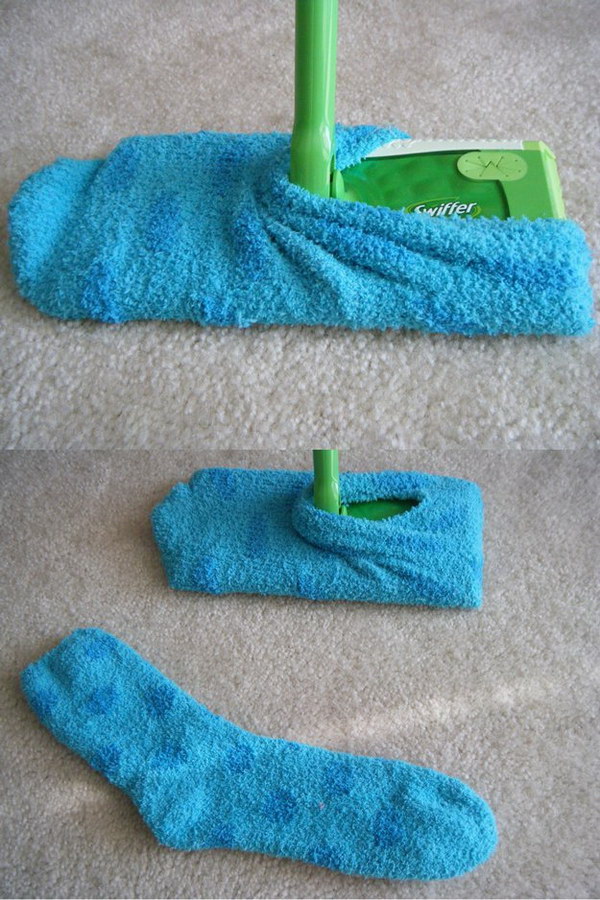 An inexpensive way to recycle an old pair of socks to make these Swiffer dust socks. It is great for your floor or carpet cleaning. See the tutorial via An English Accent.
Homemade Dry Carpet Cleaner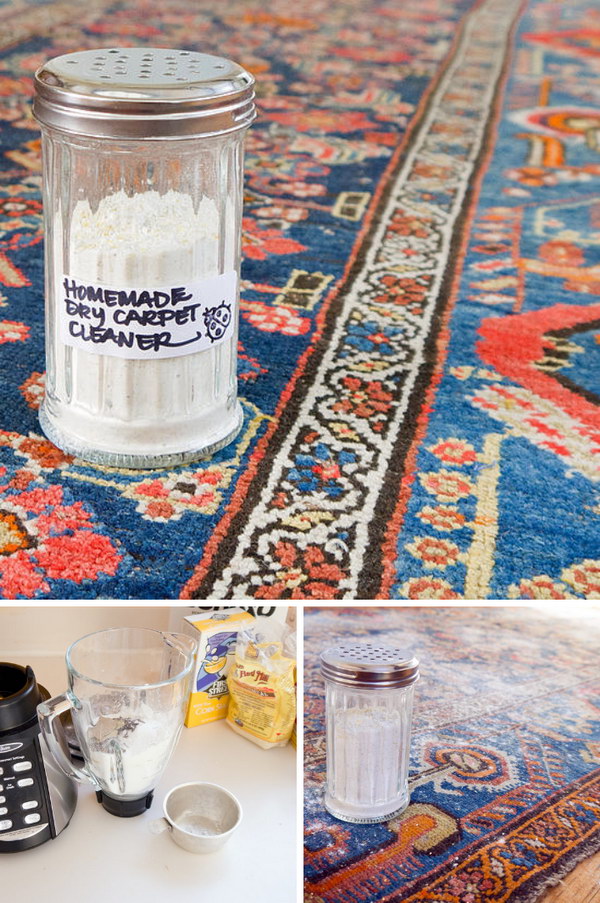 Totally eco-friendly and safe to use around children and pets! Works well to clean and freshen your carpets. You can get all ingredients in your pantry. Check out the recipes and tutorial via popsugar.
How to Clean Stubborn Carpet Stains with an Iron and Vinegar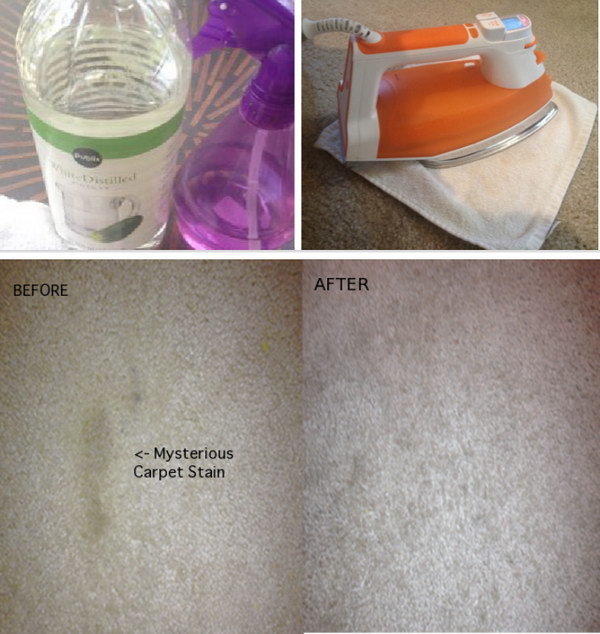 This handy little tip worked best to get rid of stains from your carpet. All you need is White Vinegar, Water, a Spray Bottle, A Rag, and an Iron. Instructions and tutorial via Homemaker Chic.
How To Get Pet Stains and Odors Out of Your Carpet without Chemicals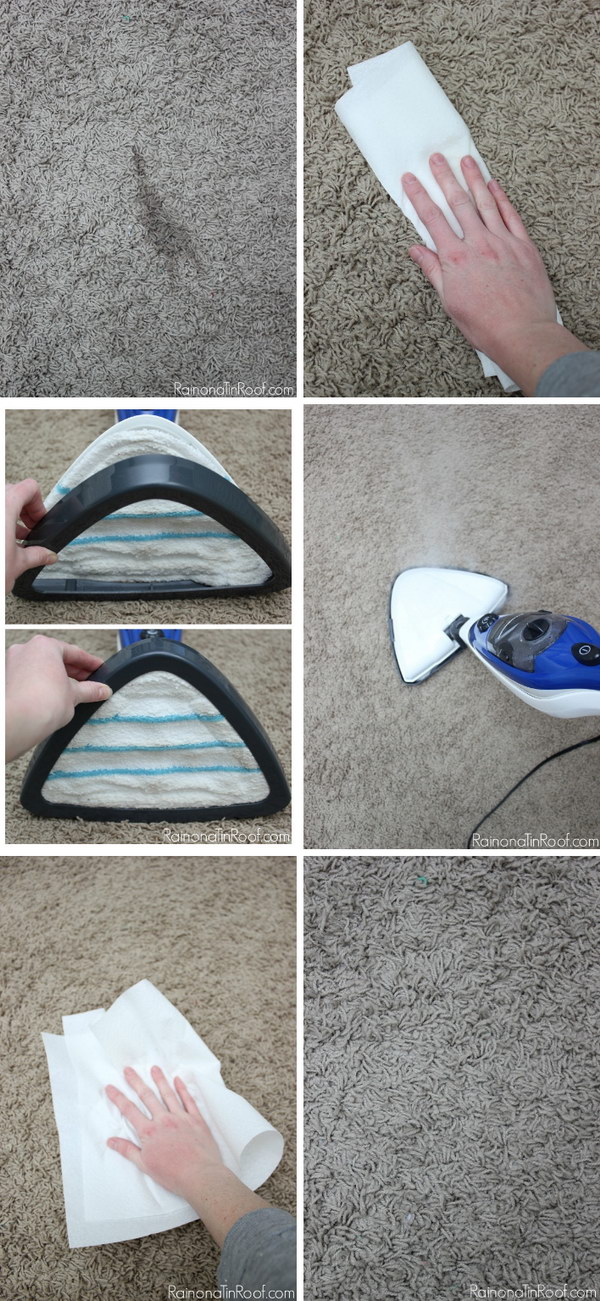 It is so annoying to find your pets pee on the floor. Here is a great way to get the urine smell out of carpets fast by using a steamer and some paper towels. So smart and easy! Tutorials from rain on a tin roof.