Whenever and wherever there is a celebration, plenty of colourful balloons are a must! It goes without saying that every party and gathering is incomplete without some catchy decor and so we have shared here a compilation of some amazing DIY balloon arch ideas. These arches are not only fun and creative to make but are also very cost-effective. They will look great as a back drop of a photo booth or as a wall or roof decor for your party. These easy to make DIY balloon arches have the tendency to transform the whole atmosphere from gloomy to happy!
Gorgeous Balloon Arch and Tassel Garland Decorated Table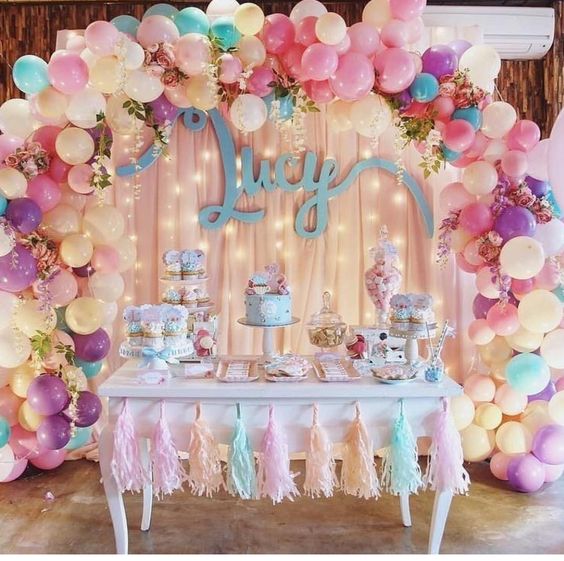 via instagram
DIY Mini Rainbow Balloon Arch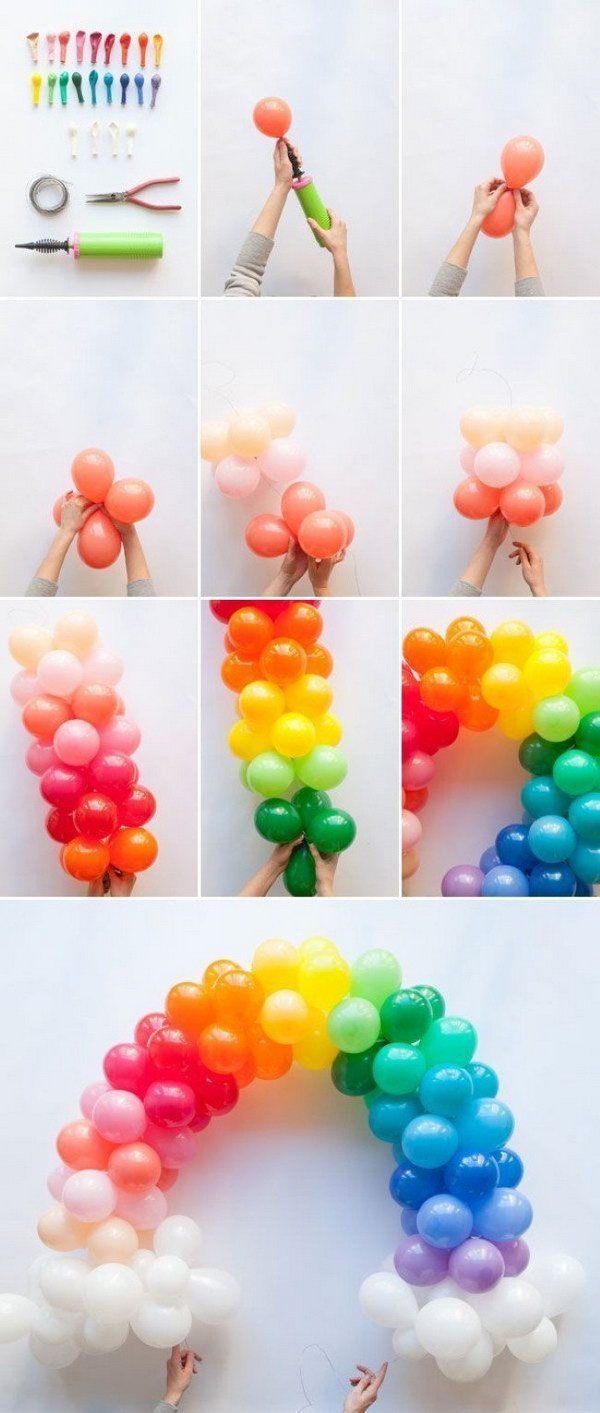 This colourful and vibrant balloon arch is definitely what you call easy and beautiful. This arch is not only catchy but is also very easy to make with minimum every day supplies and some swollen balloons. This arch is perfect for a birthday celebration or a baby shower.
Whimsical Balloon Arch with Tutorials

This beautiful fairytale balloon arch is a perfect backdrop for your wedding or bridal shower. With its intricately woven arch and plenty of balloons of all sizes and patterns, it is definite to give a fairytale affect to your party. Little additions like flowers and ribbons to the arch make it all the more sophisticated and beautiful. thehousethatlarsbuilt.
DIY Balloon Arch with Flowers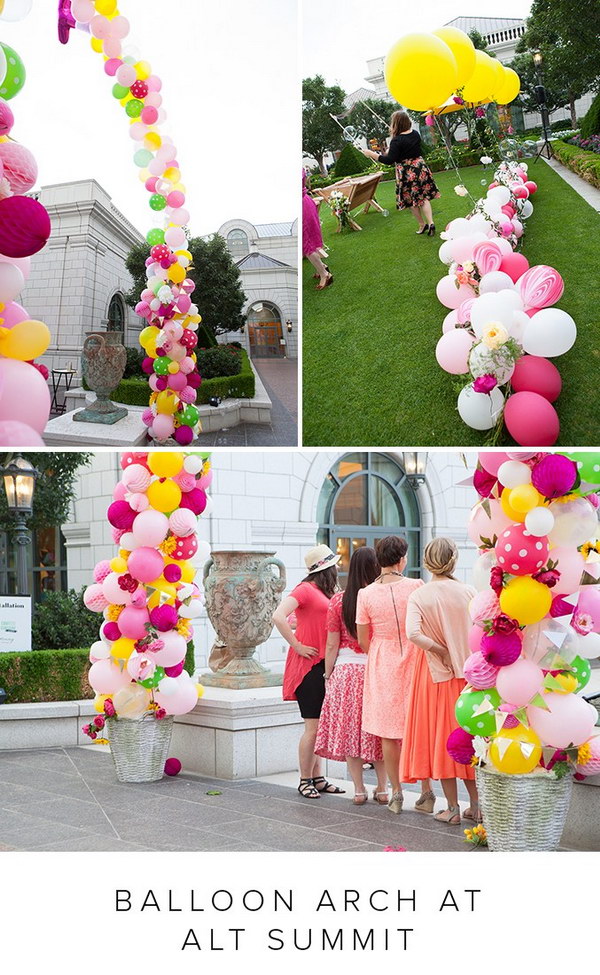 This vibrant arch with a huge diameter is the best choice for an eye catching entrance. And the addition of flowers makes it all the more sophisticated and beautiful. Whether it is a bridal shower, an engagement party or a wedding this arch will definitely make your day! thehousethatlarsbuilt.
Balloon Arch for Casino Theme Party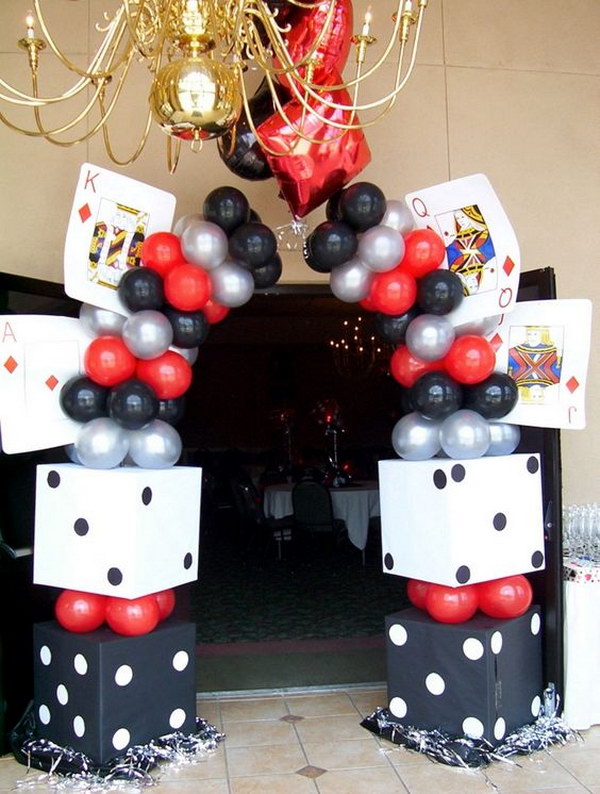 This red, black and white arch with huge dice and card shaped props is the perfect entrance for a casino themed party. Knotted in the centre with helium balloons this arch is a must for your rock and roll party!
Mermaid Birthday Party Balloon Arch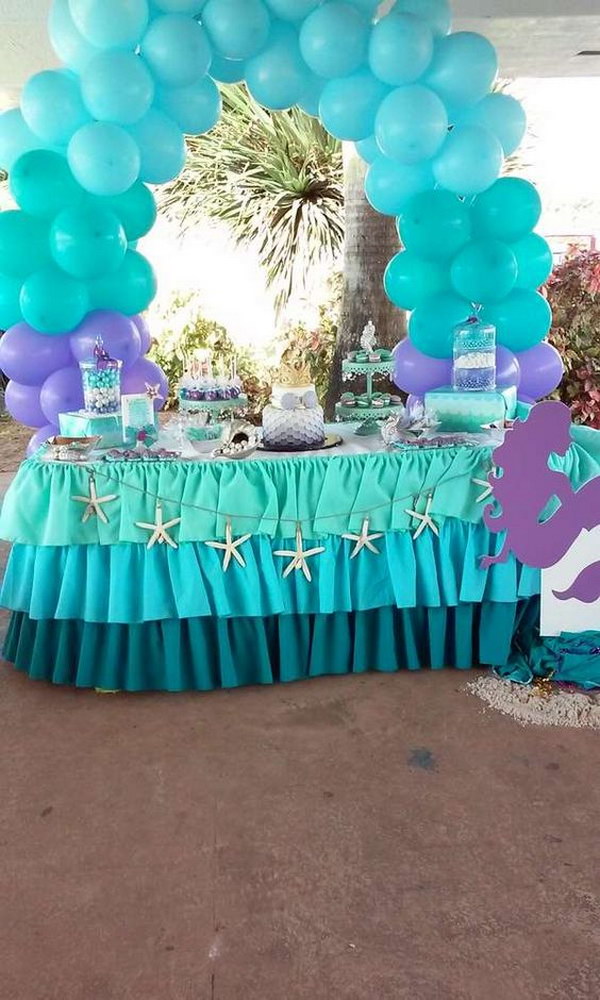 Is your little girl in love with Mermaid? Well then this Mermaid inspired arch in blue and purple, with sea themed props is the perfect decoration for her birthday!
Balloon Arch in Pastel Colors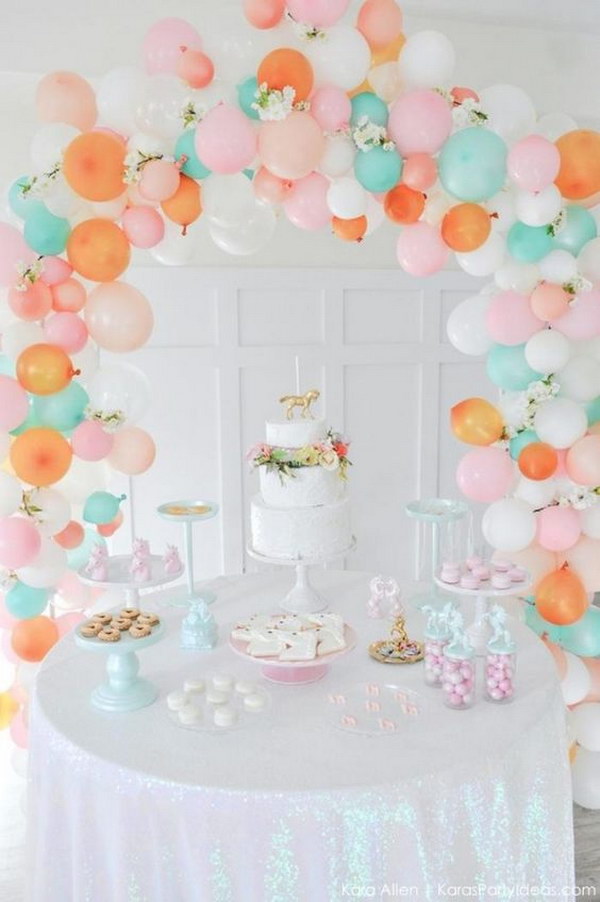 This arch endowed with pastel coloured balloons and flowers is perfect for a pastel colour theme party. Whether it is a birthday party,an engagement party or a bridal shower this arch will fit perfectly in the subtle and sublime celebration atmosphere.
DIY Minnie Mouse Balloon Arch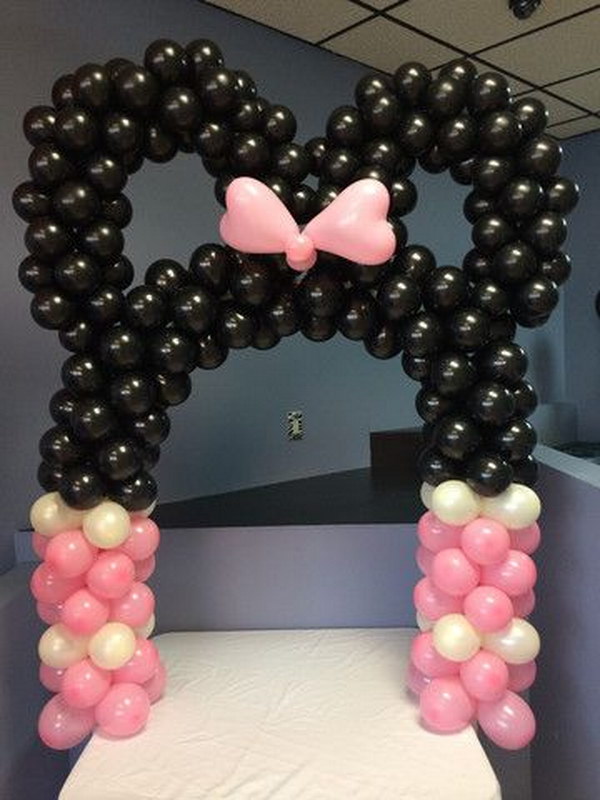 Looking for a birthday party decor for your little girl? Well this Minnie mouse inspired balloon arch fits perfectly in the category of a Disney day dream. With black and pink balloons arranged in intricate whorls this arch will definitely light up your toddler's face!
Pink Balloon Arch with Cute Hearts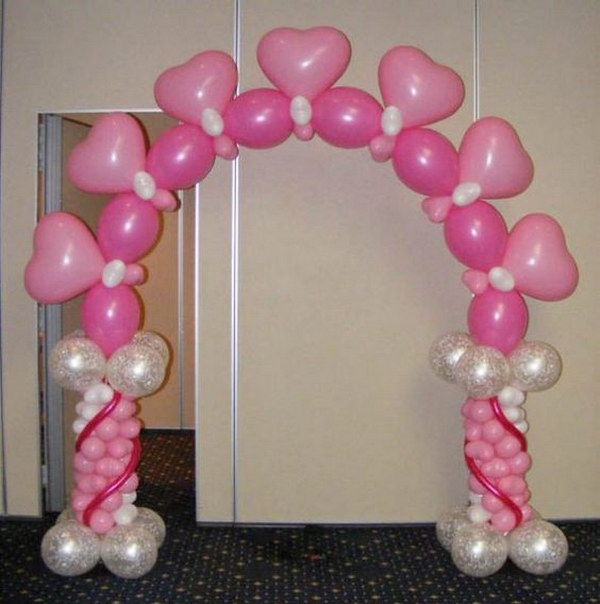 Want to give a surprise party to your Valentine? Well this arch is exactly what you need. This beautiful arch supporting heart shaped balloon will definitely put your partner under the spell. balloonsdelivered.
Little Mermaid Under the Sea Balloon Arch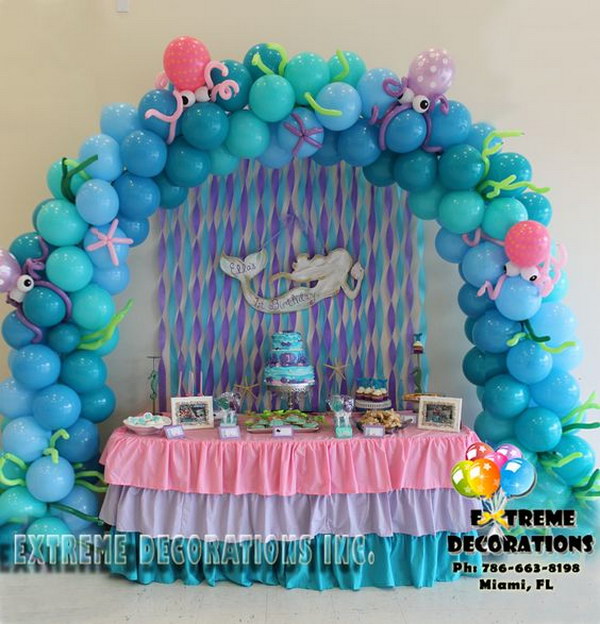 Want a sea themed birthday party party for your toddler? Well we have the perfect idea for you. This little mermaid under the sea balloon arch is definitely enough to brighten your kid's day. With sea shaped balloon characters decorating the arch it is a must installment at your mermaid loving kid's birthday.
Yo Gabba Gabba Cake and Desert Table under Balloon Arch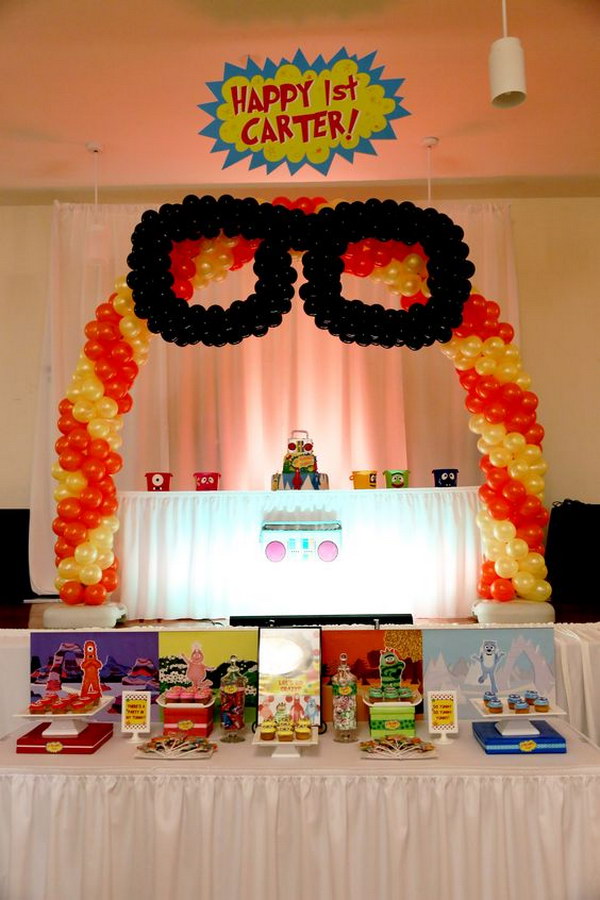 For your kid's First birthday this Yo Gabba Gabba themed arch to be placed over the Desert table is a perfect installment. This beautiful red and yellow arch with a balloon made spectacle frame in the centre is surely a ticket to your kid's smile!
Black and White Themed Balloon Arches with Streamers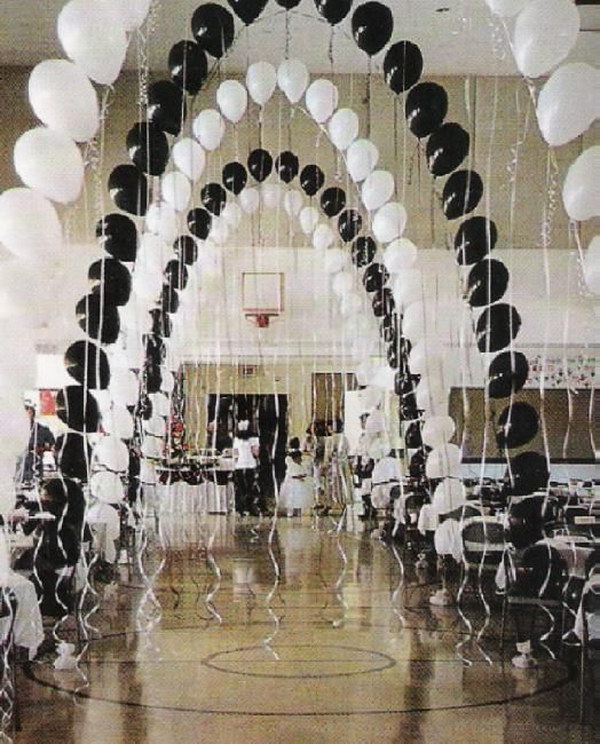 Are you looking for a classic black and white decor? This black and white themed arch with steamers is the answer to your prayers. This arch with halogen balloons gives the area a classy look and is so far the best decorative addition in this category. If black is your colour then this arch is definitely for you!
DIY Popcorn Balloon Arch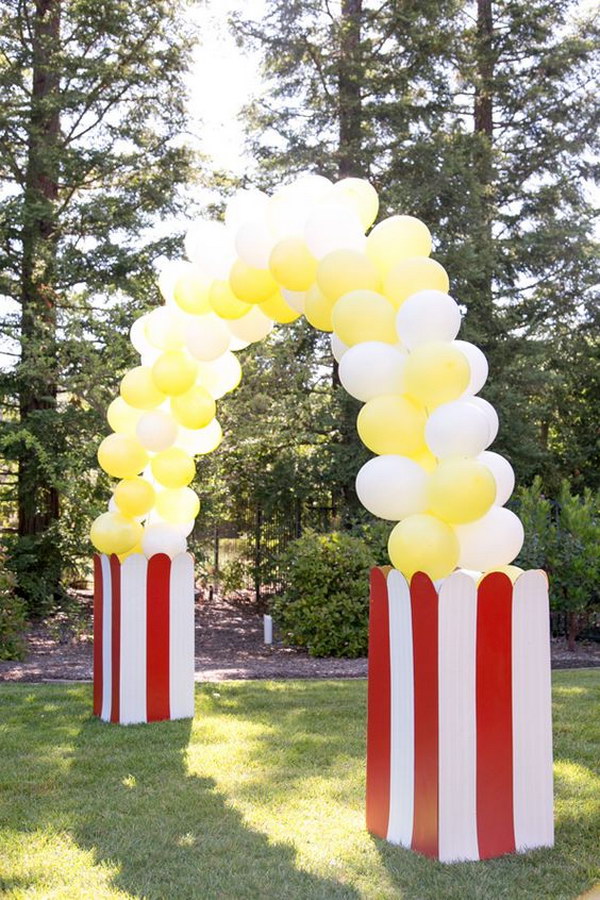 This DIY popcorn balloon arch is definitely the best entrance arch for a carnival or garden party. This popcorn themed arch is not only simple to make but also fun to look at! DIY instructions via ideas.evite
Football Player Balloon Arch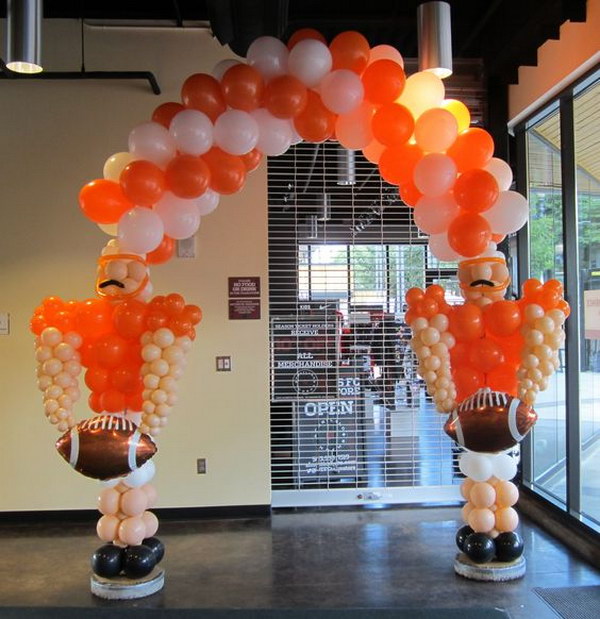 This arch with swollen football shaped balloons at its ends is perfect for the party of a football fanatic. Although it is a little complicated to make, but it is definitely a worth it shot.
DIY "Ready to Pop" Baby Shower Balloon Arch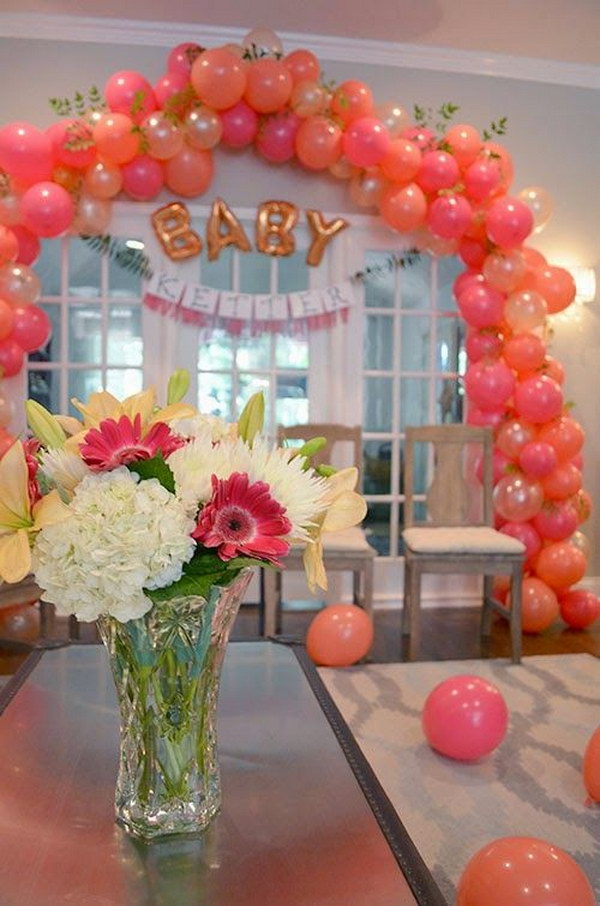 This easy to make beautiful arch will light up the whole ambiance at your baby shower. With leaves and flowers embedded in it along with the balloons, this 'Ready to pop' baby shower balloon arch is indeed a sight!
Bee Themed Balloon Arch for Baby Shower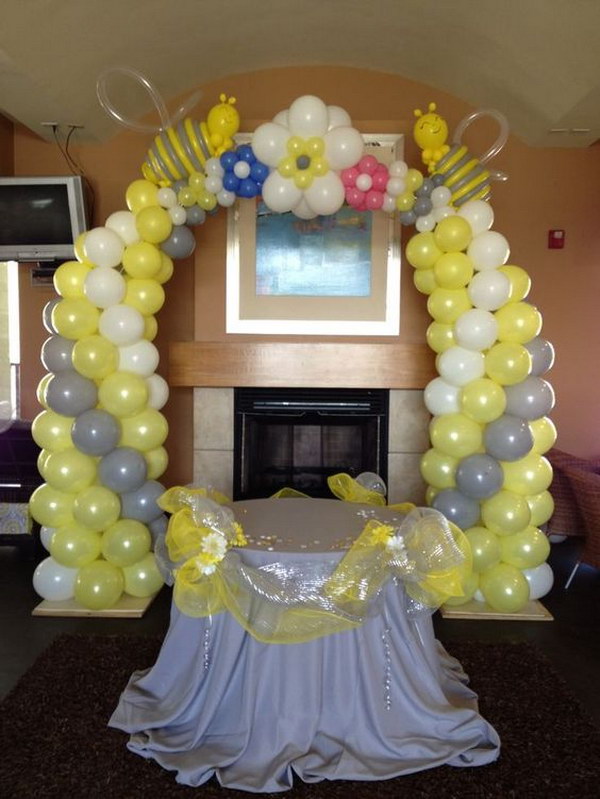 This grey and yellow bee themed DIY arch is a brilliant idea for your baby shower. With balloons woven in the shape of flowers, bee shaped balloons on the top and frills, this arch is definitely a must for your little girl's pre arrival shower.
Mustache Baby Shower Balloon Arch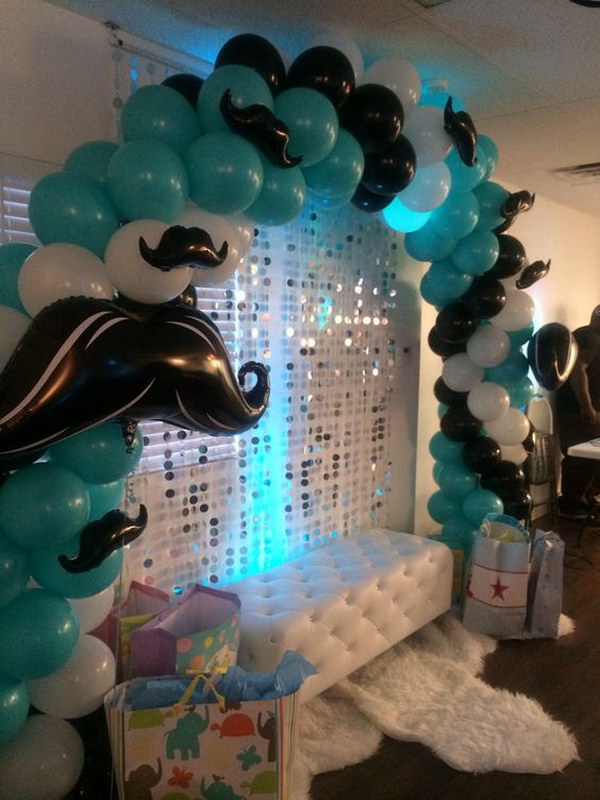 This beautiful blue and black moustache arch is perfect for your soon to arrive baby boy's shower. With intricately woven blue and black round balloons along with moustache shaped balloons in various sizes, this arch is the perfect backdrop for your little man's pre arrival party.
Valentines Balloon Arch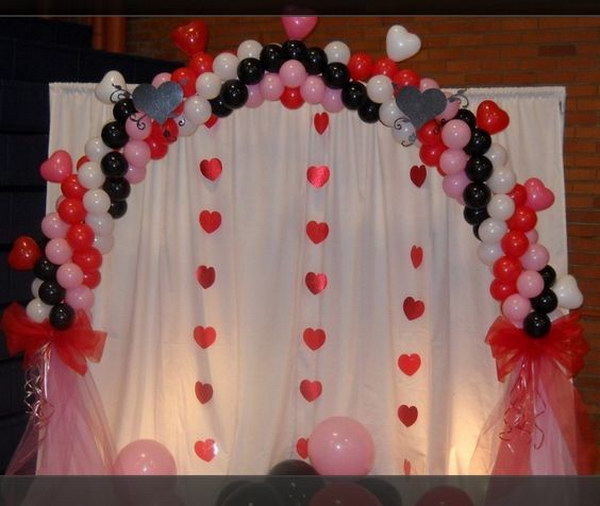 Surprise your Valentine with this perfect red, white and black balloon arch and sweep them of their feet!
Beautiful Fairy Balloon Arch with Flowers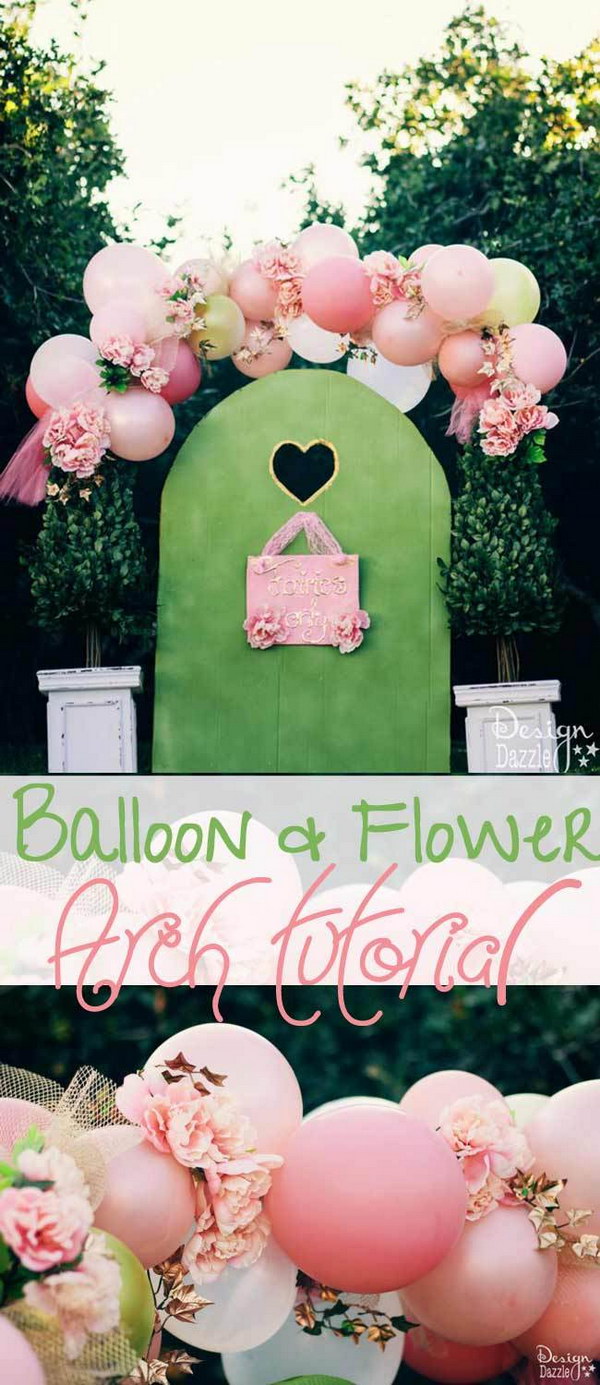 This beautiful and breathtaking arch is nothing short of a dream come true. It is definitely a must for your wedding backdrop. With its soft coloured balloons and intricately woven flowers it is nothing short of WOW! Get DIY instructions via designdazzle.
Heart Balloon Wedding Arch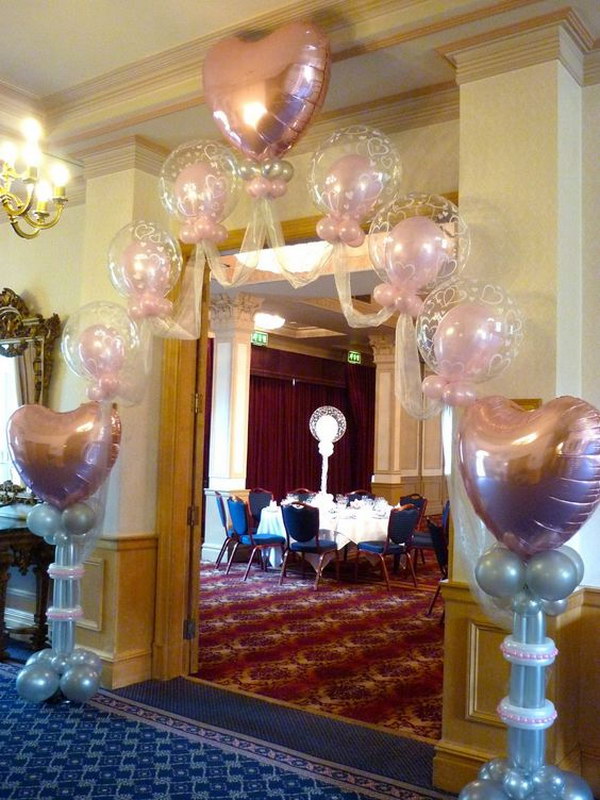 This beautiful heart balloon wedding arch in light goldens is definitely a fairytale sight for your wedding! Your big day can surely make use of this beauty, to add a sublime texture to your wedding decorations.
Celestial Star Shaped Balloon Arch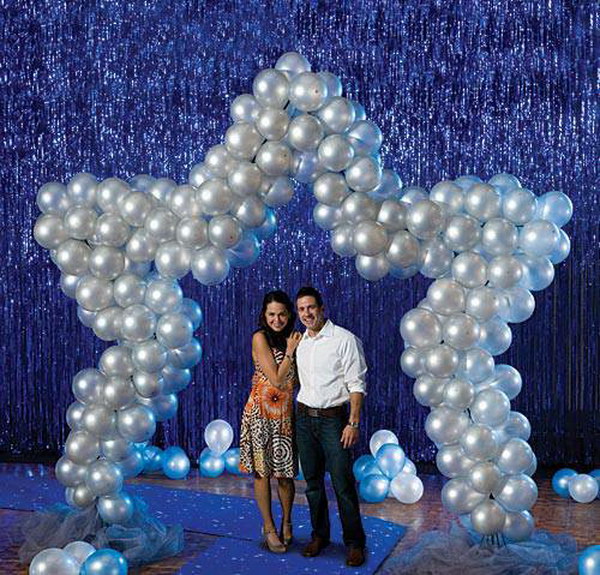 This eye catching balloon arch is fabulous to look at and easy to make. With its silver balloons woven intricately into a star shaped arch, it is definitely the perfect entrance arch or photo booth backdrop for your birthday, anniversary or any other close to heart event. shindigz.
Whimsical Pink to White Ombre Wedding Arch
This beautiful whimsical pink to white ombre arch is definitely what you can classify as classy. With different shades of pink and white flowers, balloons and frills this arch is a wedding highlight. Nothing can work better as a fairytale backdrop in your wedding photos than this dreamy balloon arch.