Halloween is one of the most enjoyable times of year, for the most part. The little ones love dressing up and trick-or-treating, teens and young adults take advantage of the night's wild parties and older adults enjoy the chance to deck their houses in more or less spooky themes.
There is a large spectrum of Halloween decorating styles. Some people embrace the spooky season fully, while others opt for more benign, cartoonish pieces. Some do an elegant, somewhat Fall themed take on the holiday, others choose to decorate the house in the style of their favorite Halloween movies.
However you choose to decorate your house, you can easily do it tastefully while keeping to a small budget, if you opt for homemade pieces. Crafting these pieces will not only allow you to save money, but it can also be a relaxing project for yourself or to share with the family.
Check out these Easy to Make Halloween Decorations Ideas that are far more original than your typical carved pumpkin.
DIY Scary Halloween Lantern

via Youtube
Popsicle Sticks Fall Bucket List

DIY Skull Vase for Halloween

This vase looks somewhat like a sugar skull, and it is very easy to create. All you need to do is hollow out a foam skull and place your vase inside. You can also easily take the vase out and use it regularly after Halloween is done. via persialou
DIY Glow In The Dark Halloween Ghost Craft

via domesticfits
Halloween DIY Mason Jars From The Dollar Tree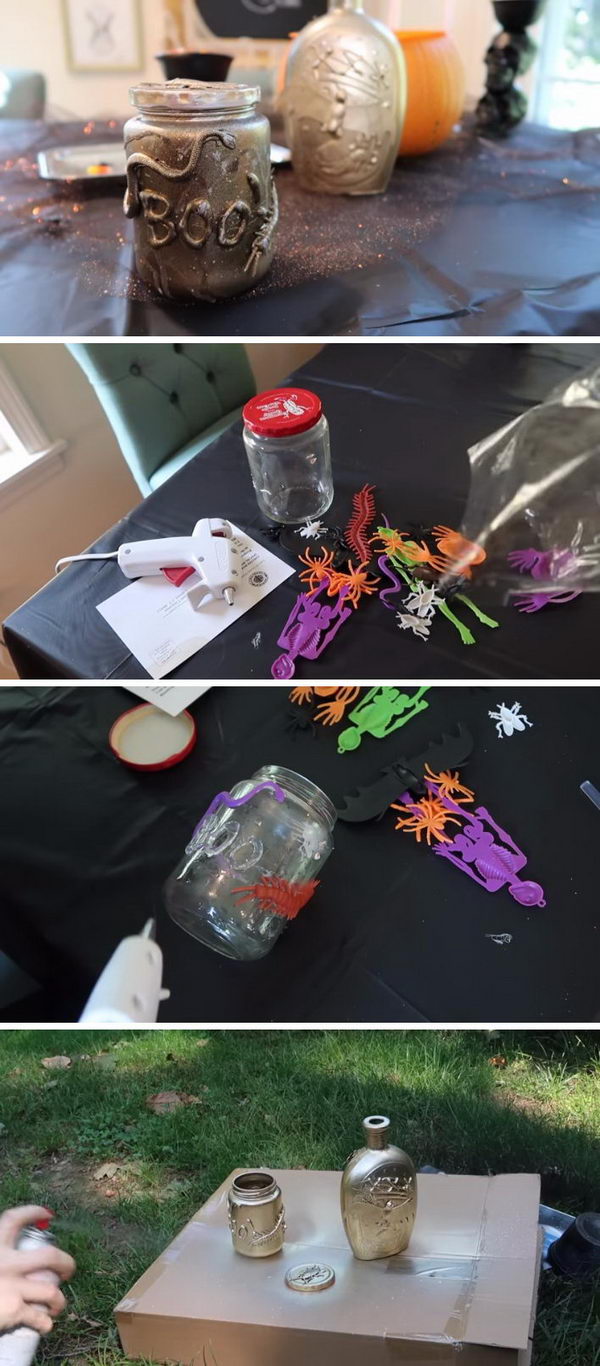 via Youtube
DIY Spider Halloween Vase from Dollar Store Vase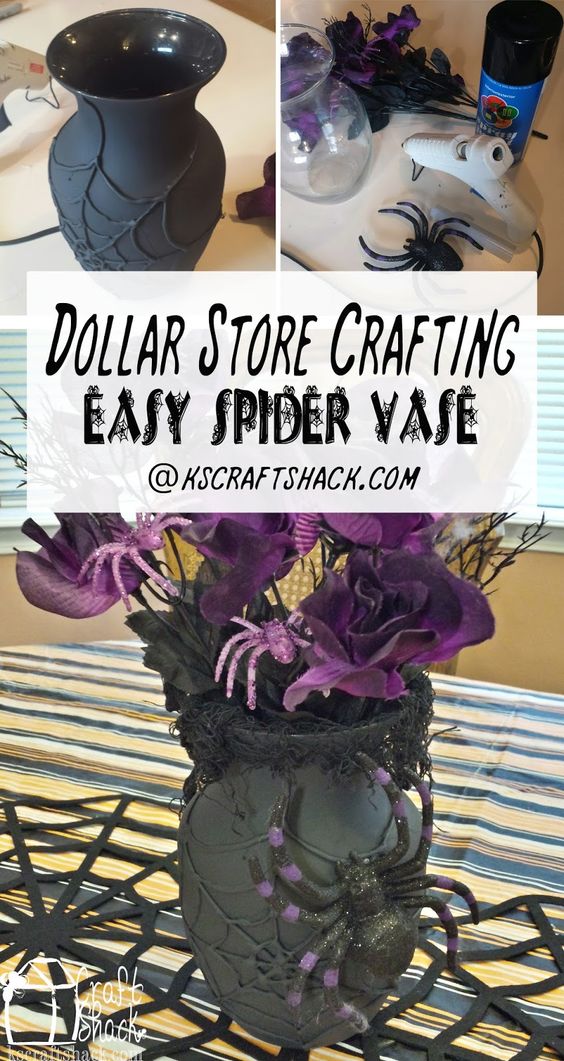 Take a basic glass or plastic vase from the Dollar Store, make a spider's web with glue stick, and spray it entirely black. Fill it up with purple roses and black twigs, and you're got a spooky centerpiece that'll go a long way. And don't forget the freakishly huge spider for the full Halloween effect. via kscraftshack
Easy DIY Spooky Halloween Party Cups

The secret to having a fantastic Halloween party is in details like these cups. Try to find black cups or paint them if you can't, then add small glued or painted eyes to achieve this look. The effect will be enhanced if you present them on black holders like in the picture. via cutefetti
Spirit Jugs

via eighteen25
DIY Halloween Crystal Ball Candlesticks

Turn these surprising objects into mysterious goblets. Cast a shadowy effect on squeaky clean transparent crystal balls by holding them on top of a burning candle. Transfer any creepy print you want – a spider, a crow, or a bat – and place the balls on top of vintage-inspired black candlesticks from the Dollar Store in varying heights. via flamingotoes
DIY Zombie Hand Decor

Would you like to scare your guests with a hand coming off the wall? This is the way to go. It's as simple as gluing a fake hand to a frame and then boarding everything up around the hand to conceal the base. via consumercrafts
Cheap Milk Jug Skull Tutorial

via Youtube
Easy DIY Yard Monsters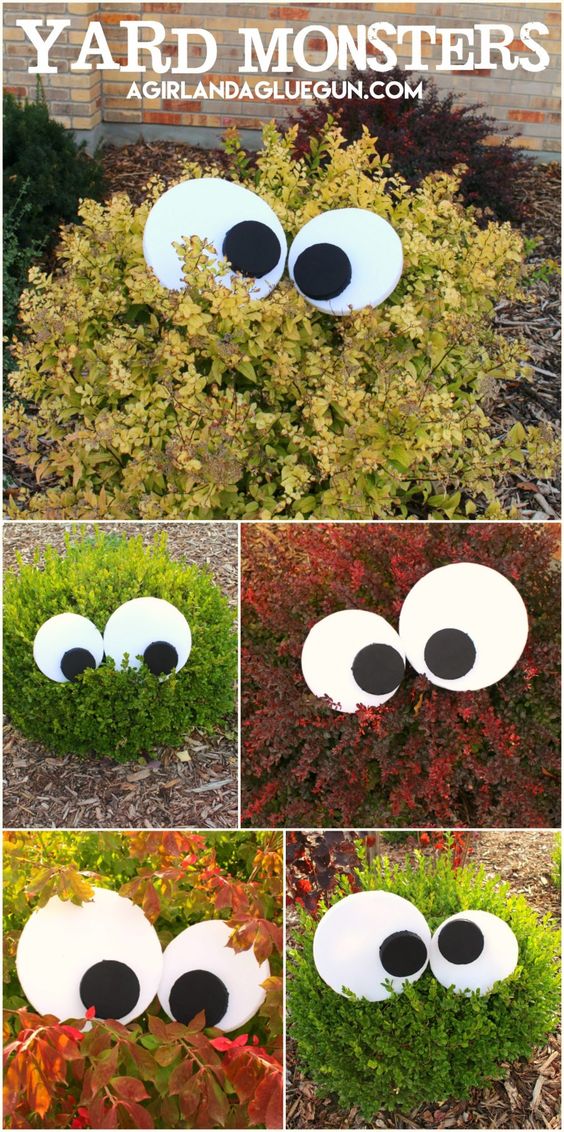 It doesn't get simpler than this. Turn your plants into little monsters by adding eyes to them. You can buy plastic eyes or make your own with paper or felt, and they will look even better if they end up lopsided. via agirlandagluegun
DIY Chicken Wire Ghosts For Halloween Garden

Here is how you make yourself some realistic lawn ghosts: you mold some chicken wire against a mannequin, doll or any other human-shaped form and place it on the lawn. via ehow
DIY Trash Bag Spiderwebs

via Youtube
Use A Dollar Store Plastic Pumpkin As A Mold For A Concrete Halloween Ornament

Tell your guests that Medusa is creeping around by showing them this concrete pumpkin. Want to make one for yourself? Use a plastic pumpkin as mold, fill it up with concrete, and once it's dried, cut out the plastic and your concrete pumpkin is ready to get the scare going. via hometalk
Spooky Floating Cheesecloth Ghost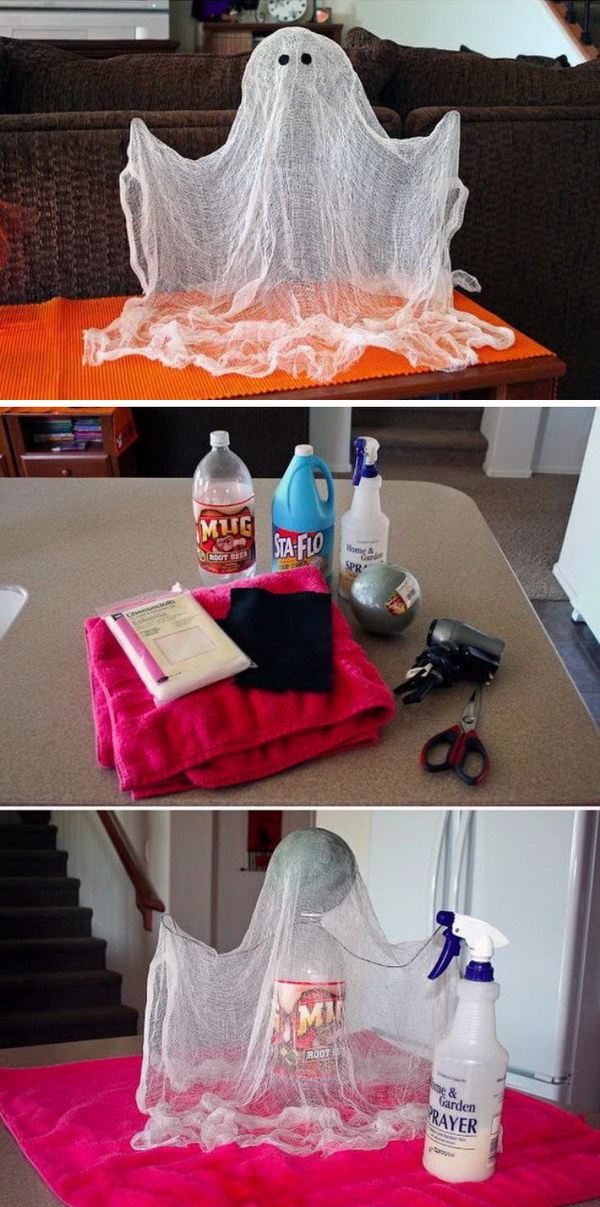 Ghosts are always fun to decorate your home with. Buy a piece of cheesecloth, drape it over a ball being held by a plastic bottle, spray the cloth with a mixture of white glue and water, and wait to dry. Once the cloth has stiffened, add some eyes and decorate as you please. via onegoodthingbyjillee
DIY Elegant Raven Wreath from Dollar Store Black Birds

It looks so elegant yet has that touch of creepy. Another elegant front door wreath to get your creative juices flowing. Cover a basic wreath with these Dollar Store black ravens and you've got a super cool Halloween wreath to greet your family and friends. via rookno17
Balloon Spider Web

via Youtube
DIY Styrofoam Spider

This little spider looks more on the cute than the spooky side, as it was made from styrofoam balls and decorated with glitter for the holiday season. via purplehuesandme
$1.00 Plastic Pumpkins Recycled As Outdoor Halloween Lights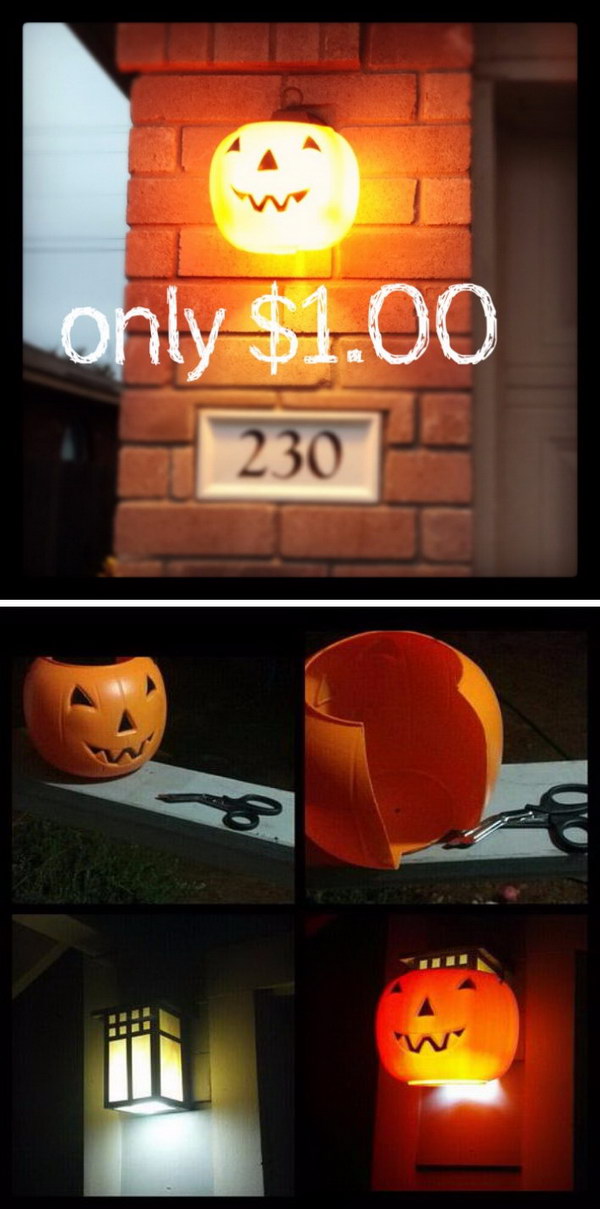 via pinterest
DIY Halloween Trees Craft

Create a little spooky forest on your mantle using paper cones, which you will then cover with skirts of dark green materials to mimic trees. Add little creature-like decorations at the foot of the trees to complete the scene. via wholesalepartysupplies
Turning Cheap Battery-Powered Lights Into Creepy Eyeballs

Use Sharpees to doodle creepy eyes into these battery-powered lights. Place them outdoors and you're sure to spook away possible intruders, or your neighbors. via southnorthsouth
DIY Floating Witch Hat Luminaries

Floating candles? Why not floating witch's hat instead? Truly creepy but truly creative, too. via polkadotchair
Creepy Eyeball Flowers
Harry potter Floating Candles Made From Paper Towel Rolls

This decor is especially great at night. Cut out some paper towel rolls, paint them to mimic a candle, place a candle inside and make sure it won't fall out, and hang the rolls with nylon from the ceiling. The nylon thread is transparent so your candles will definitely look like they're floating on air. via warnerbros
DIY Cardboard Tombstones for Halloween Yard Decoration

Turn your front yard into a spooky cemetery with these DIY cardboard tombstones. Cut out a few pieces of cardboard into tombstones, paint or spray them in grey, and write down an epitaph or spooky message, and stick them to the ground. via ehow
Glow In The Dark Pumpkin

via Youtube
Toilet Paper Roll Glowing Eyes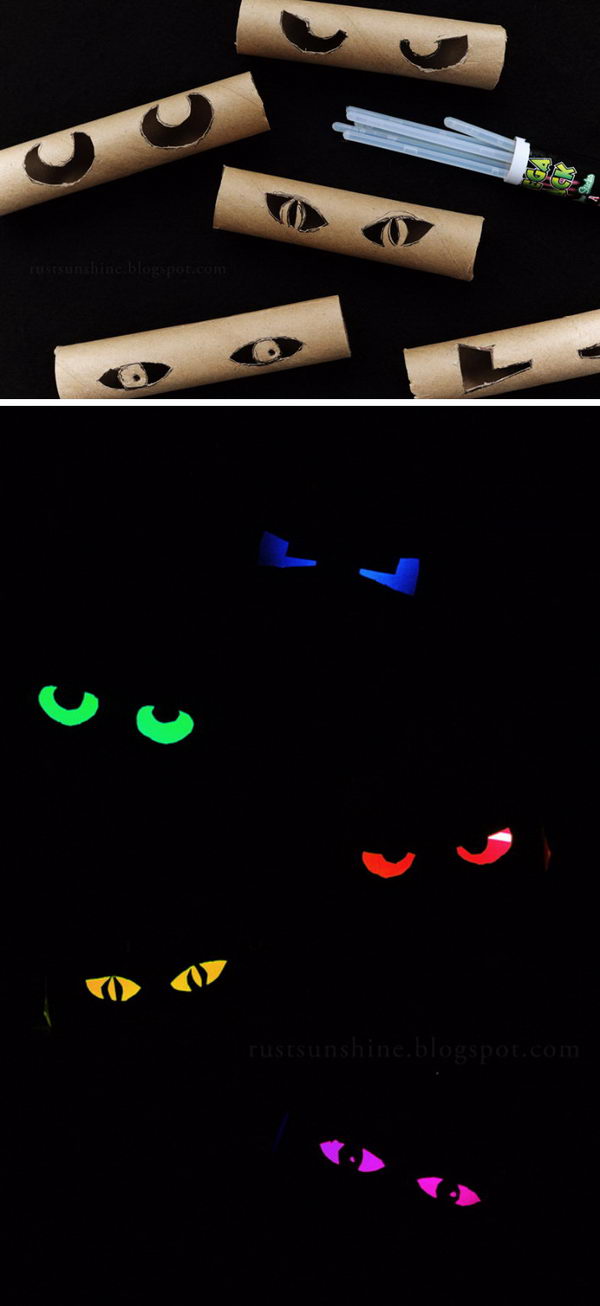 Cut out some eye shapes on paper towel rolls and place glow sticks inside – place them in dark areas of your home, making them perfect for a Halloween party surprise. via rustandsunshine
Easy Glow In The Dark Day of The Dead Lanterns

DIY Eyeball Lights for Halloween Using Ping Pong Balls

DIY Halloween Fairy House Lamp Using a Plastic Bottle

via Youtube
DIY Masking Tape Hand Prop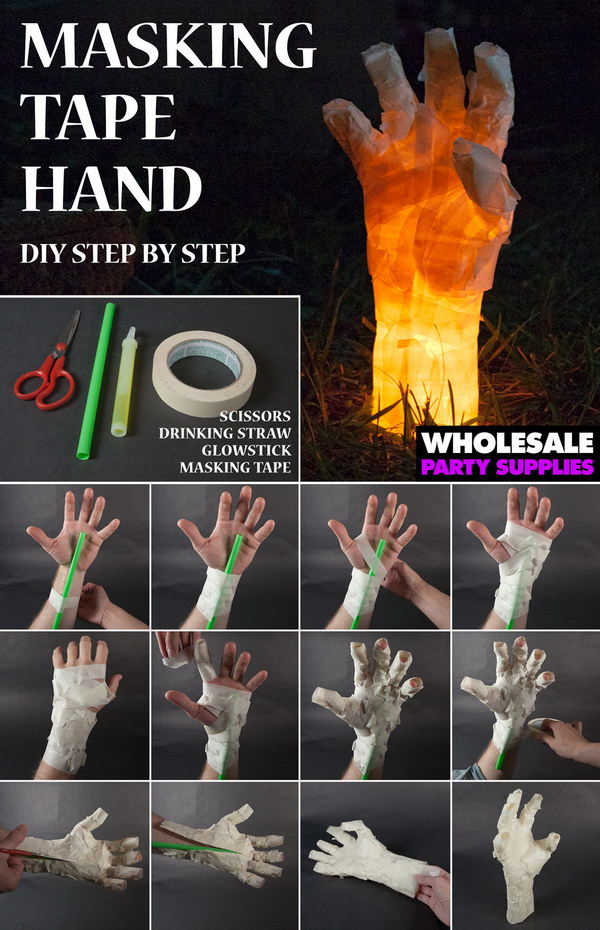 Use your very own hands as the mold for this decoration. Cover your hand with masking tape, then cut it out in the middle, cover the cut part with masking tape, and shape properly to mimic a set of hands. Stick them on the ground and make a yard filled with creepy hands trying to make their way out of a grave. via wholesalehalloweencostumes