Children of all ages always have a strong liking on playing with toys. These fun toys motivate children to develop social skills, motor skills, and logical thinking, through creativity, role play, imagination, and movement. And there must be tons of old or unwanted toys which take over the entire bedroom or playroom in your house over the years. As a result, your house is always a toy mess. To keep your kids' toys organized and easy to find, it's very necessary for you to create some functional storage for putting them together and making them visually identified instead of having them scattered all over the room.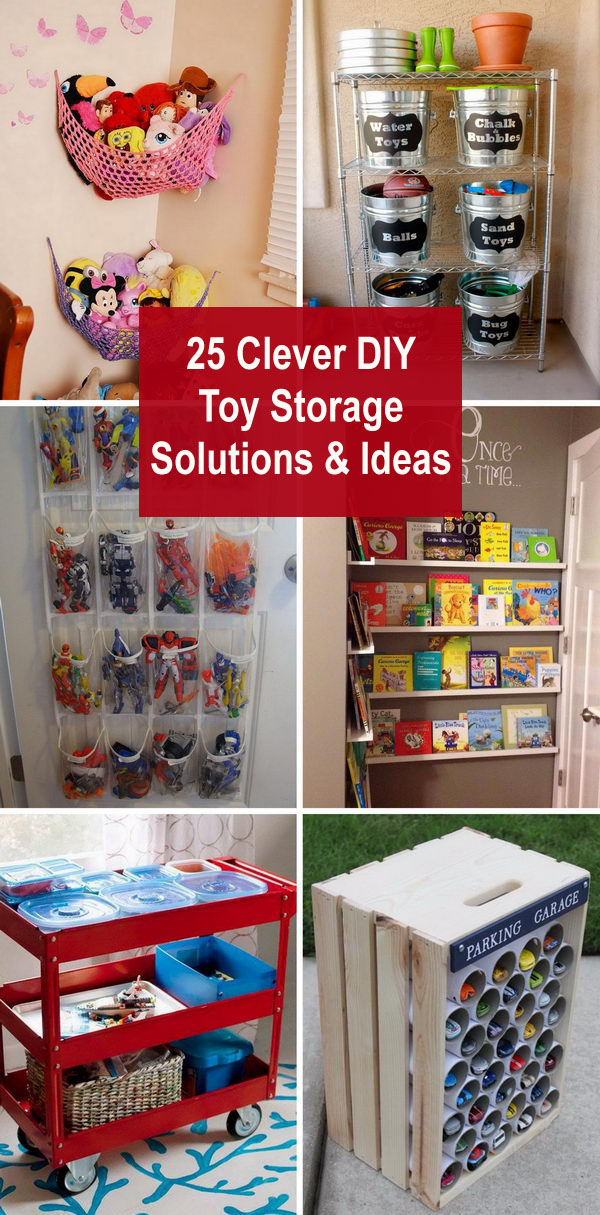 Keeping your kids' toys organized is also a good way to help kids to develop good organizational skills which is a key ingredient for success in school and in life. Today we selected some clever toy storage solutions and ideas for your kids' room. They are very easy and interesting. Some do not just make your kids' room organized but also contribute to the decor of your kids' room. In the following list, you can find how useful shoe organizer is to hole the Power Rangers, Small Rescue Heroes, and some of the boys' personal items. You can also learn how to crochet beautiful toy nets and utilize the space in corner to store stuffed toy. Try these easy and creative DIY toy storage solutions and ideas to calm clutter and bring order to kids' rooms.
Turn The Bottom Of a Closet Into a Toy Storage Area
via neatandpretty
Easy Crochet Stuffed Toy Solution That Utilize Space In Corner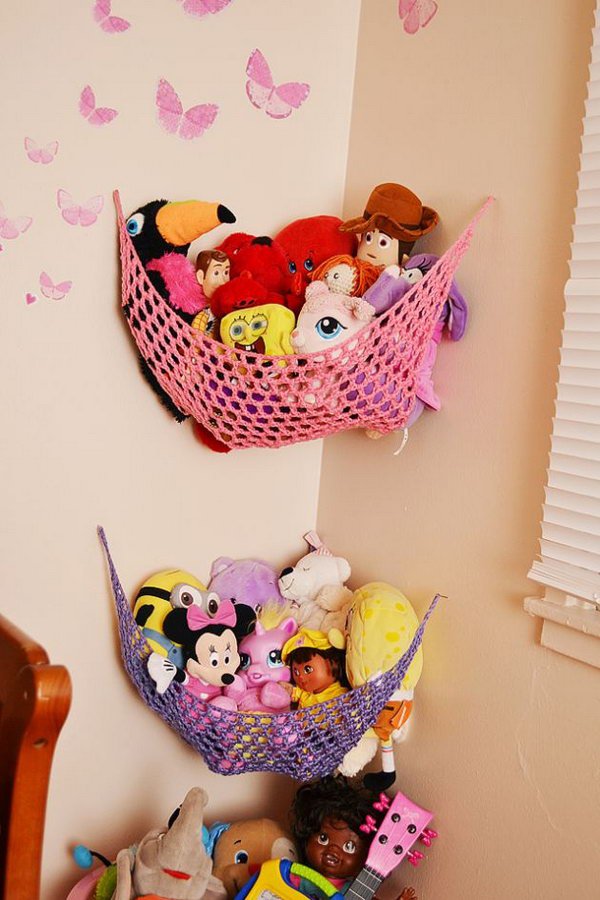 Turn Two iKea EXPEDIT Bookshelves into Storage Bench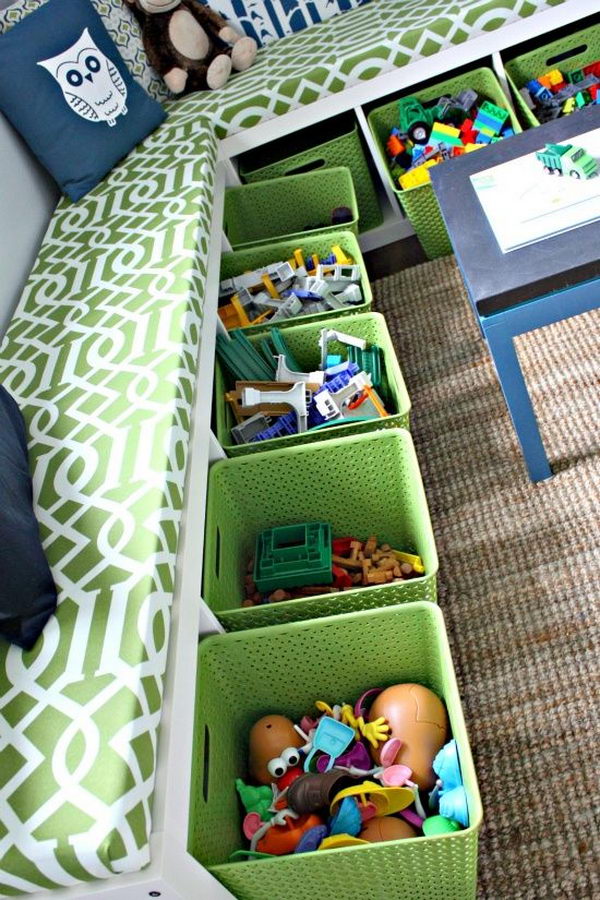 Two tall bookshelves on their sides, bins for storage and custom cushions. CleverGet the instructions here
Wood Crates on the Wall for Storage

via iheartorganizing
Use a Tension Shower Rod And Plastic Baskets to Organize All The Bath Toys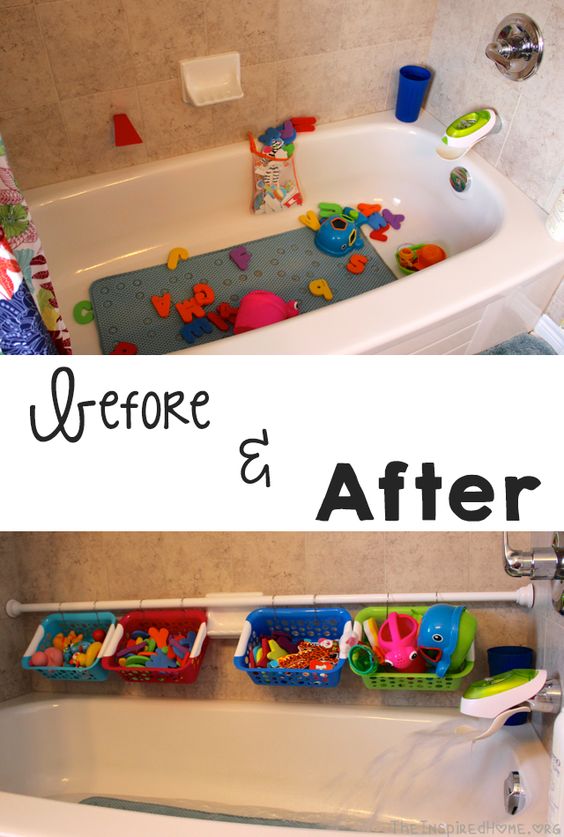 via theinspiredhome
Create A Hanging Swing To Store Stuffed Toys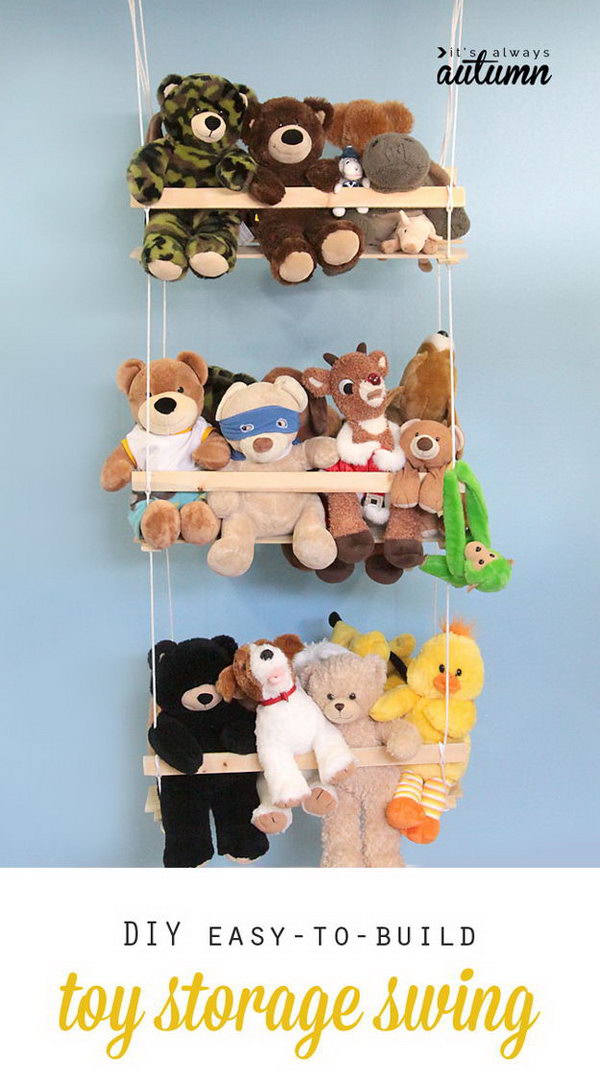 "Peek-A-Boo" Toy Sacks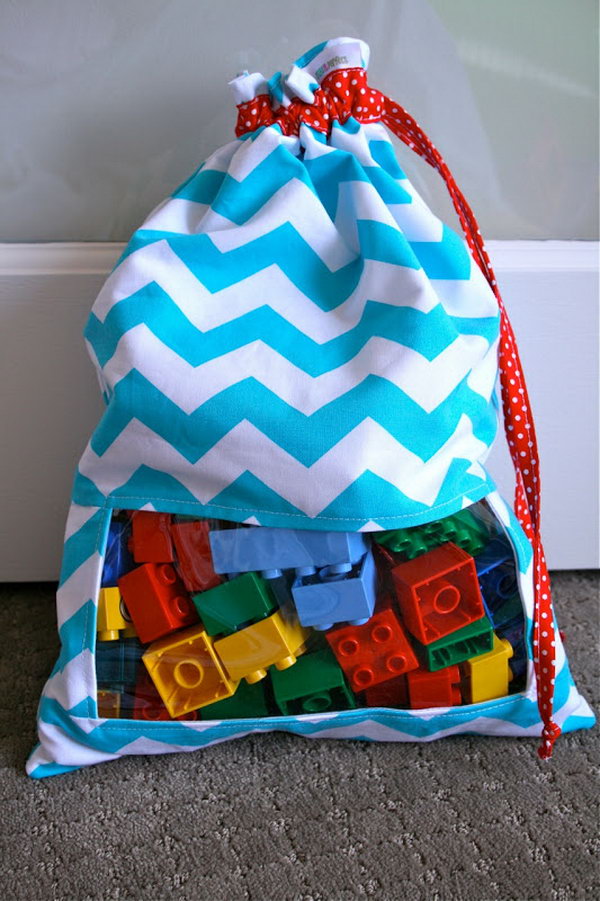 It would be easy to see just what was in the bag instead of having to open the bag first. Get the instructions here.
DIY Rolling Wood Storage Cart Under Bed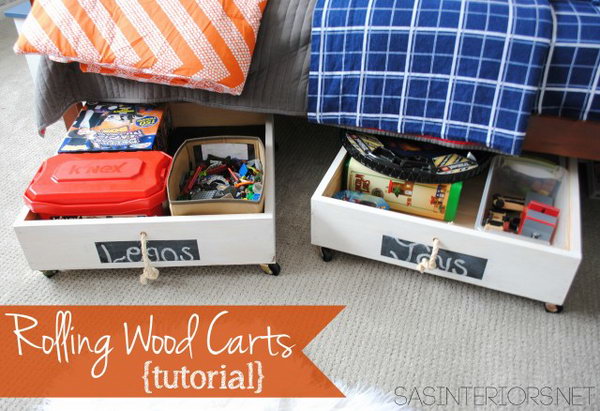 DIY Matchbox Car Garage on Wall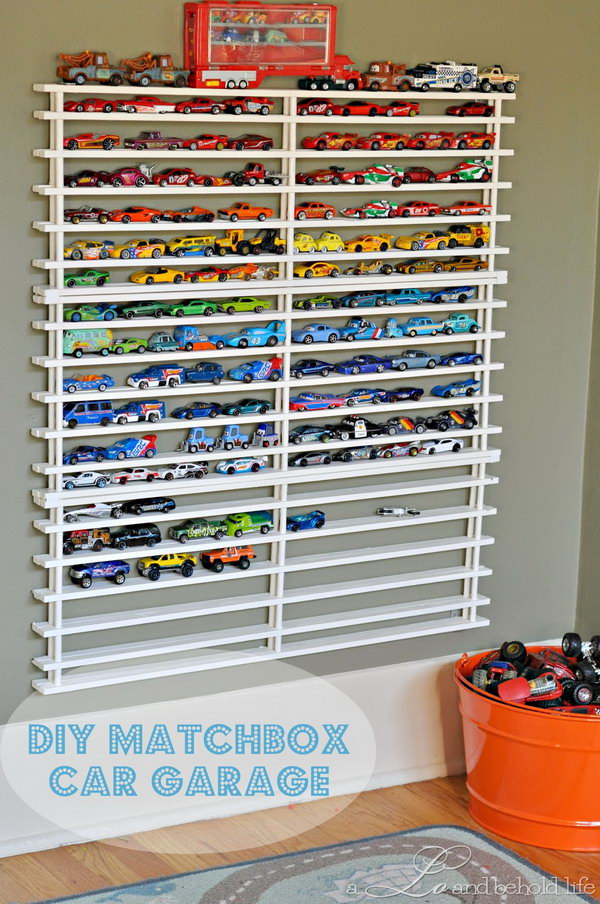 Use A Three Shelf Steel Service Cart To Store Toys And Craft Projects In Progress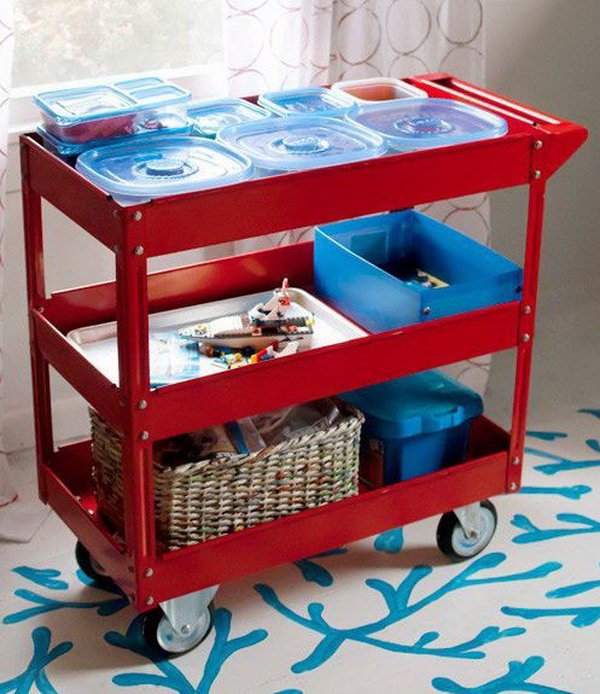 Shoe Organizer Can Also Be Used For Toy Storage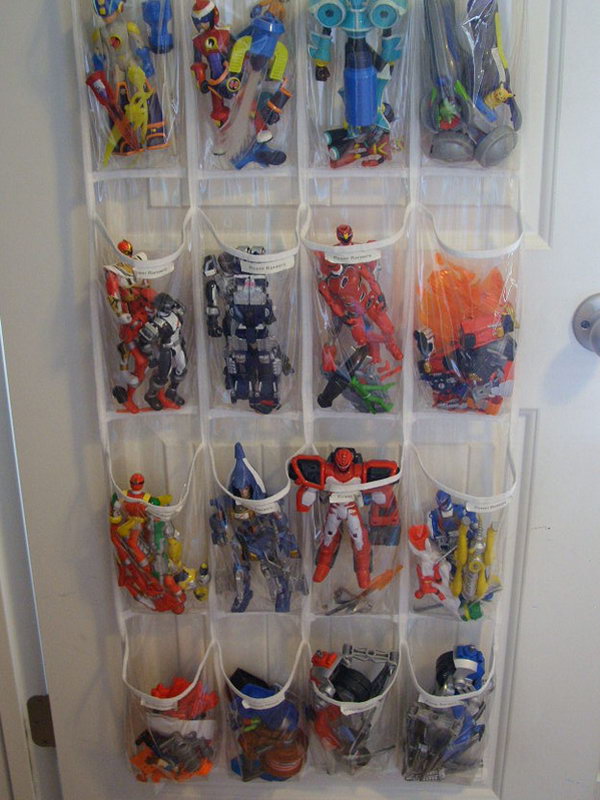 Stuffed Animal Zoo Storage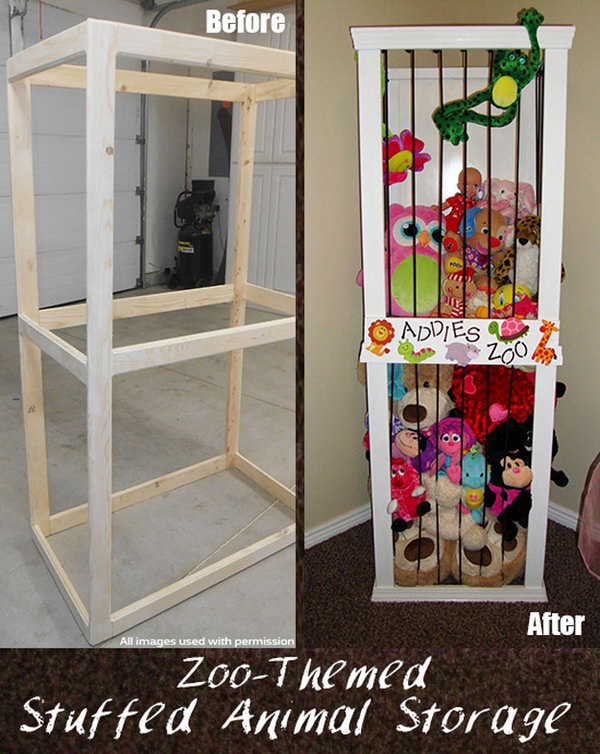 Add DIY Space-Saver Bookshelf Behind The Door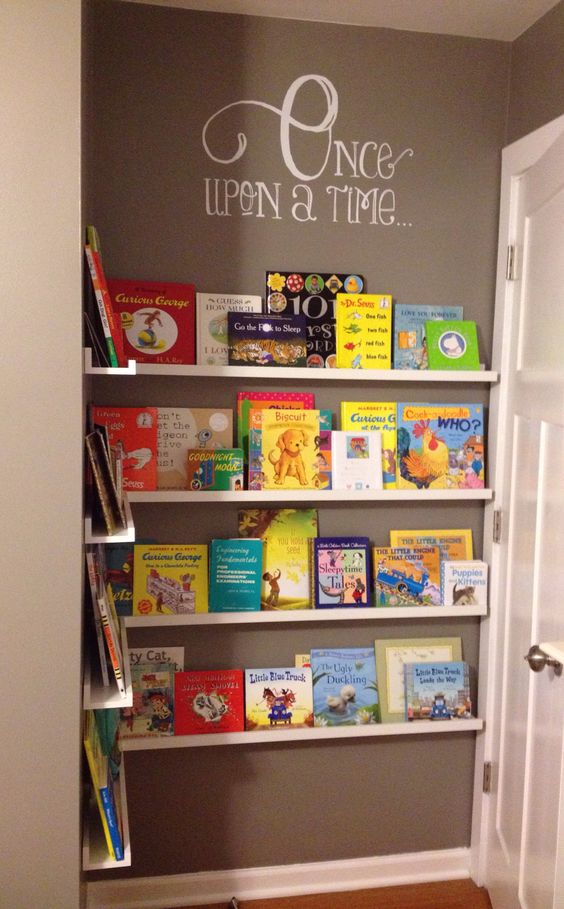 Add wide bookshelves on walls, such as this behind-the-door bookshelf, which add extra storage to your home. via source
These DIY Tyre Seating Double As Extra Storage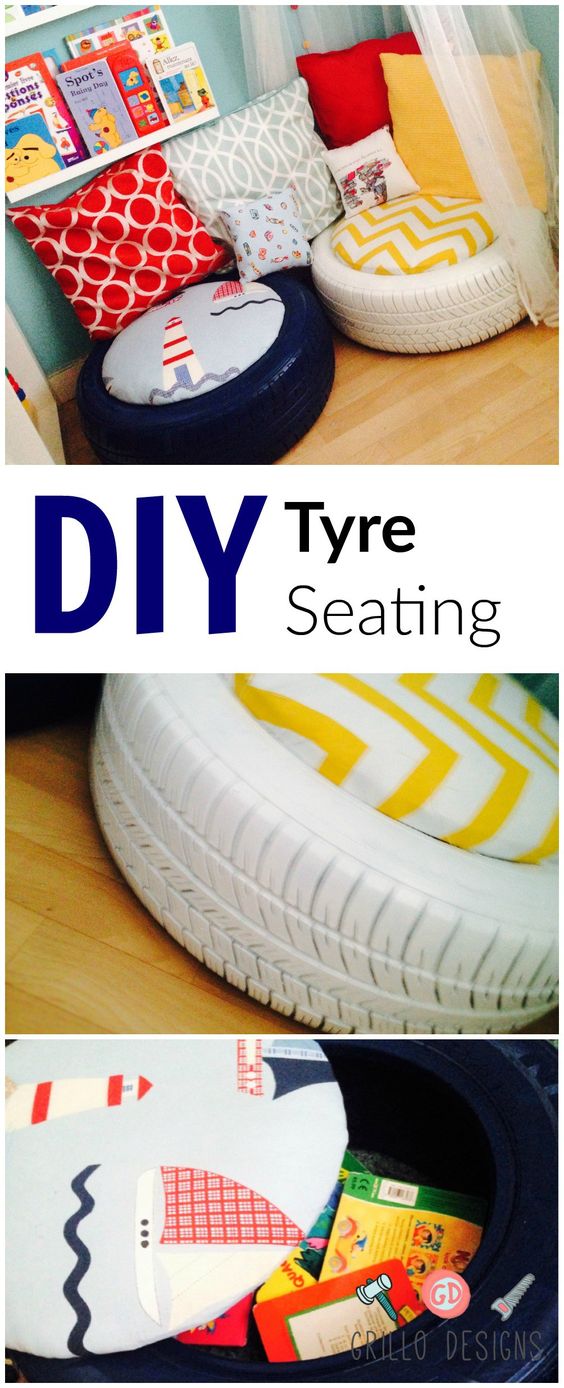 via grillo-designs
DIY Crate Toy Storage

DIY Laundry Basket Dresser for Toy Storage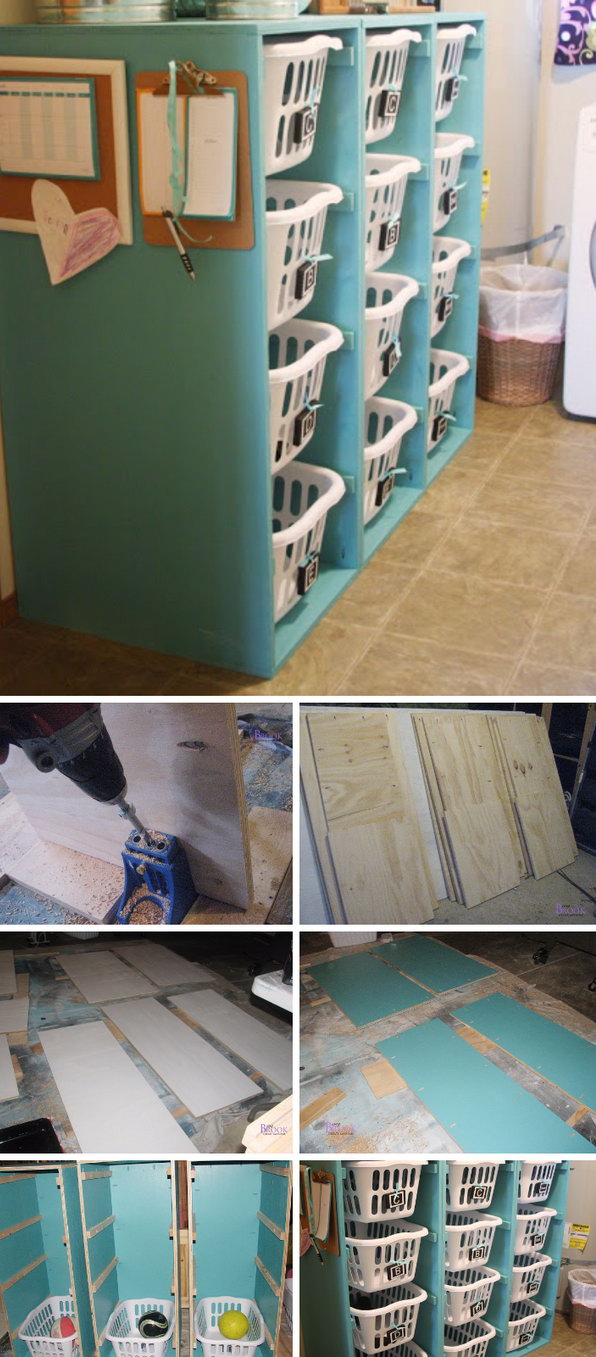 Toy Canopy Storage for Grils' Room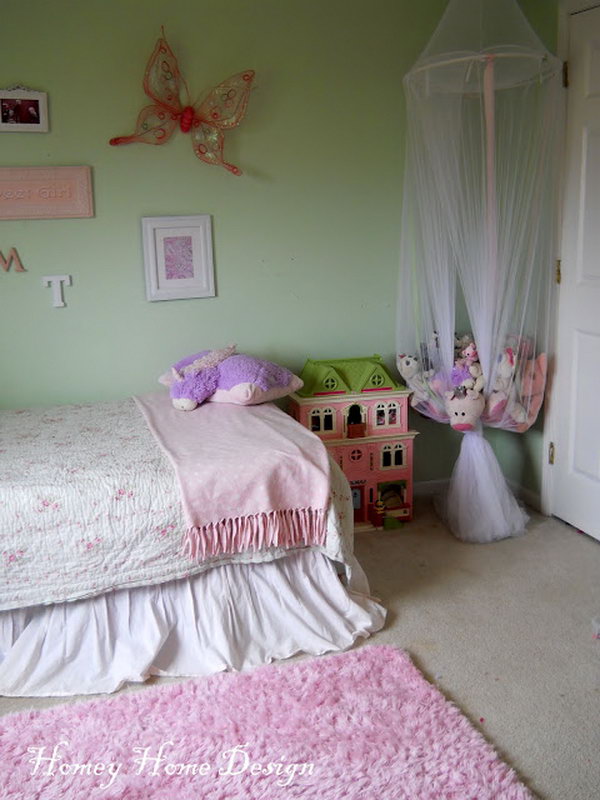 With a knot in the bottom the canopy now makes a great home for all of her stuffed animals. Check it out here.
Organize Outside Toys With These Labeled Buckets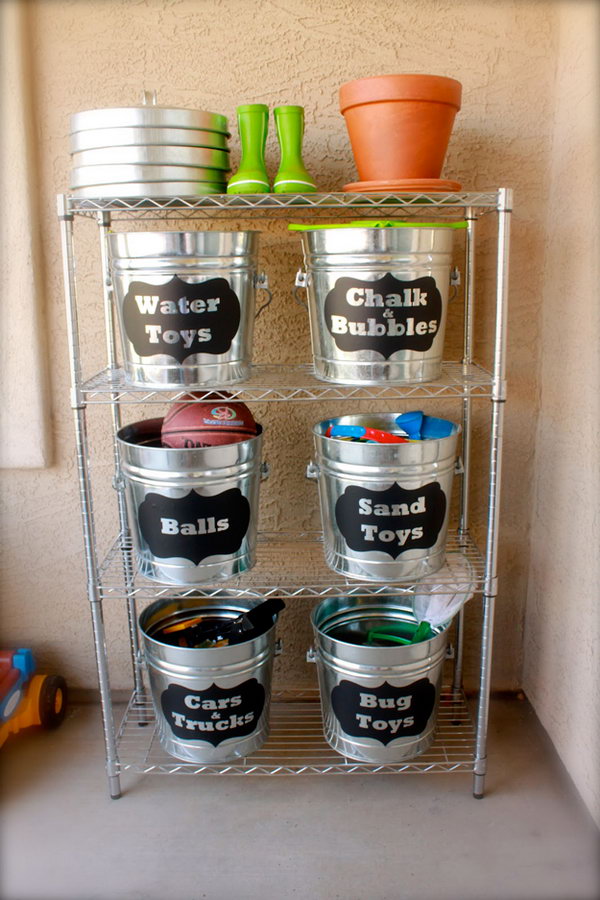 DIY Chalkboard Toy Storage Bins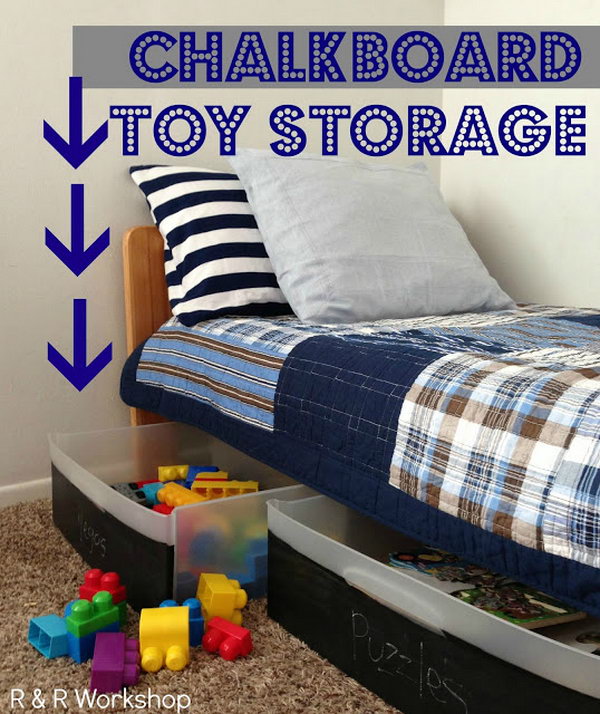 DIY Lego Table Made From Old Side Table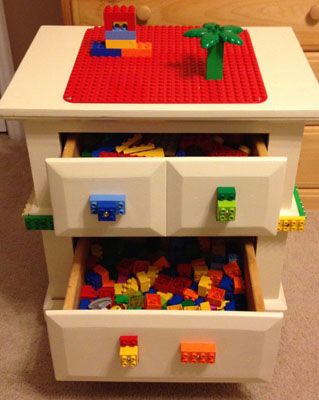 Use Hanging Fruit Baskets In Bathroom For Easy Access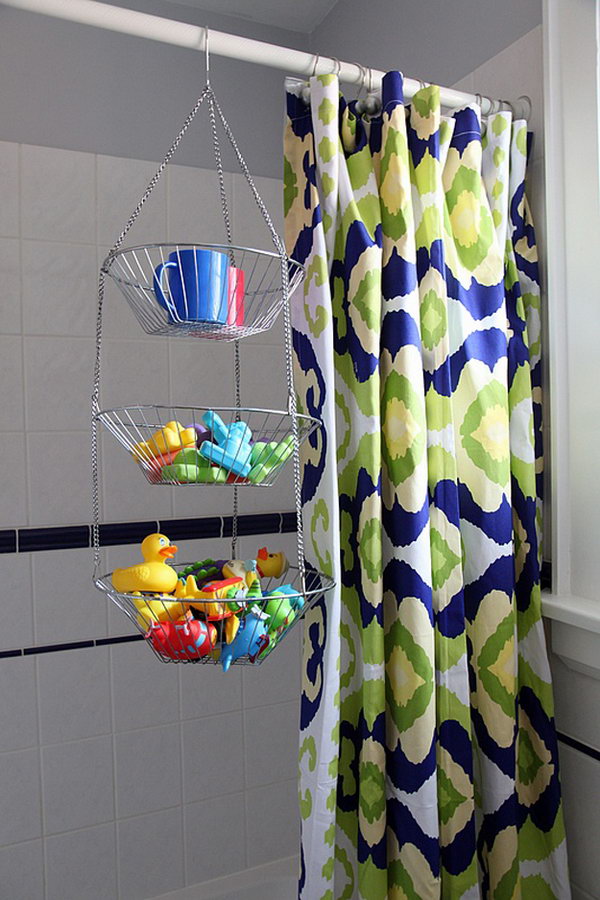 This Fancy Bird's Nest is a Super Easy Stuffed Toy Storage for Girls' Room

DIY Crate Hot Wheels Storage for Kids

Your boy's cars get their own port in this easy storage solution made with a wooden crate and mailing tubes. Get the tutorial via frugalfun4boys.
Bulk Bins Made out of 1×12 Boards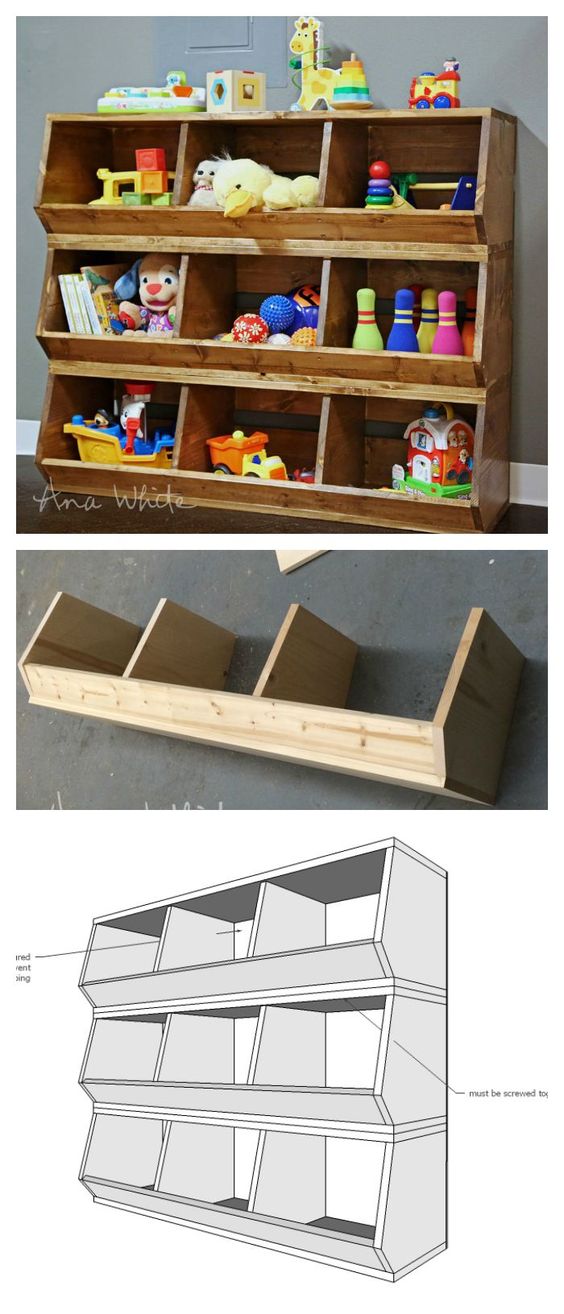 Hold The Fabric Storage Bucket Under The Table For Easy Clean Up