In basic terms, decorating in shabby chic style means channeling a soft, vintage elegance, combined with adorned, detailed and artistic accents. However, this all needs to have a distressed – in the sense of used and lived-in, rather than old and past its prime – and comfortable edge, which gives it the shabby' aspect.
Given this description, it may seem difficult to see how shabby chic could be a good style for bathroom decoration. However, you'll perhaps be quite surprised to see how well the trend can work in this somewhat more functional than recreational part of the house.
In fact, shabby chic decoration can actually be quite beneficial in the bathroom environment, as it takes away some of the sterile simplicity of the space and makes it look more cozy, attractive and comfortable for truly relaxing experiences like long baths, spa treatments and other such activities.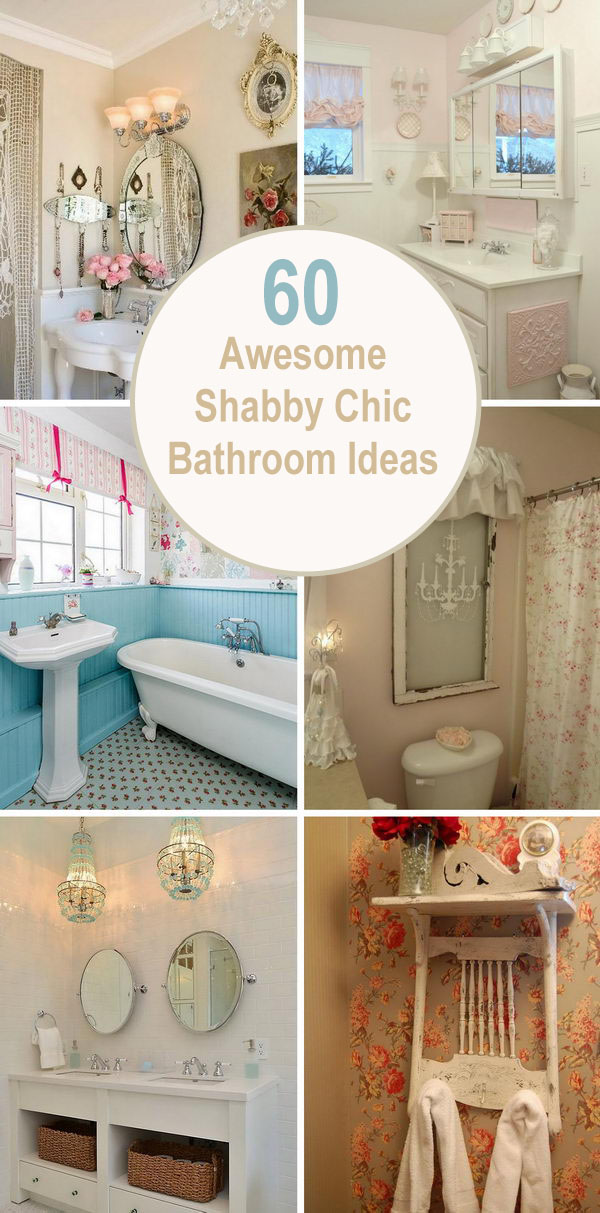 Speaking of spas, we should mention that this is a style that is quite popular at countryside spas, resorts and retreats, so it is what you should go for, if you're aiming for and taking inspiration from that kind of decorating style to build or remodel your bathroom.
In this post you will find a lot of inspiration and ideas that will be useful to you if you're planning on turning your bathroom into a shabby chic paradise. However, before you look at these more specific projects, let's talk about shabby chic bathroom basics.
Turquoise Glass Beads Chandelier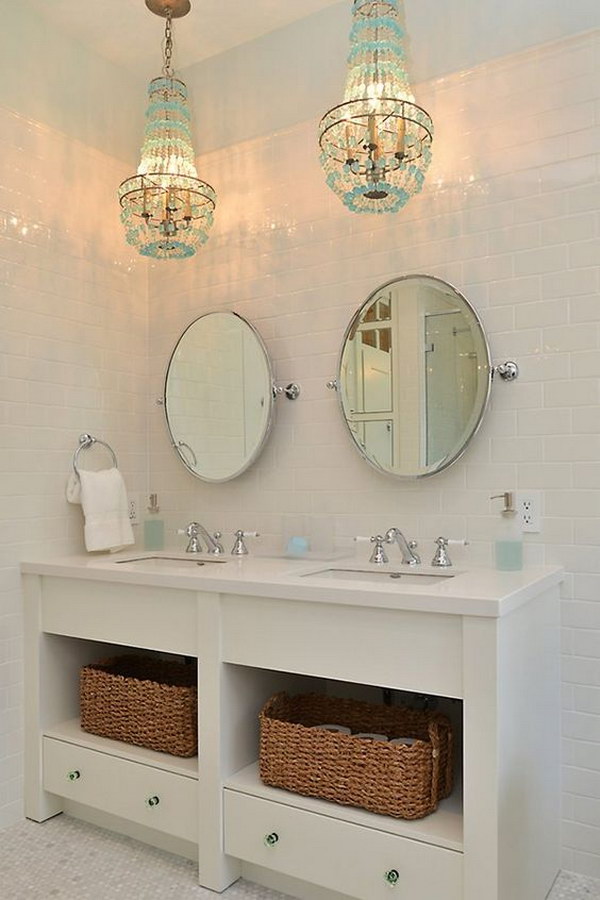 Via onekindesign.
Chalk Painted Mason Jar Bathroom Accessories

Via masonjarcraftslove.
Shabby Chic Bathroom Open Storage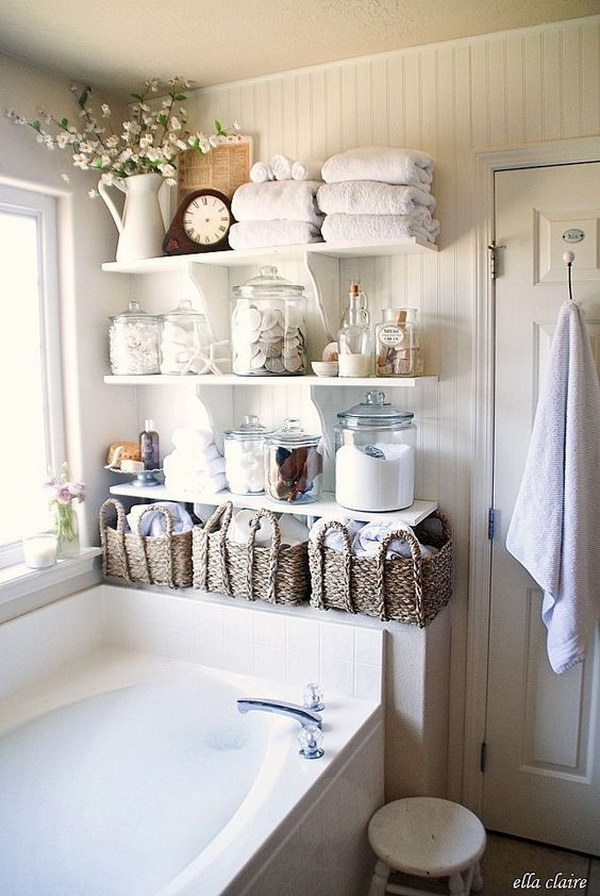 Via decoist.
The first thing to consider is the space and colors. Shabby chic decoration usually means having soft, neutral colored walls, so that's the palette you'll be working with – pinks, grays and beige tones. To complement the aesthetic, you can also opt for materials that are or resemble wood or wallpaper, which will pull in the vintage-cottage style even more.
Cottage Chic Bathroom With Ruffles Window Treatments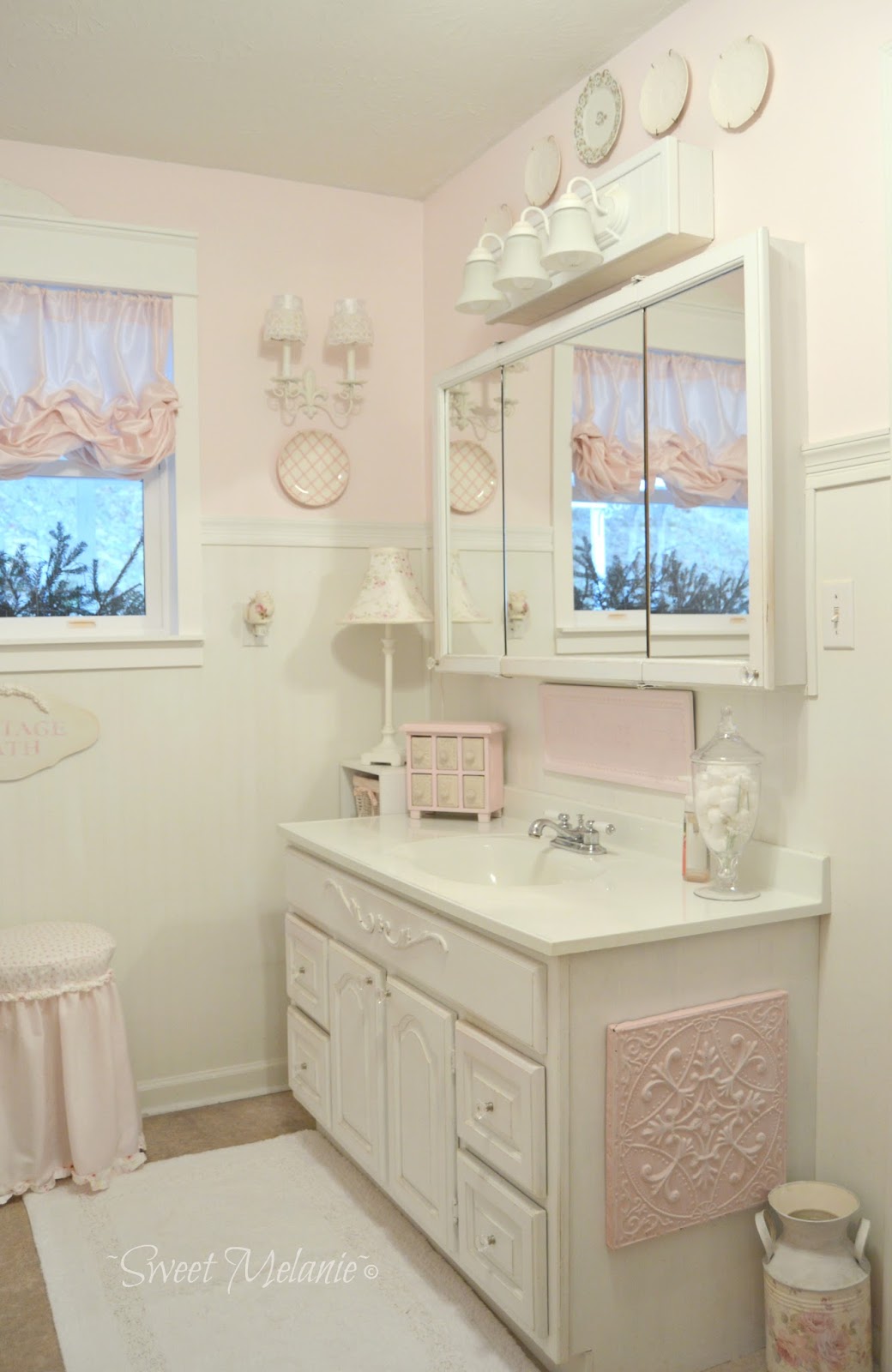 via source
Shabby Chic Shelf From Vintage Press-Back Chair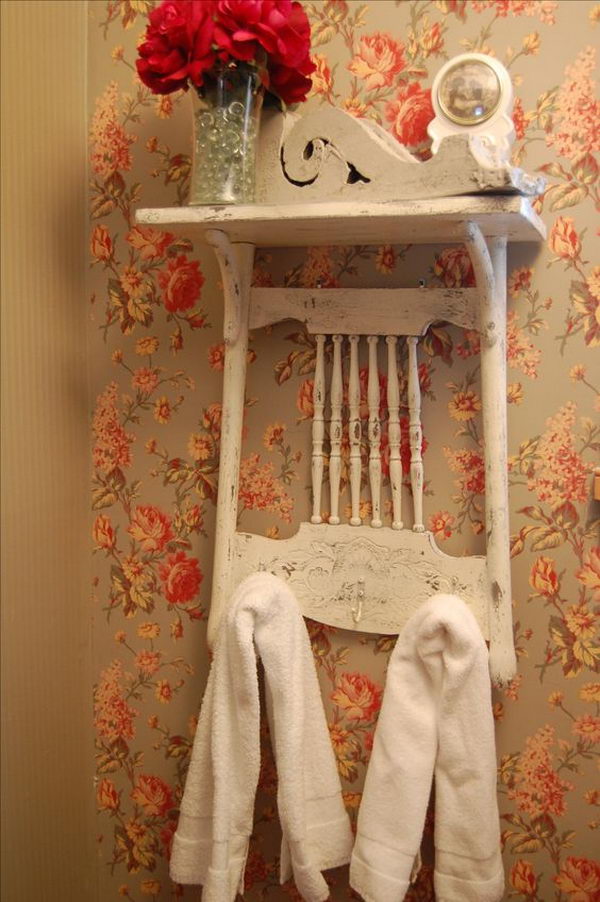 via source
Shabby Chic Shelves For The Bathroom Upcycled From Top Of An Old Hutch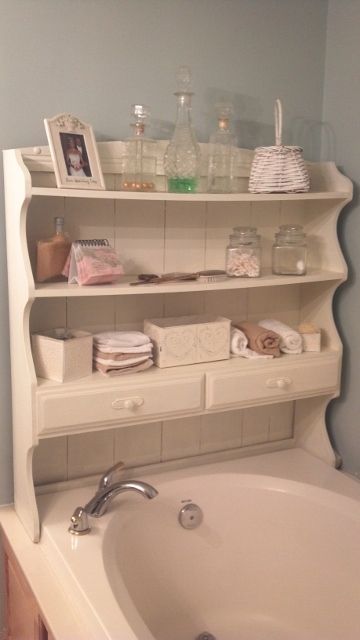 A Repurposed Sewing Machine Cabinet Is Now A Shabby Chic Bathroom Vanity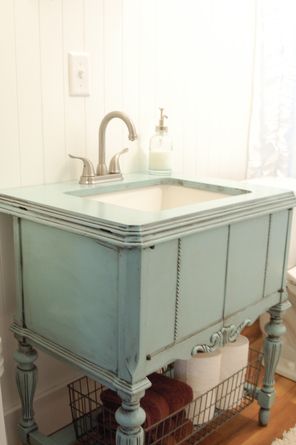 via source
Shabby Chic Bathroom With Blue Wainscoting, Patchwork Wallpaper And Floral Tiles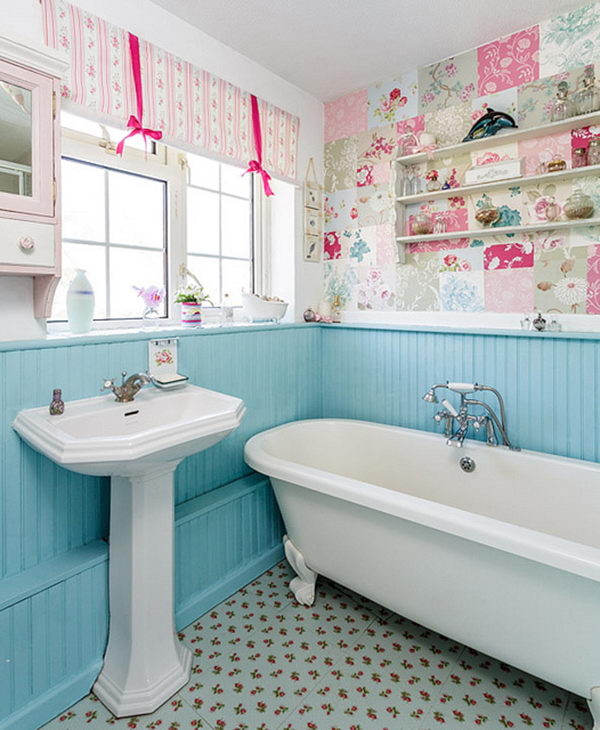 Via decoradvisor.
Romantic Bathroom With Pink Vintage Mirror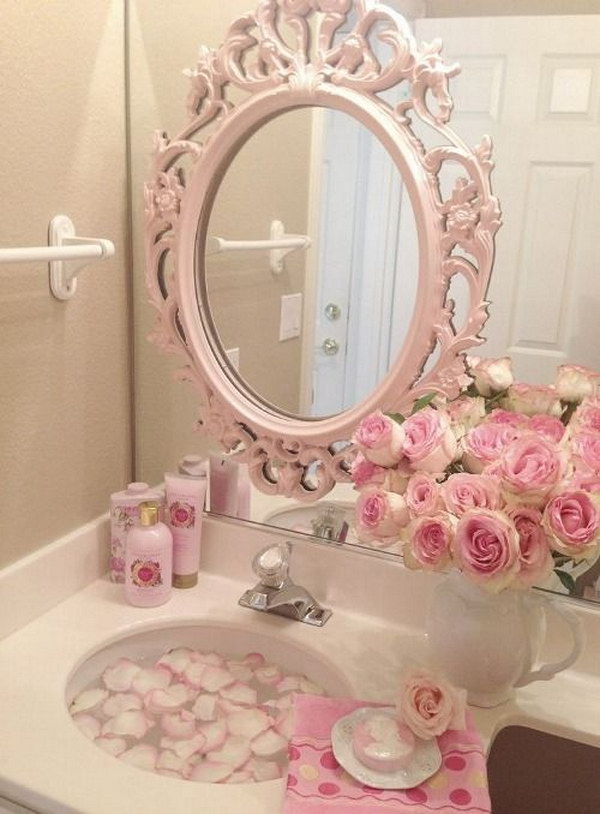 Via romantikev.
Charming Bathroom Decorated With White Tiles And Pink Accessories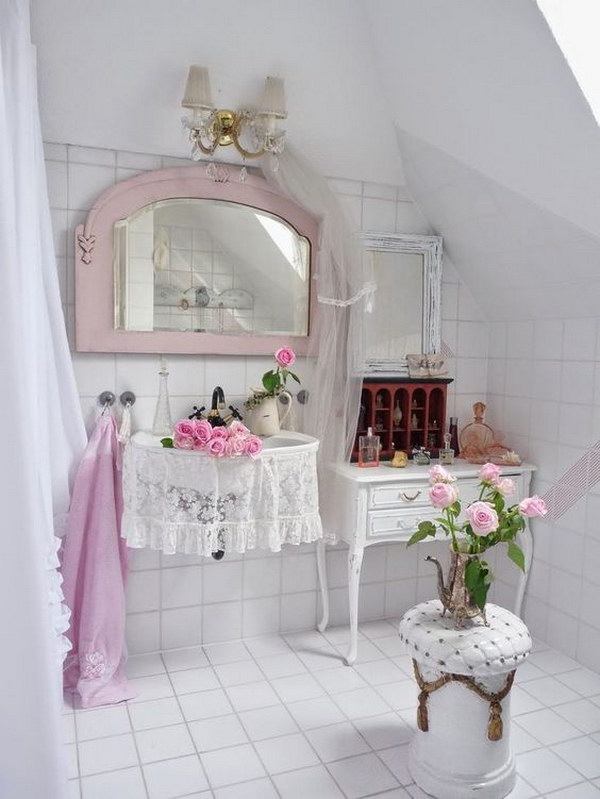 Aqua Shabby Chic Bathroom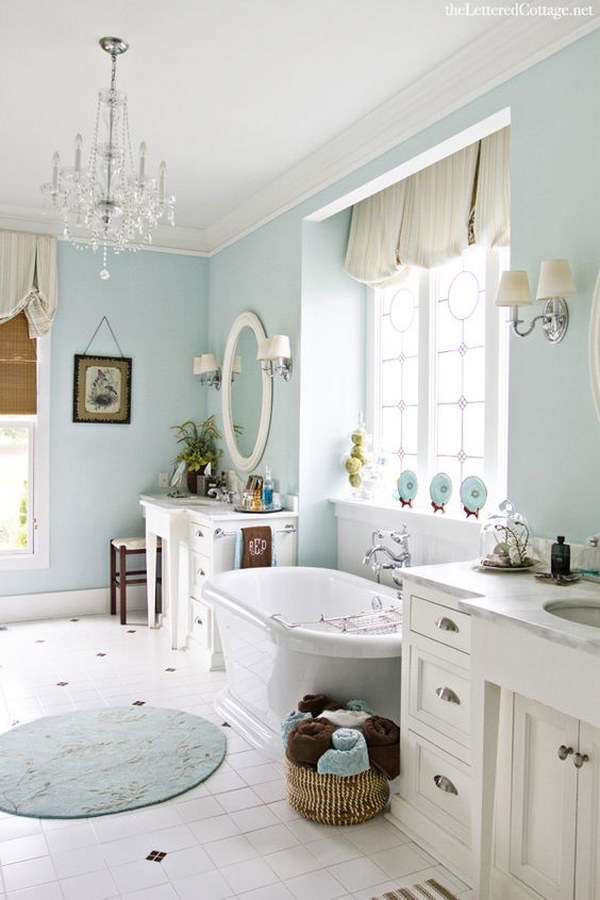 Via theletteredcottage.
DIY Framed Towel Hooks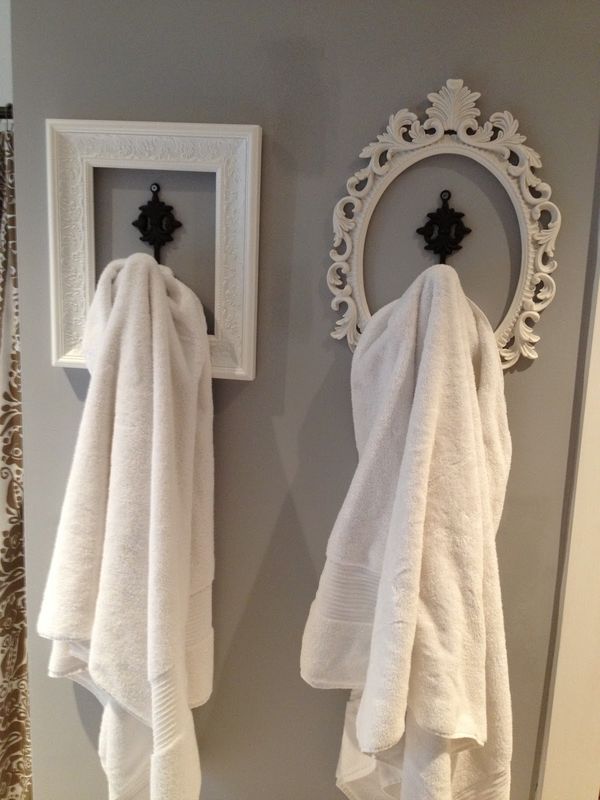 Via decor-2-ur-door.
Romantic White Shabby Chic Bathroom Deocr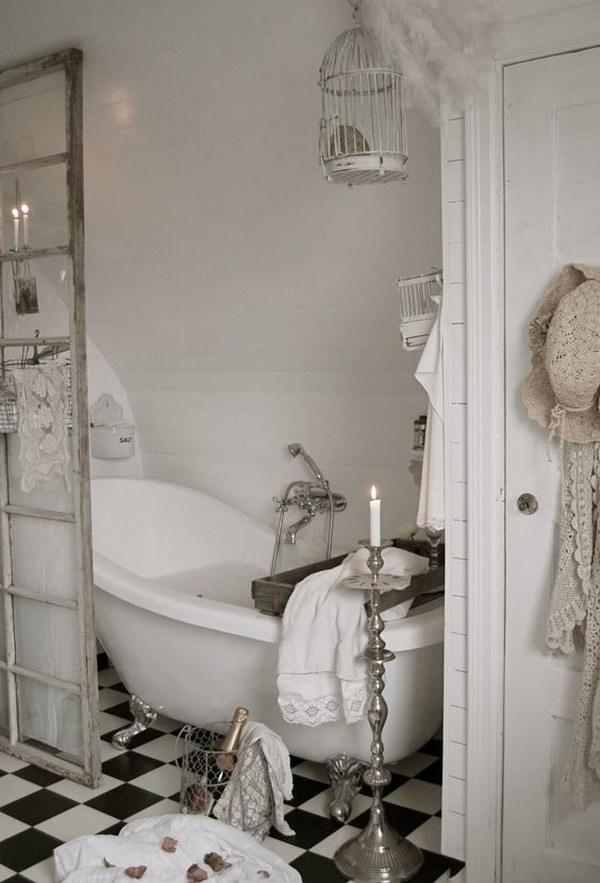 Via hviturlakkris.
Cozy Attic Clawfoot Tub And Lace Divider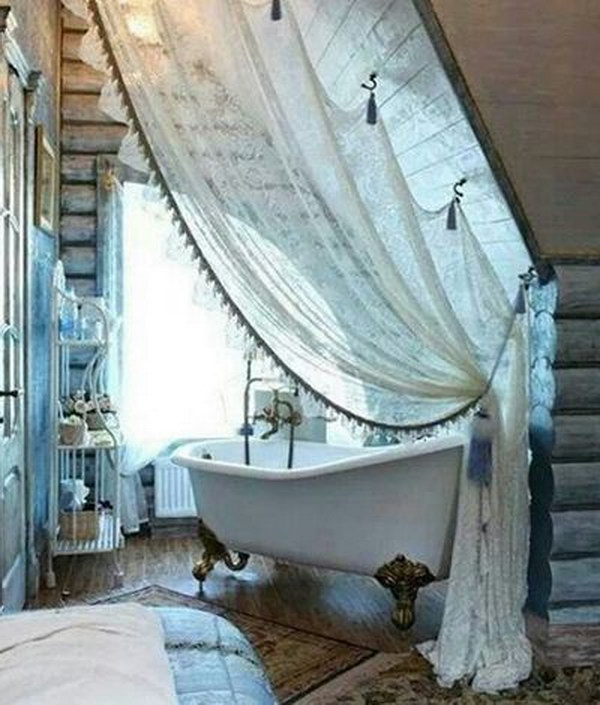 Romantic Shabby Chic Bathroom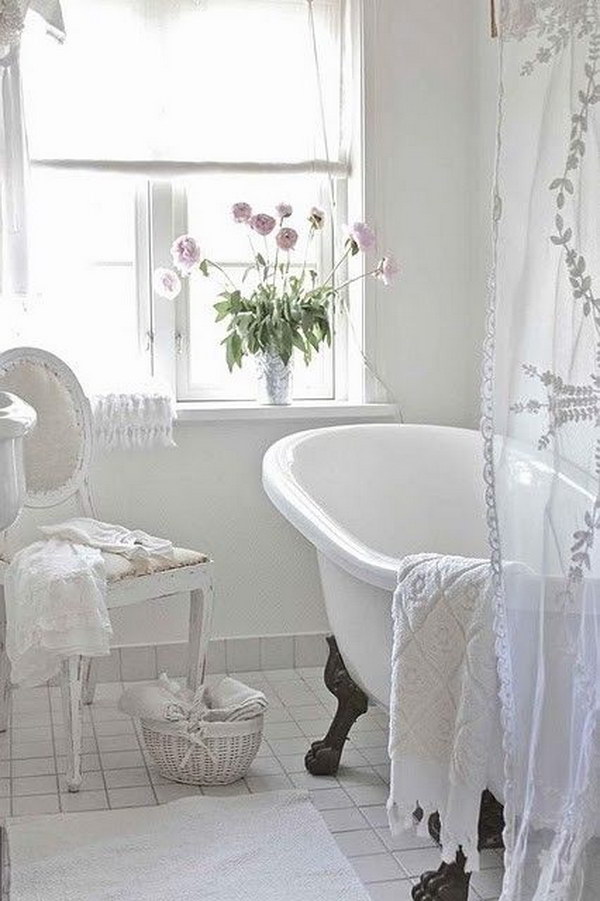 Shbby Chic Lace Shower Curtain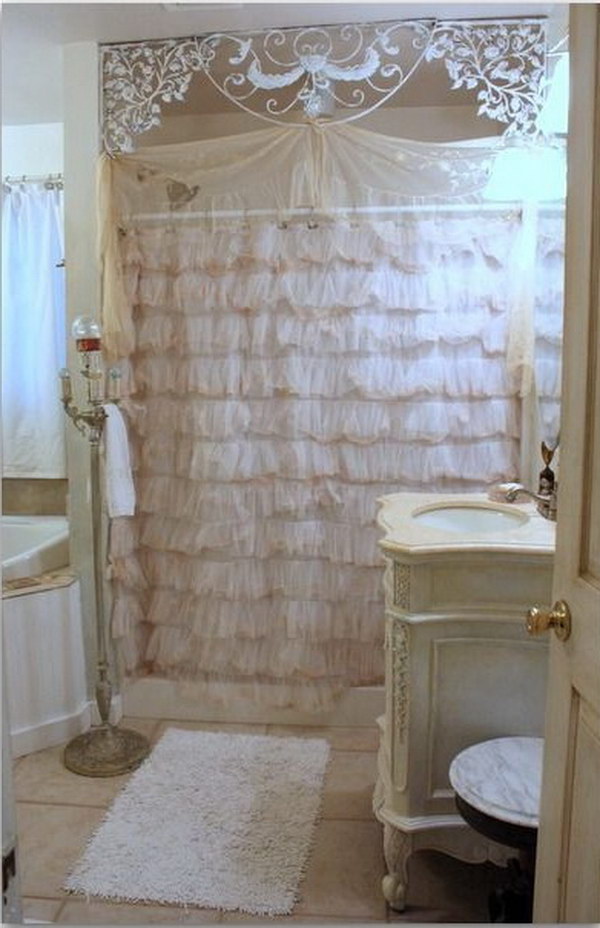 Via source.
White Shabby Chic Bathroom With Glass Vessel Sink And Sink Skirt
See the beautiful bathroom makeover via cutepinkstuffcom.
White Vintage Bathroom With Claw Foot Tub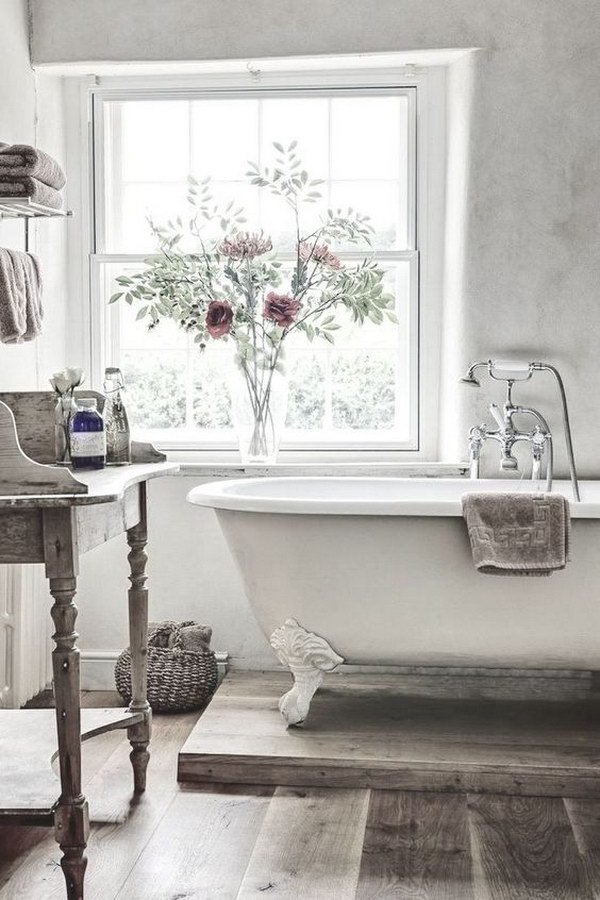 Other very important elements are lighting and mirrors. A framed mirror is a must-have in any shabby chic bathroom, but we're not talking about a plain frame here – the frame needs to be metallic and ornate, and preferably a little distressed, to give it that centuries-old appearance.
Shabby Chic Wood Pallet Bathroom Shelves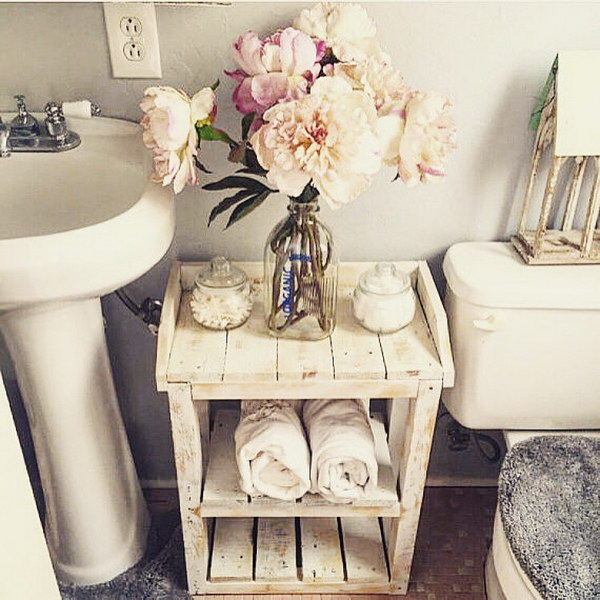 Via etsy.
Romantic Pink Bathroom With Vintage Clawfoot Bathtub
Via clawfoot.
Feminine Shabby Chic Bathroom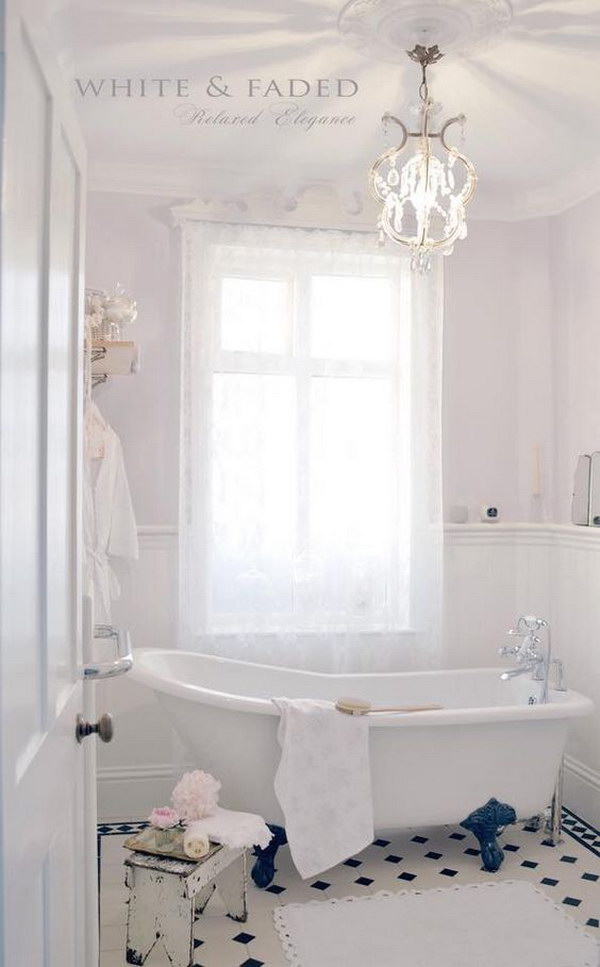 Via apositivelybeautifulblog2.
Relaxing Bathroom With Clawfoot Tub And Curtains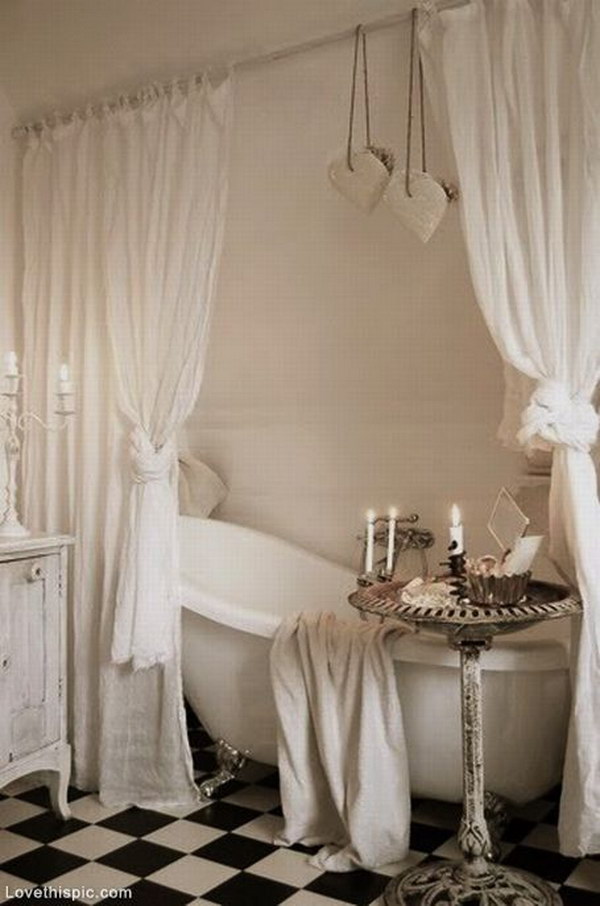 Romantic White Shabby Chic Bathroom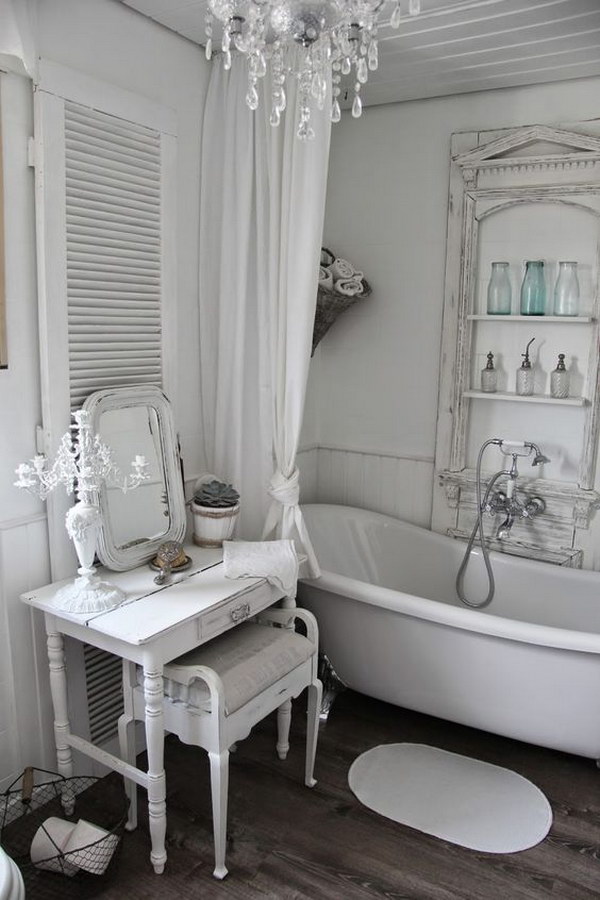 Via schwanenteich1966.
Shabby Chic Bathroom With Beautiful Shower Curtain And Mirrors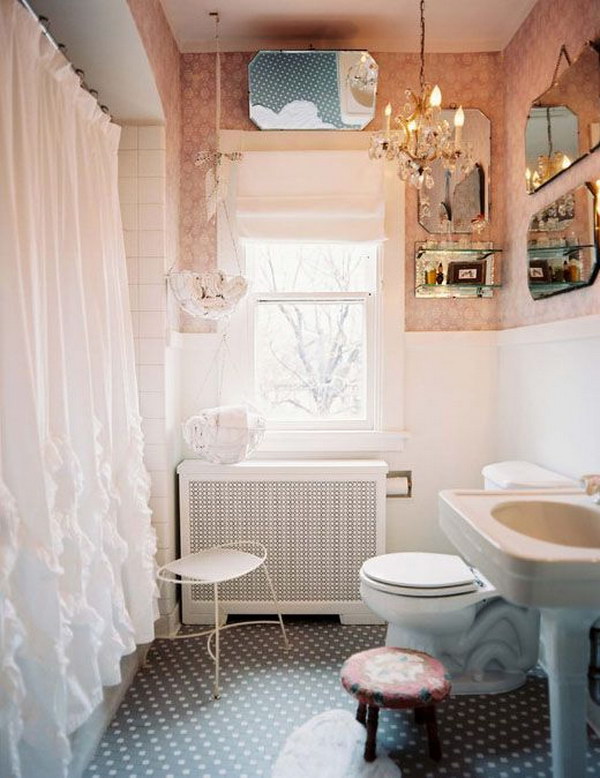 Cozy Shabby Chic Bathroom With Old Shutter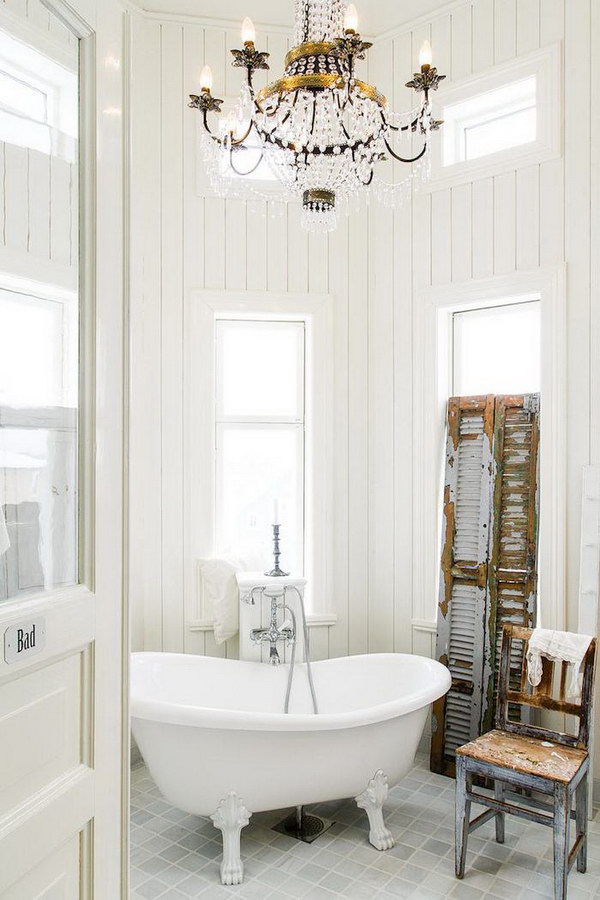 Via dustjacket-attic.
Beautiful Shabby Chic Bathroom Decorating With Flowers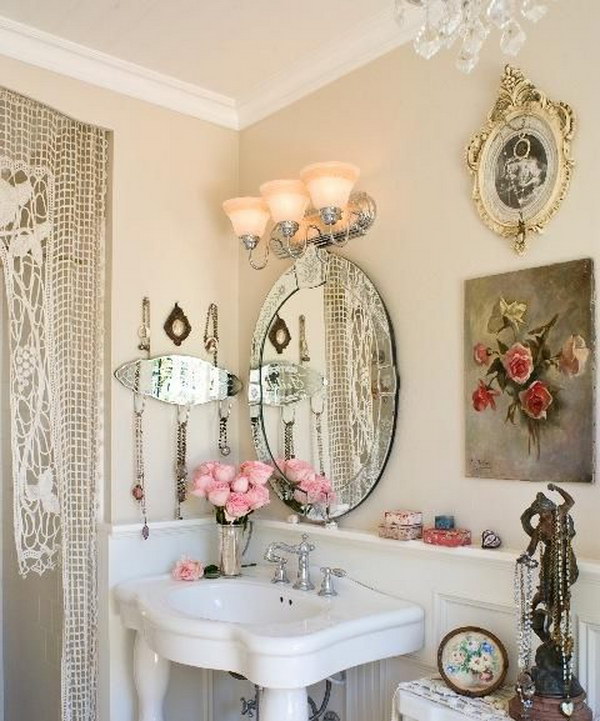 Via pinterest.
Light Blue Shabby Chic Bathroom Gallery Wall
The same thing applies to lighting. You need to forego any modern lighting in favor of ornate chandeliers, which will certainly go very well with your mirror and add to the rustic-vintage feel of the room.
Old French Door For Bathroom Dividing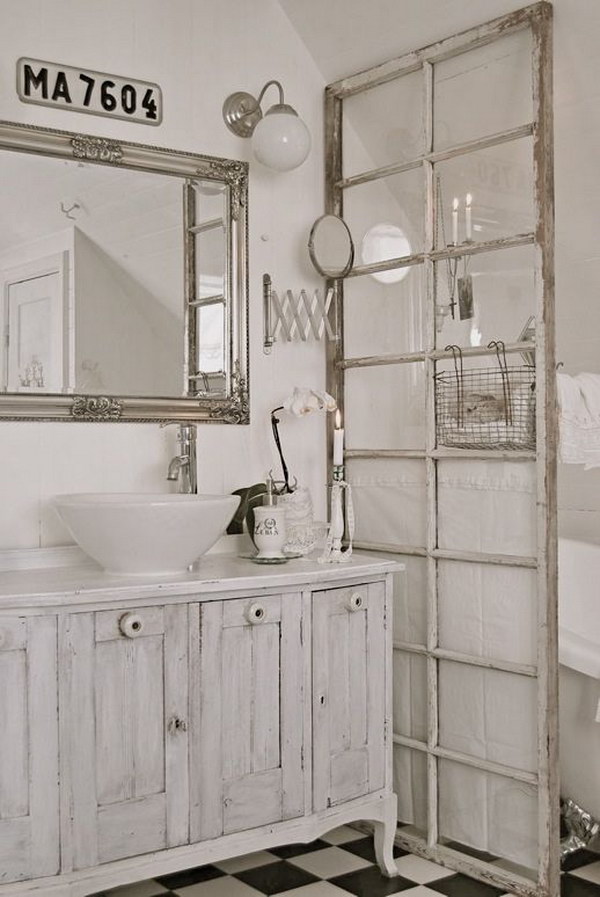 Romantic White Bathroom With Oak Plank Floor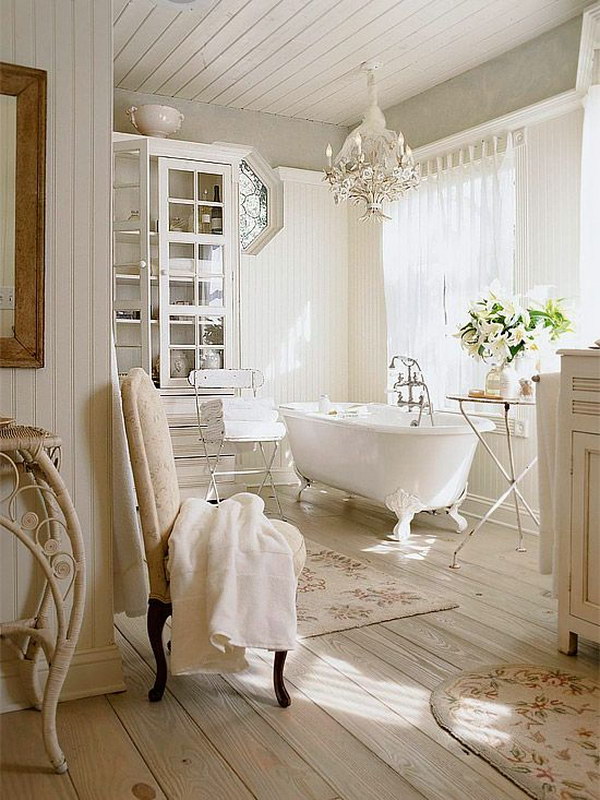 Via bhg.
Beautiful Grouping Of Vintage Mirrors And Salvaged Board On Sage Green Walls And Beadboard
Via facebook.
Frayed Roses Mat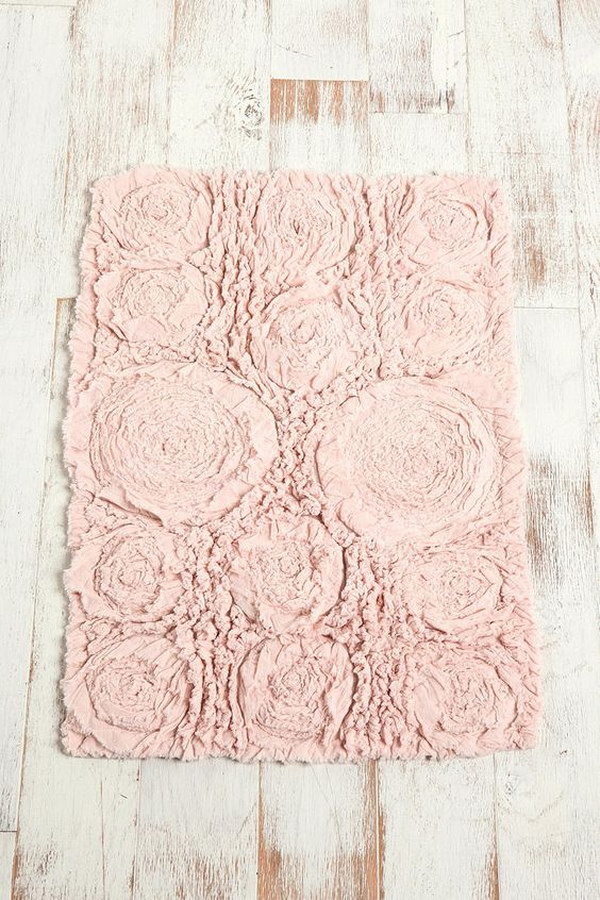 Buyable via urbanoutfitters.
All White Shabby Chic Bathroom With A Tub In The Middle
Via loppisliv.
Romantic And Cozy Bathroom Decor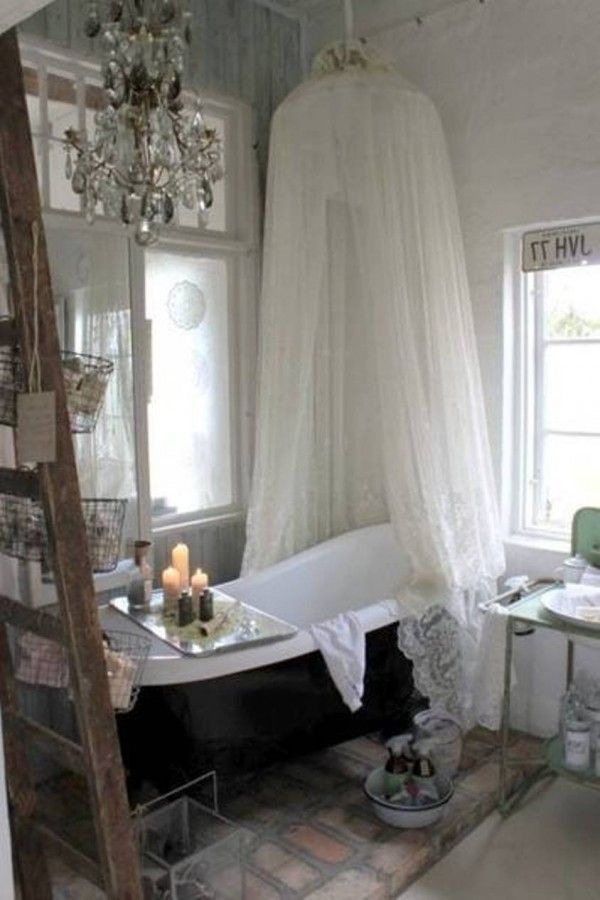 Via hviturlakkris.
DIY Shabby Chic Wall Organizer And Towel Holder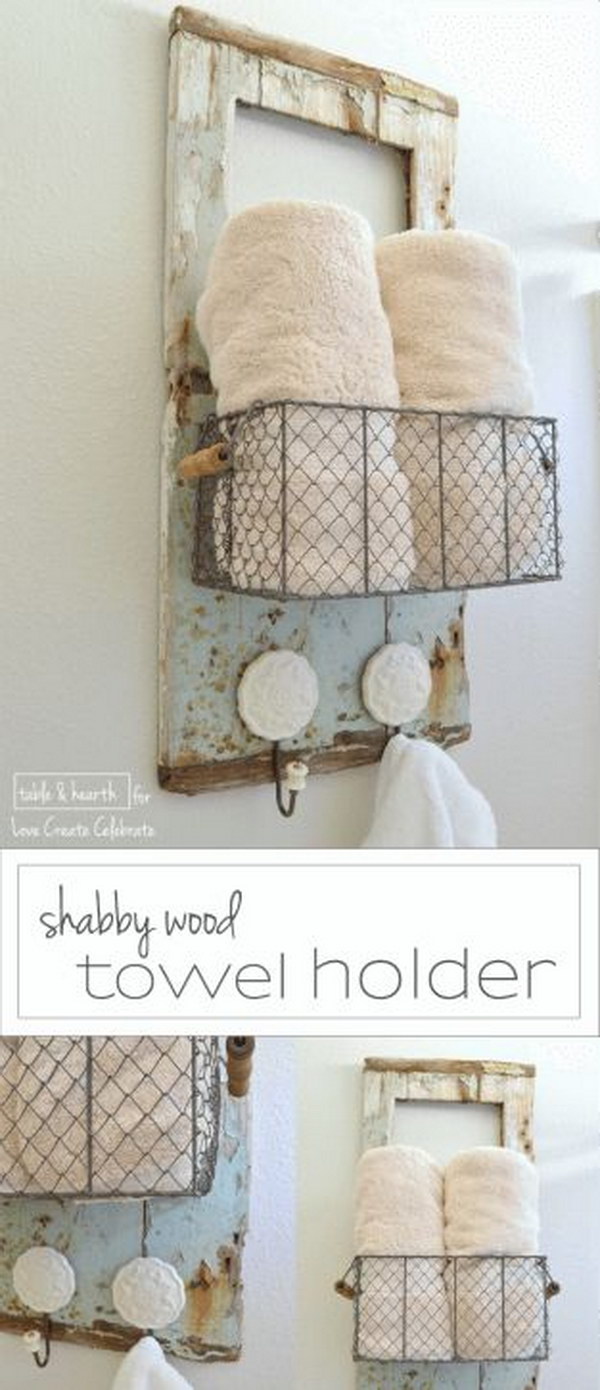 Get the tutorial via tableandhearth.
Shabby Chic Bathroom With Brick Wall And Floor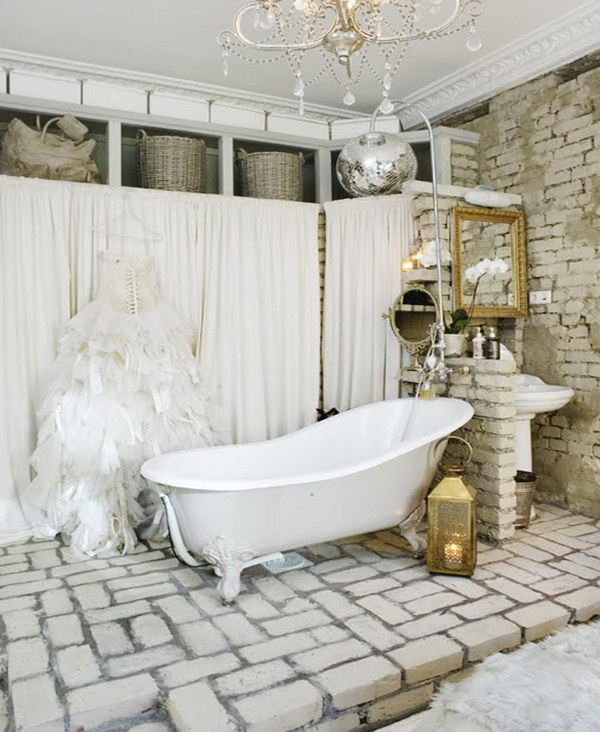 Farmhouse Style Romantic Bathroom With Flower Decorating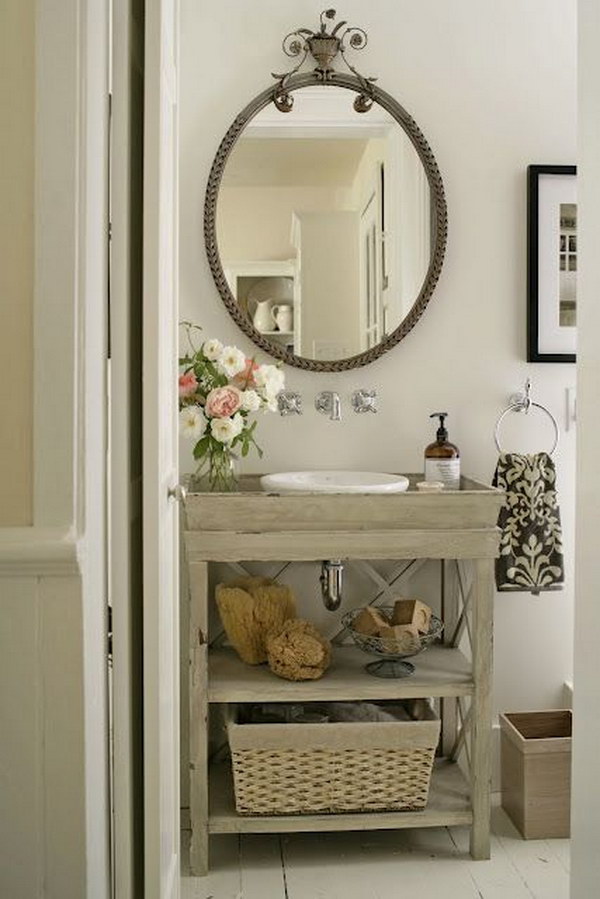 Via bhg.
Chair Next To Tub To Hold Pretty Things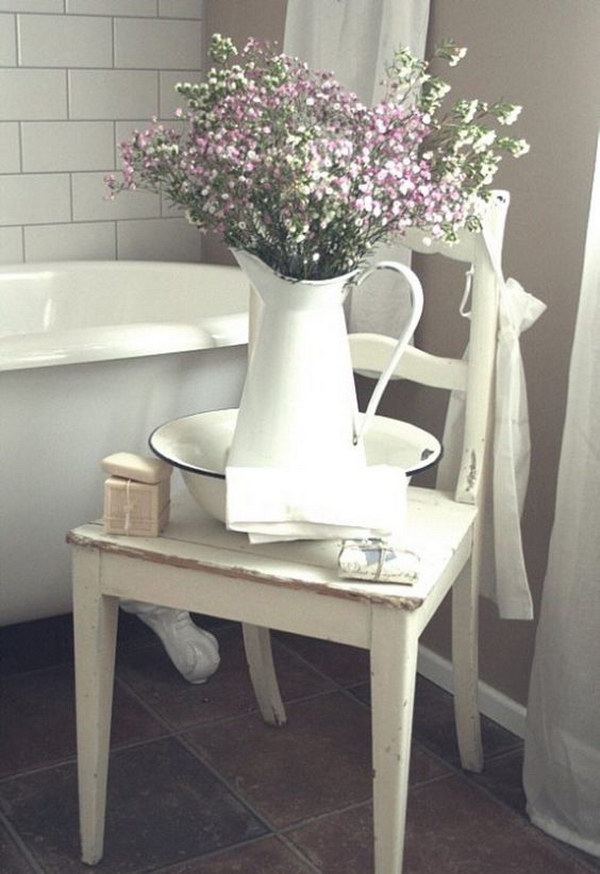 Via japaneseflowergarden.
Old Hand Mirrors Displaying Above Bathroom Window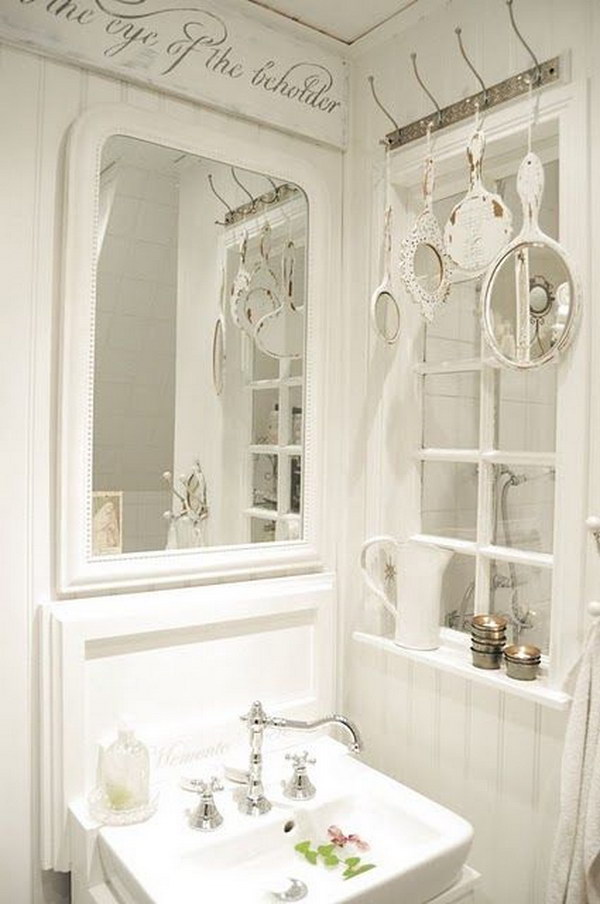 Beautiful Shabby Chic Over The Toilet Wall Decor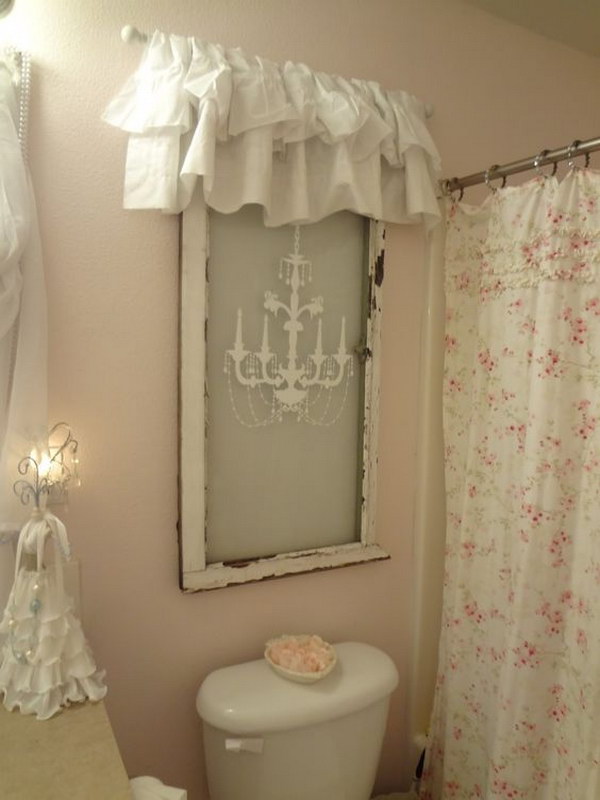 Get the tutorial via source.
White Shabby Chic Bathroom With Splash Of Pink Color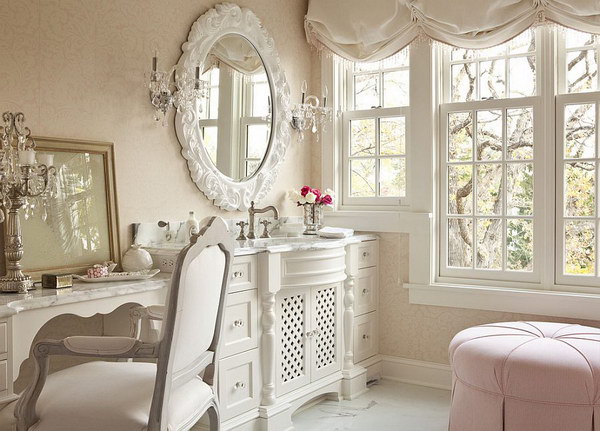 Via mavis.xyz.
Shabby Chic Bathroom Decor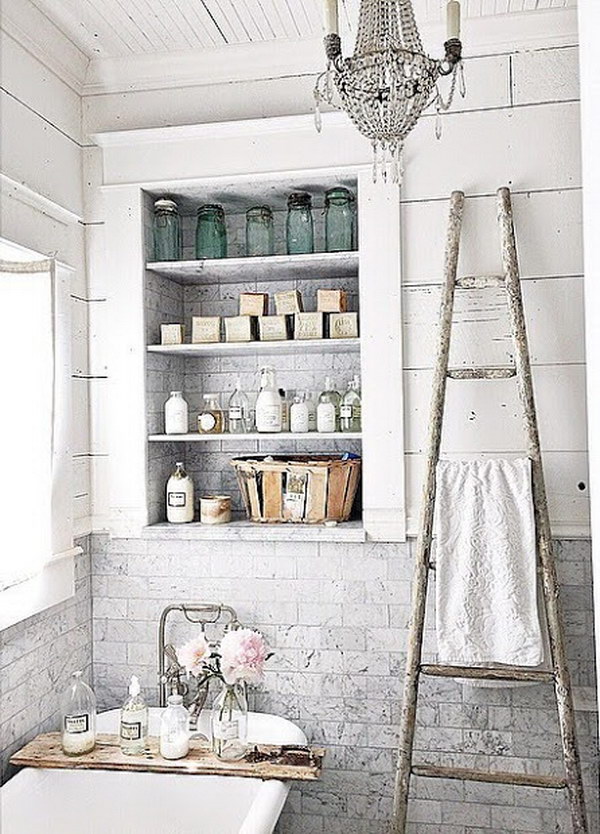 White Shabby Chic Bathroom With An Oversized Blush Vintage Mirror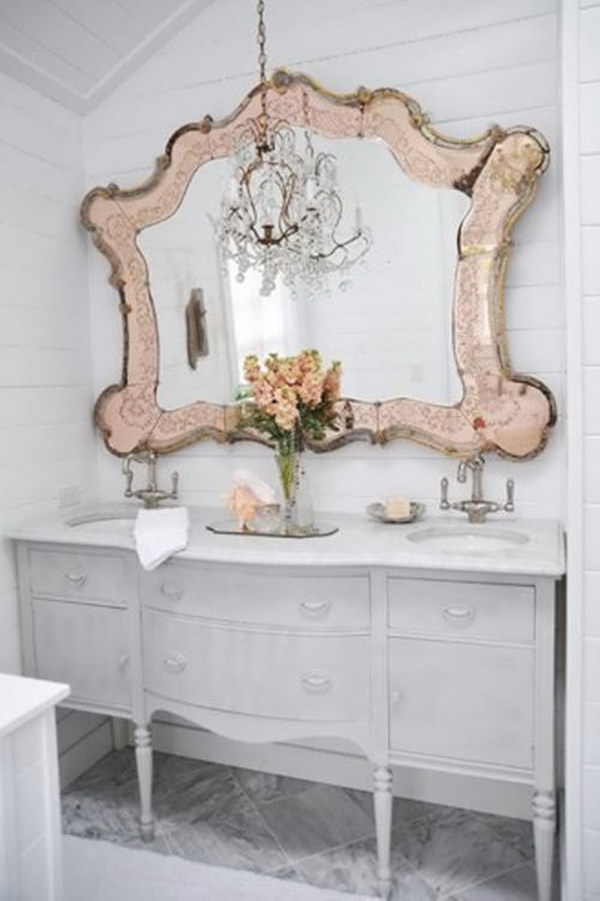 Shabby Chic Bathroom With Wainscoting And Wallpaper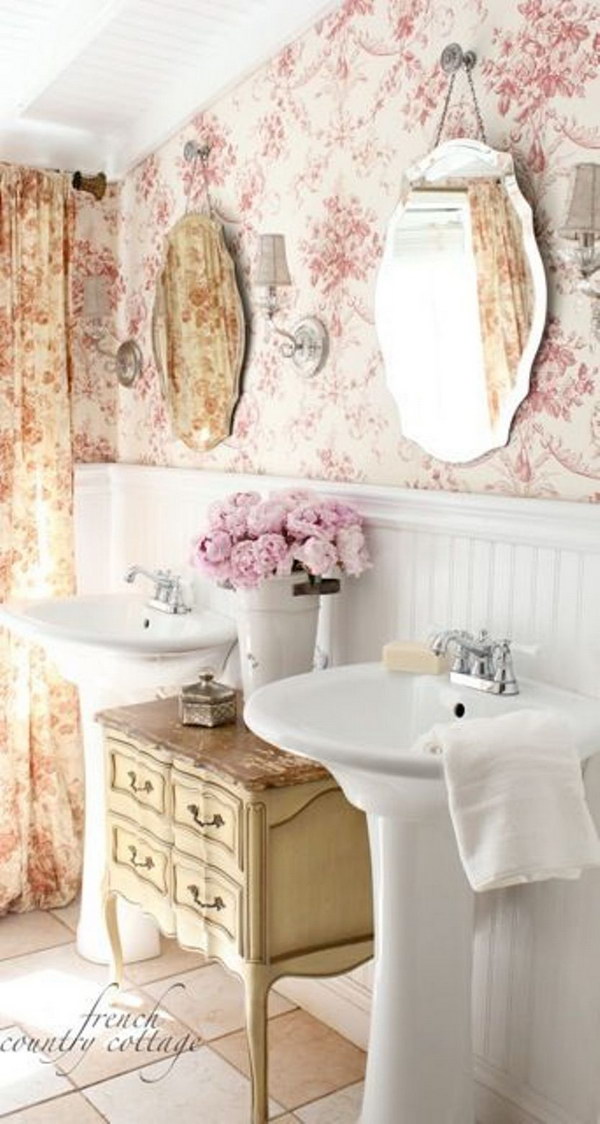 Via frenchcountrycottage.
Gorgeous Shower Curtains And Antique-Look Mirror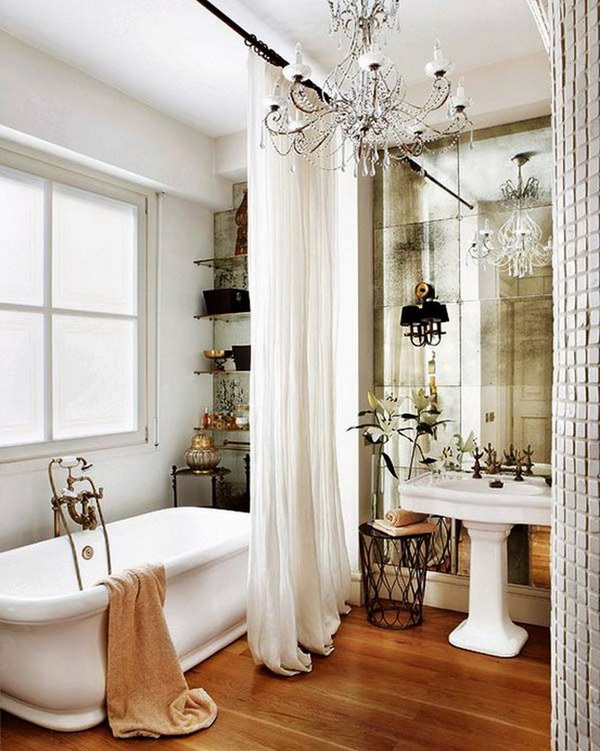 Feminine Chic Bathroom With Floral Curtains And Tiles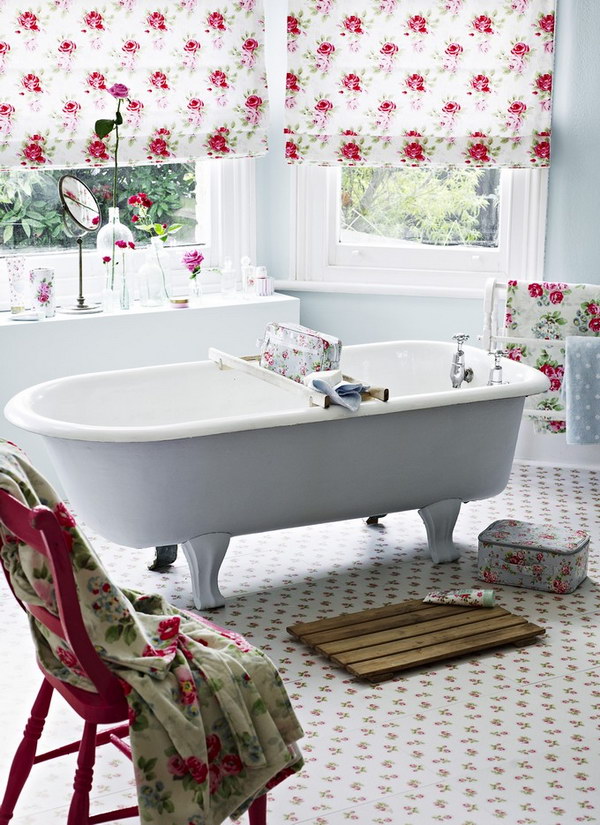 Shabby Chic Bathroom With Ladder For Storage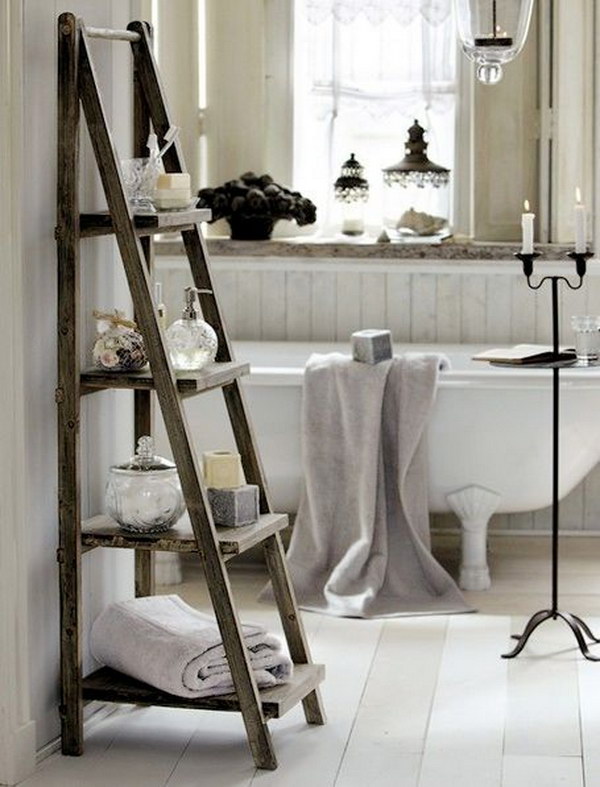 Via 79ideas.
White Wood Paneling With Vintage Mirror And Wall Sconces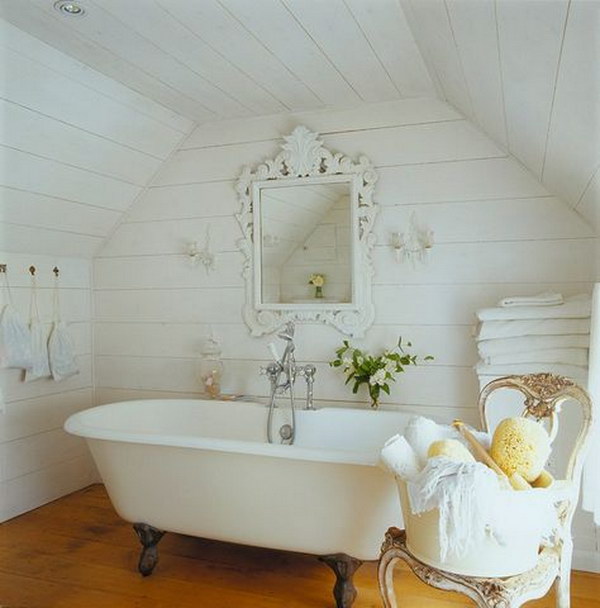 Via shrimpsaladcircus.
Romantic Lavender Shabby Chic Bathroom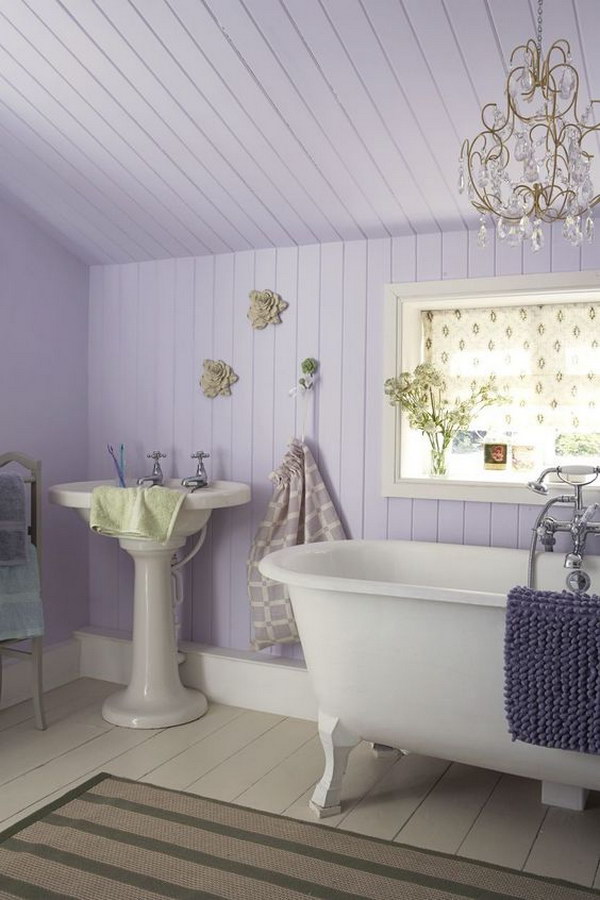 Via fengshuitrend.
Feminine Pink Shabby Chic Bathroom With Old School Tub And Giant Mirror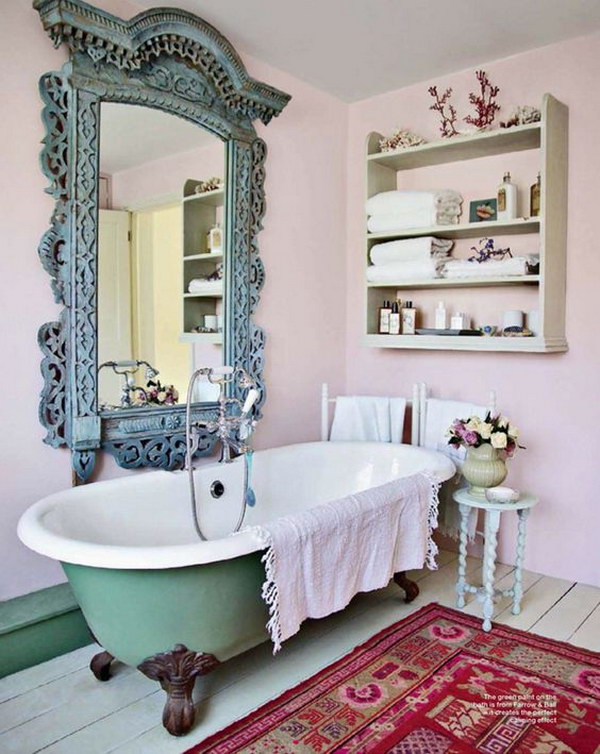 Via houseofturquoise.
Pink Bathroom With Yellow Roll-Top Bath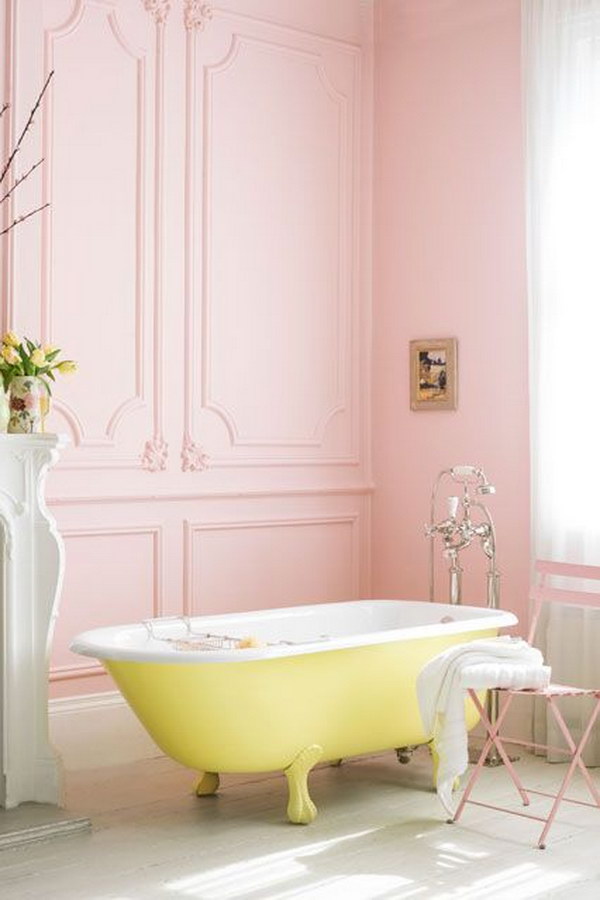 Via houseandgarden.
DIY Towel Hooks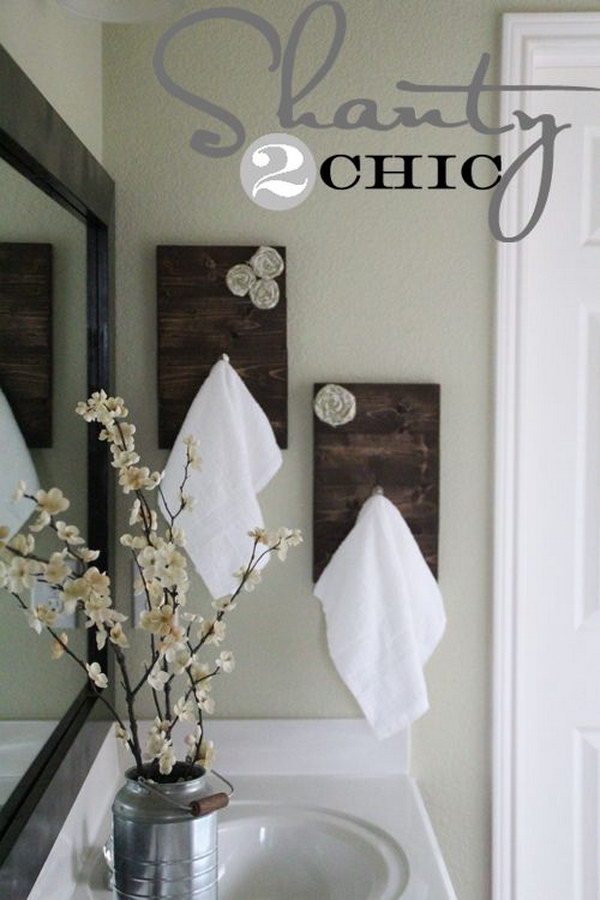 Via shanty-2-chic.
Comfy Shabby Chic Bathroom In White With Claw-Foot Bathtub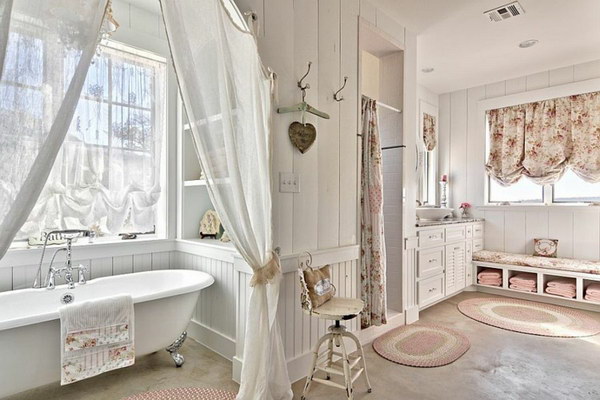 All White Shabby Chic Bathroom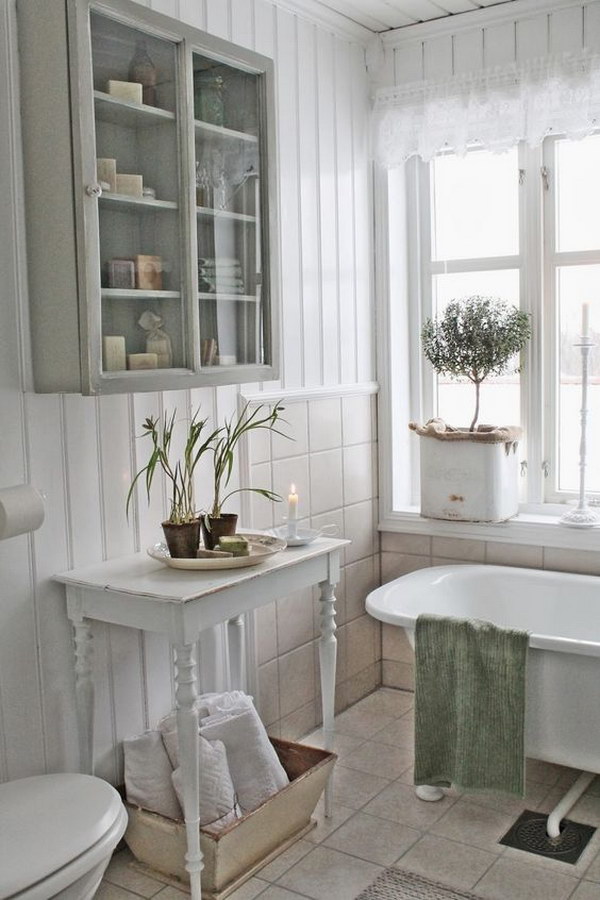 Via vibekedesign.
White In White Sbabby Chic Bathroom With Mirror And Shelf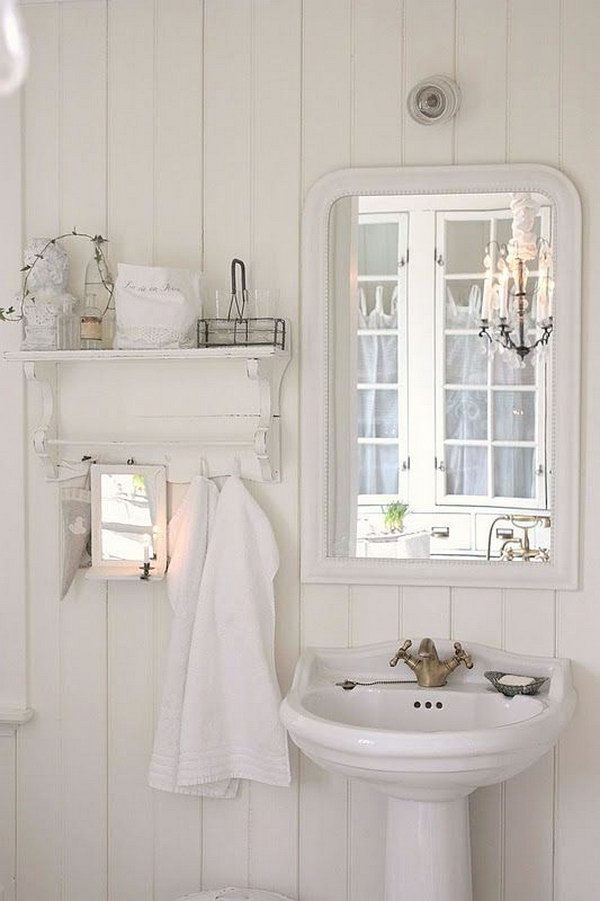 Via loppisliv.
French Chic Bathroom With Gorgeous Lighting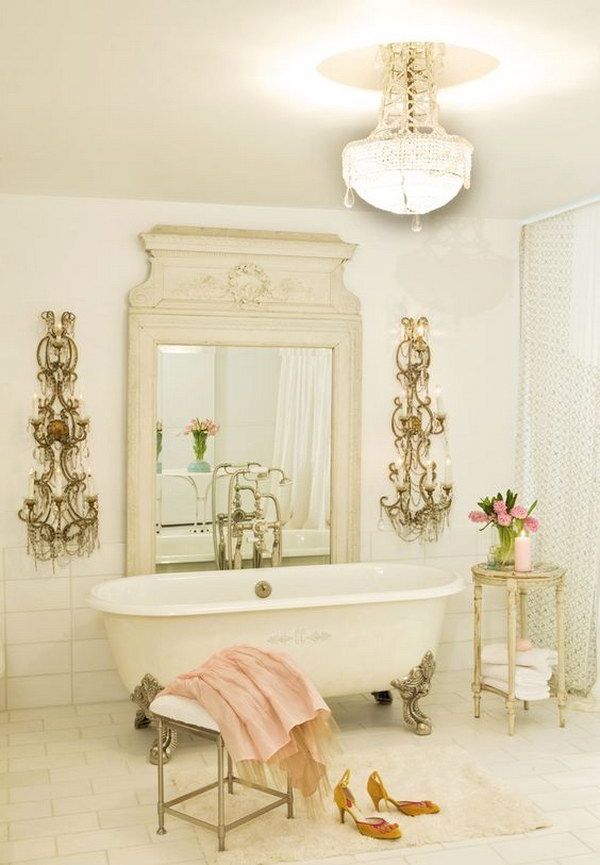 Via ahtheprettythings.
Clean White Shabby Chic Bathroom With Flower Tiles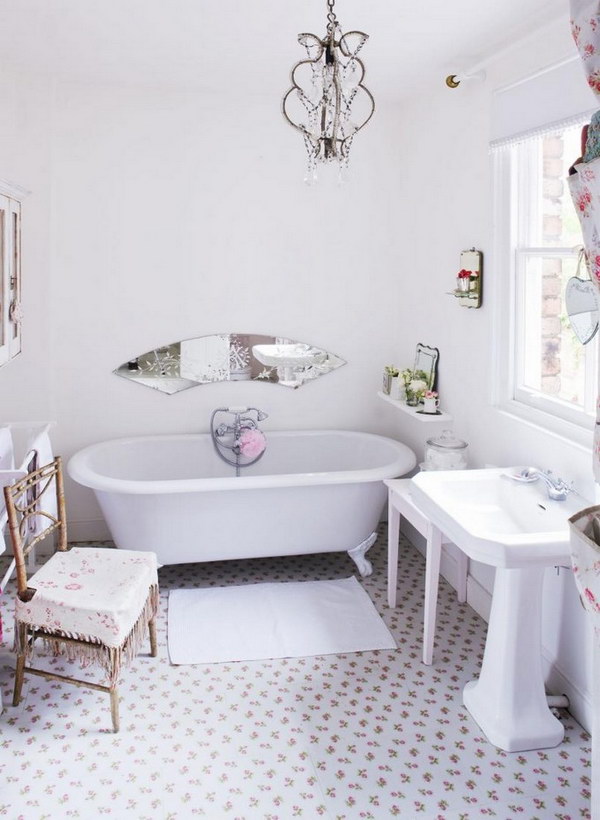 Lavender And White Shabby Chic Bathroom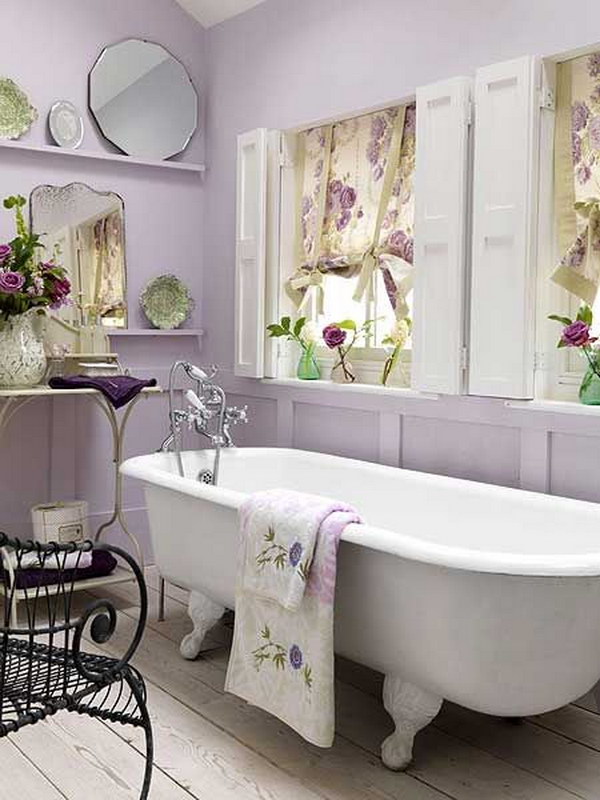 Shabby Chic Bathroom With Ladder And Brick Flooring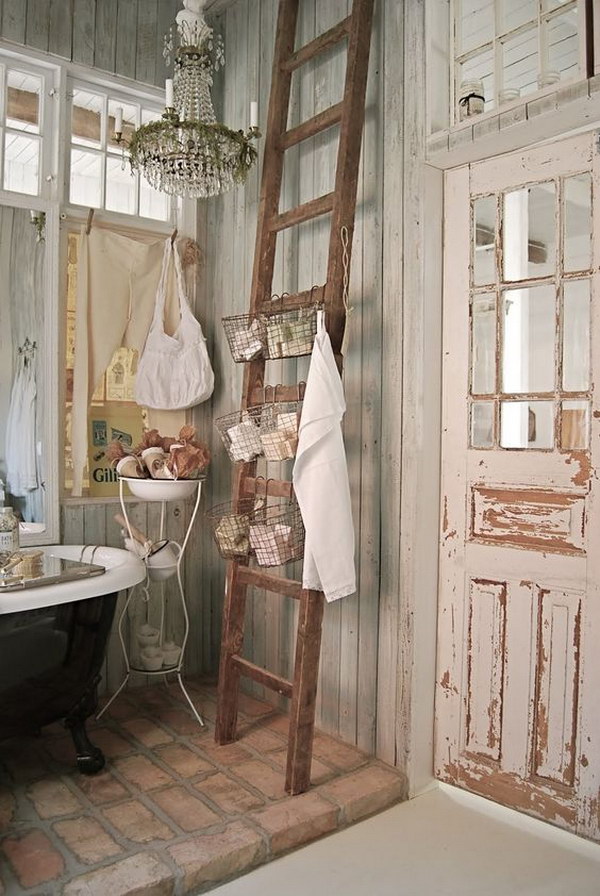 Via hviturlakkris.
Vintage Chic White Bathroom Decor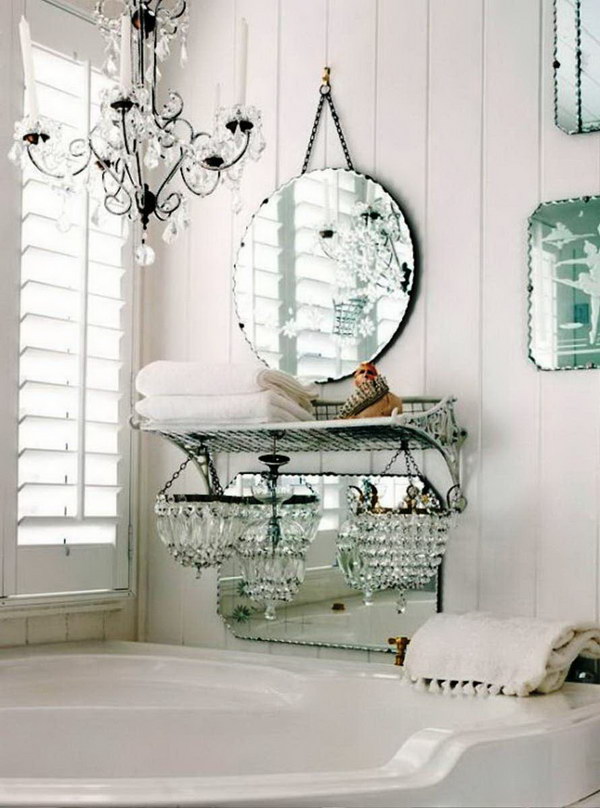 Vintage Shabby Chic Bathroom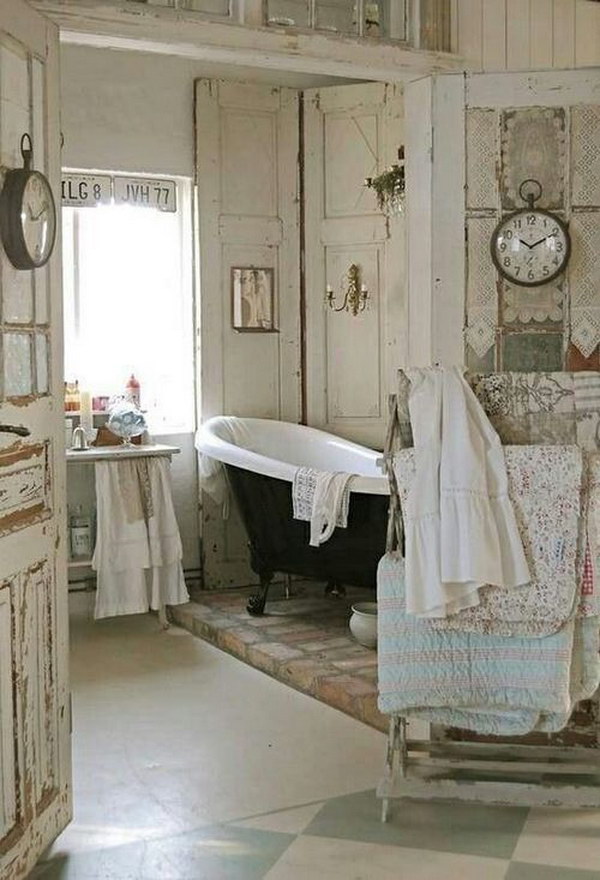 Other key features of a shabby chic bathroom will include having lace accents and a vintage bath, but those are things we will be discussing more in depth as we look at shabby chic bathroom ideas, so read on if you're interested in learning more about this beautiful design trend.