DIY projects are great for kids because it lets them play while keeping them focused and busy. It is not by chance that primary and pre-schools often enforce these kinds of projects and have kids doing them for various holidays and celebrations.
They aren't just great to do at school and share with the community, though. In fact, a lot of DIY projects are safe and fun for kids to complete at home, with the help of adult or older siblings, and they can become great and unique gifts that have a special meaning.
Here are some cool DIY gift ideas that kids can try to make and give their dads – and sometimes other people too, with little modifications.
Upcycled Nuts and Bolts Heart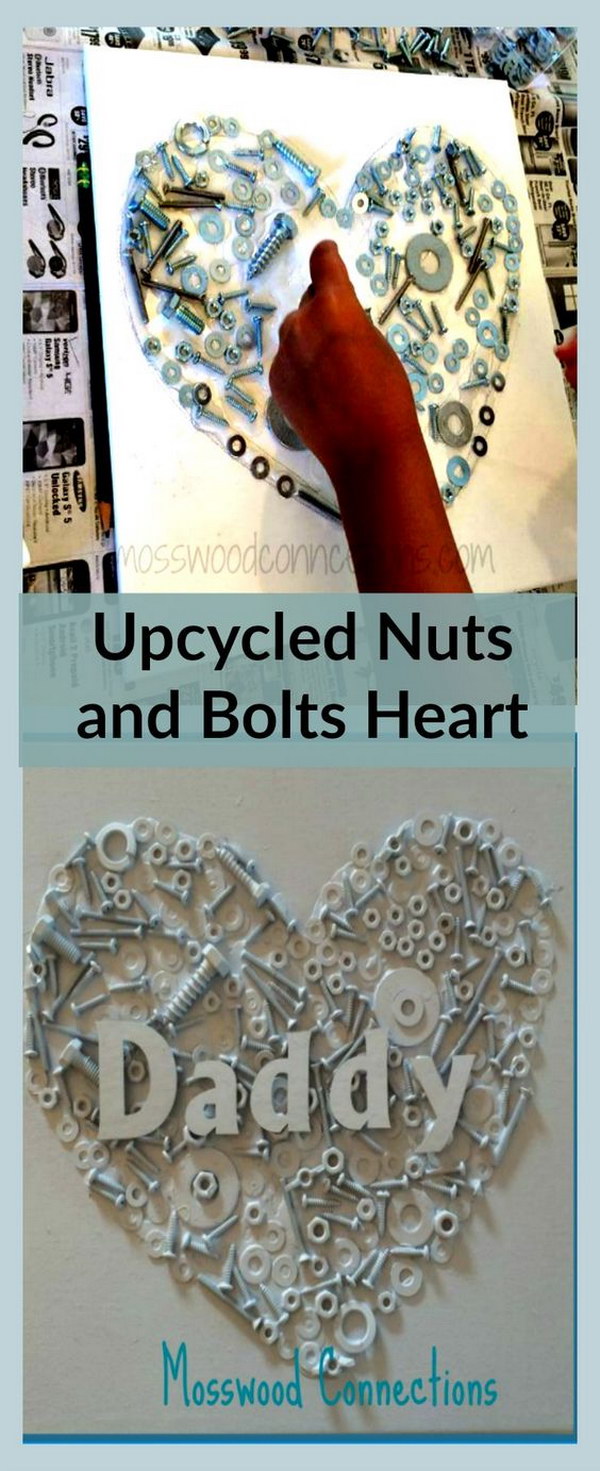 Upcycling is always a cool idea, and it's definitely what DIY is all about. Kids will likely need help in dealing with the parts of this project, but the result will definitely impress their dads. via source
DIY Father's Day Handprint Shirt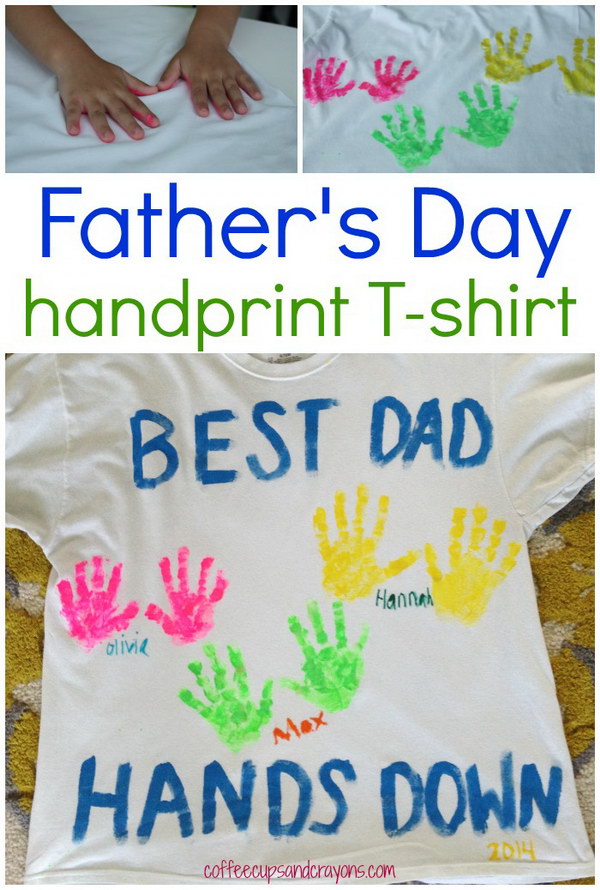 This is another great gift idea for a dad with several kids. Kids of almost any age can do it – although little ones may have a hard time staying still and doing it straight. It could also be quite cool for a child to do something like this over several years, so their dad would have a collection of their handprints over the years. via source
Mini Pool Table in a Tin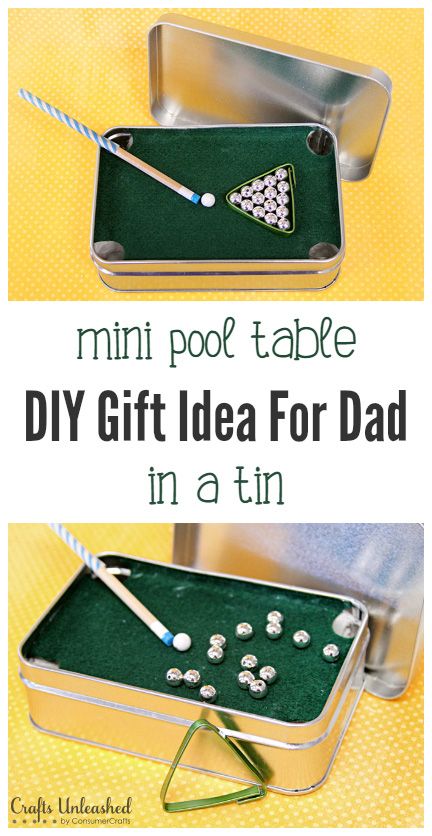 via consumercrafts
Grill Set Holder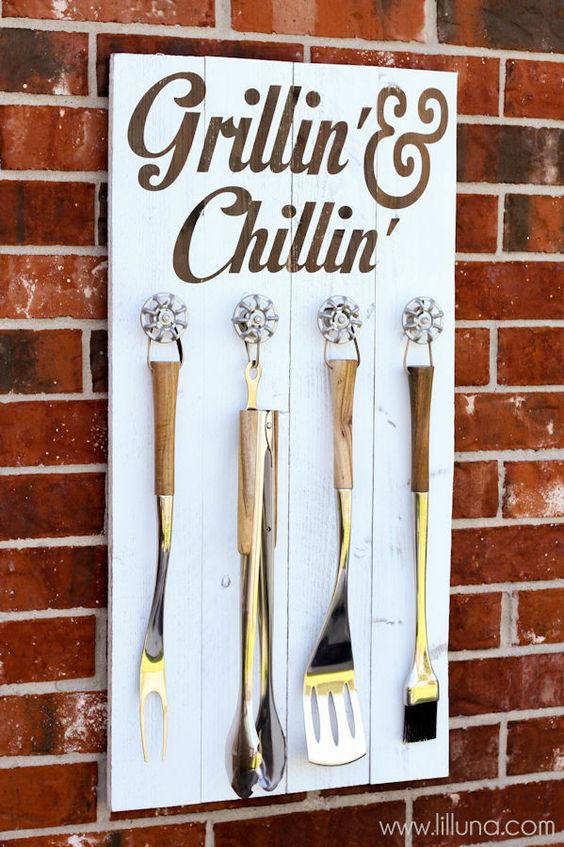 via lilluna
Handmade Burlap Baby Swing

via source
DIY Father's Day Paintbrush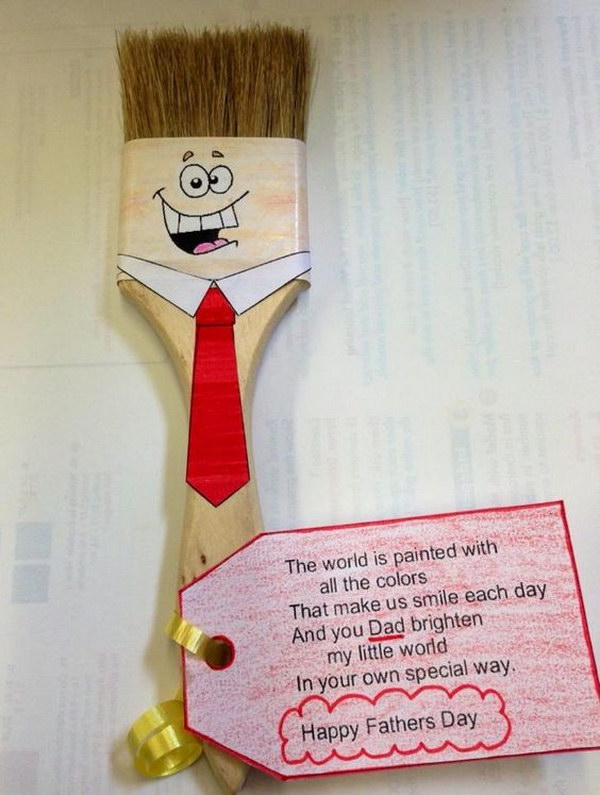 This is once again a really simple project to make. In fact, there might not even be much skill involved, if the template for the neck and tie is printed instead of drawn. If it is drawn by hand, however, it becomes even cuter and more special.
Father's Day Dad'S Stache in a Jar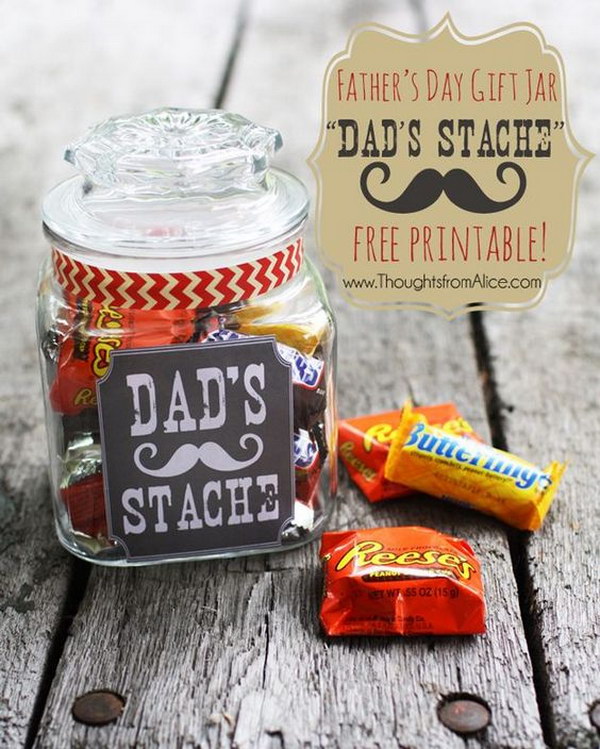 This is definitely a trendy project with the jar and the moustaches, but it's also something that is really cute and doable, so it should be a hit among kids and dads alike. via thoughtsfromalice.
DIY Wood Comic Craft Decoupage Frame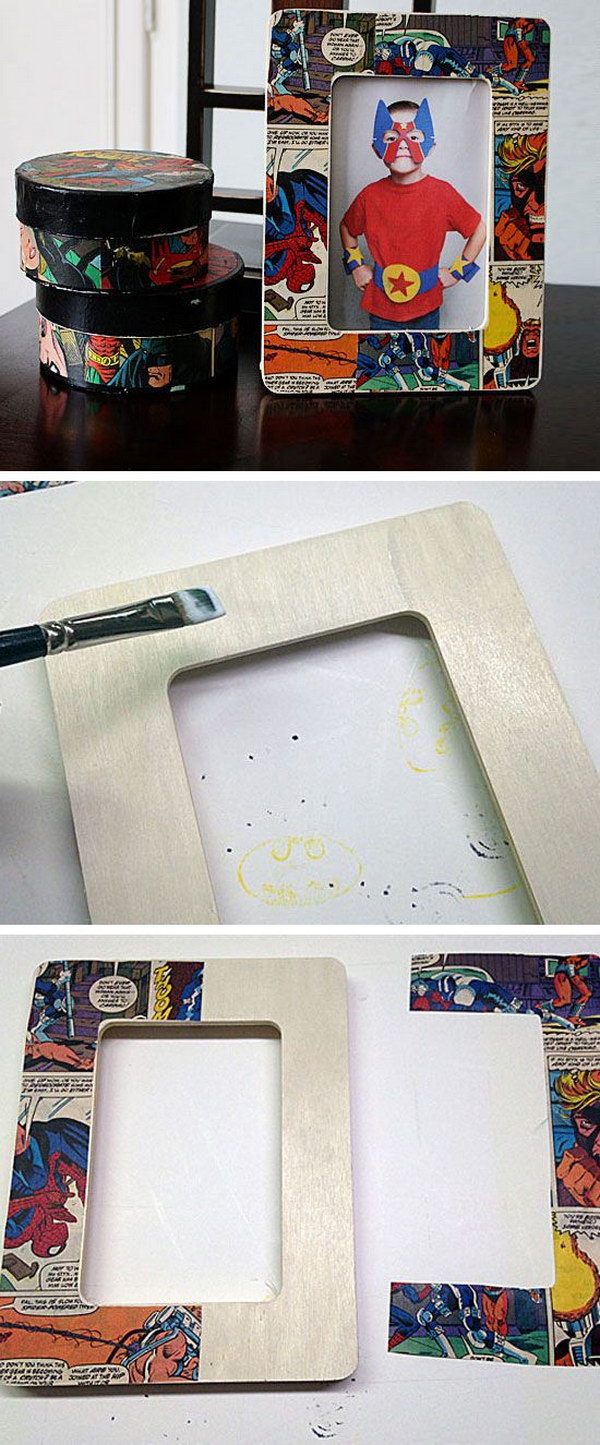 This frame is a really cool and unique idea, but while the drawing or picture inside is accessible for just anyone, the outside requires a bit more skill that the little ones might not have yet. via craftsbyamanda.
Father's Day Personalized 3D Cards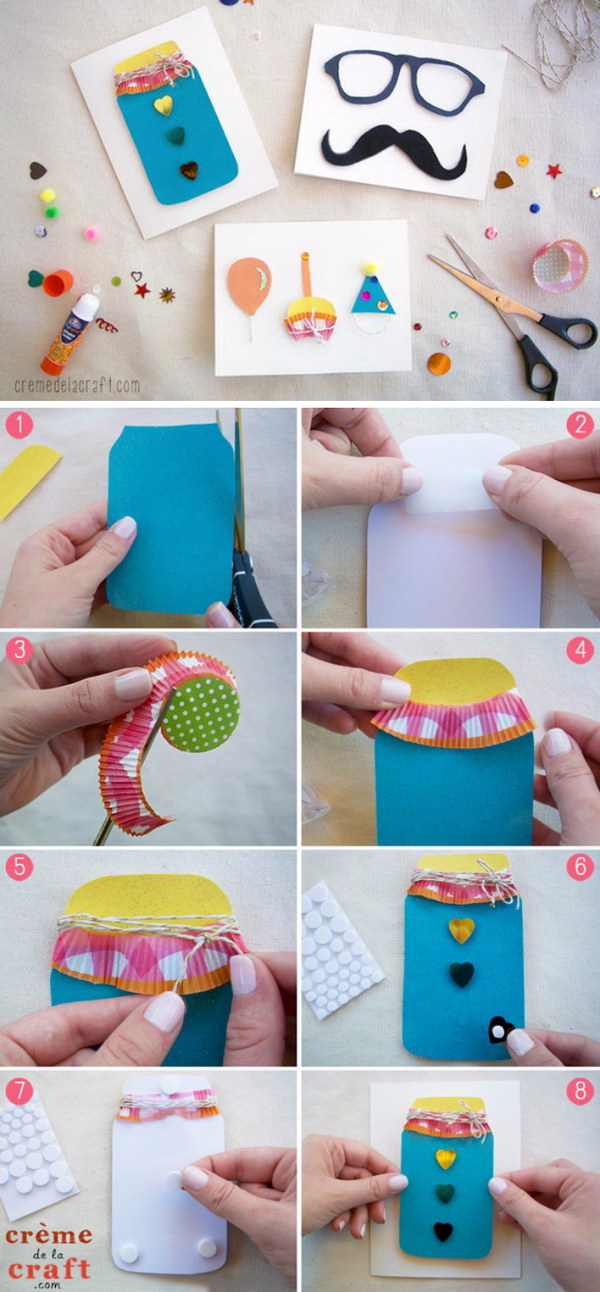 via cremedelacraft.
Kid-Made Father's Day Sharpie Mug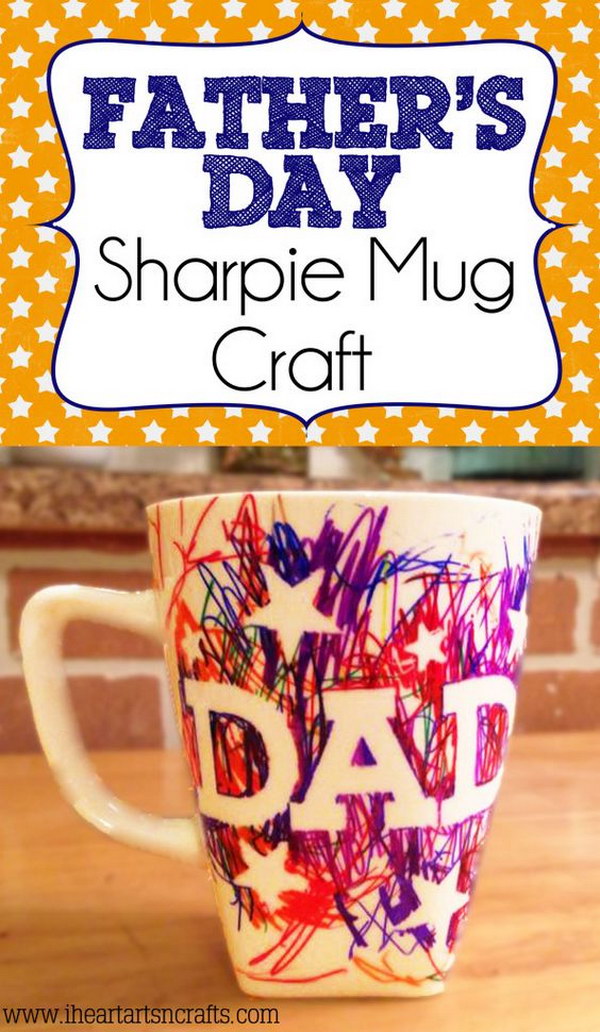 Sharpie mugs are really cute and easy projects to complete, which is probably why they are so popular among kids as well as teens and adults. For a lasting result, you can ??cook' the mug in the microwave to seal the sharpie paint in. via iheartartsncrafts.
Superhero Card for Dad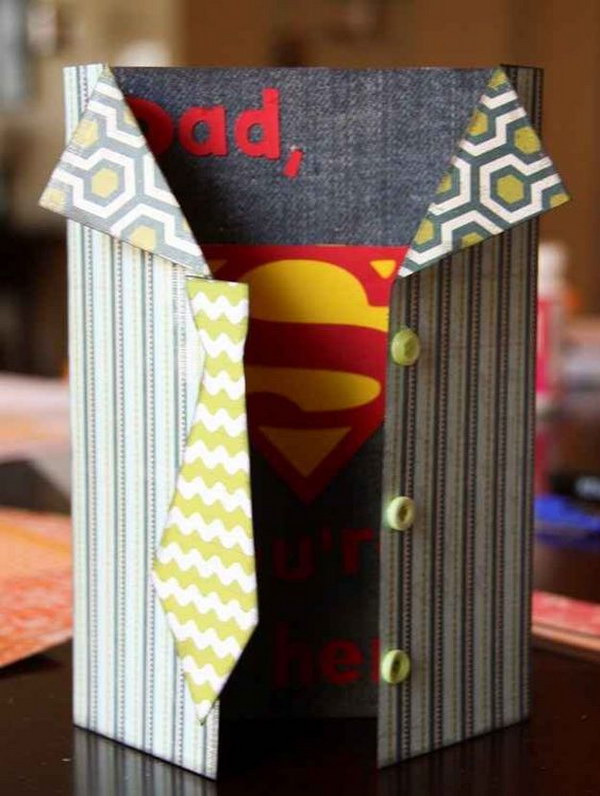 This superhero card is super unique and not difficult to make, so it's definitely a cool idea. Whether you use printed images, scrapbook papers or drawings, it will always be a hit with Pops. via kaminskiscreations.
Dad Rocks Father's Day Paper Weight Rocks and Clay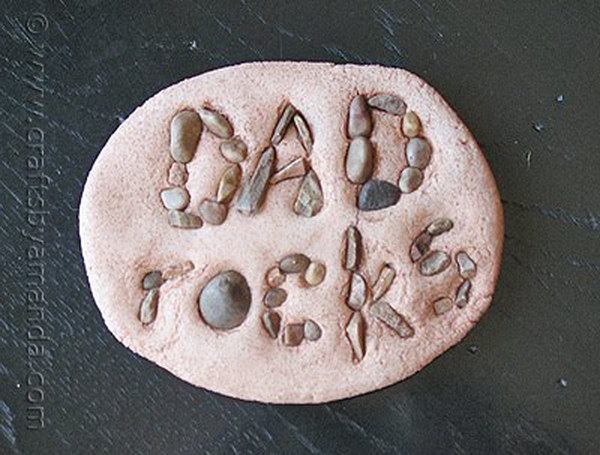 via craftsbyamanda.
Father's Day Gift for Grandparents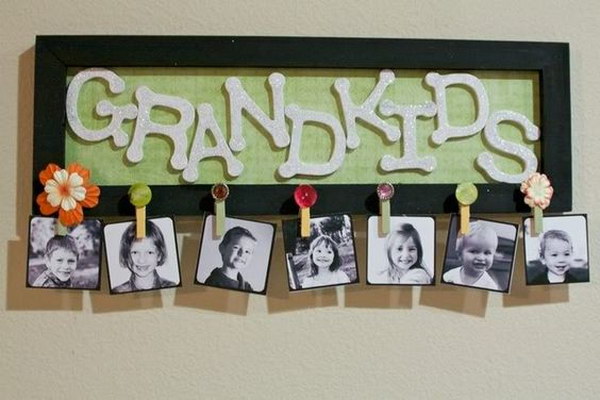 via emmymom2.
Father's Day Superhero Cookies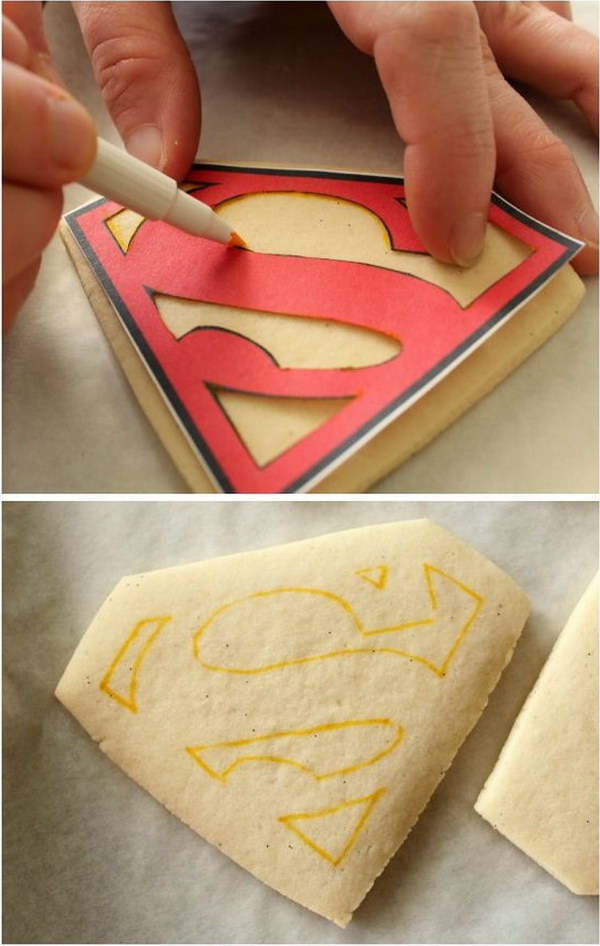 This is a really cool and sweet gift idea, but it is definitely one for the family to do and enjoy together, not just daddy. via sweetsugarbelle.
DIY Father's Day Candy Tie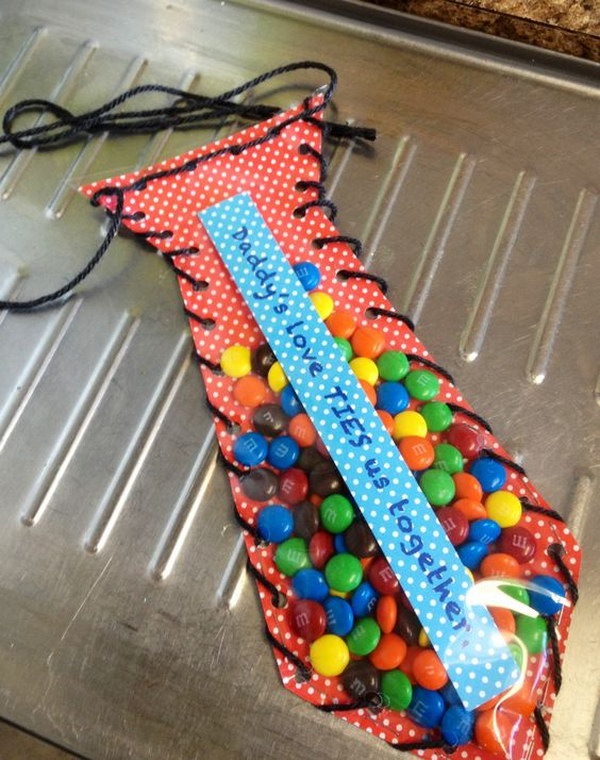 This tie is definitely like nothing else dad owns, that's for sure. However, the candy might be a little tempting for kids themselves, and it might be hard to hold off on eating it. via faithfullyfree.
Father's Day Photo Monogram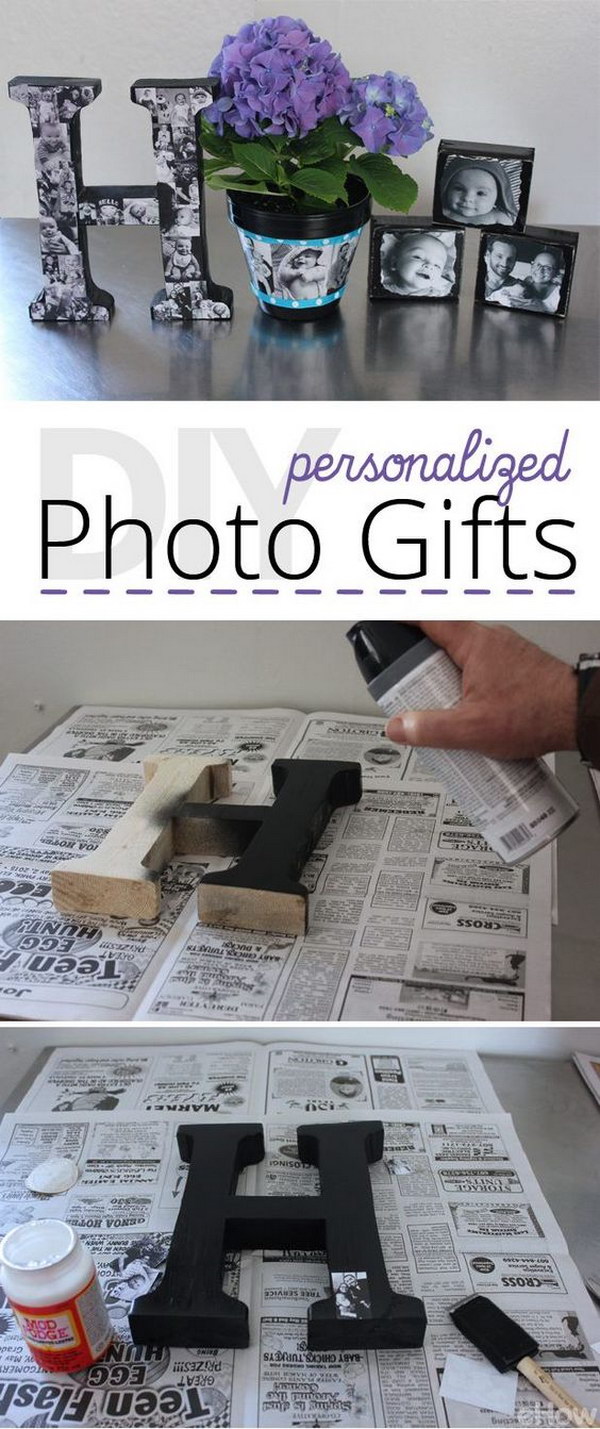 These photo decorations are a really beautiful and special gift not only for dad, but for the whole family to look back on, so they are always a great idea. via ehow.
Father's Day Finger-Painted Picture from Toddlers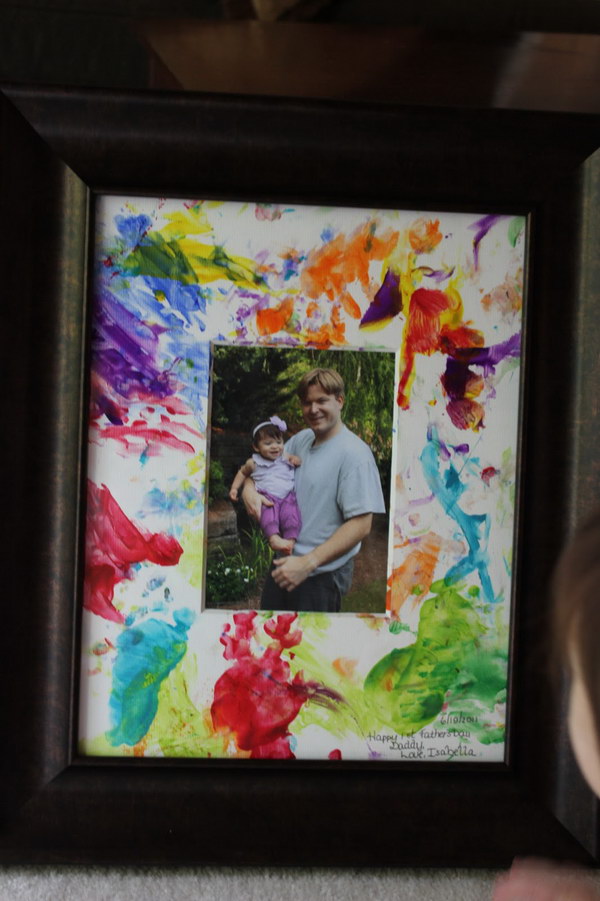 Finger painting is always a great idea for younger kids, because it is something that they can easily do and which is quite unique and artistic. With the help of mom or older siblings, daddy's little boy or girl's first paintings can easily become a great gift for the ages. via source.
Father's Day Family Handprints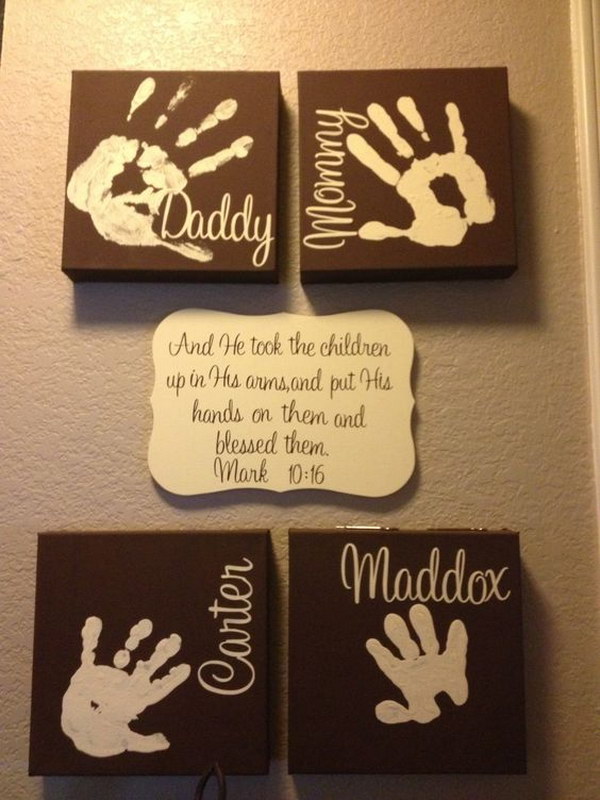 These handprint blocks are incredibly cute and even elegant, so they not only make a great gift, but also a really meaningful house or office decoration piece that will become a conversation-starter at parties and meetings. Via source.
Happy Father's Day Shadow Project Photo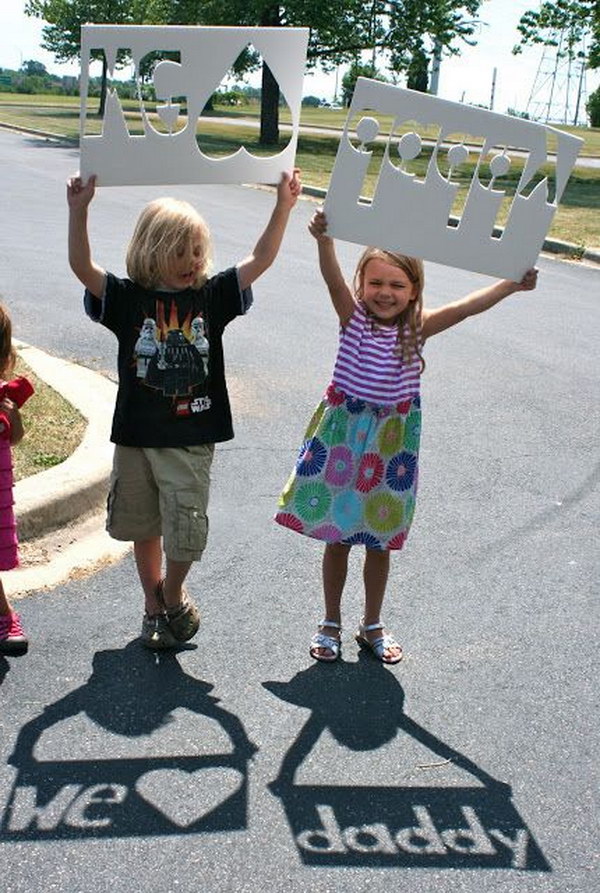 This is an awesome project, no matter how you look at it. Don't forget to tell your daddy to bring his camera along before showing it to him though, because the cutouts may last, but you can never fully recreate the original moment. via thelittlebackyardfarm.
Father's Day Gift in a Jar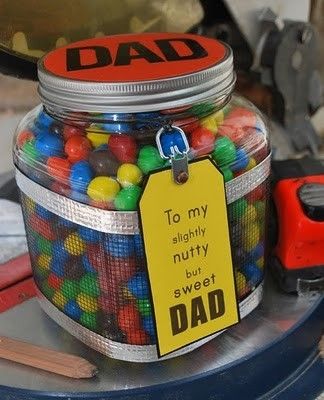 via sueneal.
Father's Day Salt Dough Footprint Heart

You know you can always find daddy near the grill when the weather allows it, so why not show your appreciation for him and his cooking with this cute apron? Don't be scared, making it is as easy as drawing on a blank apron with fabric or permanent markers! via hubpages.
DIY Key Holder for Dad
via source.
DIY Gold Metal Father's Day Gift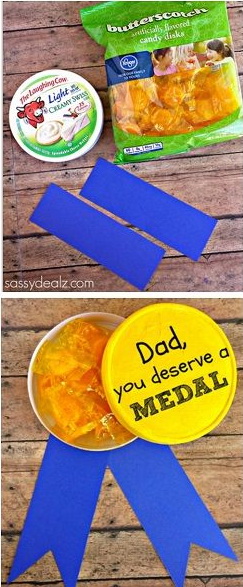 This gift is very sweet – in more than one sense – and it is really simple to do, as all that is needed is a metal tin, sweets to fill it with, paints and ribbon or paper. Once the tin is painted and filled, all there is to do is glue the ribbon and you have a truly sweet and surprising medal to reward the best father. via craftymorning.
Hands Down Best Dad Handprint Frame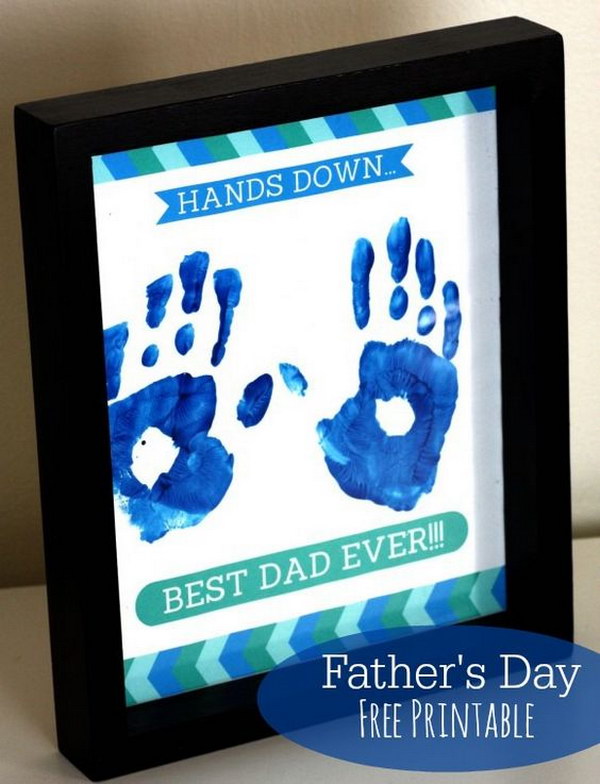 This frame is a really cute and witty gift that daddy will definitely love and want to display in his office. via catchmyparty.
Personalized Hammers for Dad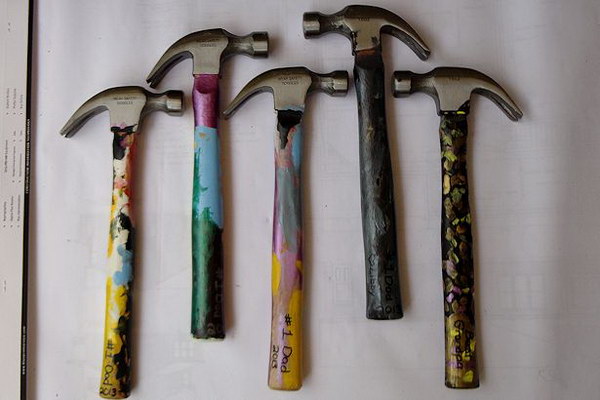 These hammers are really cool and different, and they will be perfect for a crafty dad. However, while the project itself is quite simple, younger kids might need to be supervised while handling these tools. via myhappycrazylife.
Father's Day Photo Gift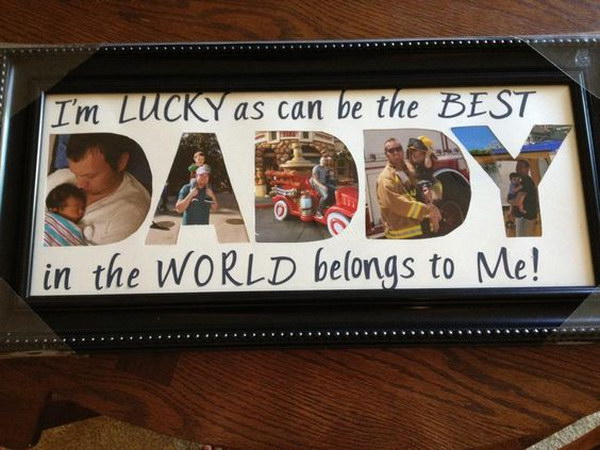 Another great photo gift, this one works best as a group effort, but it will always cause great impact. In short, daddy will love it, and so will anyone who sees this on the wall.
Footprint of Father and Son with Heart and Slogan "Walking in My Hero's Shoes"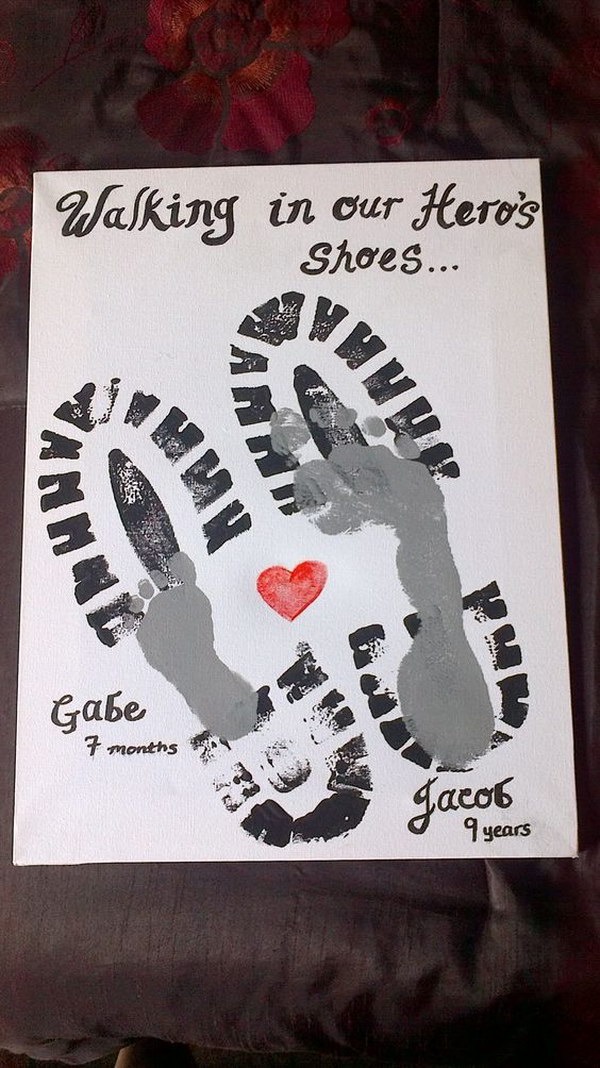 This print is one of the cutest and most meaningful of gifts anyone can come up with. However, it can't really be a surprise unless there is great cunning involved. Via source.
Father's Day Handprint Grill Apron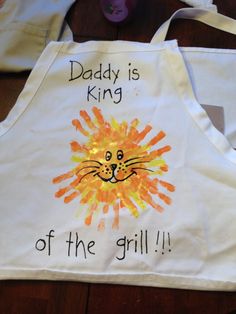 Best Daddy Trophy for Father's Day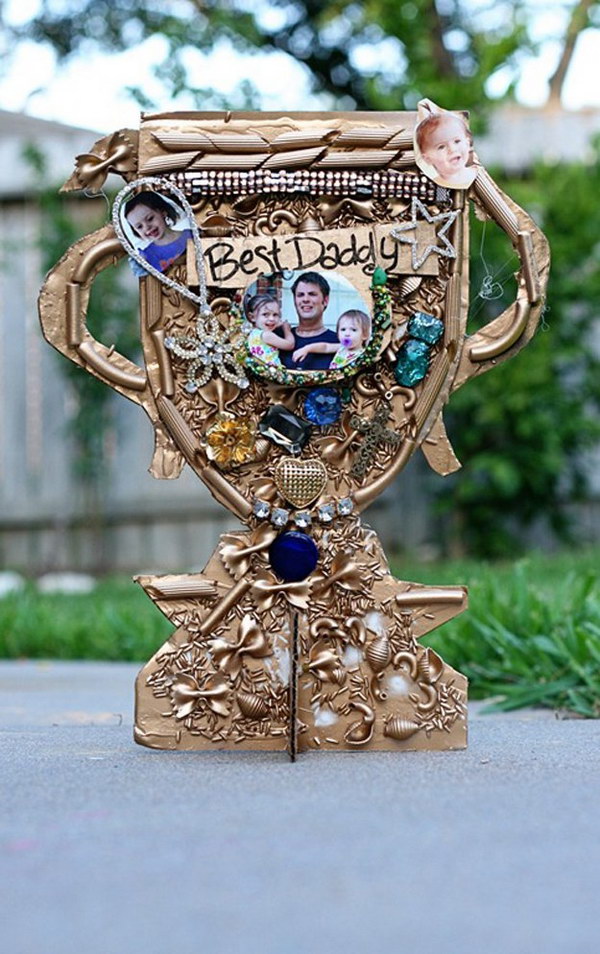 via source.
Custom Golf Balls for Dad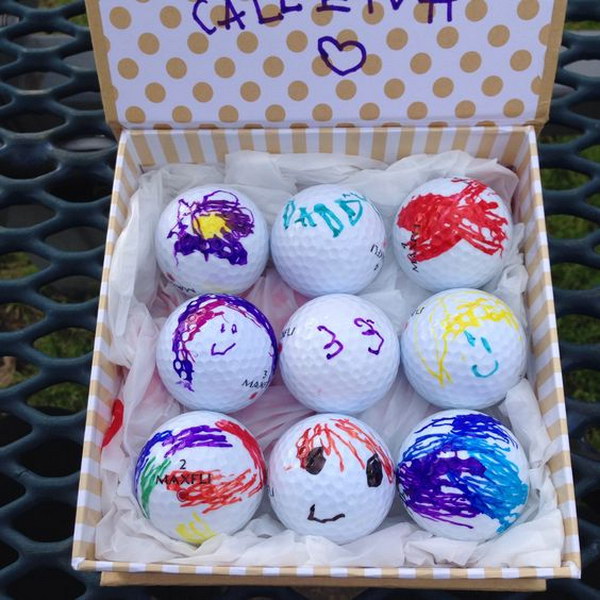 These golf balls are a great project for younger kids because the decoration is so simple that they can do it alone, even unsupervised. They are so cute though, that dad might not even want to play with them in the end. Via source.
Handprint Gardening Glove
Cute, practical and easy to make, these gardening gloves are a perfect present for a dad who loves gardening – or anyone else, to be fair. via indulgy.
DIY Family Handprint Tree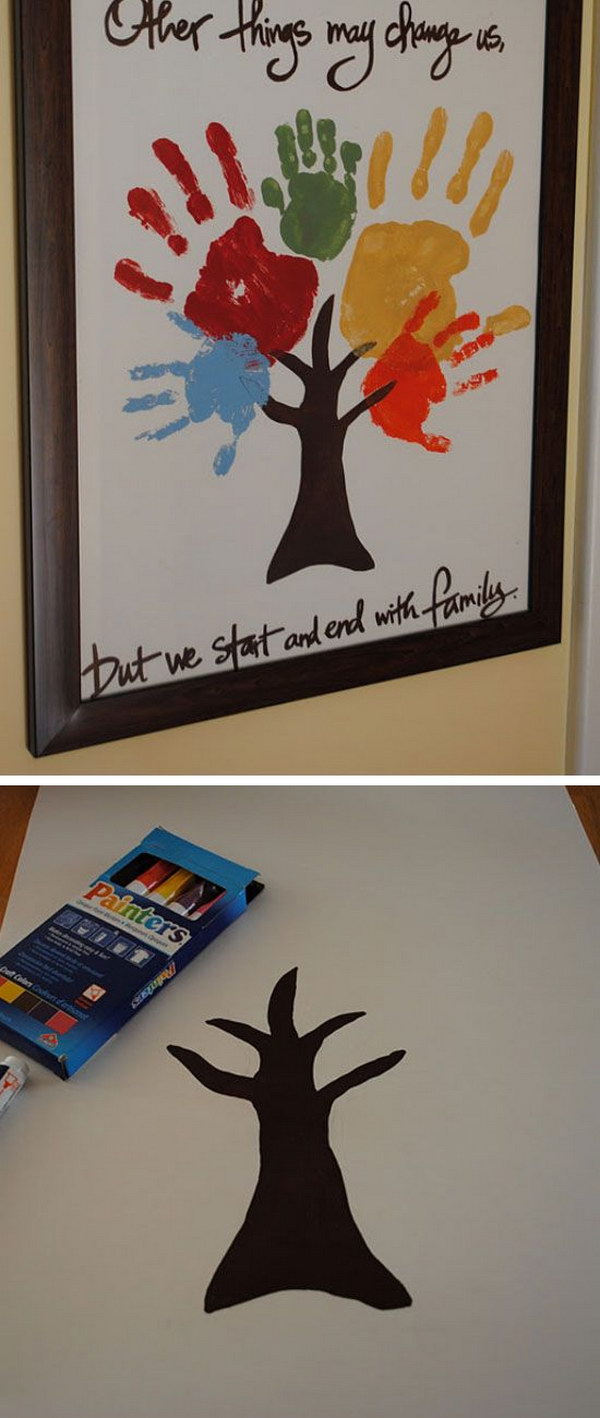 This gift is obviously a family project, in which everyone can take part, both the younger and older members, so it is great for a joint gift. via naptimedecorator.
DIY Father's Day Gift in a Jar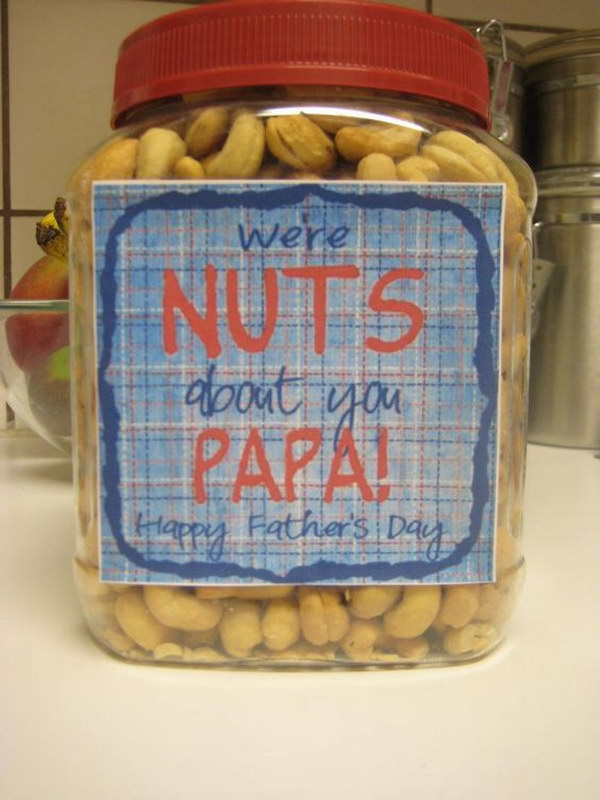 Fathers will always love to receive gifts in jars, and kids will always love to make them. The key here is to either take a jar of something dad likes and decorate it or instead fill an empty one with treats and do the same. via dontwastethecrumbs.
DIY Shrink Film Cufflinks for Dad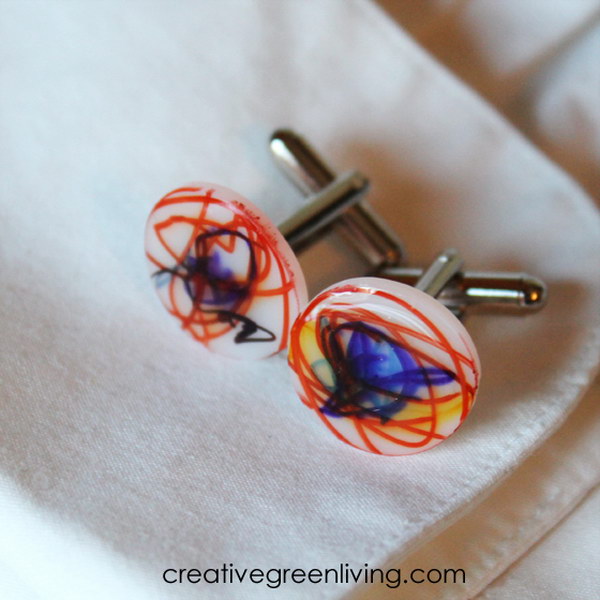 This one definitely requires a little more precision than some of the other projects in this article, so it might be more adequate for older kids to do, but you can be sure that the effort will be worth it, as dad will love to display or even wear these on special occasions. via creativegreenliving.
Perler Bead Keychains for Dad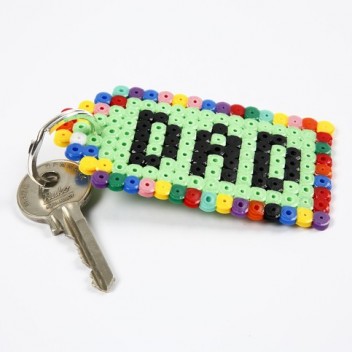 Practical gifts are always great for dads, and this is definitely one of them. He will definitely love to keep this beautiful piece with him to remind him of his kids every time he reaches into his pockets.