While bachelor pad interior design are popular for many years, it's hard to find a woman's alternative to a man cave. She sheds are cozy little havens meant for the sole purpose of relaxation and some me-time. Whether built from scratch, or renovated from an old garden shed, these tiny little spaces exude a charming feminine appeal that is comforting to look at after a stressful day of work.
For building a she shed, there so are many ideas to choose from. Here, we share with you some of the most beautiful versions of She sheds, that will inspire you to build one of your own:
Paradise in Your Backyard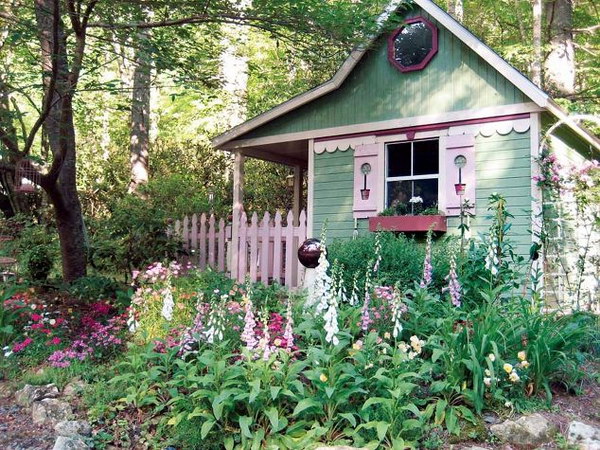 Tucked away in the lap of Mother nature, this she shed makes for a perfect place to escape the hustle bustle of daily life and enjoy the sights and sounds of the world outside. The small little fence enhances the level of privacy, while the beautiful green color complements the outdoor foliage. via hometalk.
Backyard Kids' Playroom Shed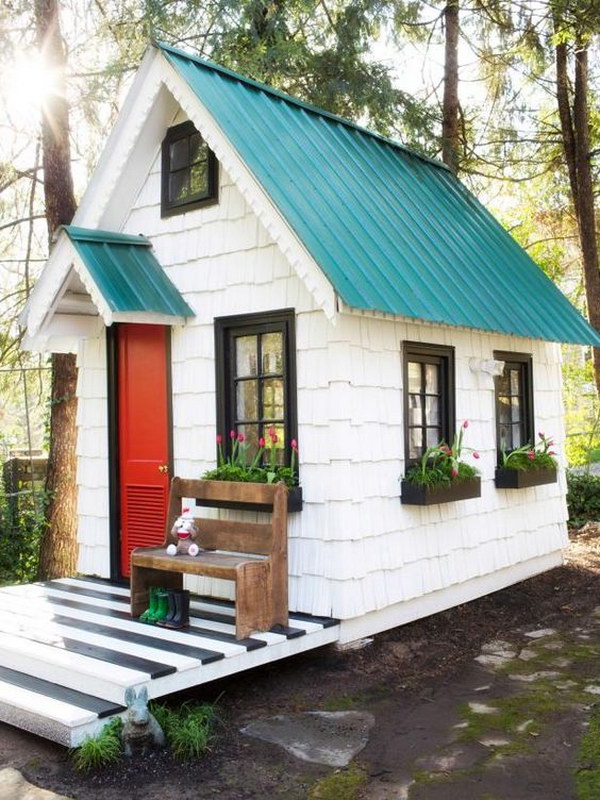 What better way to pamper your kids than by gifting them with a secluded play area of their own? You could decorate this shed with a colorful outdoor rug, set up a cute bookshelf for toy storage or place a tiny table and chairs to provide a workspace for art. Painted in chalk white, this she shed, with its brick red door and blue roof is far from boring. via hgtv.
She Shed On Beach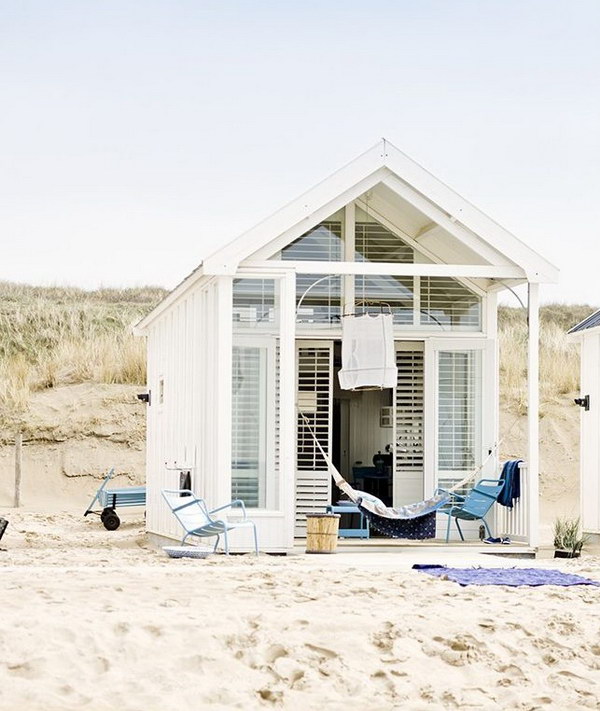 This white painted she shed looks delicate against a background of beach. With the doors closed and curtains drawn, this den is a great place to relax with a cup of tea. However, with the doors thrown open and a chair or two sprawled outdoors, the shed seems like the ideal spot to host a book club meeting or a small brunch. via source.
A Gigantic Doll House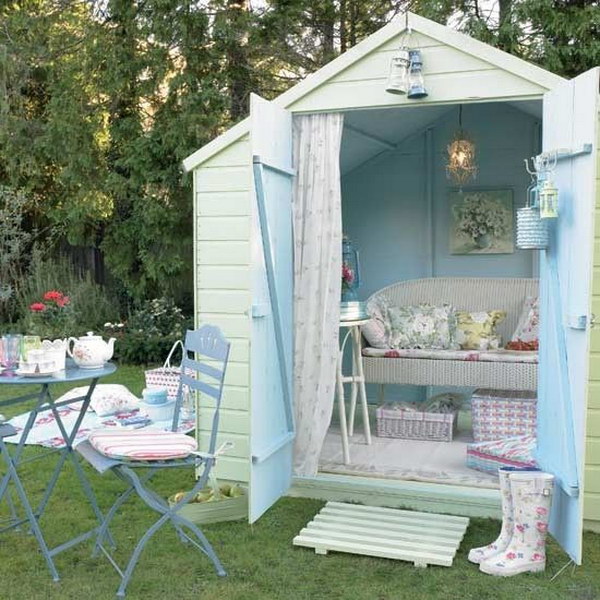 This dainty little den flaunts a cheery feel with its glass chandelier, pretty furniture and floral decor. This is an ideal place to have a cozy tea party with a friend, or use it as a studio to work up some delightful pieces of art. Just throw in some of your soft toys and you've got a cute and clean playhouse of your own!
A Gorgeous Getaway in The Greens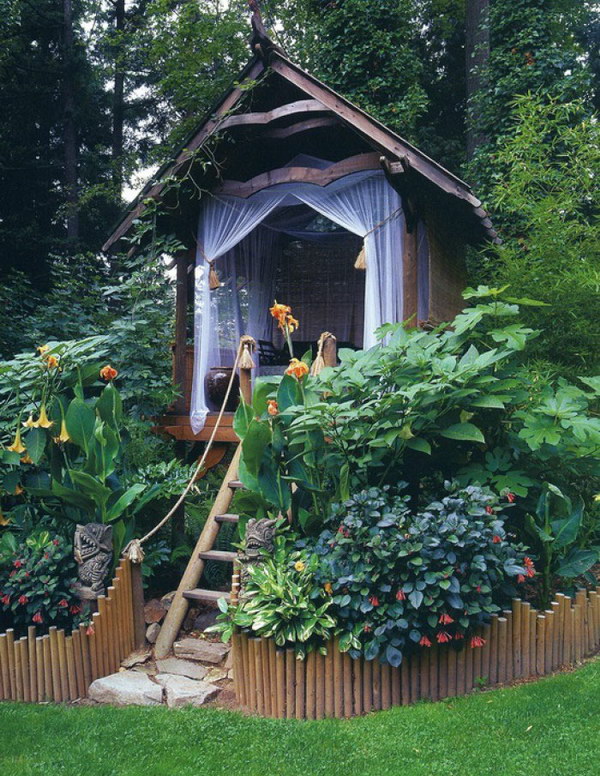 Nestled among greenery, this tree house style she shed is the perfect garden escape for inhaling some fresh air and engaging in your favorite hobbies. The bamboo fences form a striking contrast with the colorful foliage, while the wooden exterior makes it look just so natural. With a she shed like this, you wouldn't mind spending more time here than in your home!
Fairytale She Shed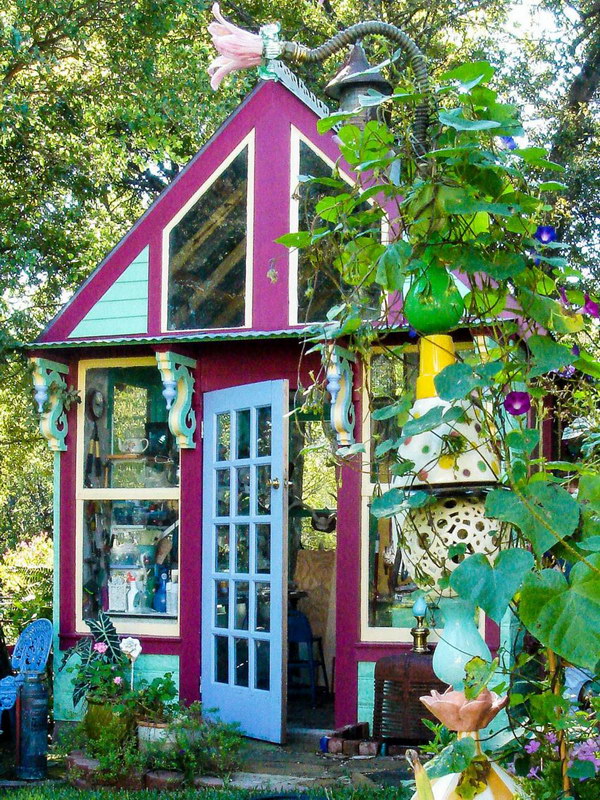 This colorful and attractive she shed like this works great as a romantic corner. Here, you can enjoy a cozy candlelight dinner or sip some coffee while reading a book on a lazy weekend. via diynetwork.
Sweet Cottage Shed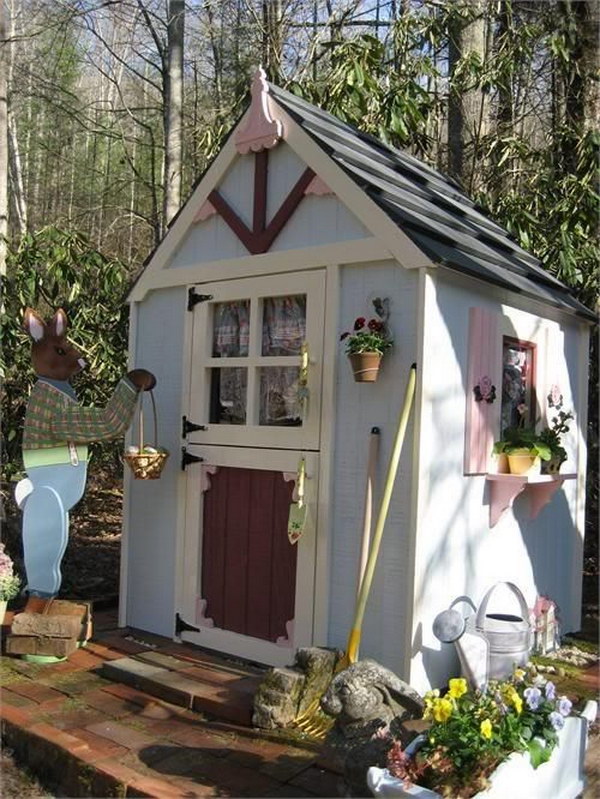 A baby pink exterior teamed with a detailed door and the cute cartoon character outside, gives this she shed the appearance of a life-sized dollhouse. It's a great spot to daydream away or spend the Easter with nothing but your soft toys and memories.
A Green Gingerbread Home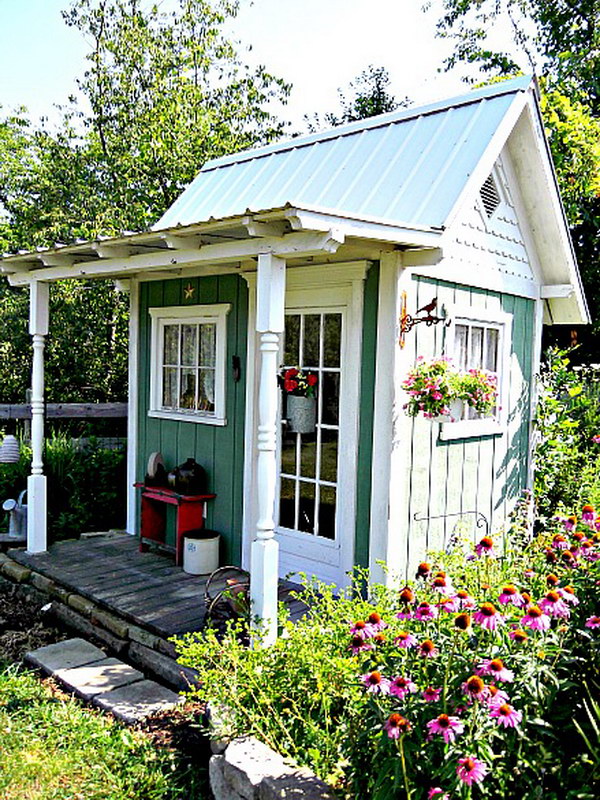 This beautiful she shed in white and green looks welcoming with its vintage-style patio and flower boxes thrown here and there to jazz up the otherwise monotonous colors. The porch forms the perfect seat to soak up the summer sun or enjoy the raindrops without getting drenched. via source.
A Tiny Home in Wood & Stone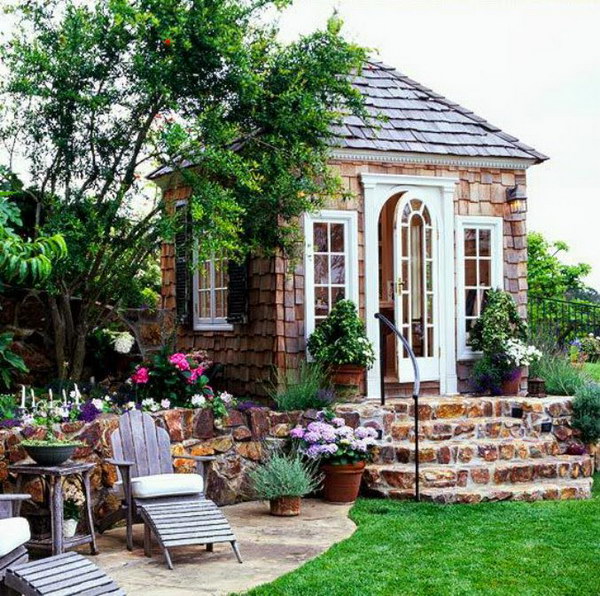 This spacious she shed looks every bit a gingerbread house with its cobbled path, planters and patio seating. The beautiful contrast of stone and lush greenery makes this den both peaceful and creatively inspiring. This spot seems perfect to paint or write a romantic novel.
Pretty in Pink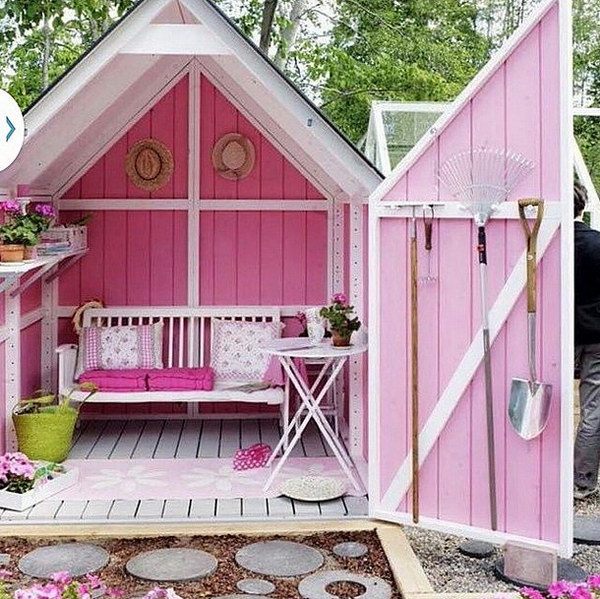 This pretty pink she shed is ideal for the career woman who loves to get in touch with her feminine side at the end of a tiring day at work. Surrounded by foliage and flowers, this quiet little getaway offers you everything you need to rejuvenate in leisure. via source.
Traditional Style
A lovely country-style cottage shed is a unique place to accommodate your guests. The classic tiled roof and the elegant door pattern exudes a traditional charm that is tough to resist. With ample space, modern amenities, and a patch of greenery all around, this little shed undoubtedly fits the definition of a "second home". via thepottedboxwood.
A Farm in a Shed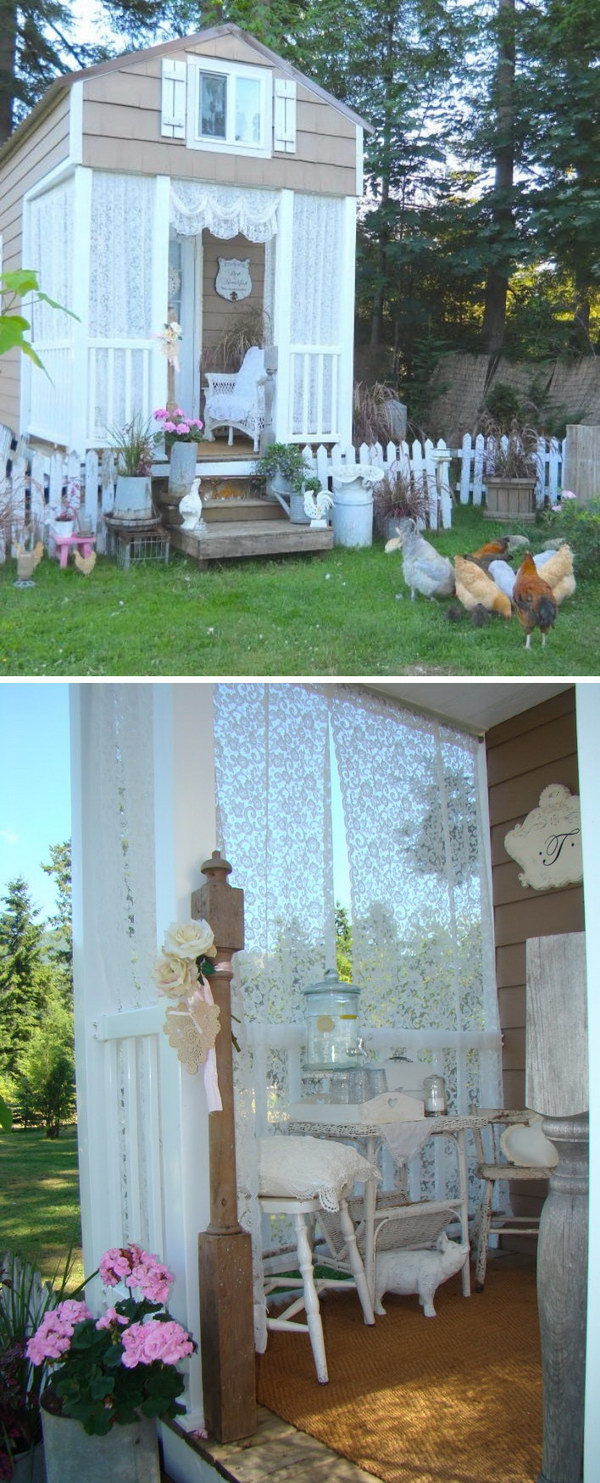 This typical she shed is one that combines elements of modern decor with an ancient charm. Done up in white paint and lots of wooden detailing, this elegant she shed offers an great view of nature. The interesting rooftop, the lace curtains and the old steps make it look like straight out of a fairytale. via source.
Ramshackle-Turned-Retreat

This chic little sanctuary nestled in sunlight-drenched space and gorgeous backyard gardens just takes leisure to a whole new level altogether. The tempered glass roof, airy windows and paneled doors make it look spacious enough to host a tea party for three. A cozy seating arrangement on the patio adds to the charm. via countryliving.
Small folly style cottage shed beside a lake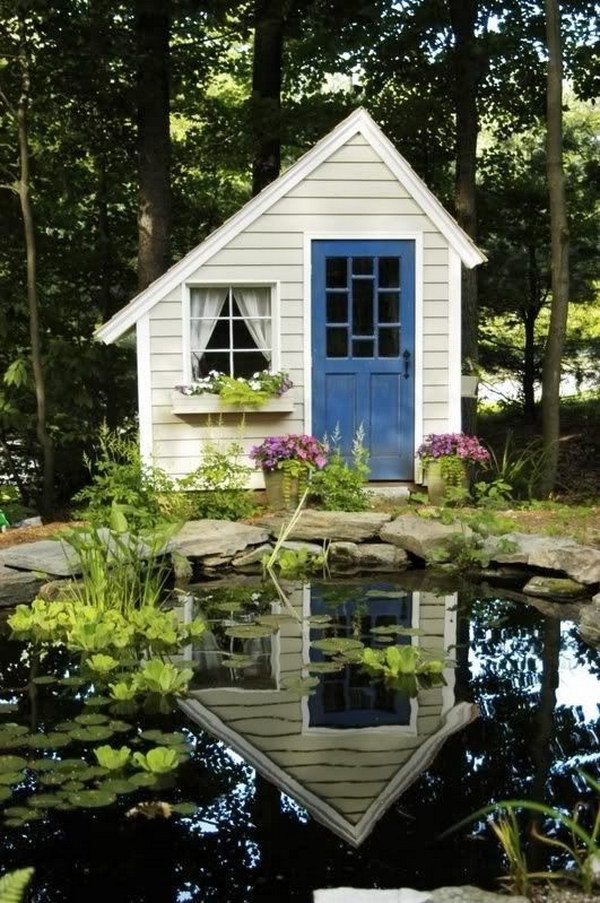 While the white walls make it stand out against the dark backdrop of trees, the blue door creates a snazzy vibe. With a lake aside, this she shed is perfect for engaging in some fishing time.
Vintage Shabby Pink She Shed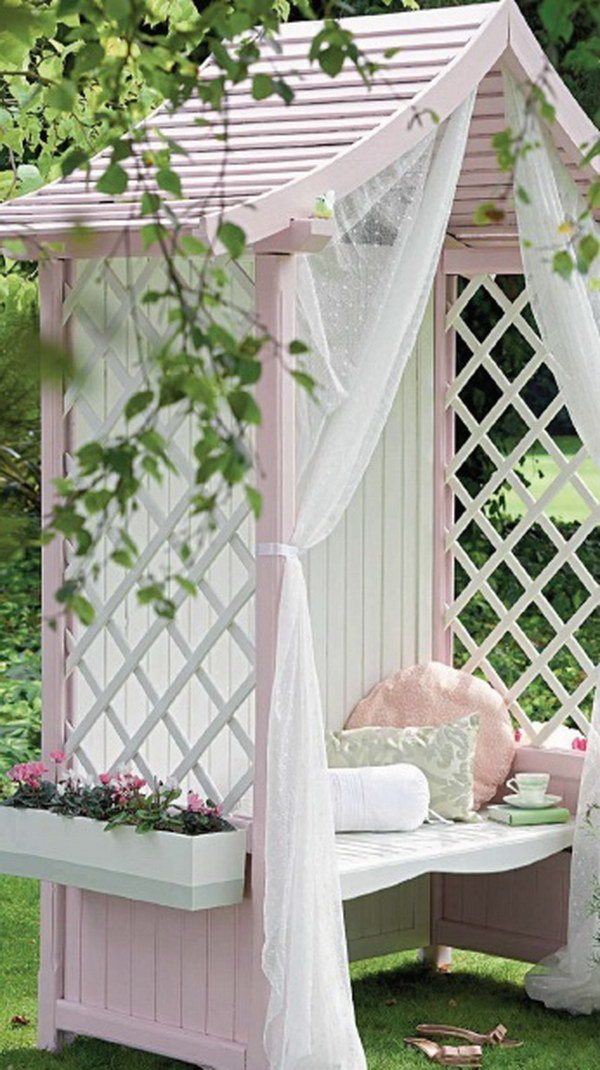 A tiny den decorated in baby pink and soft furnishings is exactly what a working woman needs after a harrowing day at work. Anchored on both sides by rows of flower bushes, this she shed prefers to keep it simple yet functional. source.
Bright Color She Shed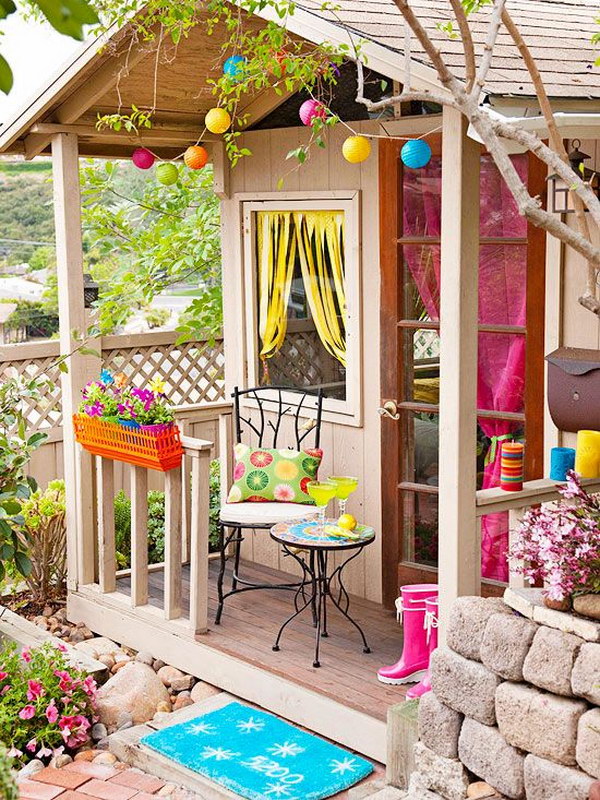 From the outside, this she shed looks more like a small house than a backyard retreat with the patio seating and the detailed decor. The interesting assortment of colors make for a cheery mood and the extra space on the balcony is like the icing on the cake! via bhg.
An Upscale Getaway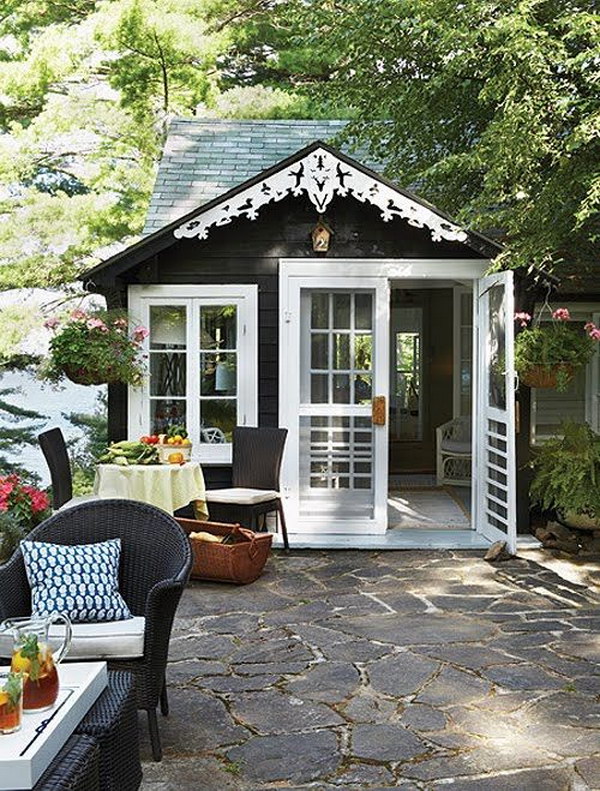 Has your idea of a she shed always been that of a vintage-style spacious cottage? Do you love to relax in luxury? Well, then this she shed here may just be the thing for you. The cobbled patio, the cane furniture and the chalk white doors and windows all exude an upscale vibe that's ideal for the classy woman. via chachanova.
The Perfect Art Studio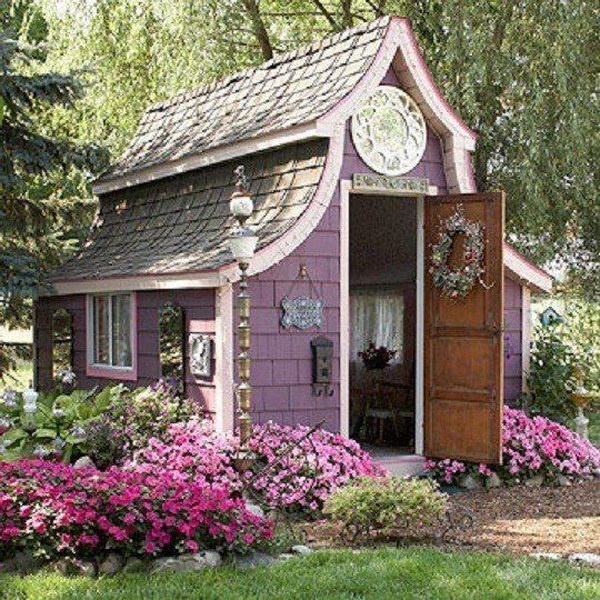 This purple Disney-style cottage shed sits prettily among flowers. The beautiful interplay of colors, paired with interesting decors makes this shed perfect as an art studio. source.
The Writer's Retreat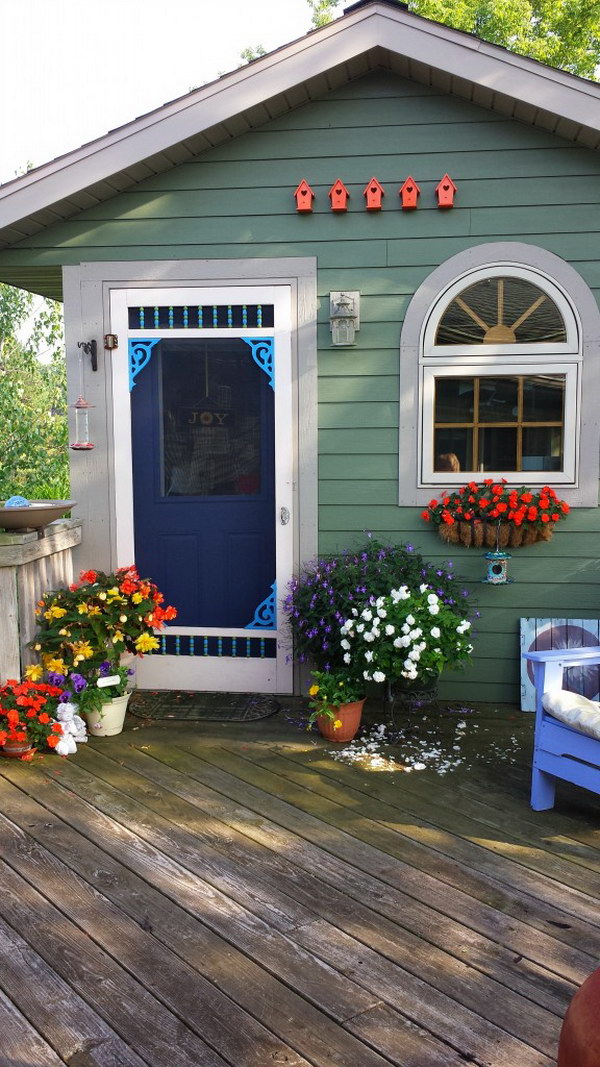 A colorful she shed is all you need to get your creative juices flowing on a dull Summer day. While the bright flower tubs are hard to miss, the door and windows take away all the points for their unique design and details. via joyfulpaws.
Cute Pink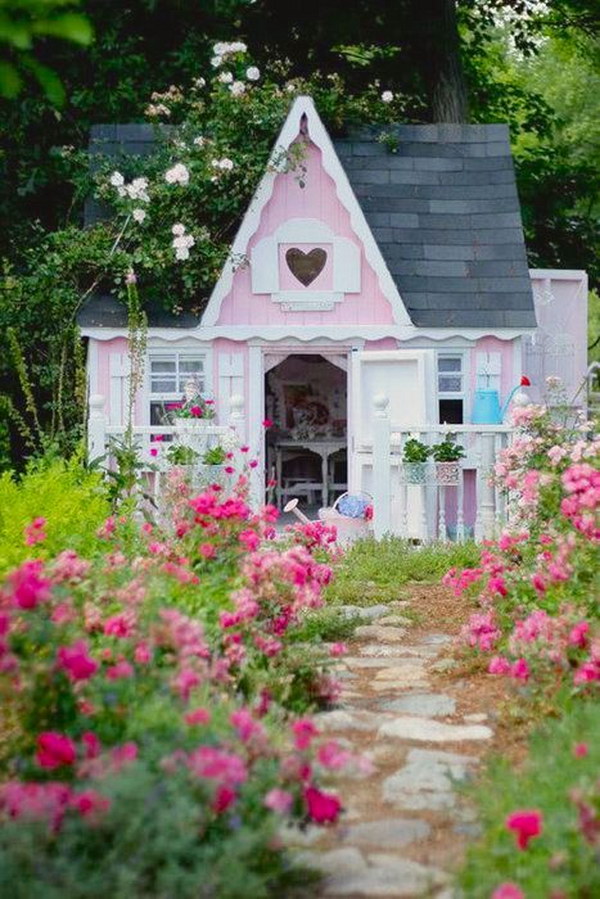 With the tiled roof forming a striking display of light and dark colors, this pink hideaway brings a cozy and happy presence to the backyard. The warm pastel shades on the exterior and the garden blooms make it perfect to unwind with girlfriends or host a tea party on a lazy summer afternoon.
A Heaven in The Garden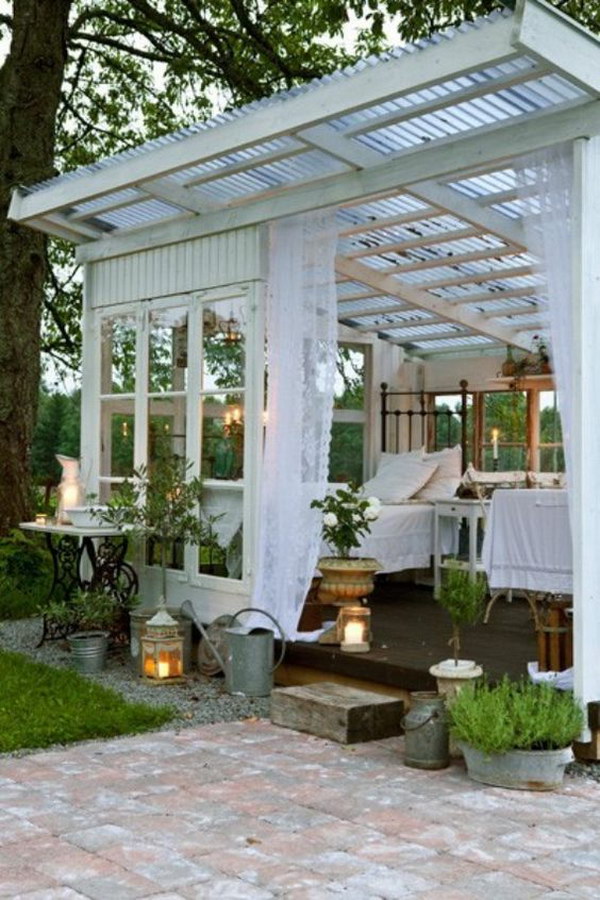 This vintage-styled cottage shed sits prettily amidst plants and grass. It provides a quiet spot to revel in leisure. The beadboard ceiling, the white painted furniture, as well as the comfy pillows give the den a truly cozy ambiance. All in all, this she shed is ideal for enjoying both indoor and outdoor activities at the same time. via lauratrevey.
Floral Fun in a Private Paradise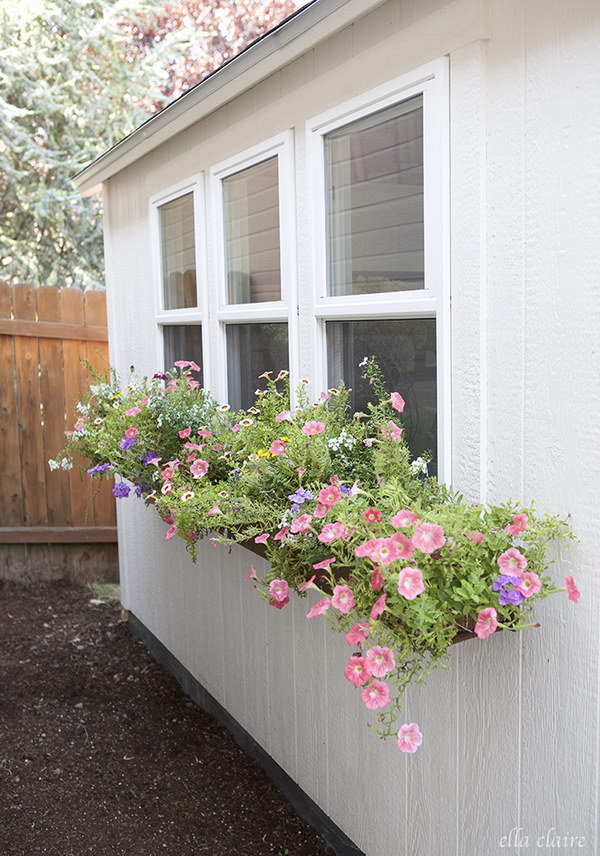 The modern woman is an eclectic mix of glamor and simplicity, and there is no better representation of her qualities than this colorful little she shed. While its focus may be the floral boxes bordering the side, the white walls and smart windows do add to the sombre appeal. This private and functional den is all you need to get in touch with your inner self after work.
A Home Away from Home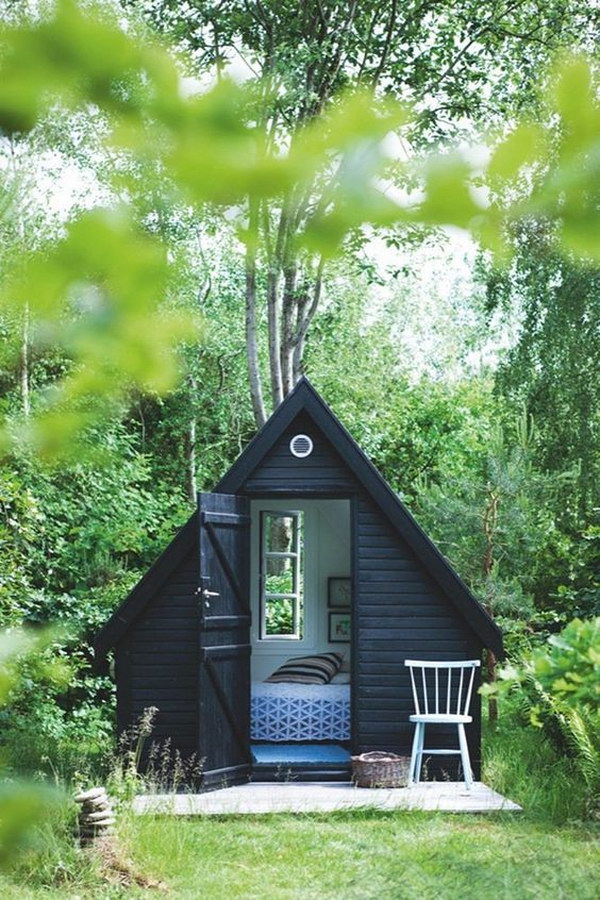 This gorgeous she shed in black paint is perfect for anyone who wishes to forget the world and enjoy some privacy. While the interiors seem more like a refurbished bedroom, you can always convert it into a reading room or a yoga room. source.
A Dreamy Den to De-stress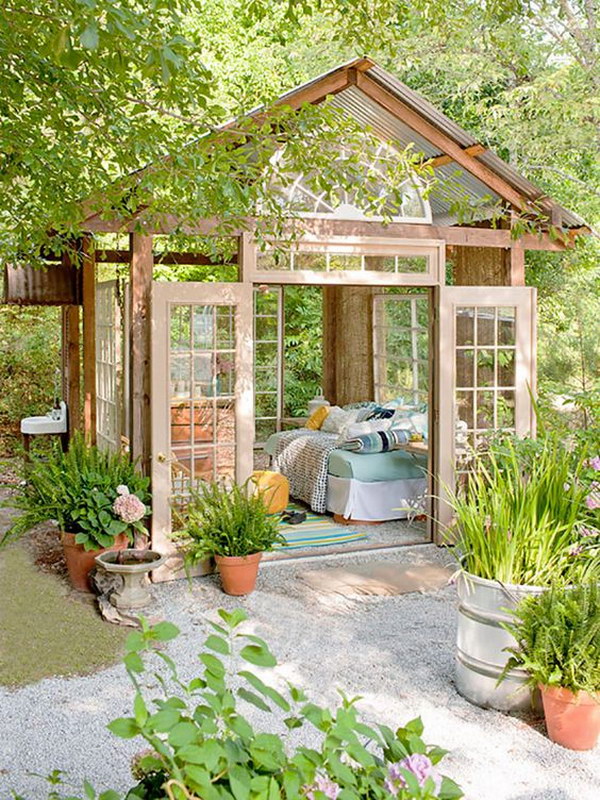 If napping is your idea of relaxation, then this she shed is surely meant for you. The transparent structure and the flower tubs give it a welcoming feel, while the comfortable bed tucked away as the sole piece of furniture is just what every stay-at-home mom needs after a stressful day. via bhg.
A Secluded Sleeping Area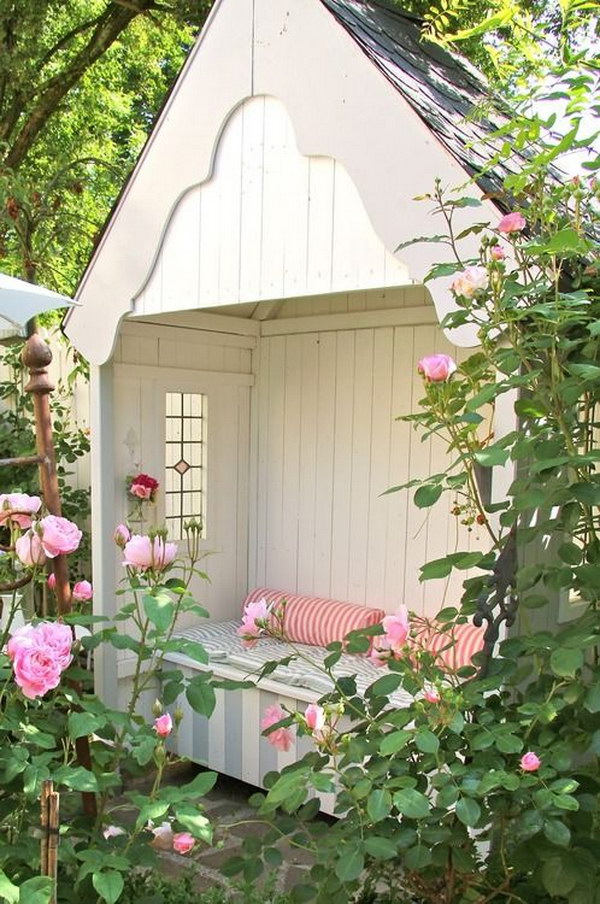 This cozy little she shed is perfect for anyone who loves to sleep outdoors in the middle of the buzzing butterflies and swaying trees. The feminine furnishings and the cool white interiors make it a shady spot to enjoy the garden in peace. source.
Flamboyance At Its Best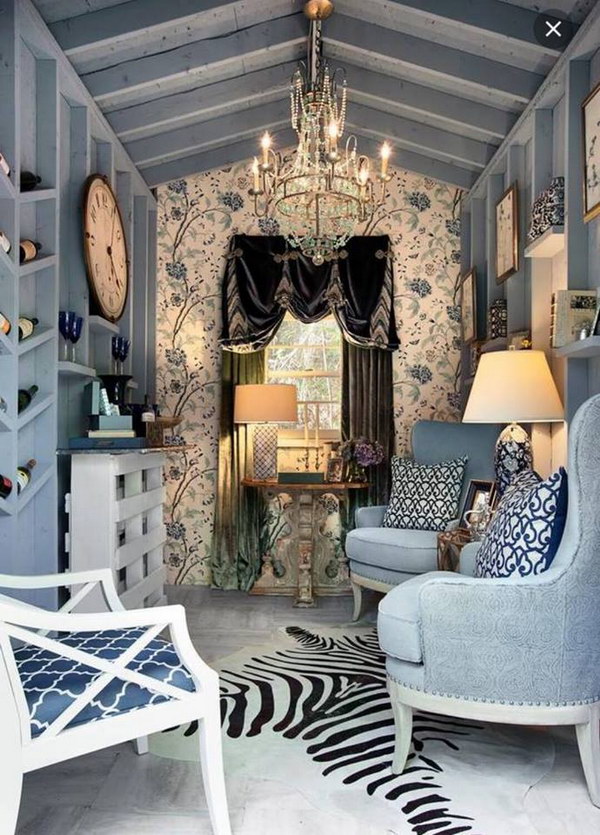 Everything about this she shed is flamboyant, right from the brazen blue furniture and the spectacular wall art, to the stylish chandelier. After all, every woman loves a den that reflects her boldness and taste.
A Simple Yet Stylish Springtime Retreat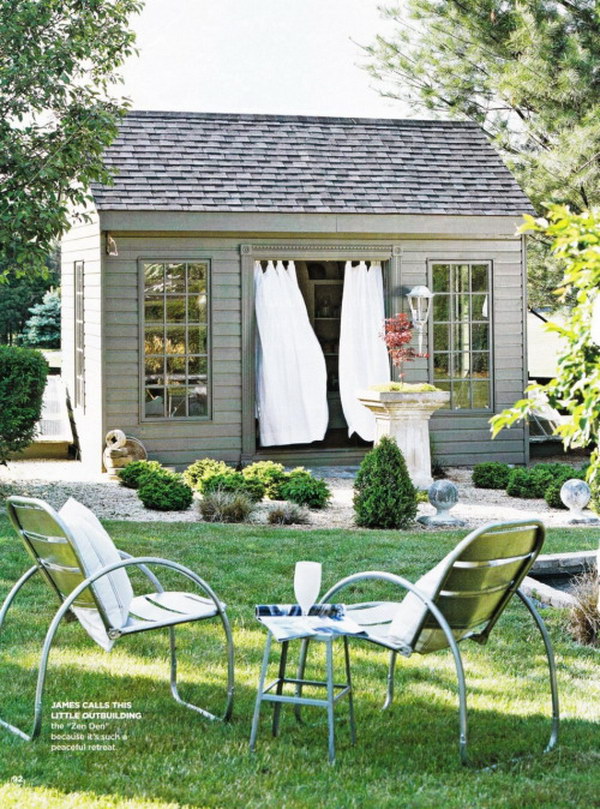 As a spacious relaxation area and a gardening shed, this picturesque she shed in earthy colors is ideal for anyone with a green thumb. The adorable set of chair and table set enhances the curb appeal while the elaborate windows help to create an irresistible aura of elegance.